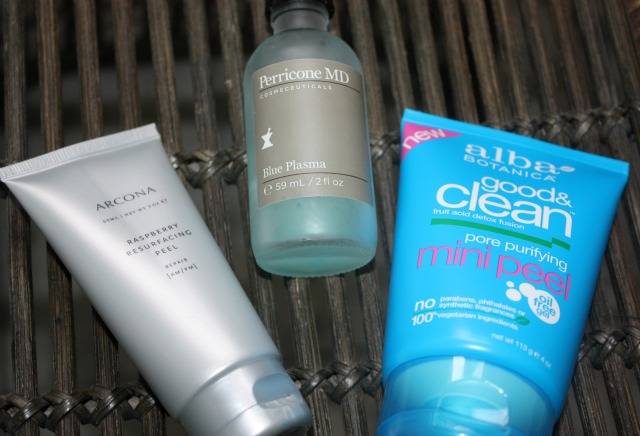 If I had to list my favorite past times – they would include eating, reading, taking my little nugget to the dog park – oh and exfoliating like a champ.  It's a wonder I even have an outer layer of skin left (kidding, sorta) with the amount of enjoyment I get from sloughing away those dead skin cells.  But with all the new technology out there – all that manual exfoliation and exhausting your arms is a thing of the past with the introduction of facial peels.  Peels are typically formulated with various ingredients that help to exfoliate, retexturize, smooth, and brighten – basically they make your skin look ah-may-zing.  I have rounded up some great ones at every price point so everyone can share in the fun!  Let's discuss:
1. 
Arcona Raspberry Resurfacing Peel
– This was the first peel I ever purchased many months ago, and have loved it from the start.  Formulated with a blend of mandelic, lactic and malic (say wha???) acids, this leaves my skin super refreshed, smooth and incredibly glowing, and has become my go to product before special occasions.  But beware – it does tingle when applied.  That's how I know it's working….. 😉 
2. 
Perricone MD Blue Plasma
– As if I could love this product any MORE!  You have heard me rave for months about this gem and its revolutionary method of giving the effects of a peel without any irritation, dryness or side effects.  The active ingredient is salmon roe enzyme (for real) and can be used
daily
to help hydrate, exfoliate and smooth the skin over time.  Completely worth the splurge.  
3. 
Alba Botanica Pore Purifying Mini Peel
(c/o) – New to my peel arsenal, I was thrilled after trying this super affordable option and finding its results to be quite remarkable.  Formulated with 6% alpha hydroxy acid, this fast acting gel works well at eliminating toxins and dull surface cells to reveal shiny, revitalized skin.  And with its natural claims of being 100% vegetarian, paraben and sulfate free, and hypo-allergenic – it is a must try!  
Final note:  With all this sloughing, scrubbing and removing of yucky, pathetic dead skin cells, it does leave the skin sensitive to the sun so be sure you are wearing a sunscreen!  *shakes finger at you*
As if I wasn't already overflowing in beauty products, I still want more.  I'm a lost cause, save yourselves!  But if you are like me and cannot be saved, feel free to follow along on my
Pinterest board
I have dedicated to beauty products I am currently coveting.  Hopefully we will all get through it together.