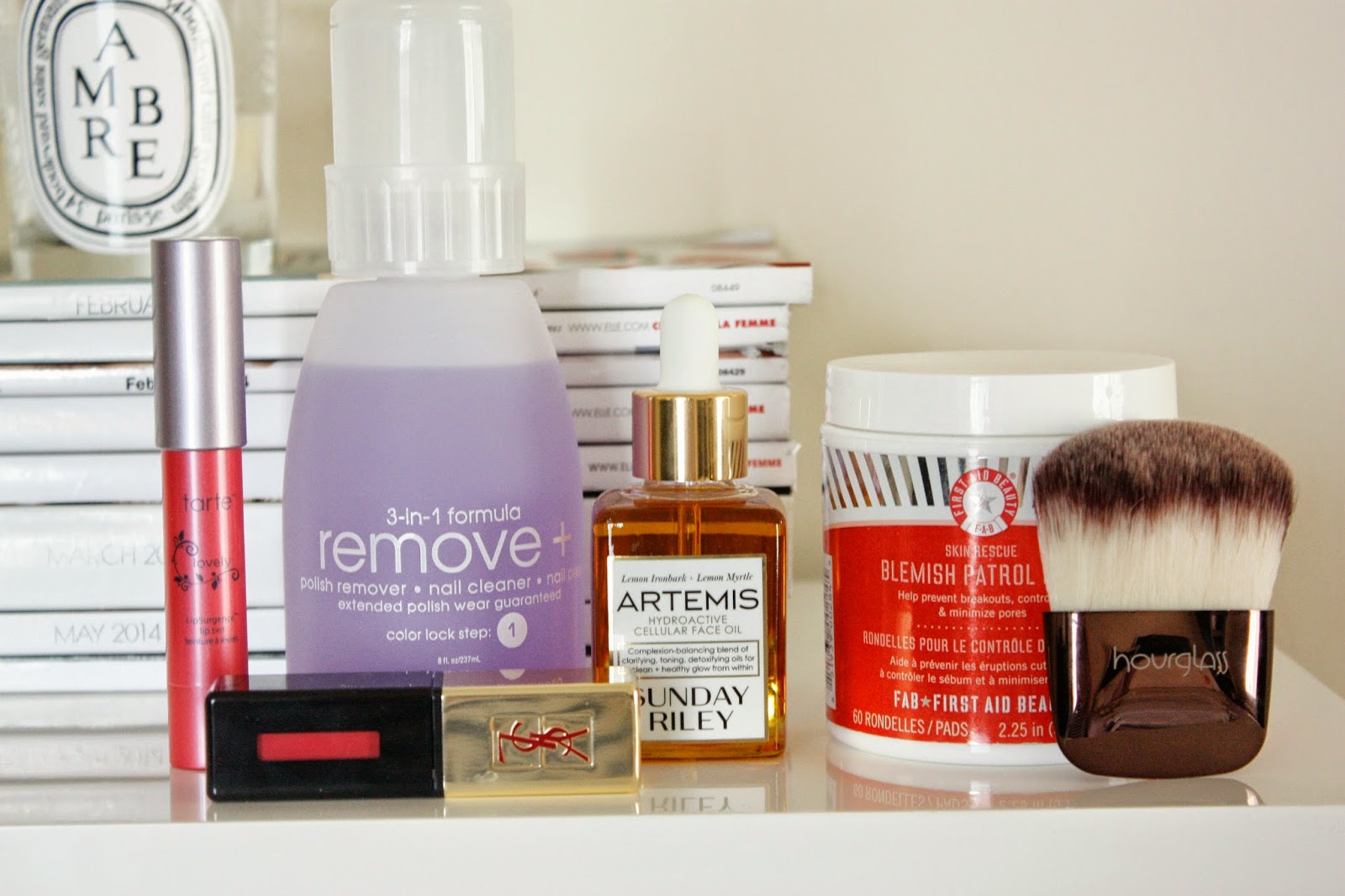 I use them. I love them. I have to talk about them. Here are my beauty favorites from the month of May:
1.
Tarte  LipSurgence Lip Tint in Lovely
– Jumbo lip pencils are becoming quite a problem for me. Every time I see one, I need to buy it. Case in point: this Tarte pencil. This is my first Tarte
Lip Tint
but I fell IN LOVE with this color. It was the perfect juicy pink-coral, and feels great on the lips. I actually feel silly that it took me this long to buy one, but it won't be my last.
2.
YSL Glossy Stain in #12 Coril Fauve
– Another fail on my part, this is my first
YSL Glossy Stain
. Please pick your stunned jaw up off the ground – it's rude. There are just
soooo
many lip products out there that I overlooked these, ok? OK???!!! But at least I'm here for the party now, that's what matters. All the reviews are right – these are amazing. A hybrid between a gloss, lipstick and stain – they feel great on the lips, wear beautifully and stay on forever. Need I say more? I'm guessing no because you probably already have one.
3.
Zoya Nail Polish Remover
– Never thought I would see the day when a
nail polish remover
made my monthly favorites, but it has. The day has come. And once again, all of you were right. I have been reading about this remover for eons and finally picked one up. One swipe on my nails and it instantly blew every other nail polish remover out of the water.  Late to the Zoya party, but now I'm here.
4.
Sunday Riley Artemis Hydroactive Cellular Face Oil
* – Oh, another Sunday Riley product makes it to my favorites list? You betcha.
This cult classic serum
is an absolute essential in my skincare regimen, and when they sent me this face oil to try, I had a sneaking suspicion I would love. Whatta ya know? I did. Designed for combination and problematic skin, it helps to balance, detoxify, clarify and tone the skin. Whew, just saying it is exhausting but it delivers on its promise. The scent is quite strong, but dissipates after just a few minutes.
Sunday Riley products
are known to give you a glow, and this oil is no exception. My skin is radiant after only using for a few weeks. And that's the goal isn't it?? Yes, it is.
5.
First Aid Beauty Blemish Patrol Pads
* – Holy Grail Alert! Holy Grail Alert! These pads have finally reached that coveted spot. Since we are all friends here I will share a little secret with you: I did not like this pads when I first used them. I thought they were doing nothing and saw no results. But for some reason, I kept using them twice daily. Welp, after one week I had no blemishes. After two weeks, no blemishes. After THREE weeks, no blemishes. At first I couldn't figure out what I was using that was giving me such clear skin, until I stopped these for a few days. Do you know what I got? Yes, A PIMPLE. Pulled these out, and the breakouts stopped. A coincidence – I think not. (ok, I know not. They are magical)
6.
Hourglass Ambient Powder Brush
– Yes, this was a splurge but I don't regret even one penny of this brush purchase. I use to apply most of my finishing powders since it can be turned sideways and used for great contouring or use full on to get a broader application. The hair is incredibly soft and deposits
just
enough color. It took me a long time to decide if I should get this brush, and after one use I was sad I hadn't purchased sooner.