Valentine's Day is right around the corner and how cliche of me to post a red lip post, right?  Ugh, I totally agree, but then again most of you (and me too #bandwagon) will probably end up sporting one on the day, sooooooooooo….. here we are.  Now I personally feel that red lips don't have to be saved for special occasions, and I found some great options to wear on that day or any other for that matter.  I love a good sheer or matte or blue based or orange based red lip as much as the next gal, and I have some great choices for all.  I know the below swatches are a tad slasher-movie-esque (ha!) but it's the only way to show the true color pay-off. I do it for the blog, I tell you. I do it for the blog.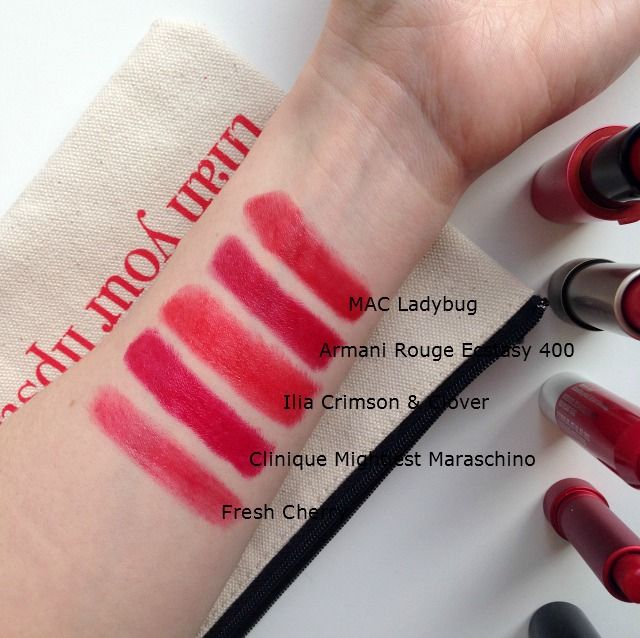 1.
Fresh Sugar Lip Treatment in Cherry
– Ok, confession.  I was a so-so fan of the original sugar lip treatments from years ago, but now that I have tried the tinted versions, I have to say I am head over heels.  Such great colors with amazing moisturizing properties – I love wearing them alone or layered over another lipstick.  I already have a back up of this one.  That says everything.
2.
Clinique Chubby Stick Intense in Mightiest Maraschino
– The Chubby Stick craze never enthralled me to be honest, but after trying this new Intense version, I was blown away.  The pigmentation is so intense and has a deep blue-based red undertone – simply gorgeous.  And after wearing this and seeing how good it feels on my lips, I think I may give the original Chubby Sticks another look.
3.
Ilia Tinted Lip Conditioner in Crimson & Clover
– Tell me – have you ever seen a lip conditioner/lip balm with this much color and pay-off? Yeah, me either.  It reads a lot more orange when it's on but it's great for a bright pop of color.
4.
Armani Rouge Ecstasy in Shade 400
– Every lipstick collection needs a few classic reds – those lip colors that don't lean too orange, too blue or too pink.  This Armani shade is that color for me – it falls right in the middle – I like to refer to it as the "Goldilocks of red lipsticks".
5.
MAC Ladybug
– This shade has been in my collection for years and is such a great sheer red that brightens up the face immediately. Throw on a sheer gold eye shadow on the eyes (love
this one
) and bronzer for the cheeks (I swear by
this
and
this
)  and the look is fresh and glowing.
Purchase the makeup bag pictured above
here
.
Shop red lipsticks: