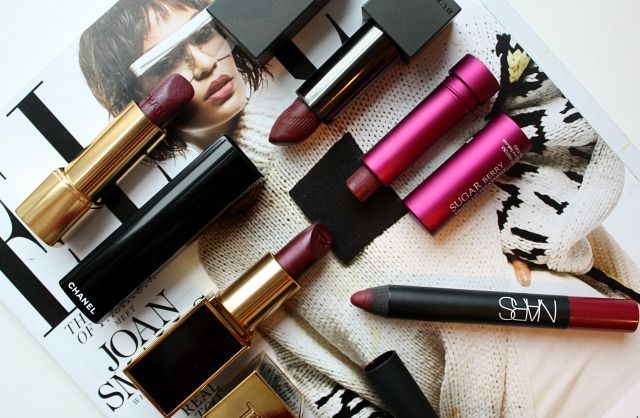 Confession – I never wore dark lip colors before this year.  Reds, yes.  Pinks, yes.  Corals, yes.  But dark colors were never my bag, baby.  That was until this year.  I began experimenting more and more with them and found that they can be super wearable for pale skin and look sophisticated and chic.  And before I knew it, I was buying more and more dark shades, amassing quite a collection.  Here is a look at the colors with swatches that I have been wearing non-stop recently:
You will notice there are no glosses included in this round-up because I find brightly/dark colored glosses incredibly hard to maintain and work with.  Lipsticks or bust for me!! Starting from the top and working down, the colors are:
1.
NARS Velvet Matte Lip Pencil in Damned
– I love a good matte lip color and these pencils never disappoint.  This color applies easily and wears for-ev-er.  Throw on some bronzer and a neutral eye with this lip and you have yourself a flawless look.
2.
Fresh Sugar Lip Treatment in Berry
– When I first received a
Fresh Sugar Lip Treatment set
for my birthday, I had assumed I would wear only the nude shades and leave the bolder and brighter shades to collect dust.  My how wrong I was.  I simply ADORE the bright and bold colors in the Fresh formulation and this Berry shade is the most gorgeous way to wear a dark lip but in a subtle way.
3.
Tom Ford Bruised Plum
– I admired this color from afar for awhile and was extremely hesitant to buy.  But when I went to the Tom Ford counter, I had intended on buying another color but the sales lady accidentally gave me this instead (and I didn't check before leaving – ugh).  However, when I got home and tried it on – the lipstick angels began to sing!  It is stunning.  I apply it directly from the tube for a full coverage finish and then blot about 5-7 times and what is left is a gorgeous plum stain.
4.
Burberry Lip Velvet in Bright Poppy
– The name fooled me completely when I bought this lipstick.  As it is not bright, or poppy-ish.  But the deep wine color looks great with a nearly naked face, but make sure you exfoliate before applying.  It will show every dry patch and  line of the lip.  I normally layer a lip balm over for a smoother finish.
5. Chanel Rouge Allure Luminous Intense in Envoutante – You might remember this post where I had been lusting after this color.  And though it looks quite different in person than in the online picture, it could not be more divine.  Velvety and smooth, it glides right on giving medium coverage with a slight sheen from the glitter.  But don't worry the particles are small enough that they are hardly even noticeable.
Shop other amazing dark lip colors: