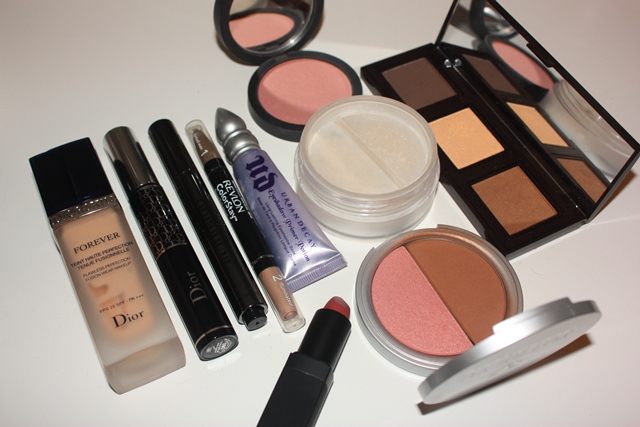 Fact:  I own 3,456,752 pieces of makeup.  Fact: I continue to buy more as if the world is ending.  Drugstore or luxury, makeup is the fluff that helps us get through life.  The non-sensical items that clutter our bathrooms, weigh our purses down and in the same breath make us squeal with joy like a 5 year old on Christmas morning.  But even though I am sure that the sheer volume of makeup I own may suffocate me one day while alone in my apartment, there is a method to the madness.  A color scheme if you will that has become my  staple for every day.  I pepper in other colors here and there (evidence of this is my Instagram feed @alittlebitetc), but generally I stick with what I like and then buy 14,000 different variations of each type of product.  I will walk you through my typical daily makeup routine and why I wear what I do.  It's a science, truly.
1. 
Dior Forever Flawless Foundation
– No face of mine begins without some sort of foundation.  I rally between tinted moisturizers/BB creams and foundations depending on time of year.  This was a random purchase recently, and frankly, it has knocked my socks off.  I fight regularly with my oily skin and look for foundations that will keep my skin matte, while still radiant.  Enter Dior.  Buildable coverage, SUPER long wearing and a natural matte finish that never gets shiny. Never.  This is vying to be a contender in the A Little Bit etc holy grail Hall of Fame.  Whoa.
2.
Diorshow Mascara
– Dior again? Yes.  It's a mascara jungle out there and choosing one seems harder than choosing a mate.  But I always gravitate towards a full volumizing formula for all of my mascara buys.  Reason being – more looks with a thicker formula.  How?  Well I am glad you asked.  With a thicker formula, you can build the intensity and tailor it to your look.  You can wear less of a bolder mascara, making it appropriate for day, but you can
never
build up a thinner mascara for evening.  See how that works?  One mascara can do it all.  And this one does.
3. 
Burberry Concealer
– I don't often use concealer for my face because my foundation has that on lock down, but I do like to brighten up the area under my eyes and this product has become a favorite concealer/highlighter for this purpose.  It never gets cakey, has an amazing consistency and is multipurpose and portable.  Along with acting as a rescue mission for your under eye area, you can dab along the top of the cheekbones to sculpt, under the brow to highlight, around the nose and lips to erase redness.  Who knew the maker of the best rain coats could also kill it with makeup?  Bravo Burberry.
4. 
Revlon Colorstay Brow in Light Brown
– Conversely to what you would think, I always opt for brow colors labeled for either "light brown" or "dark blonde" hair.  Not because I have hair envy, but because I prefer my brows to read a bit lighter than my hair color. Ok, a lot lighter.  But since I have quite prominent brows, I would rather them not reach you before I actually do.  And a bonus about this product, the product is actually a waxy based pencil so it helps the hair stay in place while giving them color.  Stay brow, stay.
5.
Urban Decay Primer Potion
 – As we will explore later, I am a nude lip gal.  So in the absence of lip bravado, my eyes get the spotlight.  And since my oily skin also manages to find it way onto my eyelids, primers are essential to helping my eyeshadow last and stay crease less.  Every brand out there seems to tout their primer's staying power as the best, but frankly I have tried a ton and this is the real deal.  Whatever magic Urban Decay puts in this product is like music to my eyes, or something like that.
6.
NARS Lipstick in Dolce Vita
– Now when I say nude lip, I don't mean actual skin tone-J.Lo circa 1997- nude lip.  I mean a color that resembles my natural lip color, but amped up.  If I could Instagram filter my lip color, those are the shades of lipstick (rarely gloss) I reach for time and time again.  My younger self is yawning at my current self but I don't care.  I proudly pout in my nude lips, particularly
this
nude lip because on top of a texture that never dries my lips out, it is exactly my lip color in a Rise or Valenica filter (for all you non-Instagram users, you will have to sit that reference out.)
7. 
Giorgio Armani Blush in #10
– A rose colored blush.  Ground breaking, I know.  But like I said before, I have found what works for me and just buy tons of variations.  Since I am no longer a teenager since like 75 years ago, I prefer my blushes to have little to no shimmer.  Frankly, I am an embarrassment to my twenty something self, but you can't fight your destiny.  Your neutral, rose-colored, subtly radiant, goes with almost any eye/lip combination blush destiny.
8. 
Laura Mercier Translucent Loose Powder
– So wait, I am using both a semi-matte finish foundation AND powder?  You bet your sweet no-shine ass I am.  A finely milled loose powder pressed into your foundation with a powder puff is my recipe for staying power.  And this product does it flawlessly, never adding extra bulk and never adding extra color.
9. 
Votre Vu Bronzer/Blush Duo
– I'm sure by now you all have seen millions of pictures of me on my blog, Instagram, Facebook, etc so it is no secret I am one shade lighter than Casper himself.  To warm up my complexion, I opt for a subtle bronzer with little to no shimmer applied just on the cheeks and a little on my hairline to give me slight color.  This bronzer reads quite natural not leaning too orange or too brown.
10. 
Laura Mercier Palette
– Many mornings I like to think I am an actual artist, mixing palette colors to create some sort of masterpiece on my face.  Naturally my color choices are always different shades of brown (and trust me there are millions, I am collecting them all), but the looks vary between subtle with just a sheer wash of color to bronzed and smoky.  Safe zone or not, a heavy brown palette enables me to create any look for any occasion.  This palette is the perfect balance of light and dark shades, and the texture of the eye shadows are divine.
Well there you have it, a typical morning getting ready with me.  It's only fair if you let me come spend a morning with you now, right?  What does your a.m. makeup routine look like?
And in case you are sick of furiously writing down all my top items and blogged about looks (I apologize for the hand cramp), now you can shop my favorite items directly from my blog!  Just click on the tab at the top of my blog labeled "shop my favorite bits" (creativity had escaped me that day for the name) and there are all my current favorite fashion and beauty bits all in one place.  Happy Shopping!