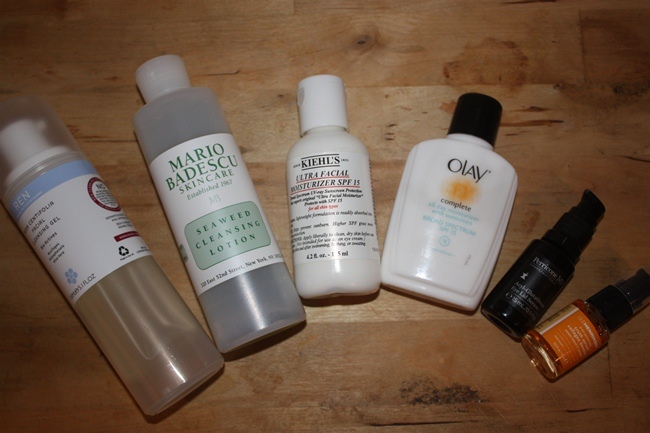 After rambling on about my nightly skincare routine last week (see post
here
), I received requests to reveal what is in  my current morning regimen.  And like the blogging puppet that I am, I obliged.  Here ya go.  Ma face schtuff fanned out nicely for the sake of being artsy.  I will say that while most of these items are used in regular rotation, I am not averse to changing on a whim and spontaneously arriving at my neighborhood Sephora with a force-field like pull directing me to the skincare department.  Upon arriving, I will subsequently stare off into oblivion, mesmerized by all the lights and rows of face creams, and just wander.  Then I will snap myself out of my trance and pull out my trusty I-phone that contains lists and lists (and lists and lists) of products that I have come across in my daily reading, blogging, tweeting, instagramming travels.  But for now, this is the line up.  For now.
1.
REN Rosa Centifolia Cleansing Gel
– To get my tired butt out of bed in the morning, I rely on cleansers that either foam or have a gel consistency.  Why? Who the heck knows?  In the evening I am usually using a cleansing oil to take off my spackle, errr makeup, so a nice cooling or foaming consistency seems fitting for the a.m. shower.  And since this is rose-infused, the scent is delightful and makes my skin feel extra soft. 
2.
Mario Badescu Seaweed Cleansing Lotion
– After jumping on the toner bandwagon, I am enjoying this for my morning routine as it calms my skin immediately and does not make it feel tight afterwards.  Alcohol free and gentle as a lamb, it is the perfect way to prep my skin for the barrage of makeup I will be putting on it later. 
3.
Kiehls Ultra Facial Moisturizer SPF 15
– I use its sister product, the
Ultra Facial Cream
, in my nighttime routine, and love this range so much that I just can't help but use the lotion for the day.  With my oily skin, I do prefer lotions for day to wear under my foundation, and flip flop between this and the next product.  It has SPF, hydrates my skin all day and looks great under makeup.  This should be in every one's routine.  Seriously. Your face will thank me.
4.
OLAY Complete All Day Moisturizer SPF 15
– Yes you have seen me talk about this during the summer in my post about sunscreen.  And yes I am still using it.  Yes, I still have a ton left.  Yes, I do believe secret OLAY elves come every night and fill it up so it never runs out.  No muss, no fuss, a great day moisturizer. 
5.
Perricone MD Acyl-Glutathione Eye Lid Serum
(c/o) – Try saying that 5x fast.  You can't.  But your inability to say it will only be won over by ability to be completely amazed at its awesomeness.  One of the only eye creams I have ever come across that can be used on the lid, this serum has become forever linked to  my eye makeup for its ability to help smooth my lid and allow anything I put on top to stay there until I decide to take it off.  And after you finish reading my blog post, head over to
The Daily Perricone
where I did a full review on it, and read that too.  And then sit back and ask yourself "how can I make the world better?"  By smoother lids and brighter eyes?  Unequivocally and undeniably – YES.  The rest of us thank you in advance. 
6.
Ole Henricksen Truth Serum
– How could I not love this serum after my
intimate affair
with the face wipes?  All that vitamin C goodness in a serum form?  Delicious.  After receiving this recently in a Glossybox, I have been hooked every single day.  It absorbs quicker than I can apply, and instantly makes my skin feel hydrated and nourished.  The best thing is my skin looks brighter all day when I wear this (and trust me I have tried it without because I am a total skeptic believe it or not), and after my imaginary blogging oath I took, I feel compelled to only speak the truth.  Or maybe the serum made me do it.  Food for thought.
Ok now I have given you night skincare AND day skincare – now I need to know what I am still missing.  My FOMO (fear of missing out) is quite real when it comes to beauty so don't leave me in the dark. Leave a comment below or tweet me @alittlebitetc with some skincare products I need to try.   
?