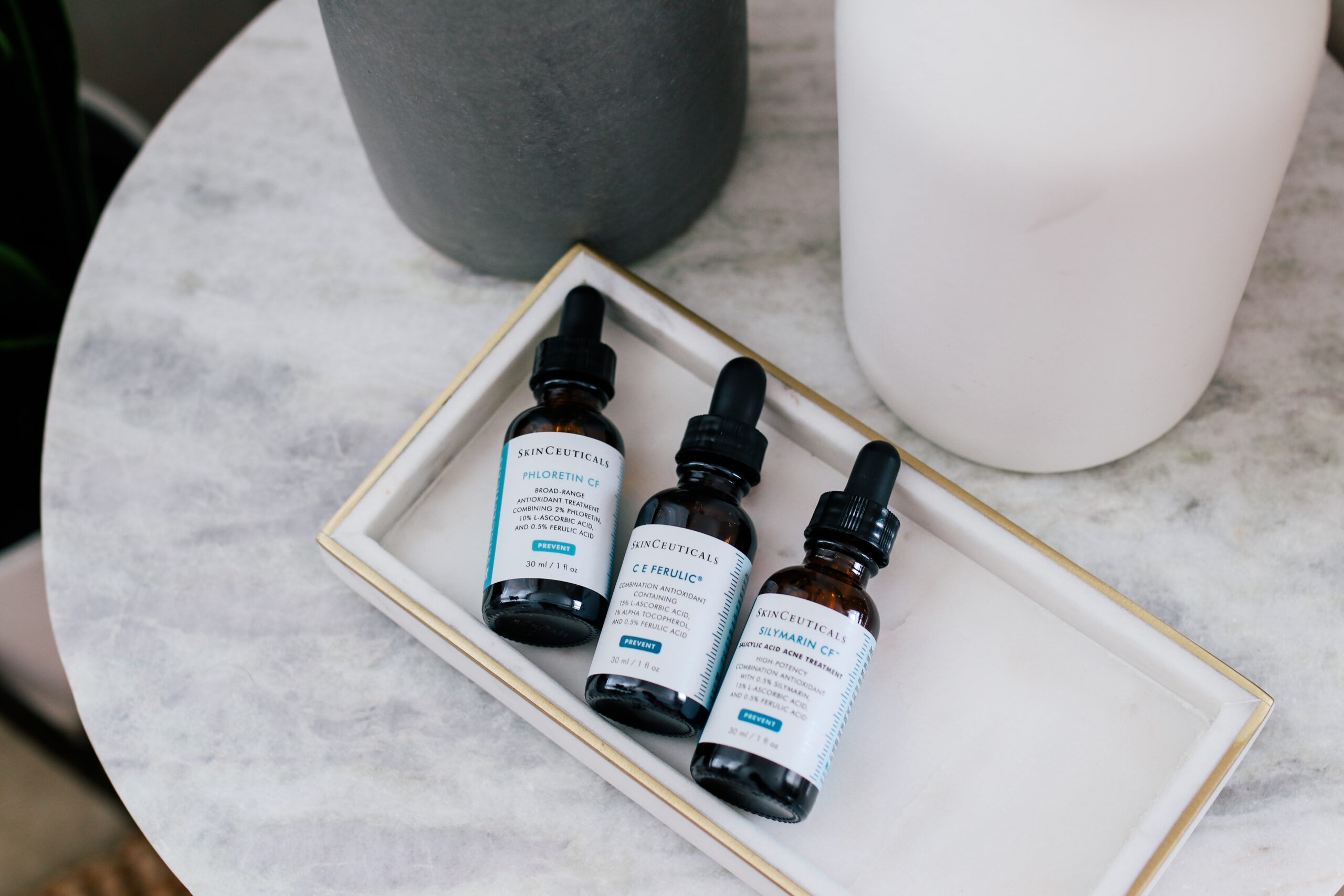 Vitamin C is one of the ingredients that is a must have in my skincare routine. It helps to protect the skin from environmental aggressors, damage from free radicals, it promotes collagen production and can help the skin retain moisture throughout the day. In addition, it has tons of visible results such a reducing fine lines and wrinkles, fading dark spots and brightening the skin. Basically it's everything I want in a serum. LOL I personally like to use my vitamin c serums during the day since vitamin c can aid in preventing sun damage through its ability to combat free radicals and any damage that could be caused by UVA/UVB rays. Skinceuticals makes some of my favorite skincare products that are incredibly effective (I shared my tried and true products in this post) and their vitamin c serums are some of the BEST!!! I thought I would do a quick comparison of three of their most popular vitamin c serums and which skin types they would be best for as well as what concerns they will target. Hopefully this will be helpful if you are trying to decide which one to invest in.
1. Skinceuticals CE Ferulic – This is the Vitamin C serum from Skinceuticals that I have been using the longest and it's become a staple in my routine. It's suitable for all skin types (even sensitive) and is best at targeting anti-aging concerns such as fine lines, wrinkles, loss of firmness and brightening. While it will help fade some stubborn dark spots, I find that it gives more of an overall evening out of the skin tone.
2. Skinceuticals Phloretin CF – If your skin type is normal, oily or combination, this serum is designed for you. It does target anti-aging concerns such as fine lines and will also help to reduce any discoloration on the skin. If you really struggle with uneven skin tone, dark spots, acne spots that need fading, brown patches or melasma, this is a great vitamin c option for you.
3. Skinceuticals Silymarin CF – This is the newest addition to the Skinceuticals Vitamin C serum line-up and this has the addition of salicylic acid to help treat and prevent blemishes. The Silymarin CF is best for those with oily and/or acne prone skin because it will treat anti-aging concerns (fine lines, wrinkles), brighten the skin, reduce oiliness and refine skin texture.