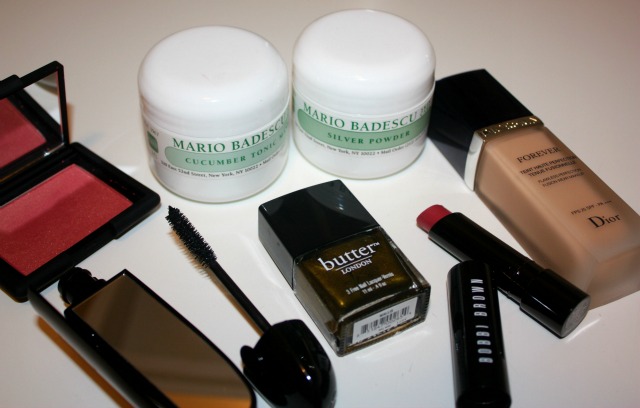 Just like parents who cannot pick a favorite child because they love them all equally, I am presented with the same challenge when trying to bestow this title on stand outs from my beauty collection.  However, there are those products that impress over and over again that must be given the illusive "favorites" title and spoken about on my blog.  Truth be told, blogger favorites are often how I decide what products I am going to purchase next so I felt it was only fair to give everyone a chance to cop some of my highly regarded goodies.  The people have a right to know!  So without any further adieu, ladies and gentlemen (props if you are of the latter category – Dad, you don't count), here are my October beauty favorites:
1. 
NARS blush in Outlaw
– Please do not adjust your screens, this blush is as pigmented as it looks.  But it is a beauty.  Just a dab'll do ya, but the finished result is a beautiful, rosy, glowing cheek.  Fun fact for all you beauty nerds (yup, yup, one right here), this blush was limited edition but because it was so popular with NARS customers they brought it back.  THAT is customer loyalty.  Props to you NARS.
2. 
Mario Badescu Cucumber Tonic Mask
– My clear skin has found a new BFF in this mask.  Rarely has a pore cleansing mask worked so well, without drying me out, and for that I am eternally grateful.  Clear skin = happy blogger = Mario Badescu customer for life.  
3. 
Mario Badescu Silver Powder
– Dirt in your pores does not stand a chance with this one.  A thorough cleaning is an understatement.  A word to the wise, the product can be a little messy as it starts to dry but what is left after are some seriously clean pores and skin.  Not mad at it. Not mad at all. 
4. 
Dior Forever Foundation
– Alright, it has become clear scanning through many of my previous
posts
and more
posts
, that I do have a "thing" for foundation.  It is just so hard to find ones that perform so perfectly for my oily, shiny, no-I-am-not-sweating skin, so I have to try them ALL.  But perform this does – all day, flawlessly and without shine.  Take a bow, Dior. You earned it.
5. 
Bobbi Brown Creamy Matte Lip Color in Razzberry
– If there was a twelve step program for people who have too many lip colors of the same tone, the nude lip group would definitely have me as a member.  So you can imagine my surprise when a bold, berry lip made its way into my favorites contention.  A perfect fall berry shade, and a texture that feels like butta on your lips. 
6. 
Butter London in Wallis
– You have seen this before on a
Sunday Nailday
, so I am sure you have already been swooning, but I felt it necessary to bring the focus back again on such a unique, bold shade.  Slightly green, slightly gold, slightly brown – slightly AWESOME.  Meek nail color lovers need not apply. 
7. 
Guerlain Noir G Mascara
– Does that mascara come with a mirror?  You bet your sweet makeup loving butt it does.  For lack of a better term, this mascara is quite the contraption.  Refillable, mirror, doubles as a paper weight – pretty sure it makes coffee if you can find the right button. Oh and it makes your lashes absolutely amazing.  Full, lush, separated with no smudging.  Hold me Guerlain Noir G.  
There you have it – my monthly favorites.  Thinking 'bout making this a monthly regular for my readers.  Tweet me @alittlebitetc or leave me a comment below if you say yay.  
P.S.  Word on the street is there might be a giveaway coming soon on A Little Bit etc.  Rumors are also swirling that the item was featured on Oprah's favorites!  Get outta town!  I know, right?  A monthly favorites post AND a giveaway leak?  Mind. Blown.