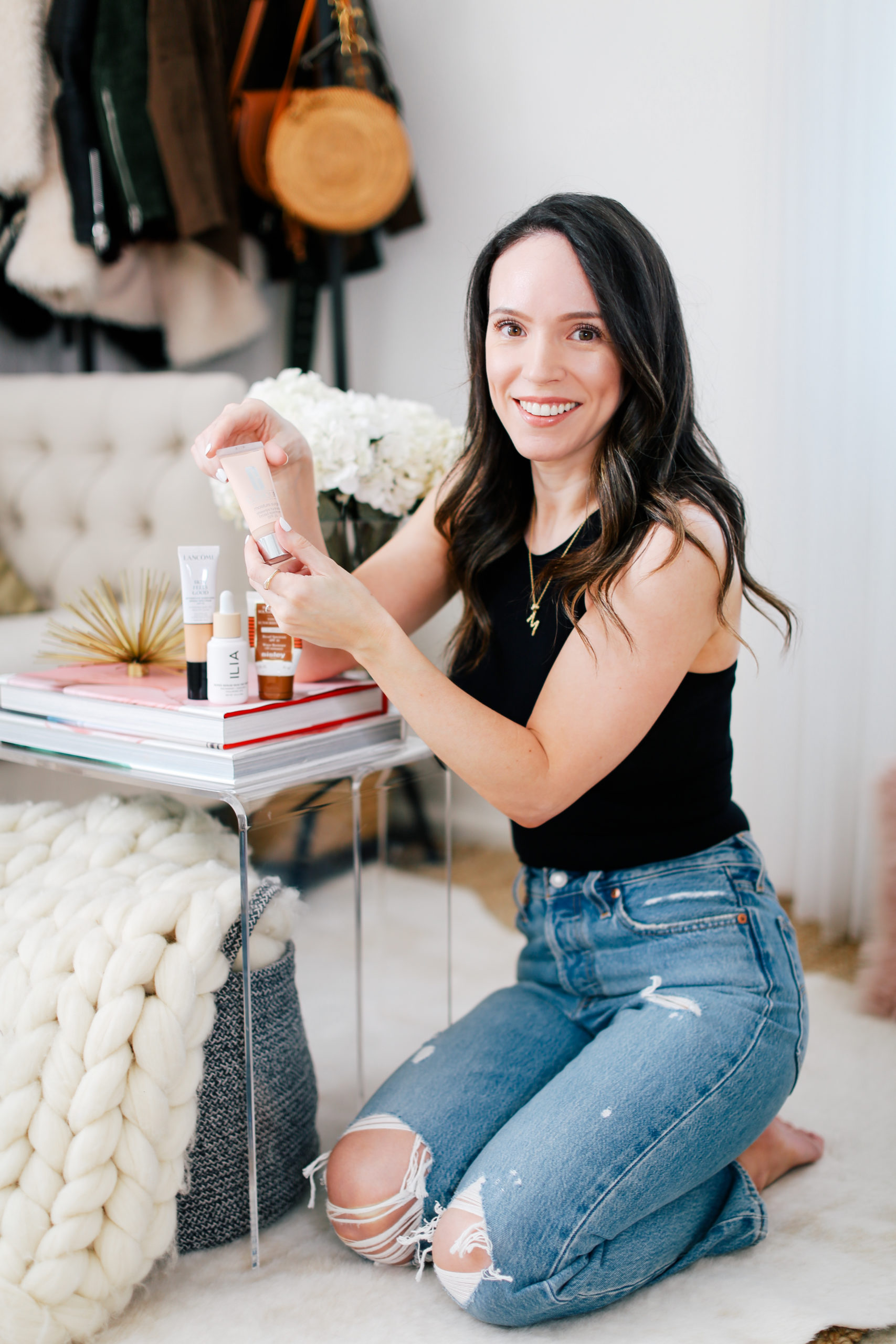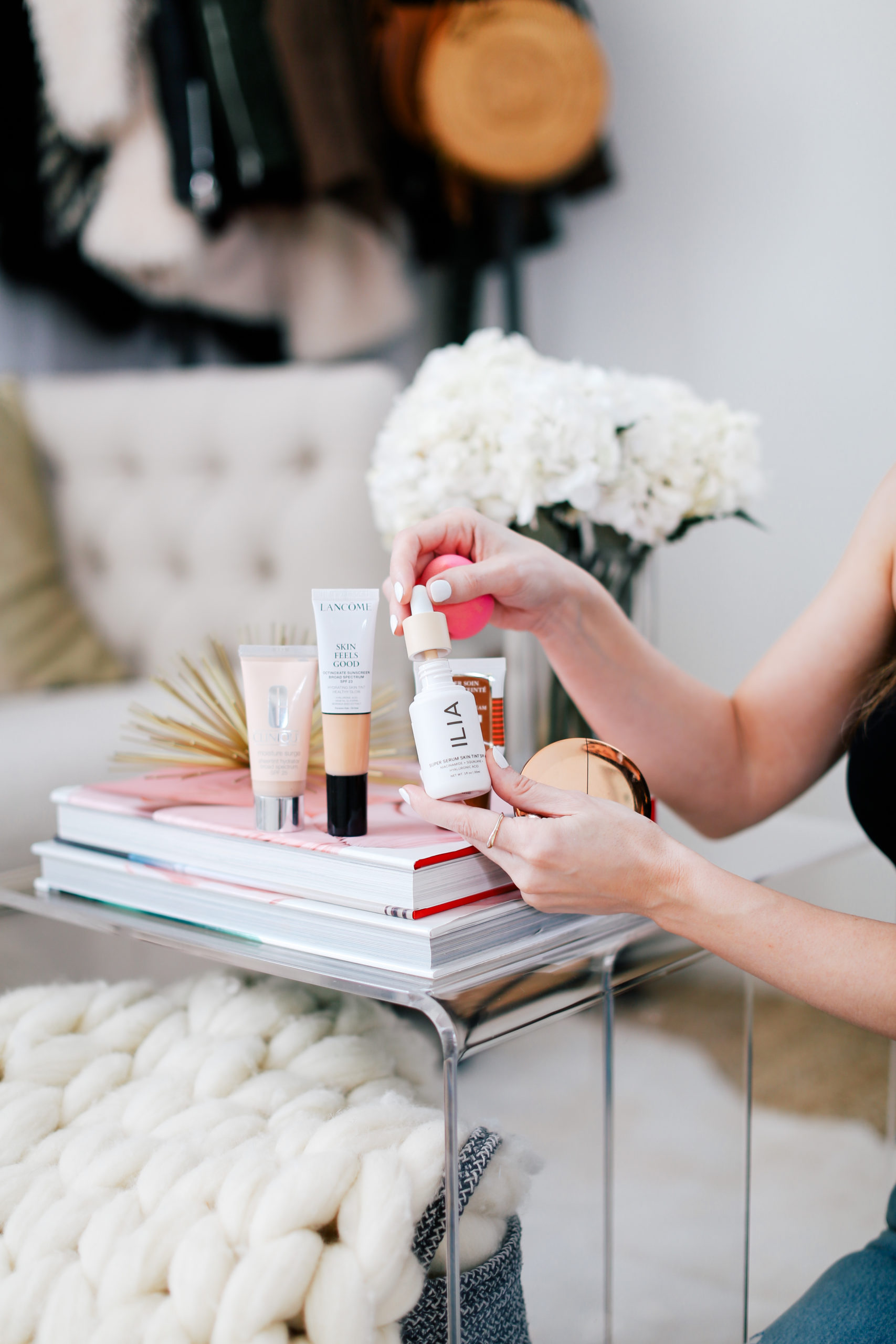 Swatches from bottom to top: Clinique Moisture Surge, Ilia Skin Tint, Lancome Skin Feels Good and Sisley Tinted Sunscreen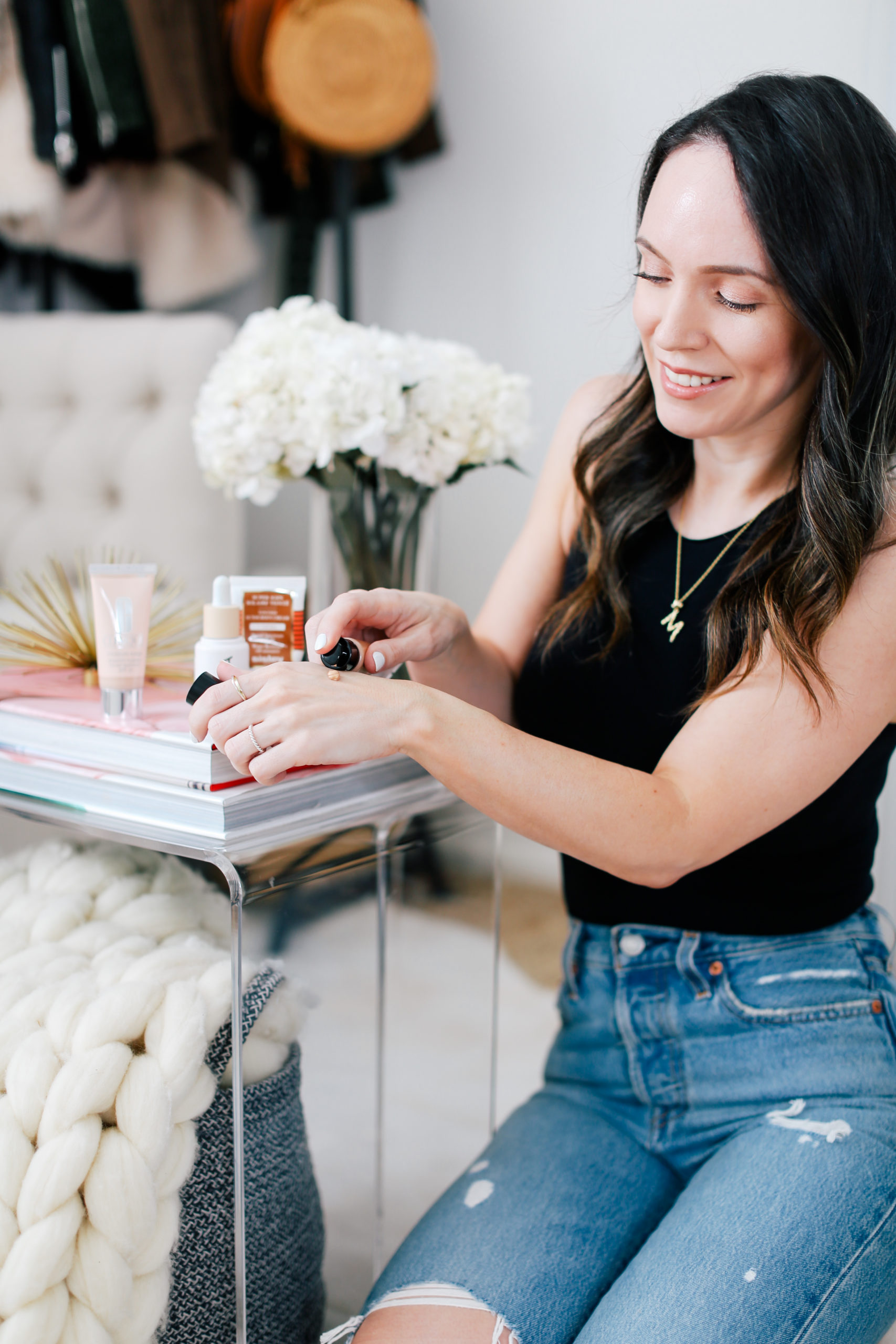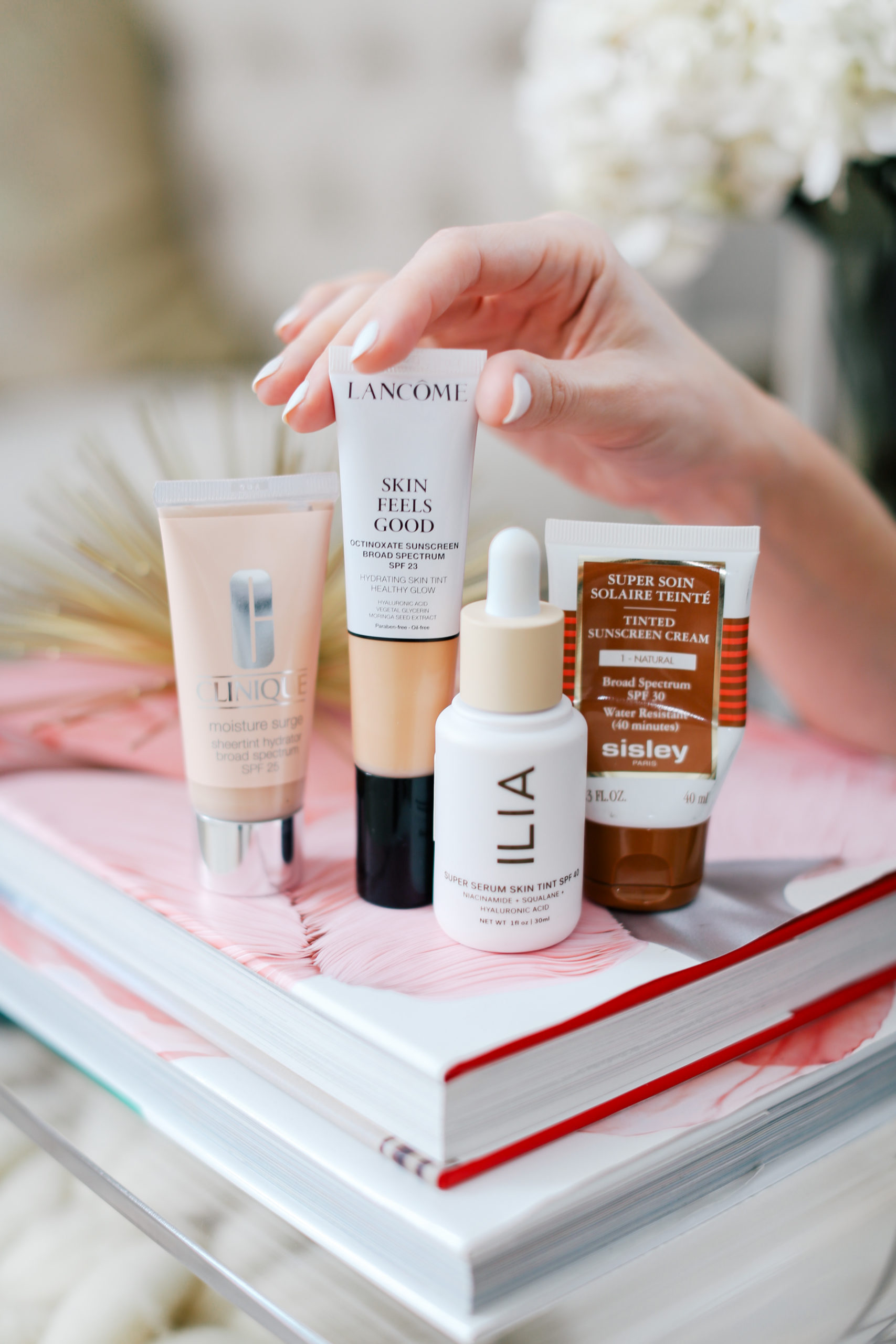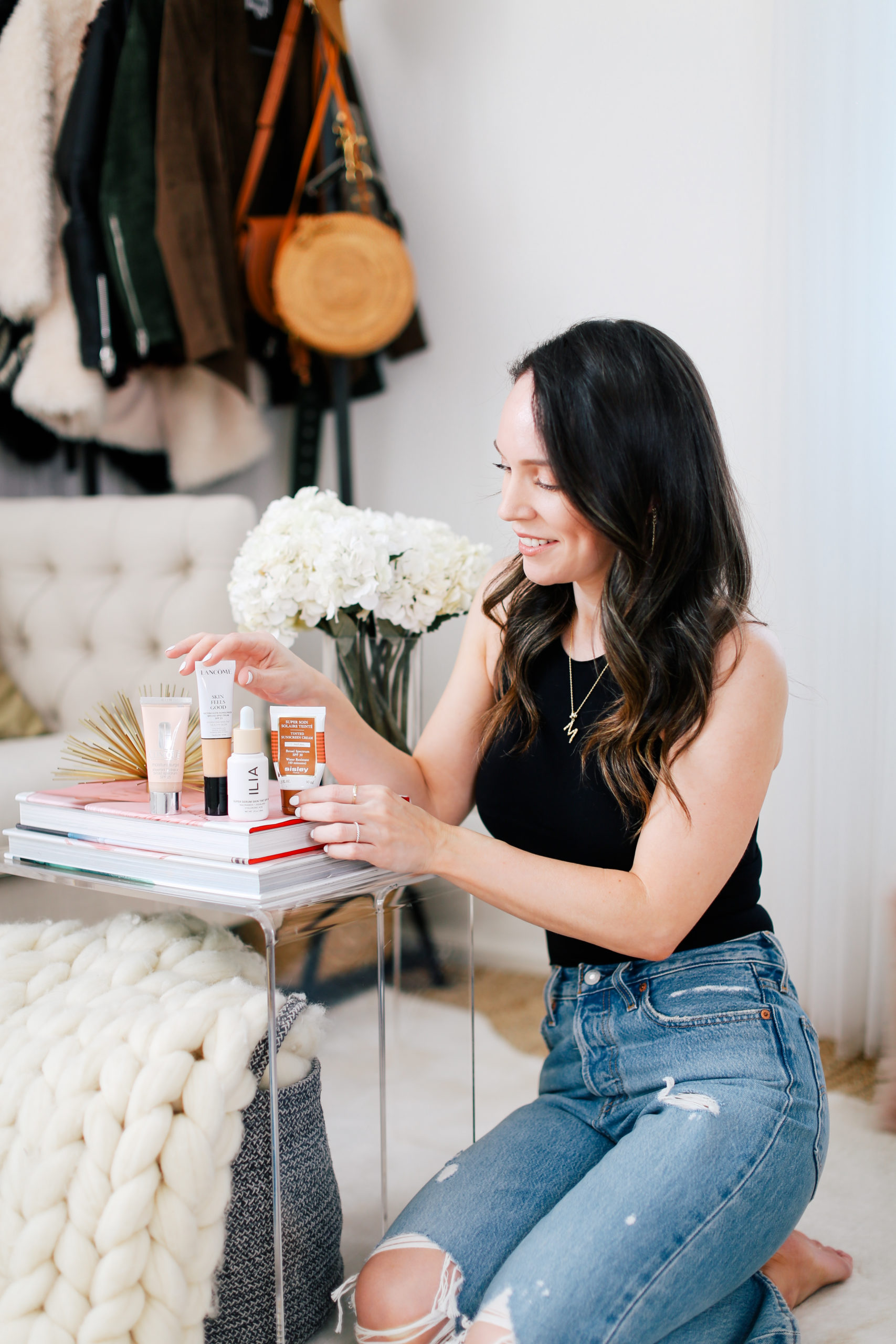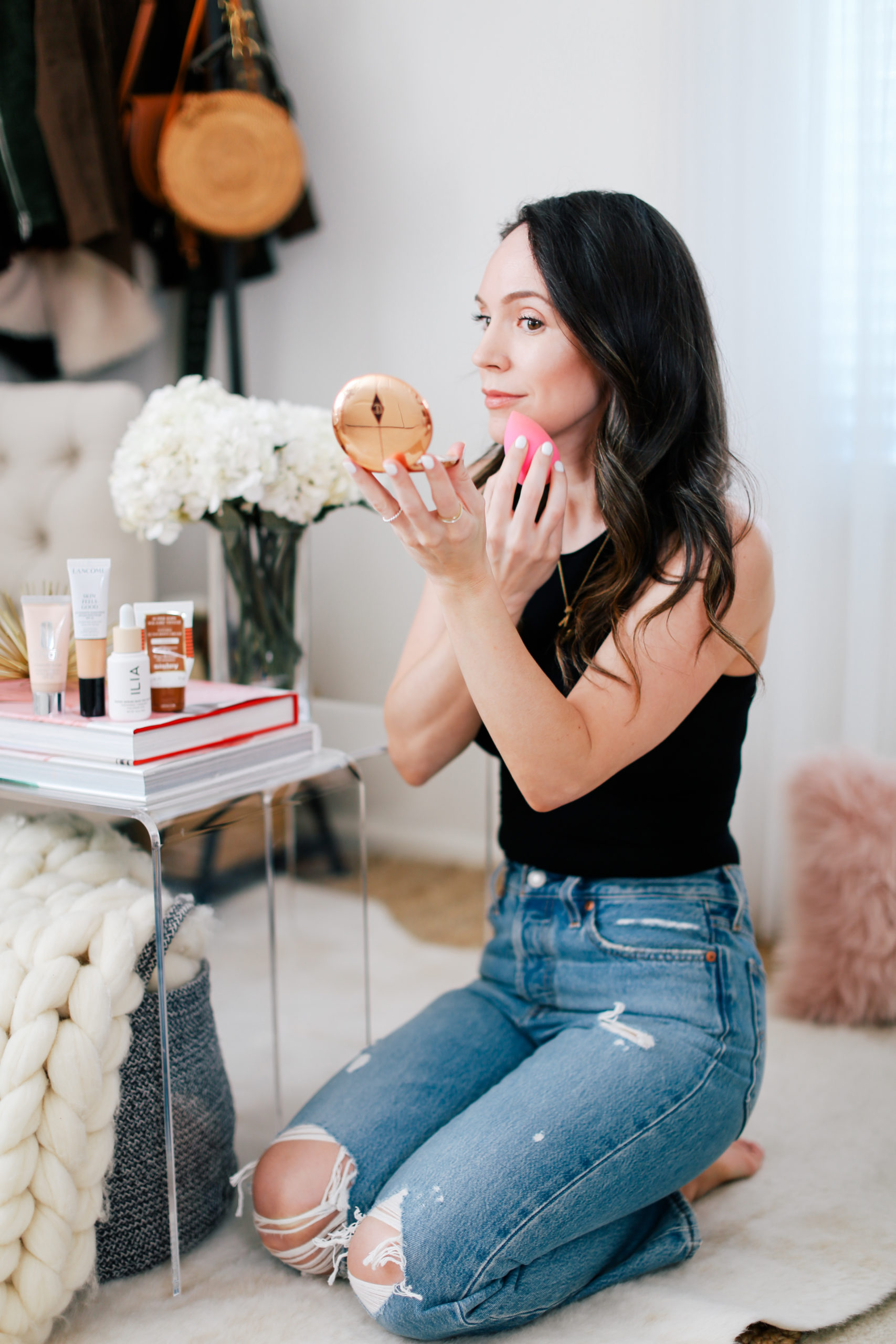 Tank – Commando | Jeans– Levi's | Necklace – Similar here
It's hot. Like boiling right now. And to be honest, as much as I LOVE makeup, I can't stand the feeling of a fuller coverage foundation on my face in the intense summer heat. I have to have a selection of lighter weight formulas and tinted moisturizers to reach for so I don't feel like my face is going to melt off. LOL I like my tinted moisturizers to have SPF in them as well in case I want to wear them alone or to the pool/beach so that is typically what I look for when searching for a new one to try. I still like a bit of coverage so I prefer to wear formulas that feel weightless but cover any uneven skin tone, imperfections or redness. I found a few new formulas on Nordstrom that really intrigued me – though to be honest, they have so many great tinted moisturizer options that it took me 20 minutes to finally make a decision. Ha! I find it easy to just use the filters on the side of the page to choose exactly what I want so it helps me narrow down the options and I'm not so overwhelmed. Here are the four tinted moisturizers I'm loving right now – one old favorite, one that I've been wearing for a few weeks and two that are new discoveries:
1. Sisley Tinted Sunscreen Cream SPF 30 in shade Natural – I've been using this tinted sunscreen the longest out of all the ones in this post. It has been a favorite of mine for 4 years now and the formula is absolutely gorgeous! It gives the most coverage out of all four yet still manages to feel weightless on the skin. It's very creamy and leaves the skin looking almost airbrushed. I love wearing it as a foundation or to the pool/beach as my sunscreen. The only downside is there is a limited shade range.
2. Ilia Super Serum Skin Tint SPF 40 in shade Tulum – I discovered this Skin Tint about a month ago and it floored me from the very first application! It gives sheer to sheer medium coverage and leaves the skin with the most stunning naturally radiant finish. It's incredibly long wearing and doesn't get more oily as the day goes on which is always a must for me because I have combination skin that can get shiny in the t-zone.
3. Clinique Moisture Surge Sheertint Hydrator Broad Spectrum SPF 25 in shade Universal Very Light – Out of all four in this bunch, this Clinique Sheertint feels the most like a skincare/makeup hybrid product. It's the most sheer formula yet still manages to give great coverage and even out the skin tone flawlessly. It's incredibly hydrating and feels refreshing from the moment you first apply it. It has a slightly dewy finish at first but settles down to a more natural finish as the day goes on. For those that want a formula that doesn't at all feel like a foundation, this is the one to get!
4. Lancome Skin Feels Good Hydrating Skin Tint SPF 23 in shade 01N – I am very loyal to my Lancome Teint Idole foundation and have been for many years. But that is a very long wearing, fuller coverage matte foundation. I was intrigued by this Lancome Skin Tint every time I saw it when I was browsing the Nordstrom site and finally decided to give it a try. I am so glad I did because it impressed me so much! It has a bit more coverage than the Clinique Moisture Surge but still closer to the sheer/sheer medium range of coverage. I find the shades run dark so I would recommend going down one shade from what you would normally buy. The finish is flawless and looks almost airbrushed on the skin! It's a bit more dewy than the Ilia Skin Tint but surprisingly did not make my t-zone look oily throughout the day. Such a gorgeous formula!
What tinted moisturizer are you currently loving? Any favorites that you would recommend??
Thanks to Nordstrom for sponsoring today's post.