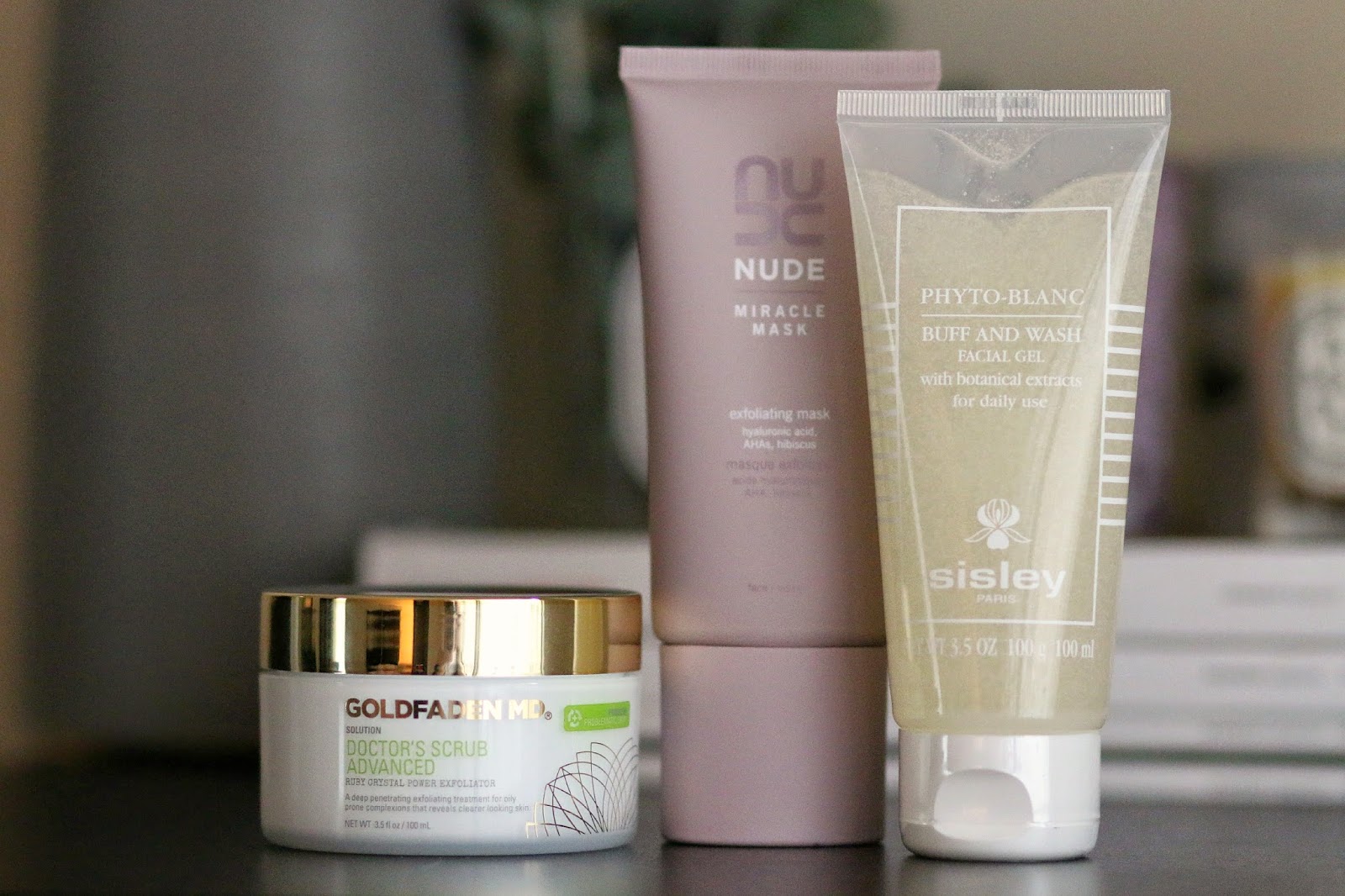 I struggle with dull skin because I am so fair. My skin can often become drab and lackluster at times, which can be made worse by any hyper pigmentation issues that may have popped up unexpectedly (old sun spots, healing blemishes, etc). I always keep products in my skincare collection to help give me that boost of brightness and fight those bouts of unevenness that I deal with from time to time. The key I have found to successfully managing this (and eradicating it at times) is by regularly exfoliating whether by a scrub or mask or even a cleanser.  Here is a look at 3 products I've recently tried that were really great at helping me achieve that brightness I'm always in search of for my skin. #thestruggle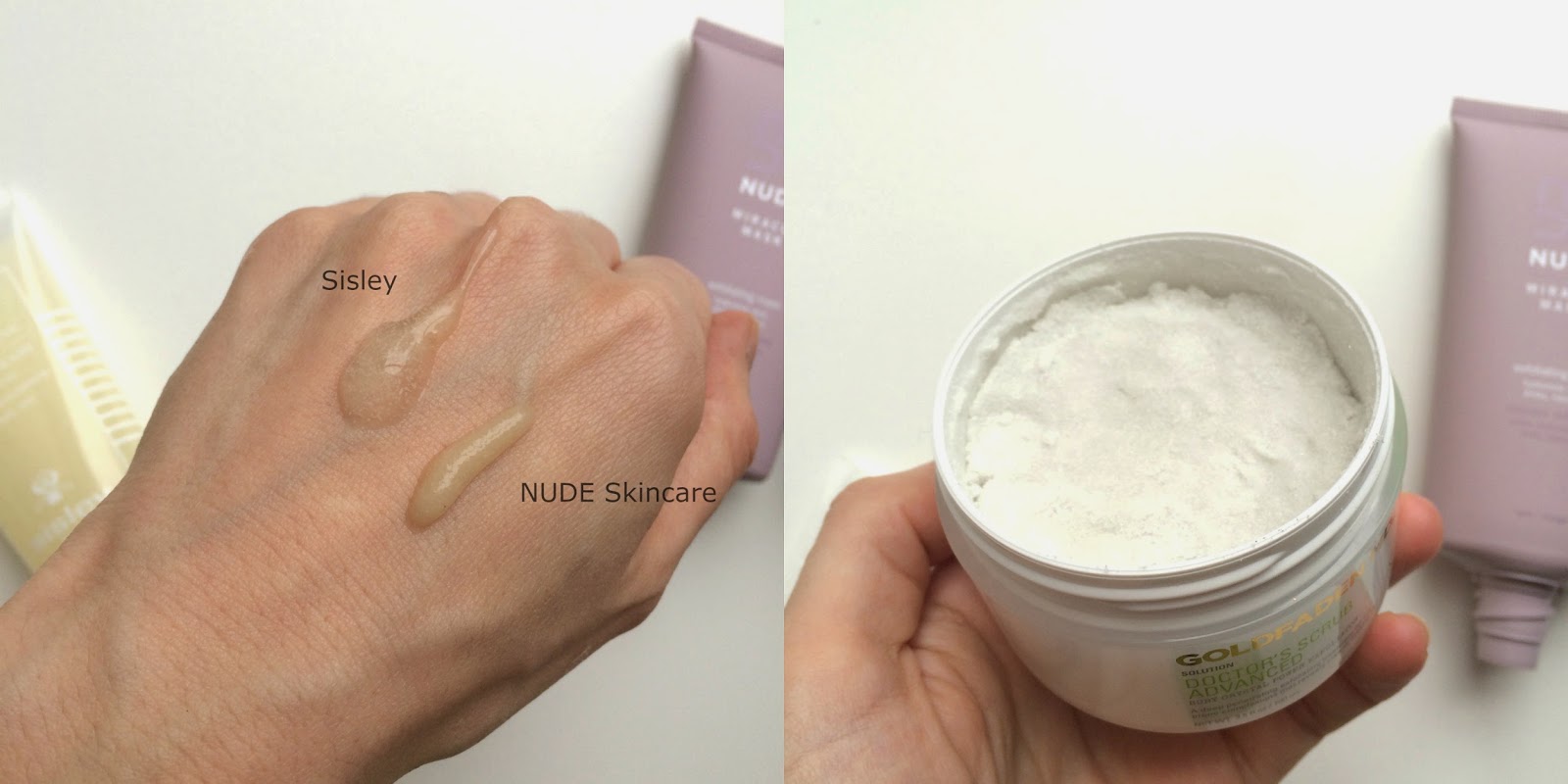 1.
Goldfaden MD Doctor's Scrub Advanced
– This scrub is not for the faint of heart or those with particularly sensitive skin because a SERIOUS exfoliation happens with this product. That being said, it is by far the closest thing to microdermabrasion I've ever used. It is
that
effective. One pinch of these pure ruby crystals massaged in and left on for 60 seconds and it will leave me with skin that is no short of baby soft. No, I mean put me up next to a baby and you will not be able to tell the difference in our skin. Frankly, I need a new word for smooth after using this. But for those who may find this one a bit too harsh (that would not be me – I go hard on my exfoliating LOL), there is the
regular Doctor's Scrub
which is much less intense yet still quite effective.
2.
NUDE Skincare Miracle Mask
– I began by slowly sipping the
NUDE skincare
Kool-aid, trying out
product
after
product
and loving each one more than the next. So now I'm at the point where I am simply chugging that Kool-aid and head over heels in love with the whole line. This
Miracle Mask
is nothing short of a miracle with its natural exfoliators that help to brighten, smooth and clarify the skin. The great thing about this mask which makes it a bit different from my other exfoliating masks is that I am able to use it during a breakout without irritating my skin or worsening the problem. That truly helps set it apart in my skincare routine and make it a staple. Again, there goes that Kool-aid talking.
3.
Sisley Phyto-Blanc Buff and Wash Facial Gel
-So I already raved about the
Sisley Foaming Cleanser
(read my review
here
), and this
Facial Gel
is great to add in once or twice a week as an added cleanser step. It has ingredients that are designed to help lighten the skin (meaning dark spots or uneven pigmentation) and help exfoliate all the dead skin cells on the top layer of the skin. I began using this after a particularly bad breakout I was suffering from in order to test out it's ability to help brighten and lighten the skin and I was happy to see that it lived up to it's claims. The spots didn't disappear overnight but I saw a marked change in their intensity versus using my regular cleansers. And after the trauma of a bad breakout (we've all been there), it's always good to find something to restore the faith in your skin.
Have you entered my $75 Sephora gift card giveaway?!!! Enter
here
.

JavaScript is currently disabled in this browser. Reactivate it to view this content.