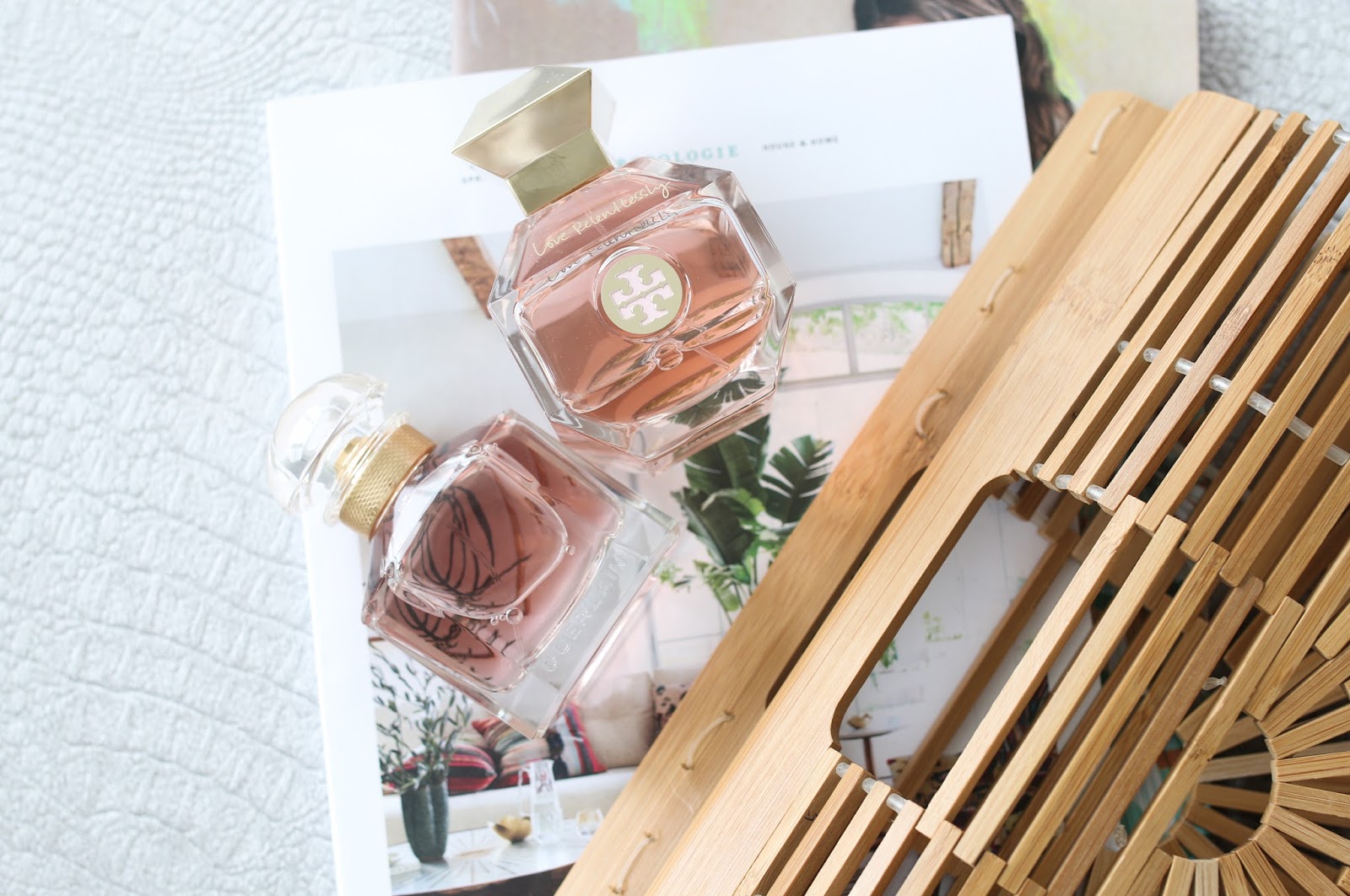 Just as I change some of my makeup for the next season, I love rotating in new fragrances. For spring and summer I do prefer to go a bit lighter, though I still enjoy sweet, spicy, woodsy or florals. I've had quite a few new fragrances arrive over the past couple of weeks and these two were instant hits with me. Though funny enough, they could not be more different. 
1.
Tory Burch Love Relentlessly
– Most Tory Burch fragrances that I have experienced are always easy to wear and ones that I feel would appeal to many people. This new launch is no exception. It is a floral scent as I find most of hers are, but this is a slightly warmer floral with notes of sandalwood and amber balancing out the rose. But this is not a powdery scent in the slightest – it is more of a upbeat floral that leans a bit fruity when you first smell it. The amber and sandalwood come out when it has been on the skin awhile and gives it some depth which I really like. I think this would be a great gift option as well because the scent is so easy to wear and enjoyable!
2.
Guerlain Mon Guerlain
– While the Tory Burch fragrance falls into the upbeat floral category (a category I just made up – my blog, my categories), Mon Guerlain is deeper and more moody. This is the
perfect
 fragrance to begin wearing now and will transition nicely into spring. It's warm and spicy with notes of vanilla and sandalwood, but manages to be quite light with the introduction of jasmine and lavender. It is not like anything I currently have in my collection and I especially love how it wears when on the skin. It would work well for any season to be honest, because it blends warm and floral equally but is not overpowering when worn.
Shop more fragrances that just launched:
!function(doc,s,id){ var e, p, cb; if(!doc.getElementById(id)) { e = doc.createElement(s); e.id = id; cb = new Date().getTime().toString(); p = '//shopsensewidget.shopstyle.com/widget-script.js?cb=1489542722828?cb=' + cb; e.src = p; doc.body.appendChild(e); } if(typeof window.ss_shopsense === 'object'){ if(doc.readyState === 'complete'){ window.ss_shopsense.init(); } } }(document, 'script', 'shopsensewidget-script');