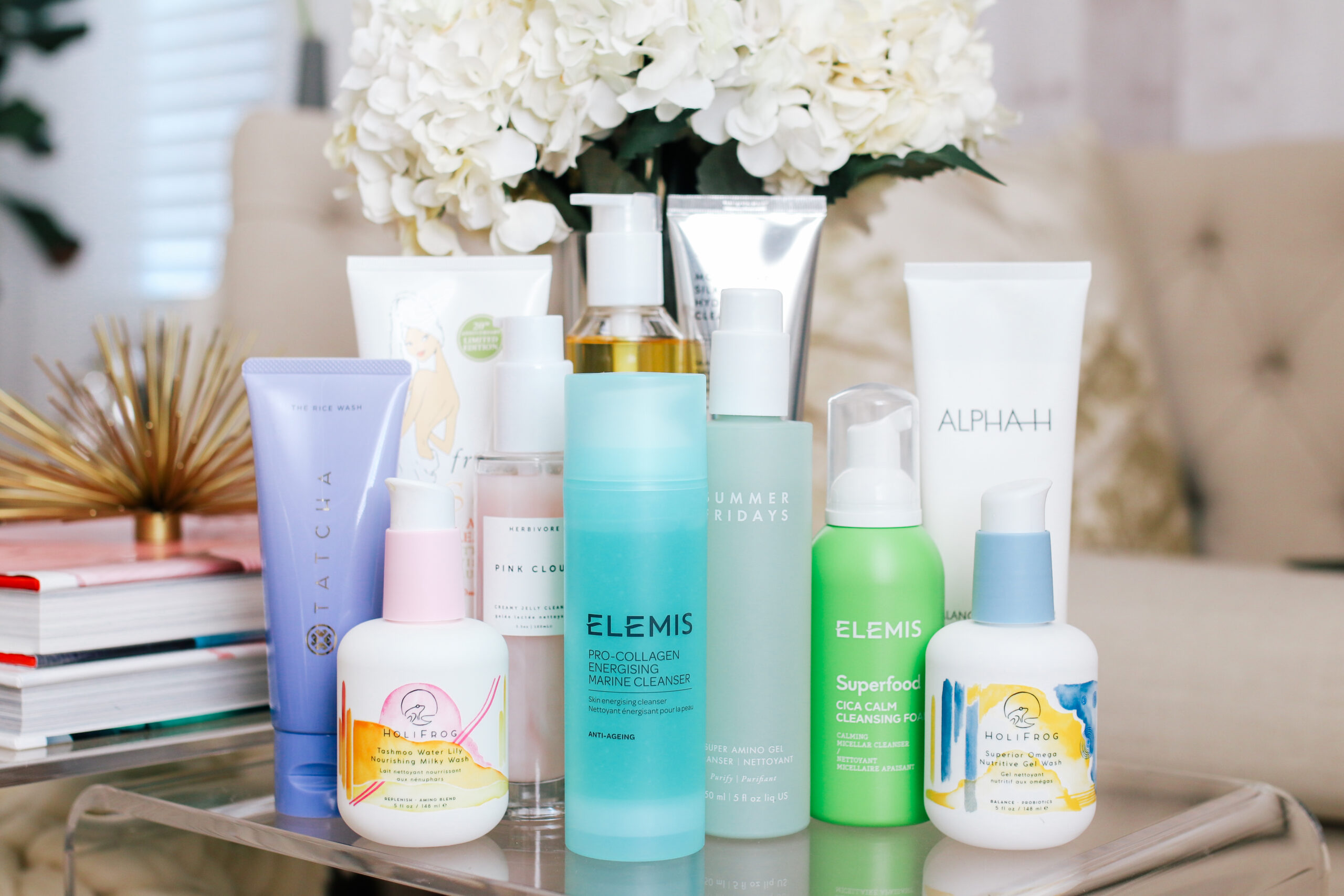 I'm always talking about cleansing oils and cleansing balms because I love them so much and find them vital to my evening skincare routine in order to effectively remove my makeup. But I am just as passionate about the cleansers I use after that for my second cleanse so I thought I would share 10 that I enjoy and use regularly.
1. Tatcha The Rice Wash – Fluffy and pillow-like. Can I describe a cleanser with those words? Well, I just did and it's the first words that came to my mind when I thought of this cleanser. LOL
2. Holifrog Nourishing Milky Wash and Nutritive Gel Wash – I fell immediately in love with Holifrog cleansers as soon as I tried them. The Nourishing Milky Wash is creamy and so moisturizing, while the gel wash is lightweight and feels so fresh on the skin.
3. Herbivore Pink Cloud Cleanser – I really enjoy a jelly cleanser because it feels like a mix between a gel and a cream. This particularly one feels so smooth when you apply it and I prefer to massage it in a bit before rinsing for an added bit of pampering.
4. Fresh Soy Cleanser – A longggggg time favorite and one I always go back to. It's a thin gel that feels instantly cooling on the skin and leaves my skin feeling clean but not tight.
5. Elemis Pro-Collagen Energising Marine Cleanser – The newest cleanser to my collection and once again Elemis knocked it out of the park with this one. A cooling and refreshing gel that wakes up the skin and makes your skin feel clean and awake.
6. Summer Fridays Super Amino Gel Cleanser – I have loved all the products from Summer Fridays that I have tried but this cleanser is definitely the favorite out of all of them. It is an incredibly silky gel cleanser that really gives your skin a deep clean without stripping it. It's amazing at removing makeup as well which surprised me though I typically like to use it as my second cleanse.
7. Elemis Superfood Cica Calm Cleansing Foam – I try to avoid most foaming cleansers at all costs because they remove every last bit of moisture and healthy oil that my skin has…however, there are a few that are the exception. This cleanser from Elemis being one of them. The foam feels creamy and so nourishing and really helps to soothe and calm the skin.
8. Farmacy Clean Bee Cleanser – I LIVE for the Farmacy Cleansing Balm (it's truly a holy grail), but the Clean Bee Cleanser is not to be forgotten! It's a thick gel that is ultra-gentle and hydrating to the skin thanks to the honey and hyaluronic acid in the formula.
9. Alpha H Balancing Cleanser – Another gorgeous fluffy cream that envelopes the skin and makes it feel so comforted, nourished and hydrated!
10. Allies of Skin Silk Amino Hydrating Cleanser – While this cleanser is great at removing makeup, I love it as a second cleanse because it contains various alpha hydroxy acids and amino acids which gives my skin a gentle exfoliation while also helping to brighten and hydrate.