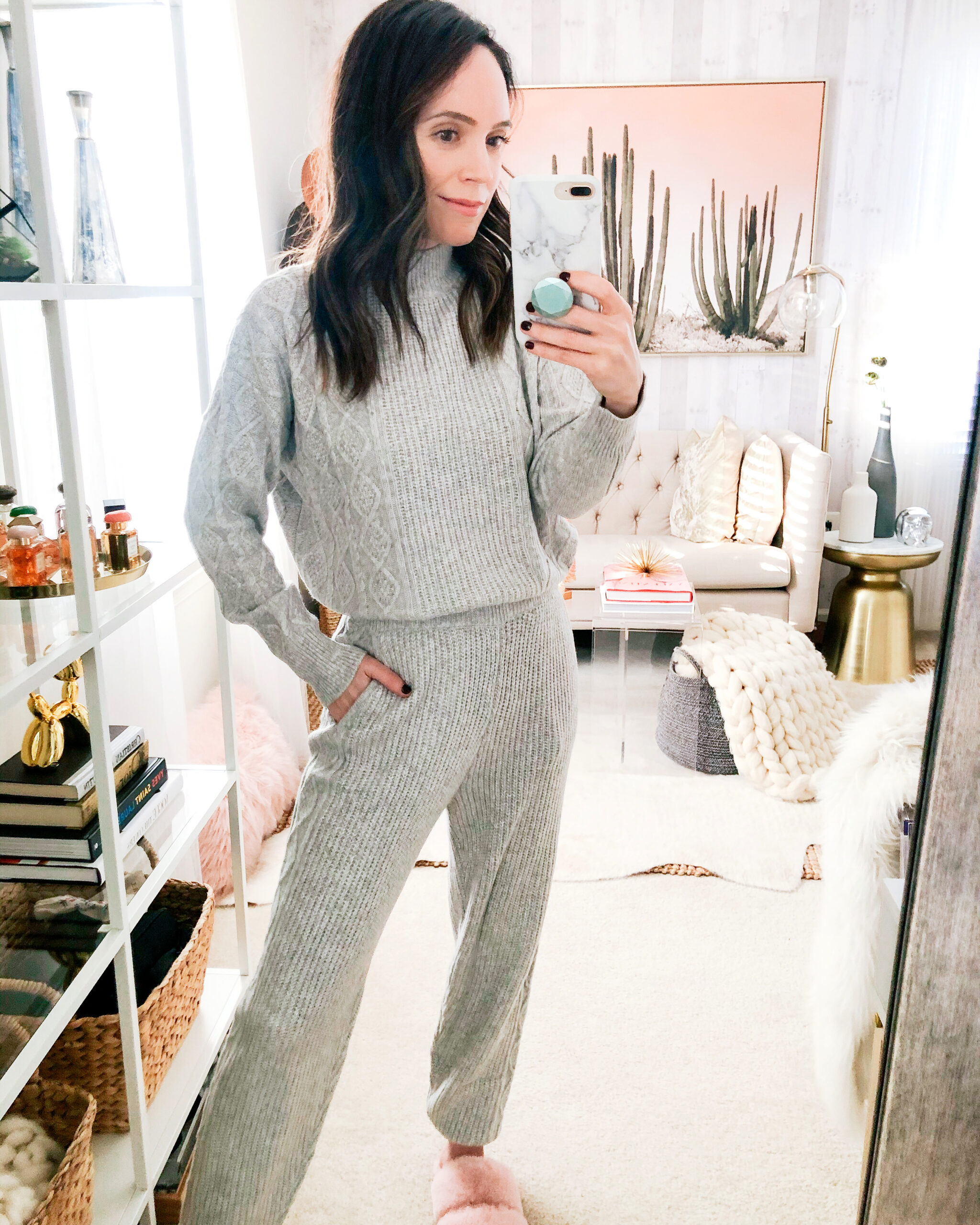 Sweater – Express | Joggers – Express | Slippers – Express
Today's post is a good one to bookmark because I'm sharing all the shows I've been watching recently! I normally share them on insta-stories but thought I would put them all into one post so you can refer back to it when you need something new to watch.
1. Queen's Gambit – Yup, it's as good as everyone said it was. The first episode was a bit slow but stick with it because it gets much more interesting.
2. Virgin River – This series is a great to have on in the background when you are doing something. It's a bit Hallmark-ish because a big city girl moves to a small town to escape her current life and ends up falling in love with one of the locals. There is a bunch of other drama, some mystery and other things thrown in. It's not the best thing you will ever watch, but it's good.
3. The Undoing – OBSESSED! Stan and I watched this together and it hooked us from the first episode. A mystery/murder/thriller and perfect for binge-watching.
4. My Octopus Teacher – While I normally gravitate towards true crime and thrillers, this documentary is so heartwarming and fascinating. A researcher forms a bond with an octopus and it's so amazing to see his interactions with her and how she navigates life underwater.
5. Murder on Middle Beach – Wow. Just wow. This documentary will leave you thanking your lucky stars you are not part of this family. The filmmaker decides to investigate his mother's murder that happened 10 years ago and what he uncovers about his family is shocking and crazy.
6. His Honor – We just started this last night and the first episode is insane. A judge's son hits someone by accident and leaves the scene of the crime before reporting it. I am only one episode in and already know this show is going to be a wild ride.
7. A Teacher – Definitely an uncomfortable show to watch, but really well done. A teacher and her student have an affair and the fallout from their affair and is devastating to all involved.
8. For Life – This show is loosely based on the life of Isaac Wright, Jr. It's about a man who was incarcerated for a crime he didn't commit and while incarcerated he earns a law degree and is able to overturn his own murder conviction.
9. The Flight Attendant – This show was good but the main character is super paranoid and has a major drinking problem so it can be anxiety inducing to watch at times. I would only watch one episode at a time which made me enjoy it more. It is entertaining but pace yourself with it.
If you have any to add to the list, leave me a comment below!!