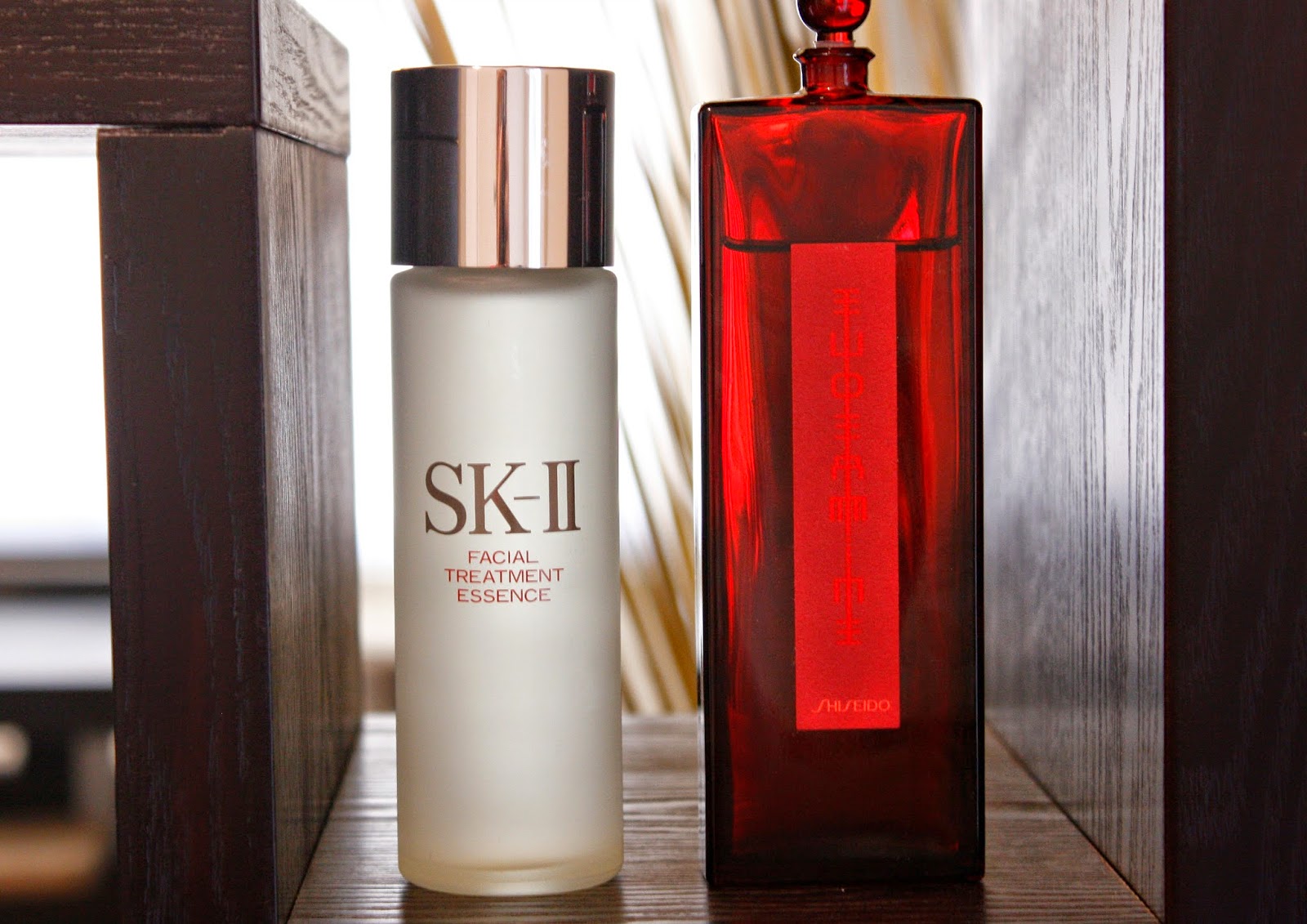 I've recently been seeing more and more essences popping up on my skincare radar. I feel there is so much buzz around them (or maybe I am just noticing it more), that I had to give them a try to see what all the fuss is about.
Estee Lauder has a new essence
,
Tata Harper
has an essence,
Cle de Peau
,
Armani
, the list goes on and on. But I felt if I was going to add an essence into my skincare routine, I would have to start with the two cult classics,
SK-II Facial Treatment Essence
and
Shiseido Eudermine Revitalizing Essence
. But before we get into a review of each, let's just tackle the elephant in the room shall we? What the heck is an essence and what does it do? In short – it prepares your skin for the rest of your skincare regimen. Most of them are designed to be used after cleansing and toning, but before applying serum and moisturizer. They help to soften, hydrate and balance the skin, and many can improve the clarity, texture and tone of the skin as well. Pretty much music to my ears.
1.
SK-II Facial Treatment Essence
– I know, I know….I have taken almost a month to put up this review and many of you have been asking for it, but it's here now so let's rejoice! Well, only if it's a positive review…..which it is!!!! Ugh, part of me really didn't want to fall in love with it because of the steep price and replenishing it will be rough, but I couldn't help it. My skin wants what my skin wants. And my skin wants SK-II Facial Treatment Essence. This is packed with some serious ingredients, Pietra being the main star, and is designed to help enhance the skin's renewal process. I wasn't too sure I was seeing any results the first few days of using, but I was consistent not to change anything else in my routine and slowly I began to see an overall skin perfecting. By this I mean a smoother, brighter, clearer and more balanced complexion, which even resulted in skin that has been less oily. *throws confetti* The recommended way to apply it is a bit unusual but I got used to it quickly. I pour a small cap full into my hands and press it into my skin and afterwards, I finish with whatever serum and moisturizer I am using that evening (currently it is
this
and
this
). I know this product is quite the splurge, but all the hype is true – it's phenomenal.
2.
Shiseido Eudermine Revitalizing Essence
– The first thing that comes to mind when I think of using this essence is: MOISTURE. It delivers immediate hydration and moisture to my skin, and even though I am oily my skin often gets dehydrated. I use a cotton square to apply, though I am thinking about using the same technique I did with the
SK-II essence
and press it in to the skin. Now that it's summer, I sometimes forget that my skin needs as much moisture as it does in the winter, and the Shiseido Revitalizing Essence has been a perfect addition. It gets so hot here in NYC that I don't want to add another cream/serum/oil to my face to help hydrate, so this essence has been my one way ticket to hydration station. (whoa that was corny, I apologize.) I literally ran to put this on when I returned home from vacation and it did wonders to help balance out both the dry areas and my oily t-zone. And let's be honest, I could stare at the bottle all day long, which gives it an extra star in my book.
*press samples
Have you entered my giveaway to win a $500 Kate Somerville gift card??? Enter
here
.
Do you currently use an essence? What do you think of them?