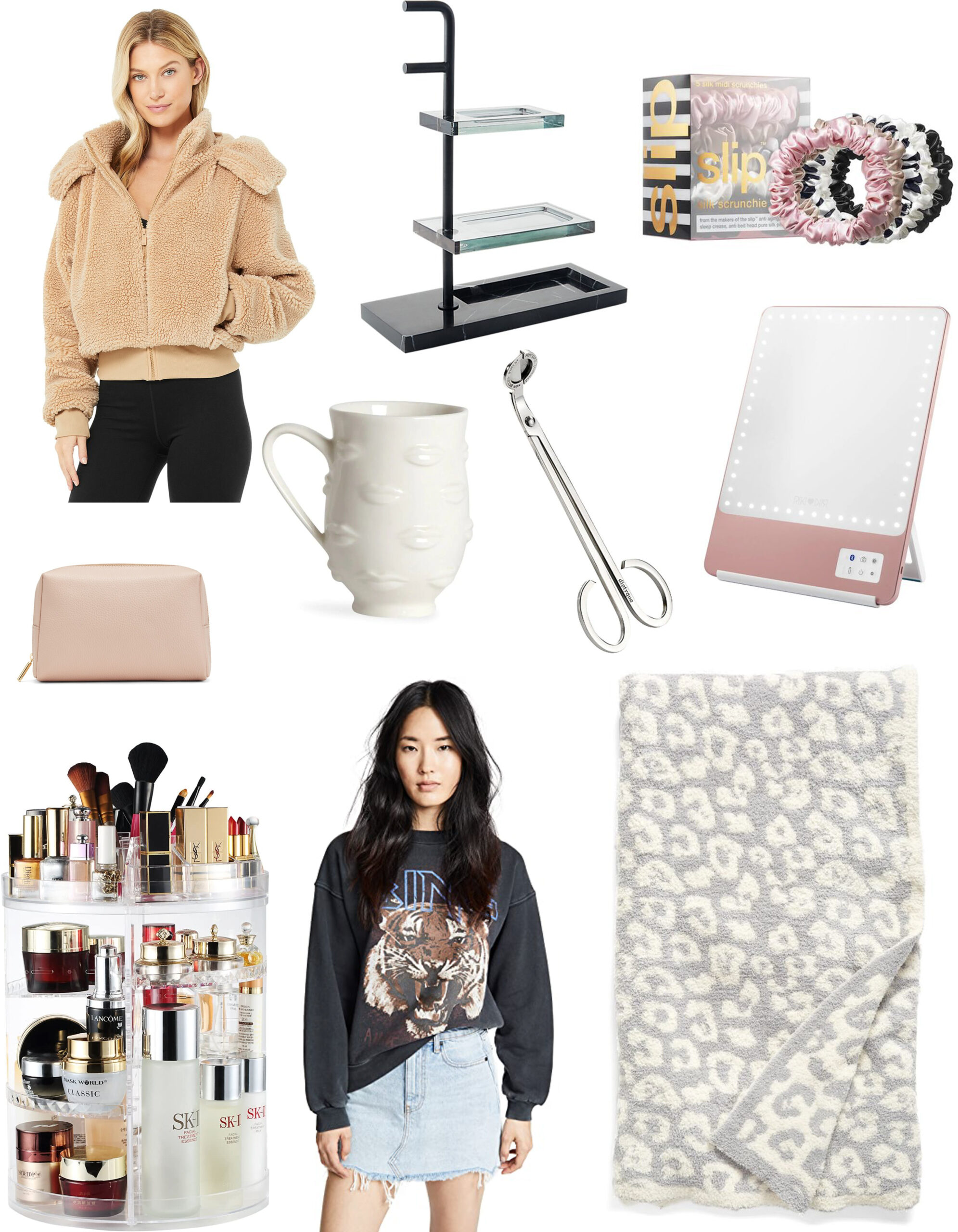 I thought I would pull together a gift guide with things I currently and love that would make great gifts! I also talk through all of these items on my insta-stories so be sure to head over there for more info about each item.
1. This beaded bracelet that you personalize is one that I wear everyday.
2. Both of my initial necklaces would make great gifts – this one is more of a splurge and this one is under $50!
3. My ear huggies (both gold and diamond) are my most worn earrings – they are lightweight, very comfortable and under $30.
4. For anyone that loves graphic tees and sweatshirts, get them an Anine Bing sweatshirt! I own 4 and live in them!
5. I sleep in these silk scrunchies every night because they are so gentle on my hair and help hold my curl.
6. I live in slippers all winter long and am currently loving these from Abercrombie.
7. Beanies are a winter staple for me. Here are all the ones I have and love.
8. This blanket is a bit of a splurge but it's as cozy as you would imagine. So great to cuddle up under during the winter.
9. I bought this sherpa jacket a few years ago during the Nordstrom Anniversary Sale and it's been one of my best purchases ever. I wear it to pilates in the winter and it keeps me so warm. It has a detachable hood and comes in a ton of colors.
10. The chicest mug ever!
11. This water cup can be personalized and would be a great coworker gift or stocking stuffer.
12. If someone in your life wants a simple and chic makeup bag, this one is absolutely gorgeous.
13. If you are gifting a candle (this one is one of my favorite holiday scents), it's great to gift a wick trimmer with the candle.
14. This mirror is perfect to use everyday for doing your makeup because it has great lighting and you can also put your phone on it and record!
15. I display all my jewelry on this stand and keep it on my nightstand.
16. I've been using this skincare organizer for a few years now and it's a great gift idea under $30.
17. For all my headband lovers, this headband holder is the perfect gift. Here is my blog post where I link all my headbands.