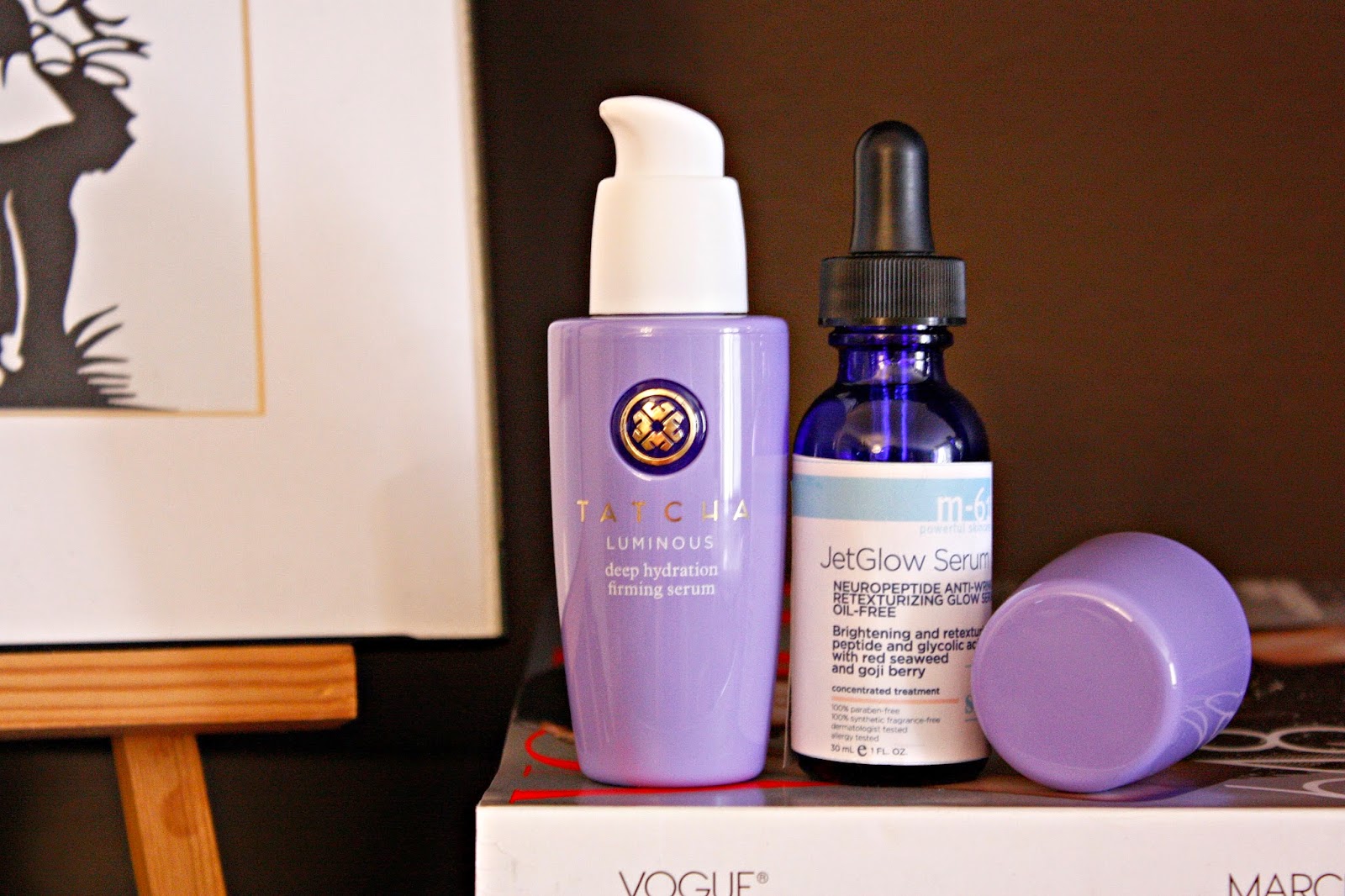 I'm forever switching up
masks
,
cleansers
and
toners
. But
serums
are a whole different story for me because they often require more time and patience to see results. Nonetheless, I love skincare and can't help but want to try everything that comes across my path. I've been testing out a few different serums over the past 4-5 months and these are the two that have made it into regular rotation. The
Tatcha Luminous Deep Hydration Firming Serum
and the
m-61 JetGlow Serum
both address different concerns so they fill separate needs to help round out my skincare routine.
1.
Tatcha Luminous Deep Hydration Serum
* – Already a fan of
Tatcha products
(
this
is one of favorite exfoliators of all time from them), I had a feeling I would love this serum. Fast forward a few months……and it's confirmed. I do. I don't drink nearly enough water and walking around NYC everyday does nothing to help the moisture levels in my skin so I face dehydration a lot, even though I am oily. I also believe that one of the best anti-aging remedies is hydration so I constantly seek out products to help me replenish the water in my skin. There is a bit of shimmer to this serum so I was unsure how it would read on my skin, but I only use one pump for my entire face and it gives a nice lit-from-within glow rather than a disco-ball effect. Now that my husband and I have been heading to the beach more frequently this summer, I tend to use this serum on the nights following my 'fun in the sun' day. It helps to replenish all the moisture lost and balance out my skin which ultimately helps minimize breakouts and blemishes. I am finally convinced that Tatcha can do no wrong in my eyes – each product seems to be better than the previous one. And this hydration serum is no exception.
2.
m-61 JetGlow Serum
* – The first thing to reel me in with this serum was the name – Jet
Glow
. Hello?? Give me all the radiance enhancing and glow inducing products possible. And of course after my experience with their
power peel pads
(read my review
here
), I knew I had to try this. A little goes a long way with this serum, and if I apply too much  it can feel a bit tacky, so one or two small drops is all I need. I didn't know what to expect when I first began using it, but I slowly began to notice how great my skin looked each morning after I woke up. Coincidence? I think not. I always awoke with calm, even-toned and rested looking skin, and the glycolic acid helped to make my skin smoother to the touch which resulted in a more flawless makeup application that day. It's all so cyclical with makeup and skincare – one is always affecting the other. If my skincare is off, my makeup suffers. And if my makeup is irritating my skin, my skincare can't perform as well. Sheesh, can't we all just get along?
* press samples
Shop more serum choices: