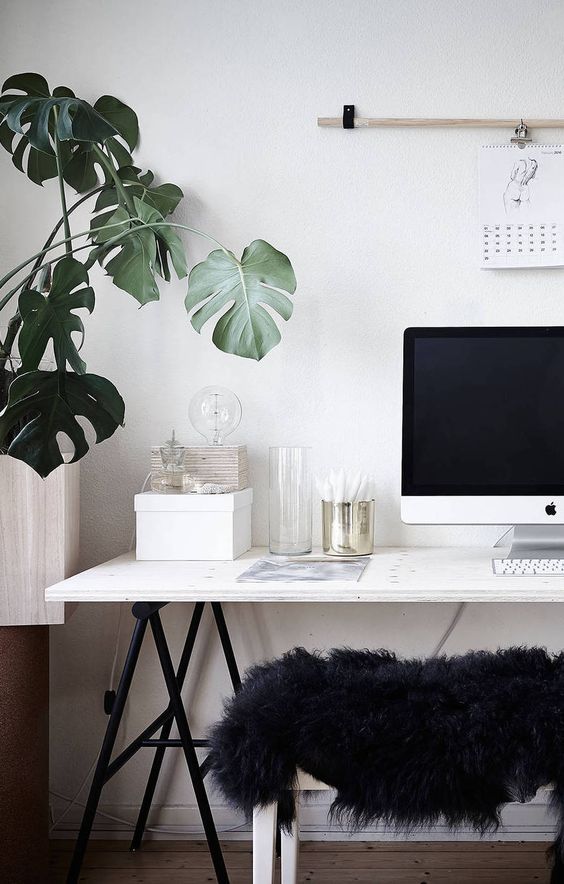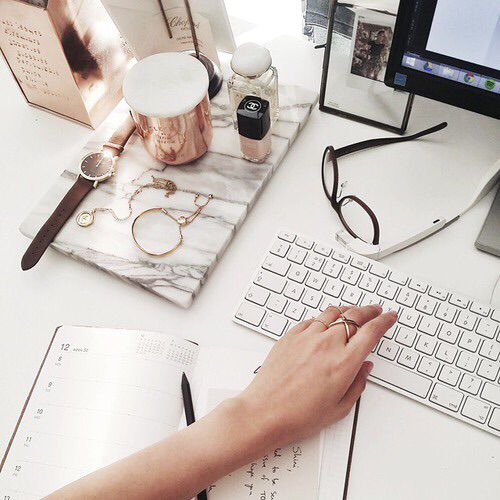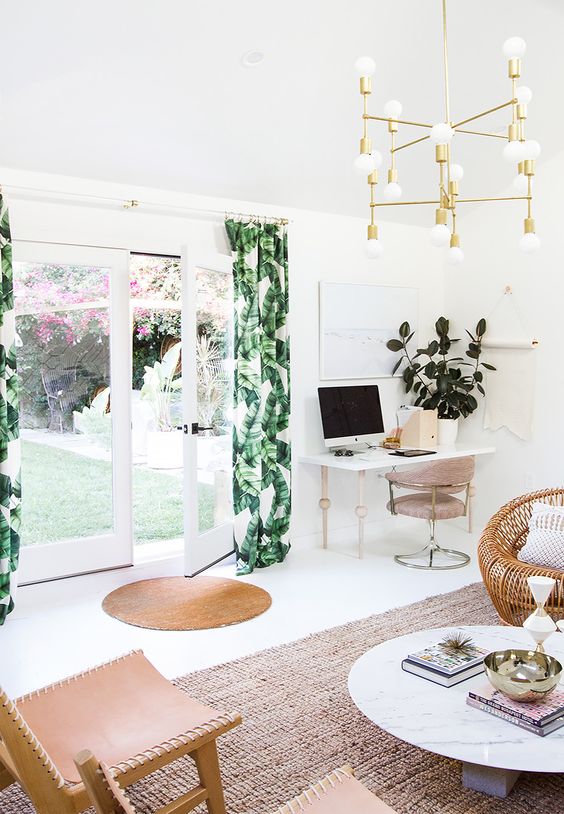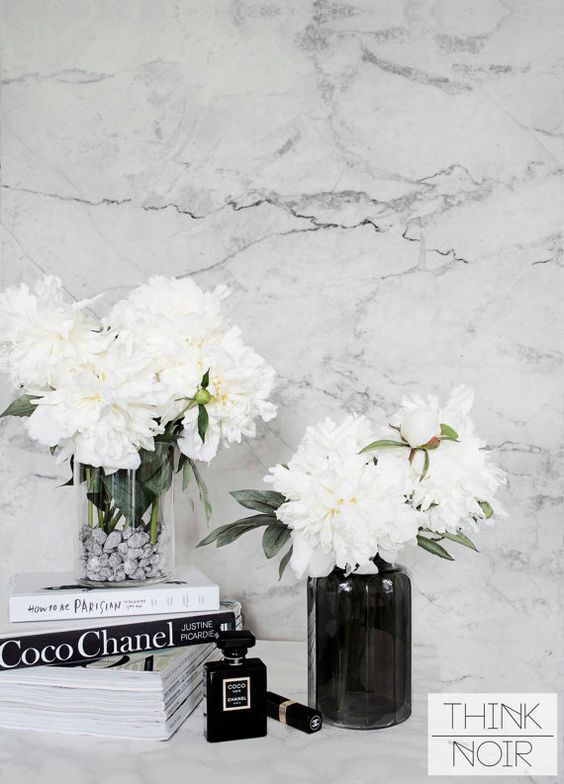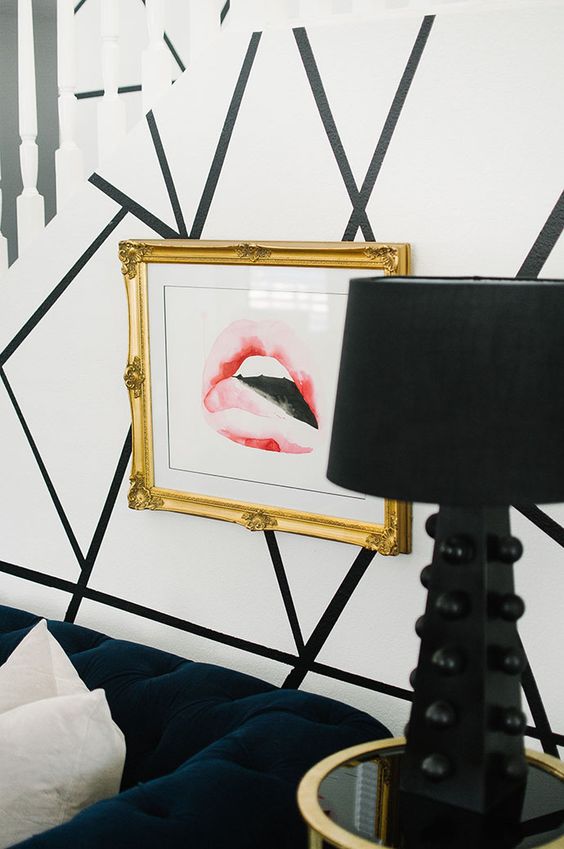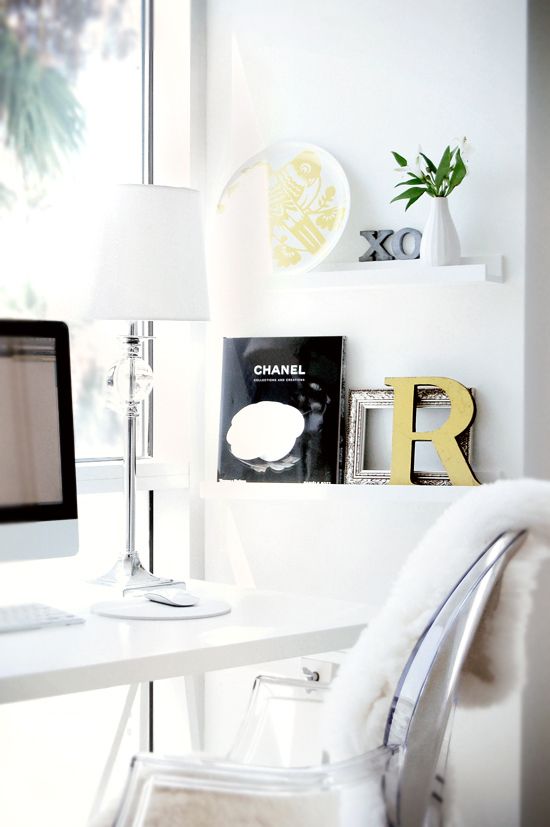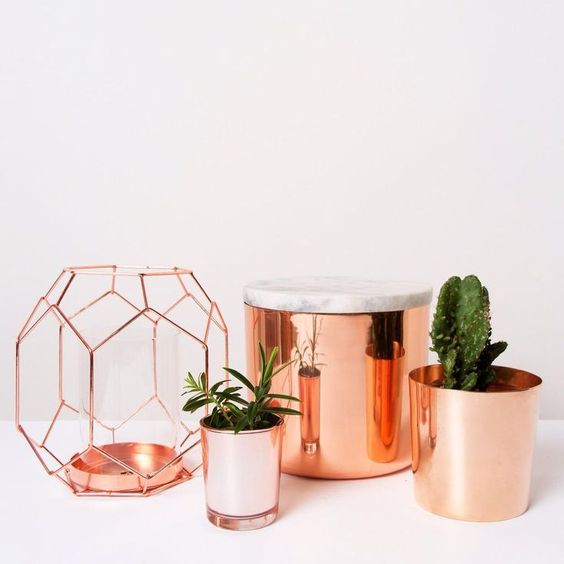 As many of you know Stan and I moved into our new home late last year. I've slowly begun the decorating process but our new place is 3x the size our our old apartment in NYC so our furniture is hardly filling up the space. While I would love to decorate everything immediately, that's just not feasible so I am taking it slow and going room by room. I started with our master bedroom because that was actually the one room in our old apartment that I never bothered doing anything with. It's not completely done but a good portion of it is finished (see
that post here
).
The next room I wanted to tackle was my home office. I am using a spare bedroom for it and because I spend soooo much time in there, I wanted to create a space that inspires me. I met with
my girlfriend
 (she currently owns a beauty store but has a small decorating business on the side) who is helping me with the decorating process and her first order of business was for me to create
an inspiration board
. I wasn't sure the direction I wanted to take, but after I had pinned a handful of images it became clear. 
While the space isn't huge, I want to have a desk where I can work, a small sitting area and then a bookshelf and rolling rack. Above are some of the images from my inspiration board (see the whole thing on
my Pinterest
) and the theme is contemporary with a neutral color palette (surprise, surprise). I prefer most of the major pieces to be black, white, gray and beige with elements of wood, metal, marble, lucite and fur mixed in throughout. I love the look of palm prints and greens throughout the space and am deciding if I want to throw in bits of pale pink for a splash of color. I came across
this image
 on Pinterest and knew I wanted to incorporate lip prints in the decor as well. 
I'm buying things in stages, but the first few items have come in already. Yay! I purchased
this settee
which will be a great blank slate to decorate with pillows and throws. My girlfriend and I decided to do an accent wall with wallpaper and
this one from Target
was absolutely perfect. The wood detail is subtle but will give great dimension for the room. Finally I snagged these
lucite nesting tables
which I felt were the perfect coffee table option for a smaller space. 
It will probably take another month or two to finish everything (furniture is expensive – ugh), but I will be sure to share the finished look on the blog!
Below are some items that I'm loving and contemplating for this space. Press the arrow to the right of each widget to scroll through more options.
Shop decor pieces:
!function(doc,s,id){ var e, p, cb; if(!doc.getElementById(id)) { e = doc.createElement(s); e.id = id; cb = new Date().getTime().toString(); p = '//shopsensewidget.shopstyle.com/widget-script.js?cb=1490743693033?cb=' + cb; e.src = p; doc.body.appendChild(e); } if(typeof window.ss_shopsense === 'object'){ if(doc.readyState === 'complete'){ window.ss_shopsense.init(); } } }(document, 'script', 'shopsensewidget-script');
Shop lighting options:
!function(doc,s,id){ var e, p, cb; if(!doc.getElementById(id)) { e = doc.createElement(s); e.id = id; cb = new Date().getTime().toString(); p = '//shopsensewidget.shopstyle.com/widget-script.js?cb=1490743693033?cb=' + cb; e.src = p; doc.body.appendChild(e); } if(typeof window.ss_shopsense === 'object'){ if(doc.readyState === 'complete'){ window.ss_shopsense.init(); } } }(document, 'script', 'shopsensewidget-script');
Shop furniture pieces:

!function(doc,s,id){ var e, p, cb; if(!doc.getElementById(id)) { e = doc.createElement(s); e.id = id; cb = new Date().getTime().toString(); p = '//shopsensewidget.shopstyle.com/widget-script.js?cb=1490743693033?cb=' + cb; e.src = p; doc.body.appendChild(e); } if(typeof window.ss_shopsense === 'object'){ if(doc.readyState === 'complete'){ window.ss_shopsense.init(); } } }(document, 'script', 'shopsensewidget-script');