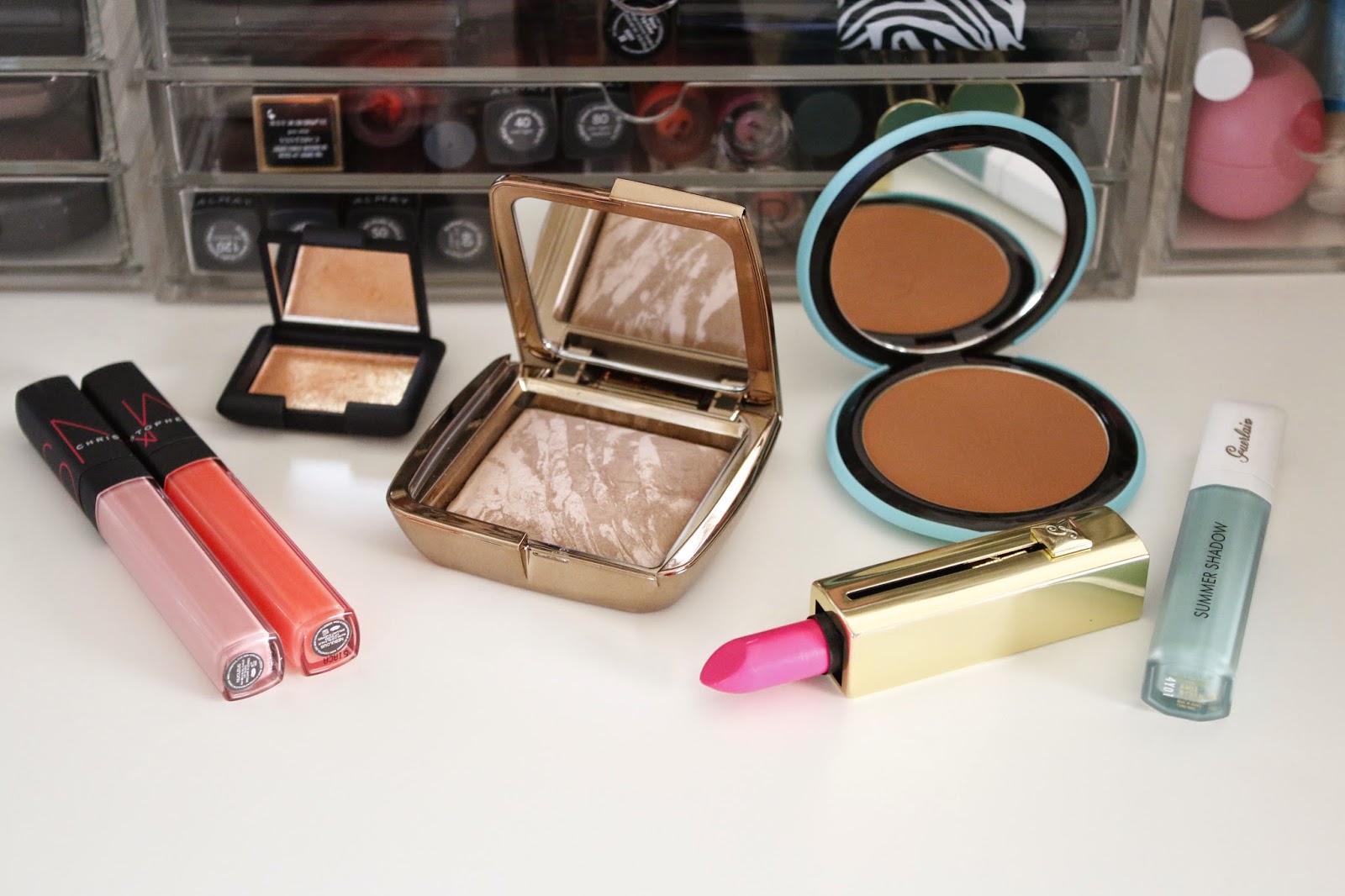 Get ready for all the bronzers and all the colors as the summer beauty collections begin launching. Shimmer on the eyes, glistening cheeks and bold lips – I can hardly wait! And even though many of us may not be fans of the sun (SPF 50 gals raise your hand!), we can still enjoy the typical easy and relaxed summer look. Here is a peek at some new summer launches from NARS, Guerlain and Hourglass. 
1.
NARS Gloss in Nebulous and Nucleus
– This new collaboration with Christopher Kane is what NARS fans live for. Bold and daring pieces make for a fun and almost theatrical collection. While the cheek and eye colors are a bit more playful, the lip glosses are super wearable! Though they seem bold in the tube, they have this jelly-like finish that makes them sheer and easy to wear. I instantly thought I would love Nucleus being that it's a basic fleshy nude, but I actually ended up wearing Nebulous more day to day. It turns into the most flattering juicy peach color perfect for the summer.
2.
NARS Eyeshadow in Outer Limits
– Glitter fans listen up! This shadow is right up your alley. It's a chunky rose-gold formula that when layered over a cream shadow or emollient base turns into a bold metallic eye look. For me, this is definitely an evening shadow, but one that can look stunning with glowing skin and a fluorescent lip.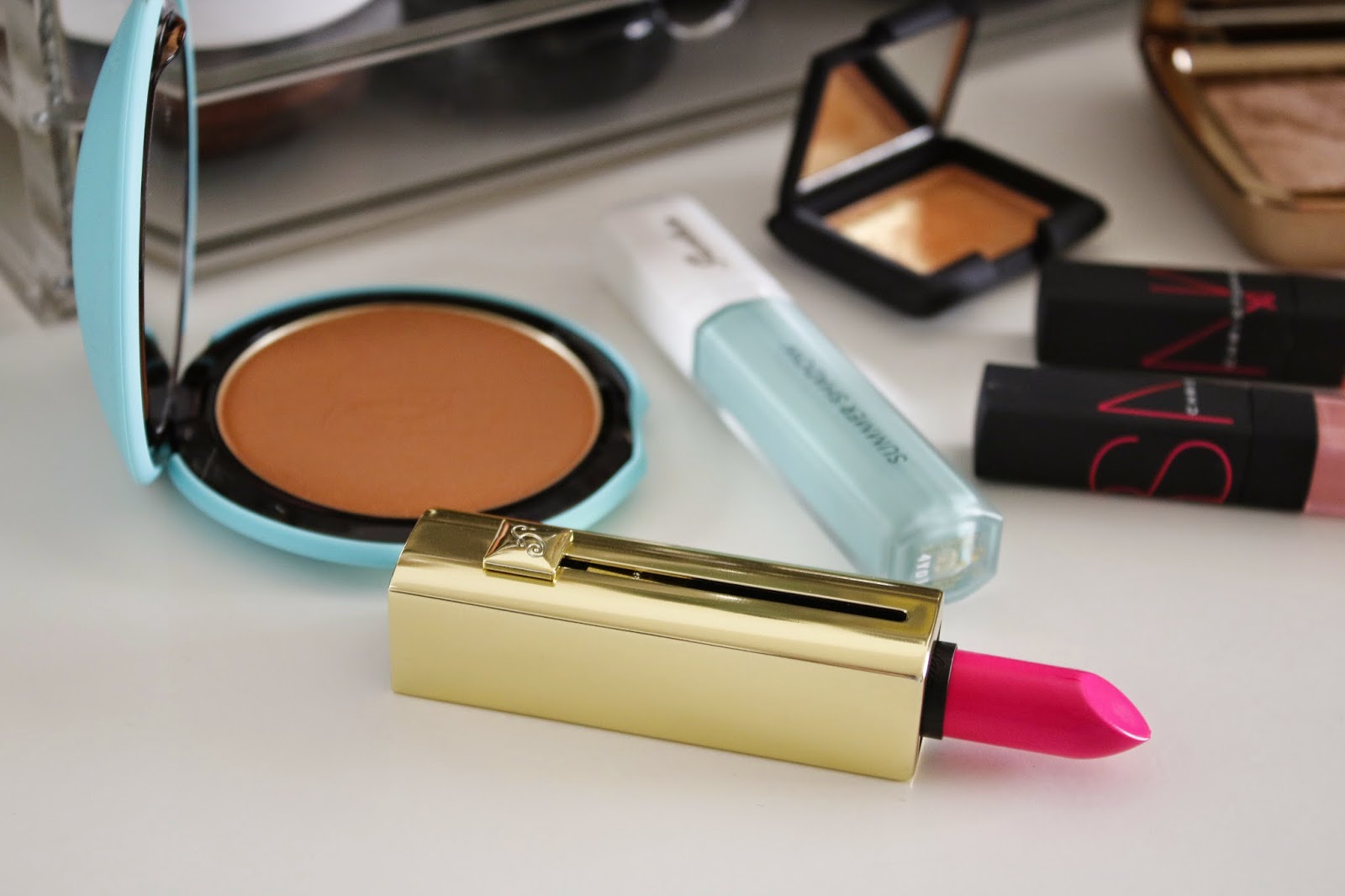 3.
Guerlain My Terracotta Bronzing Powder in Natural Blondes
– If there is one thing Guerlain knows how to do, it's bronzers. Rarely does a brand succeed at making bronzers for all different skin tones, yet Guerlain has over and over again. Their newest bronzer launch is more matte and strongly pigmented. I only need a very light hand in order to cover my cheeks, but the result is so natural. While many bronzers can skew too orange, Guerlain always manages to make ones that resemble exactly how you look after a day in the sun. Rich, golden and radiant without being too muddy, too brown, too orange or too dull. There is little to no shimmer in this one which I appreciate and find that the formula and color only solidifies Guerlain as the bronzer experts.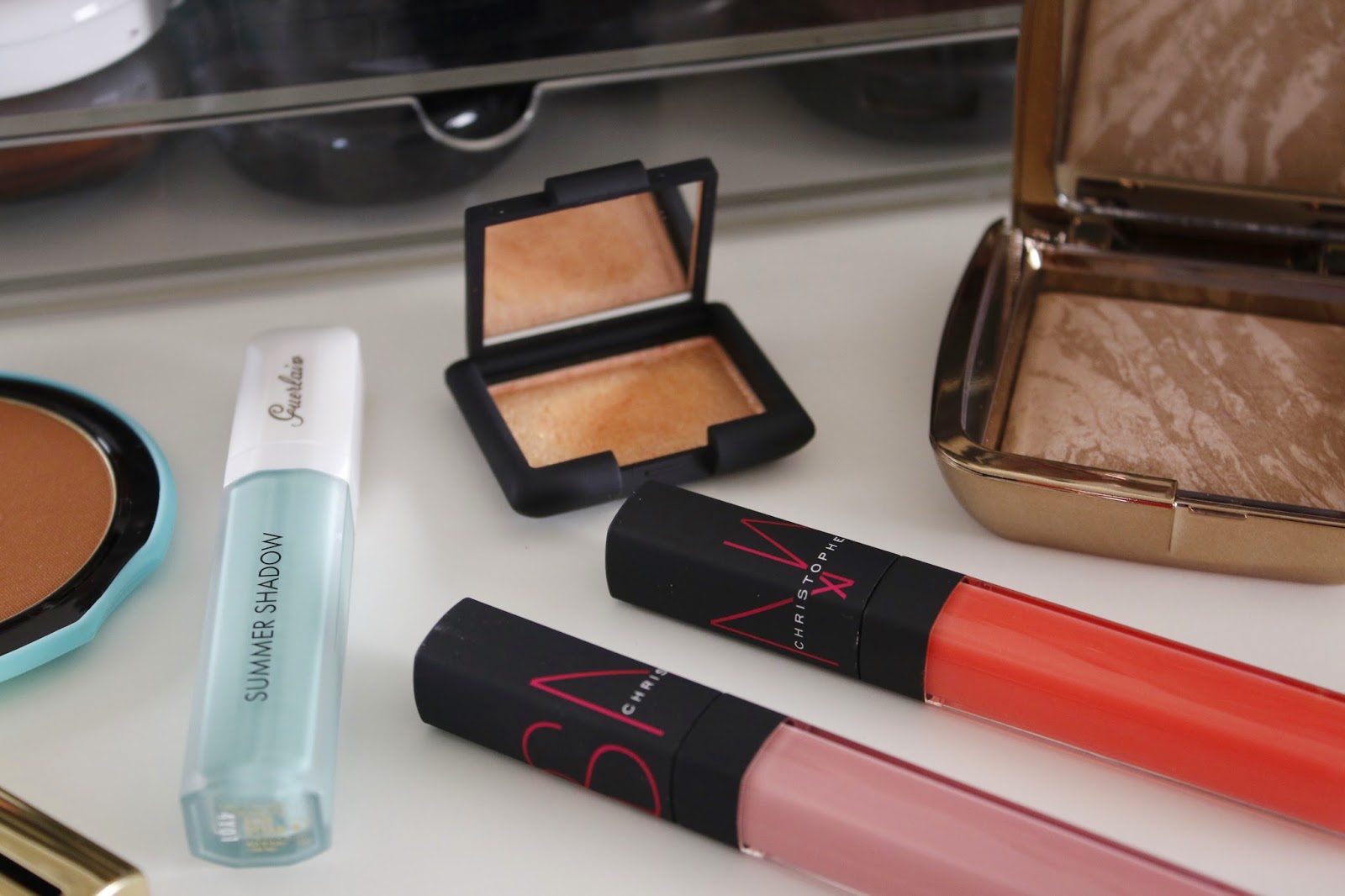 4.
Guerlain Waterproof Cream Eyeshadow in Blue Ocean
– I know, I know – aqua eye shadow??!! On
me
?!!! But if there is ever a time to experiment with color, it's the summer. I've only tested this out around the house since I'm waiting to wear it with a full on beachy look, but it's just as  you would suspect – creamy and smooth with just the perfect amount of shine. My perfect look with this would be fresh skin, bronzed cheeks and a peachy, glossy lip so as not to compete with the lid color. Hmmmm….I see a tutorial in the works perhaps…..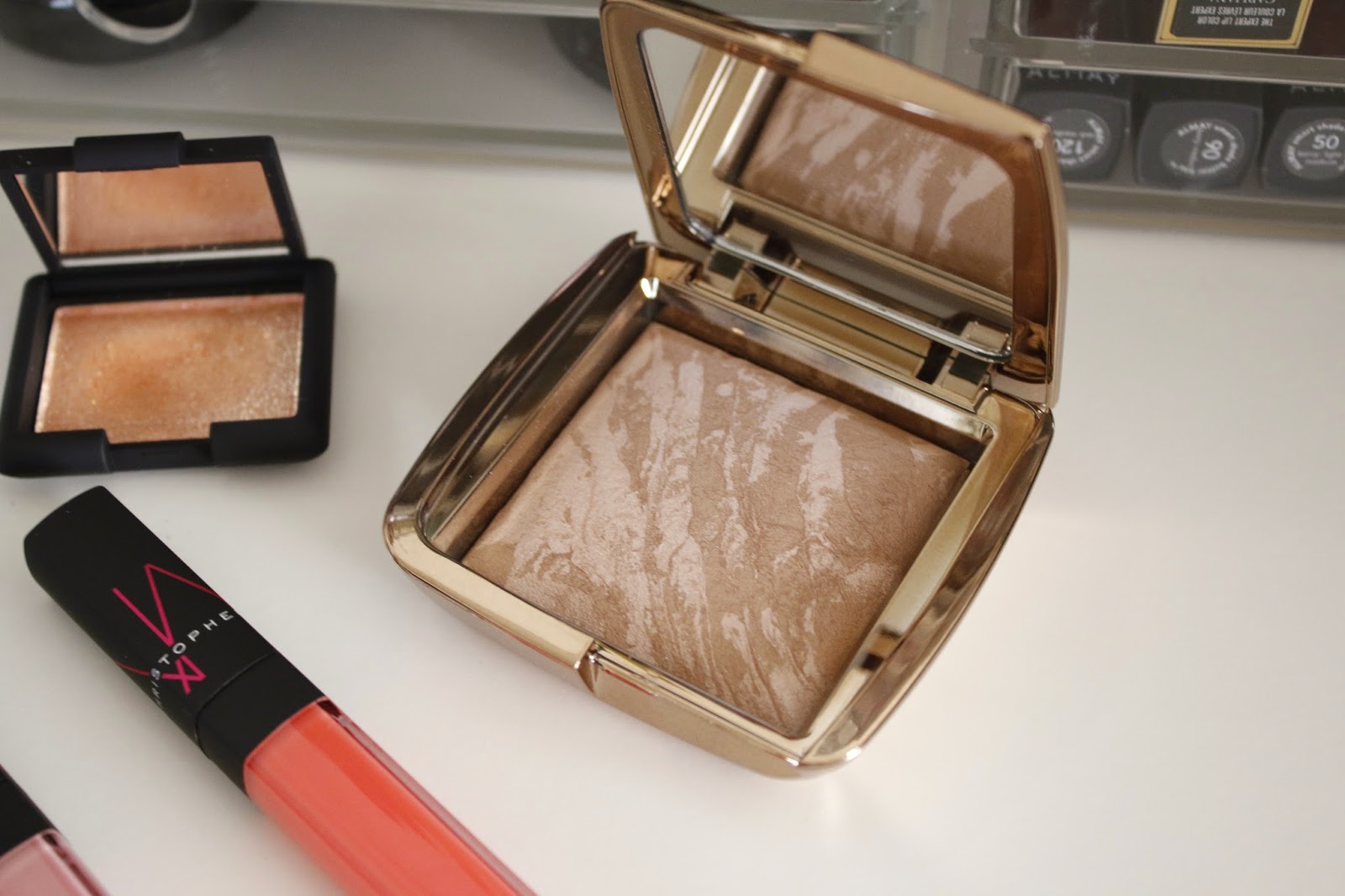 5.
Guerlain Rouge Automatique in Fluo Stiletto
– Wallflowers and those wishing not to stand out need avoid this color at all costs. This fluorescent pink is for the sassy and bold for sure – and I L-O-V-E it! I'm not even sure you need any additional makeup with this lip since it takes all the attention, but maybe a dramatic lash and highlighted cheekbones would be suitable. The formula is not as opaque as you might suspect and I applied the below swatch 4-5 times to get it to look like that, but with such a bold color it's nice to have the option to tone it down if I want.

6.
Hourglass Ambient Bronzer in Luminous Bronze Light
– Is there a more anticipated bronzer launch of the spring? Nope. The Hourglass Ambient Lighting Powders are my holy grail finishing powders (I live for
Dim Light
), and the blushes knocked my socks off so naturally I was ecstatic to finally get this on my cheeks. As with the other ambient light range, it feel incredibly smooth to the touch, applies effortlessly and gives a gorgeous "lit from within" glow that has become synonymous with the entire range. It definitely has some radiance to it, so I prefer it over a matte finish foundation (I have oily skin) or over a radiant foundation that I have set with a bit of powder. But regardless, it has been in my makeup routine almost daily since it arrived. My love affair with Hourglass continues…..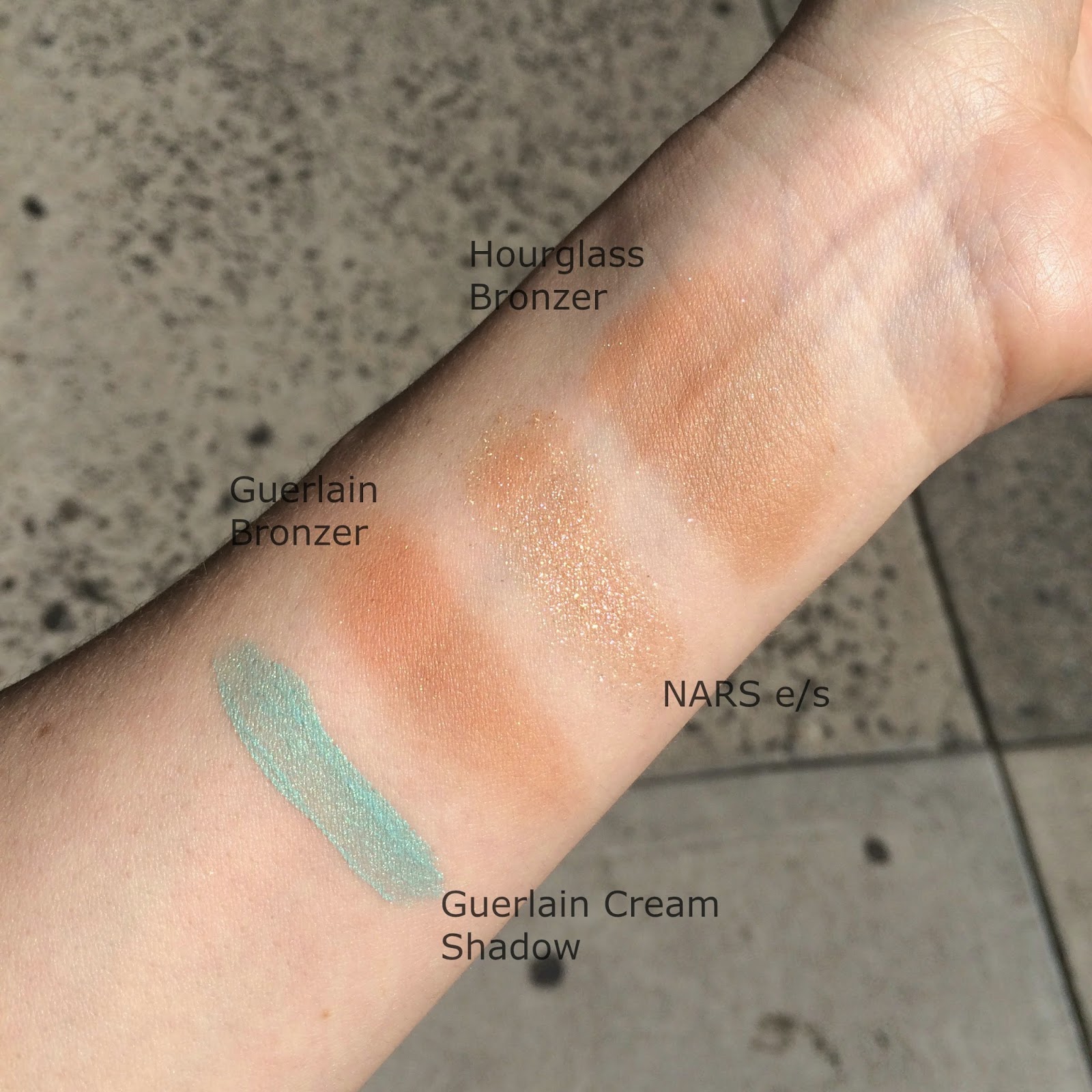 There are so many
exciting summer launches already out, and a ton more to come. I think I may pull the trigger on some Tom Ford, Chanel and Dior pieces. 
What about you? What summer makeup launches are you most excited to try?