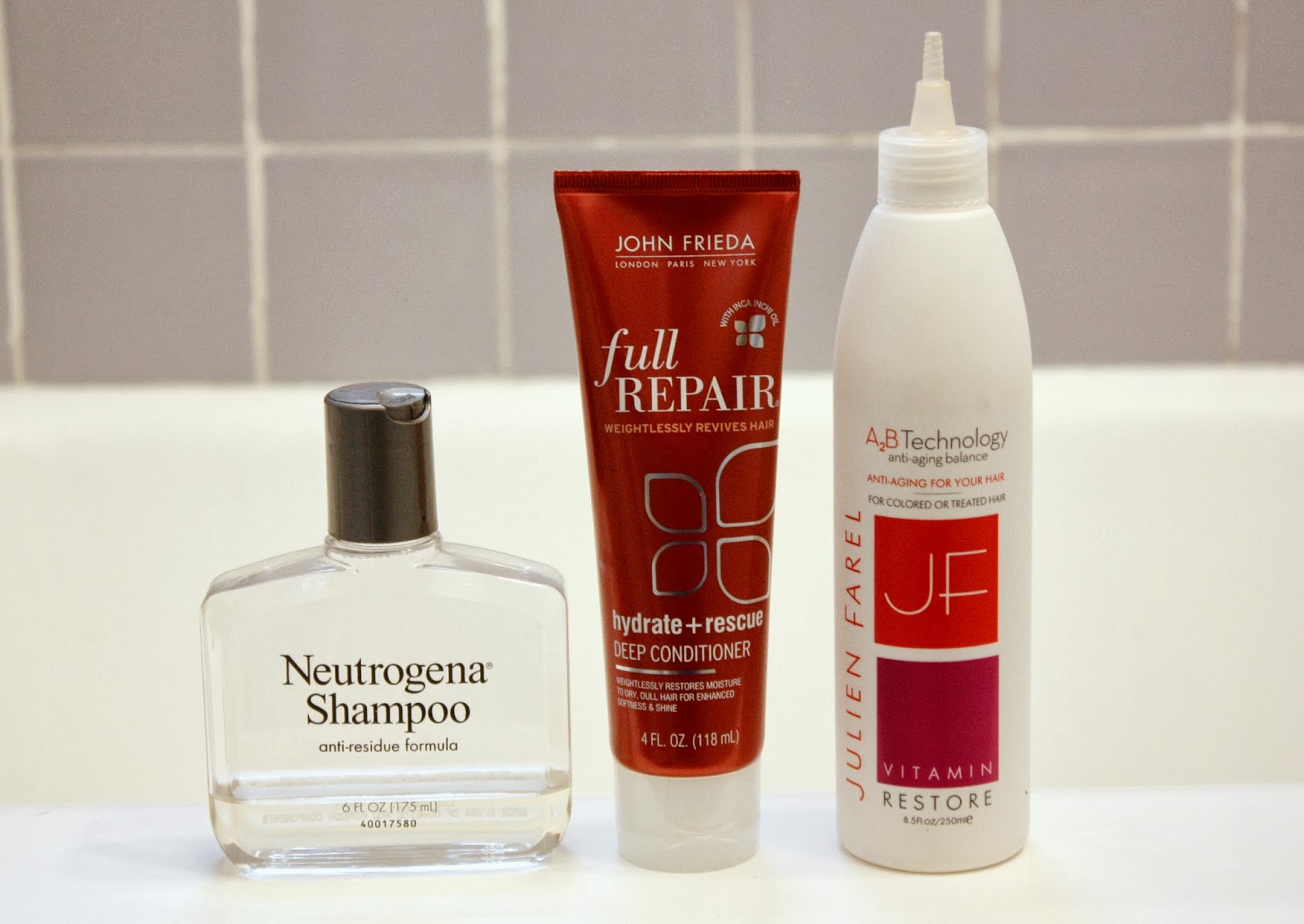 Skincare is my jam.  Makeup is my jam.  Hair products – meh. I never get too excited about hair products probably because I don't do too much with my hair other than blow it out.  Now mind you, I do a fierce blow out but that's because I have finally learned how to deal with my naturally curly hair after all these years.  Since I have such a minimal hair routine, I want products that work well with my oily scalp yet still give me that squeaky clean hair feel that I love.  After a few months of using each, these three products have all but eradicated every other product in my shower currently.  I still throw in a daily shampoo/conditioner here and there, but since I only wash my hair 3-4x/wk, these are taking up most of my hair washing time.  
1.
Neutrogena Shampoo Anti-Residue Formula
– This is actually the one product that is not new to my regimen and has been a staple for years, however I had forgotten about it and only rediscovered it 2 months ago.  I was perusing the aisles looking to satiate my beauty fix (I love a good drugstore raid), and there is was sitting there like a long lost friend.  This shampoo takes squeaky clean to a whole new level – and my hair always looks it shiniest and freshest after a dose of this once a week.
2.
John Frieda Full Repair Hydrate + Rescue Deep Conditioner
– The problem with hair masques is that they ALWAYS weigh my hair down, making it feel heavy and limp.  I always try them with such high hopes, only to have it shattered post blow dry when I am forced to put my hair into a pony tail.  This was the
exact
opposite.  My hair felt soft, nourished, hydrated and super duper bouncy – exactly the way I want it to feel and look.  Again used once a week just on the ends is all I need for optimal results.
3.
Julien Farel Anti-Aging Haircare Vitamin Restore
(c/o) – Scalp treatments are a whole new world to me as I have always just focused on the hair itself, but I have to say it makes perfect sense.  I have seen so many come out over the past few years, and what is more essential than ensuring a healthy scalp to have healthy hair? Duh.  This is my first scalp treatment I have tried and it's made me feel like I have been missing out all this time.  It is a tad more unique than other products I have used because it is applied to dry hair along the hair line, smoothing the product through the hair and then emulsifying with water.  (
Here is a great tutorial video on how to apply
) Designed to regenerate and revitalize the hair, I use it once/wk in place of any shampoo and conditioner and have found my hair to be stronger with less breakage with an overall healthier look.