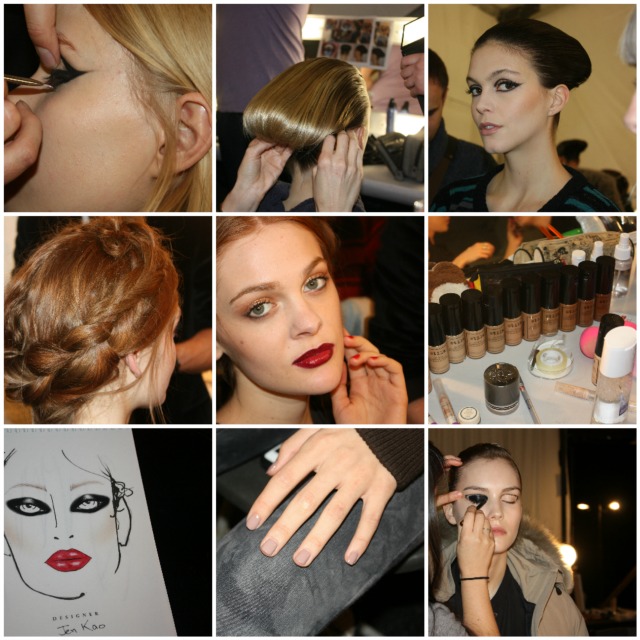 If you live in NYC, you are probably aware that it is Fashion Week – as you see the hoards of supremely tall and unfailingly thin gals walking about, no doubt on their way to another show, fitting, rehearsal, etc. But if you are not in NYC, then it has probably been a normal February for ya, and I am not mad at that.  However since I had the opportunity to cover the backstage action for
ThisThatBeauty
, I figured I would give you a quick glimpse of my time running about, snapping pics of anything that would stand still long enough, and naturally my commentary on it all.  Beware: super sass ahead.
1.  Attention everyone, ATTENTION!  This man is painting the model's eyelashes with mascara.  Painting!  Like with a teeny, tiny fan brush.  Ya know, because they can.  (backstage at Chado Ralph Rucci)
2.  The presence of alien like hair dos are never far from a fashion show.  Actually, if you must know, it's a modern take on a typical chignon……..duh.  (backstage at Chado Ralph Rucci)
3.  When sporting an alien chignon, the only appropriate eye makeup to rock with it is a cat eye.  See how the line of the eye matches the line of the hair?  That was not an accident folks.  (Backstage at Chado Ralph Rucci)
4.  Ok, frankly, if I could wear my hair like this everyday I totally would.  All that is missing is a crown of flowers and a flowy dress…..and a renaissance festival for that matter, but nonetheless I love this look.  (Backstage at Alice and Olivia)
5.  FACT: Models are never not serving face backstage.  Angles, angles, angles.  All I do is simply hold up my camera and they strike a pose.  Earning that paycheck for sure!  (Backstage at Alice and Olivia)
6.  While I need to take pictures of the actual looks, I really just want to take pictures of the tons and tons of makeup that is strewn across the makeup tables.  And then I want to take my tote bag, prop it up near the table, bend my arm and do a supermarket sweep of all the products into my bag.  But I would actually like to come back next season, so I refrain.  (Backstage at Trina Turk)
7.  Every makeup inspiration always looks great on a face chart.  The challenge is then translating that to an actual face.  But 2 dimensional features can pull off any look – I think it's the lack of wrinkles if you ask me.  (Backstage at Jen Kao)
8.  Just know every model has cuticles and nail beds to die for.  And when painted the chicest shade of greige, they quickly become my aspirational "hand look", which is totally a real thing.  (Backstage at Trina Turk)
9.  When all else fails and you simply cannot decide what to do with your makeup for a night out, just do as this artist is doing and color in your entire lid with a black pencil.  It's simple, quick and ensures that you will probably be the scariest person in the room – but nonetheless super FASH-SHUN.  (Backstage at Jen Kao)
Happy Valentine's Day everyone – make it a sassy one!