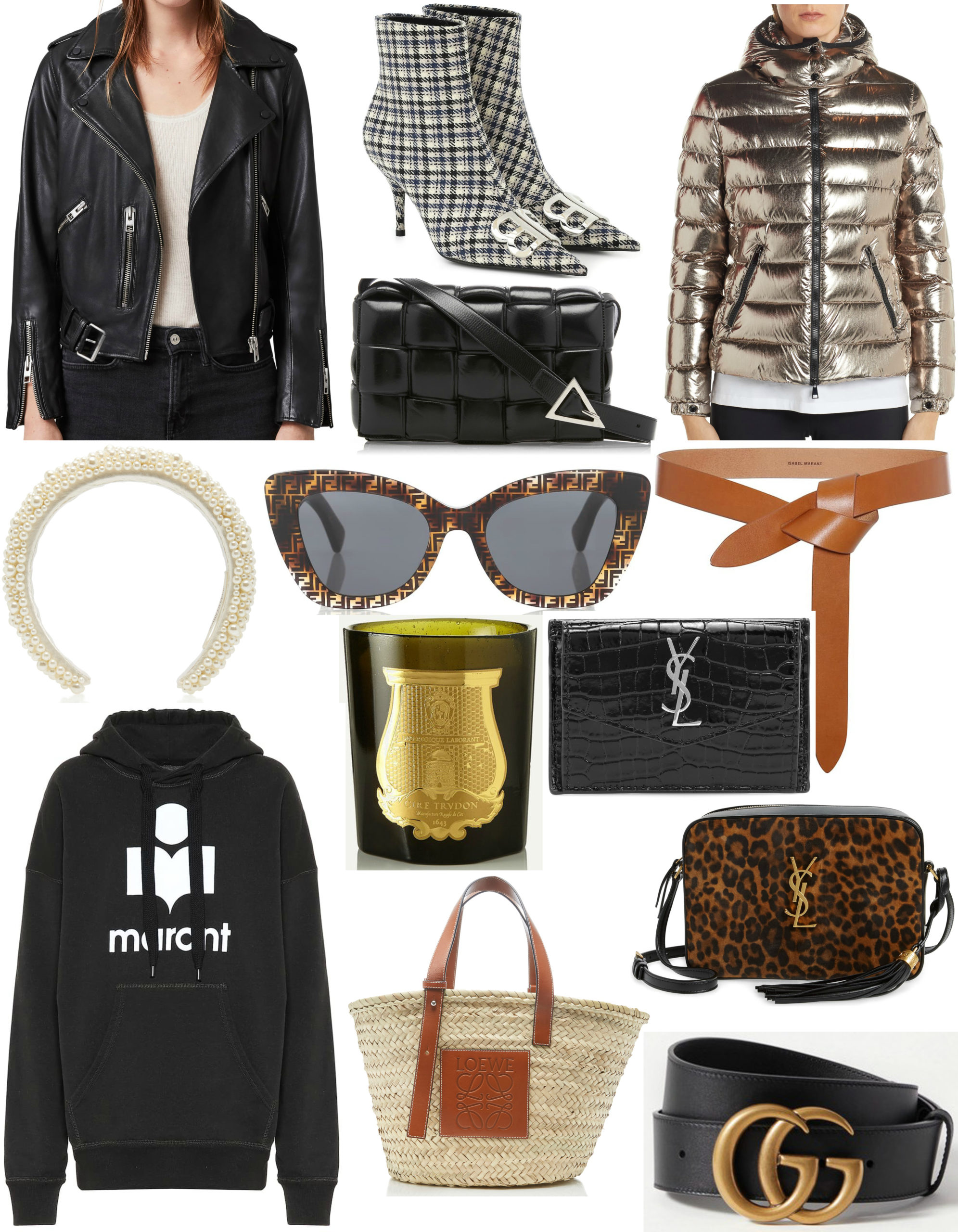 I did a similar post like this last year and many of you requested I do another round-up this year of designer/luxury items that would be good to splurge on. So many of these are on my current wish list and though some are trendy now, I think they would still be pieces you could wear for years to come.
1. All Saints leather jacket – I've been eyeing this leather jacket for years! I love the classic shape and style – it is timeless.
2. Balenciaga boots – I live for a pointy toe and these are extra pointy which I think is so chic.
3. Metallic puffer coat – Ugh, basically my dream puffer coat.
4. Crossbody bag – Everyone is obsessed with this Bottega Veneta bag but I actually love this crossbody one more. It's more functional in my opinion and the large braided detail is so fabulous.
5. Pearl headband – The headband trend is still going strong and this one is absolutely gorgeous.
6. Sunglasses – For those that love a logo (I personally enjoy certain logo items), these Fendi sunglasses are so perfect.
7. Belt – This belt isn't a huge splurge but the knot detail is so unique. I love it because it would work for both dresses and jeans/skirts/shorts.
8. Candle – These candles have been on my wishlist for ages! Super luxe and expensive but I have heard nothing but good things about them.
9. Card case – These small card cases are the best if you change up handbags often. It is small enough to fit in any bag and you can just grab it and go.
10. Hoodie – For all my athleisure fans, this hoodie is so cute! It comes in a few colors and is a great weekend piece to wear with leggings and combat boots!
11. Straw tote – I've been in love with this tote for years and love the leather and straw combo. It's a piece that will remain in style for years to come.
12. Leopard bag – For my animal print lovers, this bag is a must have!
13. Belt – I know these Gucci belts are all over the place and many think they are played out, but I personally still really love them. I think it's a classic that you can wear for years and years and it will always be a great statement piece to add to your outfit.
Which splurge item is your favorite?!