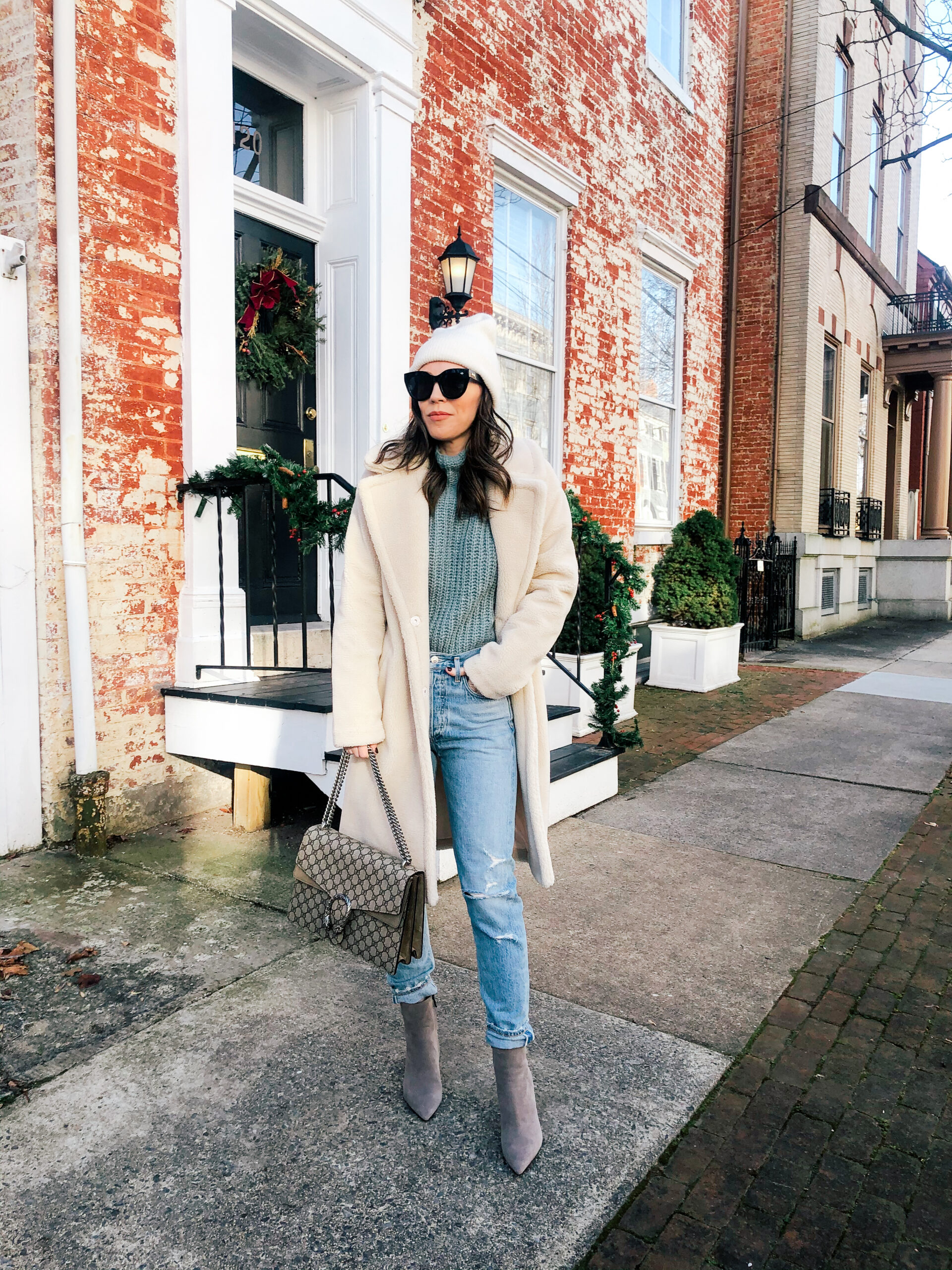 Coat – Express (on sale!) | Sweater – Line & Dot | Jeans – Agolde | Boots – Botkier (similar) | Bag – Gucci | Beanie – J.Crew | Sunglasses – Le Specs
I didn't do a Friday Finds post this week but I thought I would share some sale finds worth checking out in today's post.
1. This pink herringbone coat is 60% off and so chic!
2. Now is the best time to snag some of my favorite holiday candles on sale and keep them for next year.
3. I use my Riki Loves Riki mirror almost every day and it's 25% off right now.
4. One of the best vitamin c serums to splurge on and it's 15% off right now with code "SKINC15".
5. This loungewear set is so gorgeous, comes in a ton of colors and currently on sale for under $40.
6. I sleep on a silk pillowcase every night and it does wonders for my hair and skin! This one is currently on sale and comes with a sleep mask too.
7. Love this sequin tee for a cozy NYE night in and it's on sale for $26.
8. This faux shearling teddy coat looks like the warmest thing ever and it's on sale right now.
9. These ankle boots were one of the top sellers from the Anniversary sale and are 30% off.
10. If you are an Hourglass fan, this best selling palette is 30% off.
11. This long puffer coat looks so warm and is on major sale.
12. A great classic loungewear set (joggers are linked here) that would be cozy at home or perfect for casual days out and it's on sale.
13. My favorite hydrating mask is 20% off. I just ordered a backup because I can never be without this!