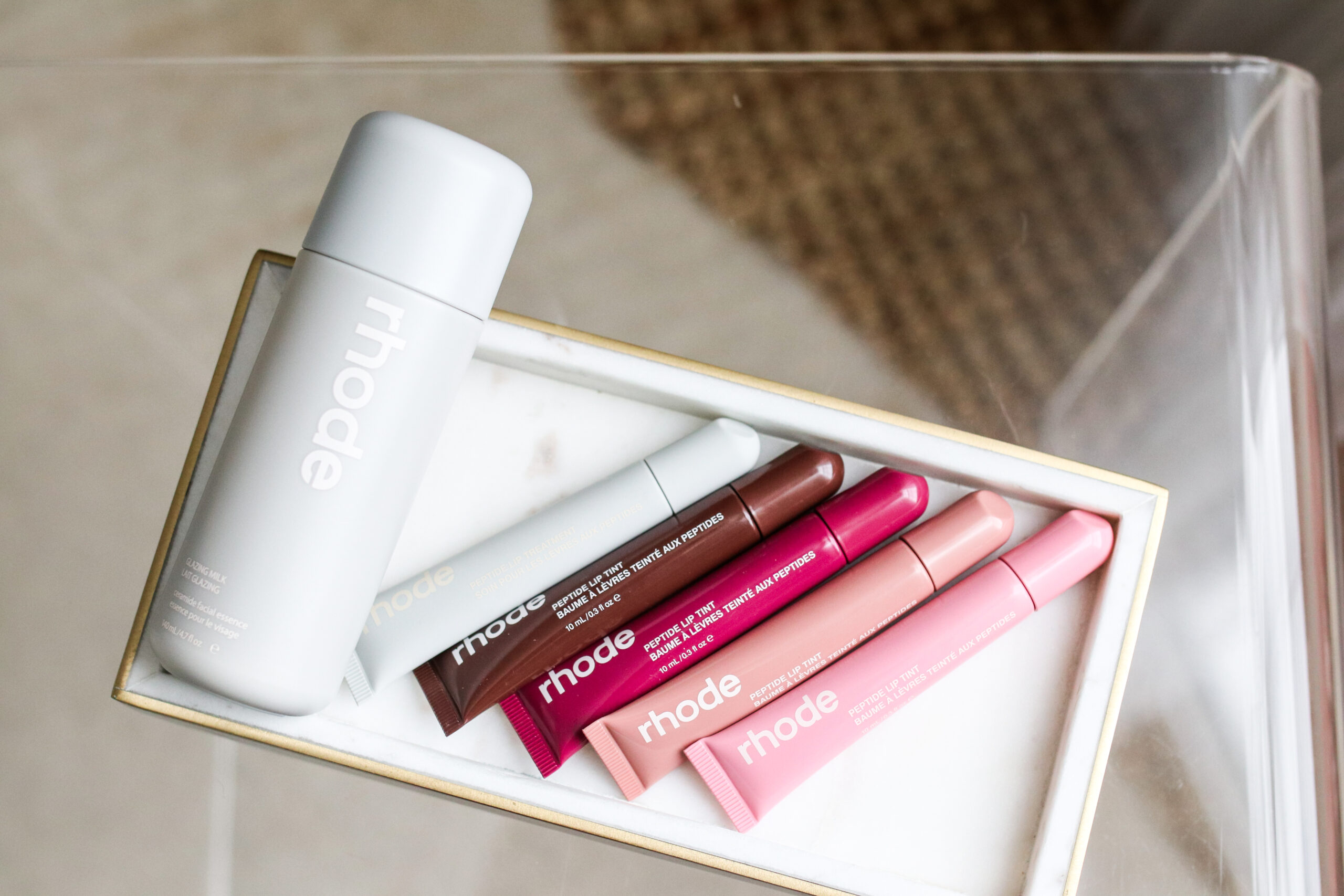 I am not one to fall victim to a celebrity beauty brand hype (though I love testing products LOL), but the buzz around Rhode Skin by Hailey Bieber has been endless. And most of the reviews I have seen and feedback I have received from my readers have all been positive. Soooooo I had to order some things to see for myself what the buzz is all about. There are only a handful of skus and most of them are lip treatments and a few skincare products. The brand is only a year or two old and is owned by Hailey Bieber (yes Justin Bieber's wife). To be honest, I don't follow her on social media nor know anything about her so I couldn't really understand her connection to a beauty/skincare line. But that being said, I only care about how the products perform so I ordered a handful of items from Rhode Skin and thought I would give my honest review on each of them.
Rhode Skin Review
Rhode Skin Peptide Lip Treatment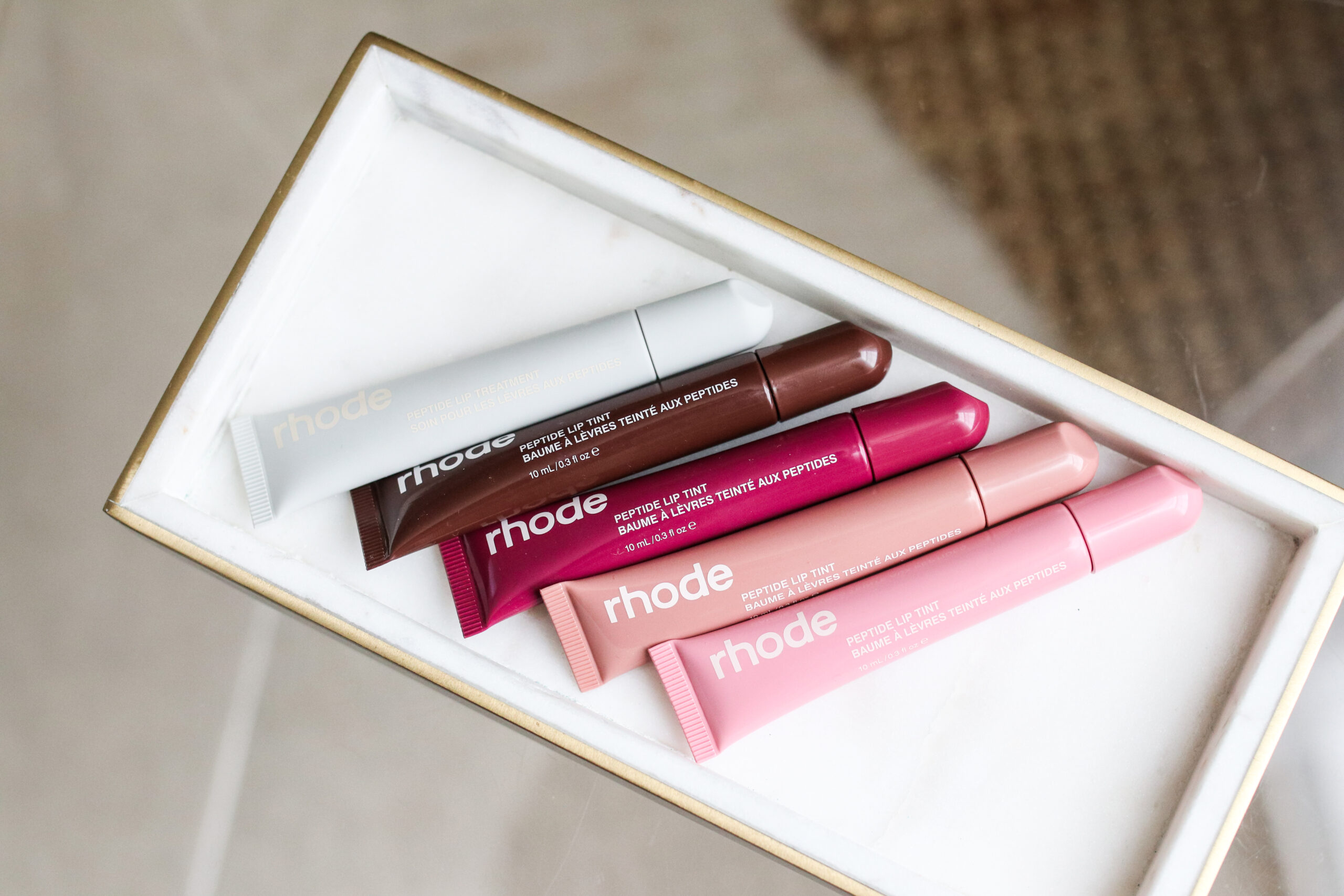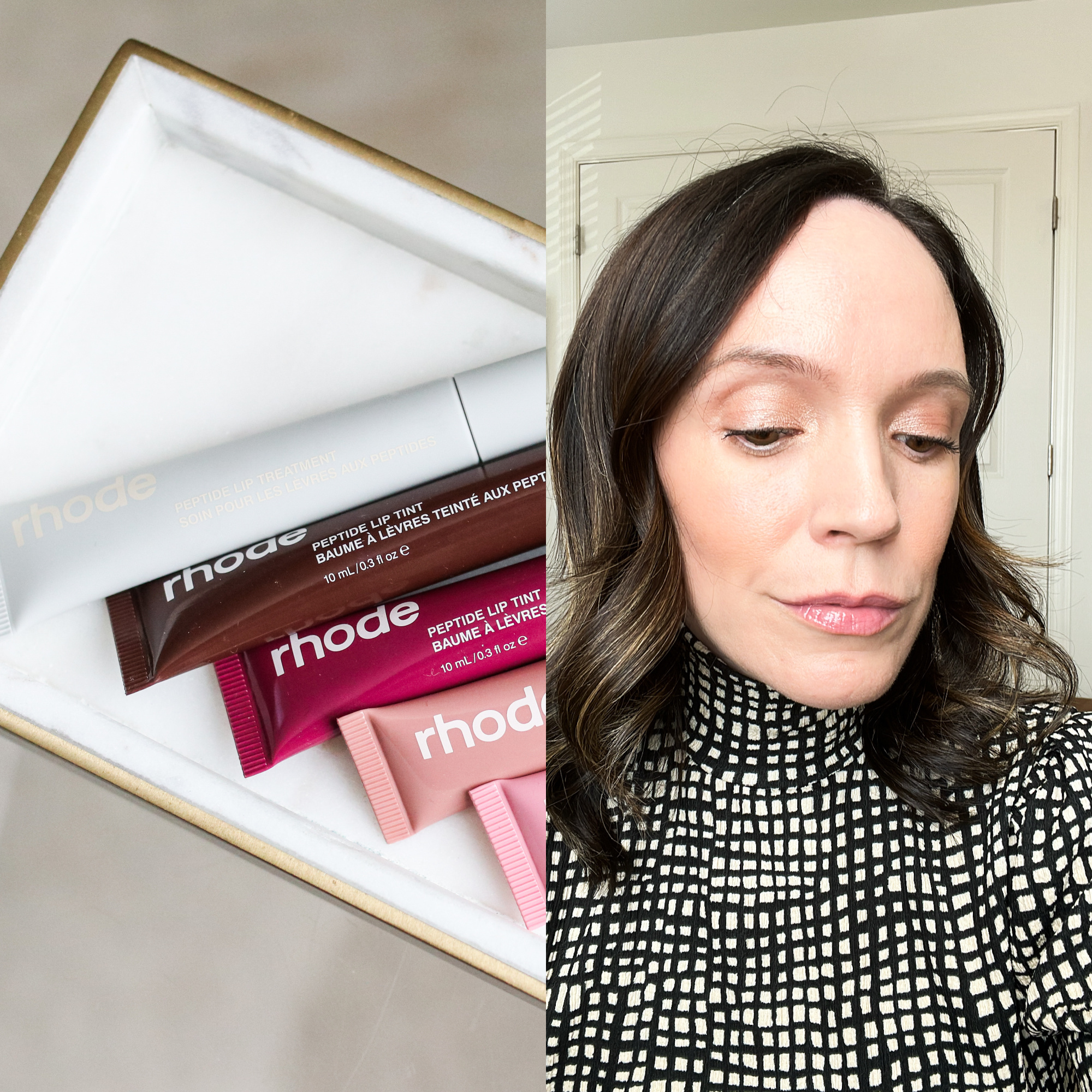 Starting first with the uber popular and viral Rhode Skin Peptide Lip Treatment – this was the first product I ordered to try. There are a ton of different scents to choose from and I decided to go with the Salted Caramel flavor/scent. It's absolutely delicious though there is no taste which I actually prefer. There is an unscented version as well if that is more your preference. Let's talk through my thoughts on the formula.
Texture
It's not thick but not thin either. It's a nice medium weight texture that feels like a mix between a lip balm and lip oil. In addition, it's creamy and comfortable yet slightly sticky but not enough to annoy me or discourage me from purchasing again.
Finish
The main selling point of this peptide lip treatment is how incredibly glossy and glass-like it makes the lips look. The pictures don't even do it justice in terms of showing the glaze-like finish. It's gorgeous and blurs the lip lines immediately. It makes my lips look full, glossy and gorgeous.
Longevity
Compared to some other lip treatments, I find this to be quite long wearing. I don't need to reapply as often and the slightly sticky texture really allows it to adhere to the lips and last a long time.
Effectiveness
My lips feel incredibly nourished and moisturized when using this and rivals some of my favorite lip treatments. The difference with this is that it makes my lips look better than most of my other lip balms. It looks gorgeous worn alone on bare lips but also layered over my favorite lip liner or lip color for a boost of shine. For a super intensive overnight treatment, I wouldn't choose this and find it's better worn during the day to keep my lips soft. I will also use it as a touch up throughout the day whenever my lips feel dry.
Rhode Skin Peptide Lip Tints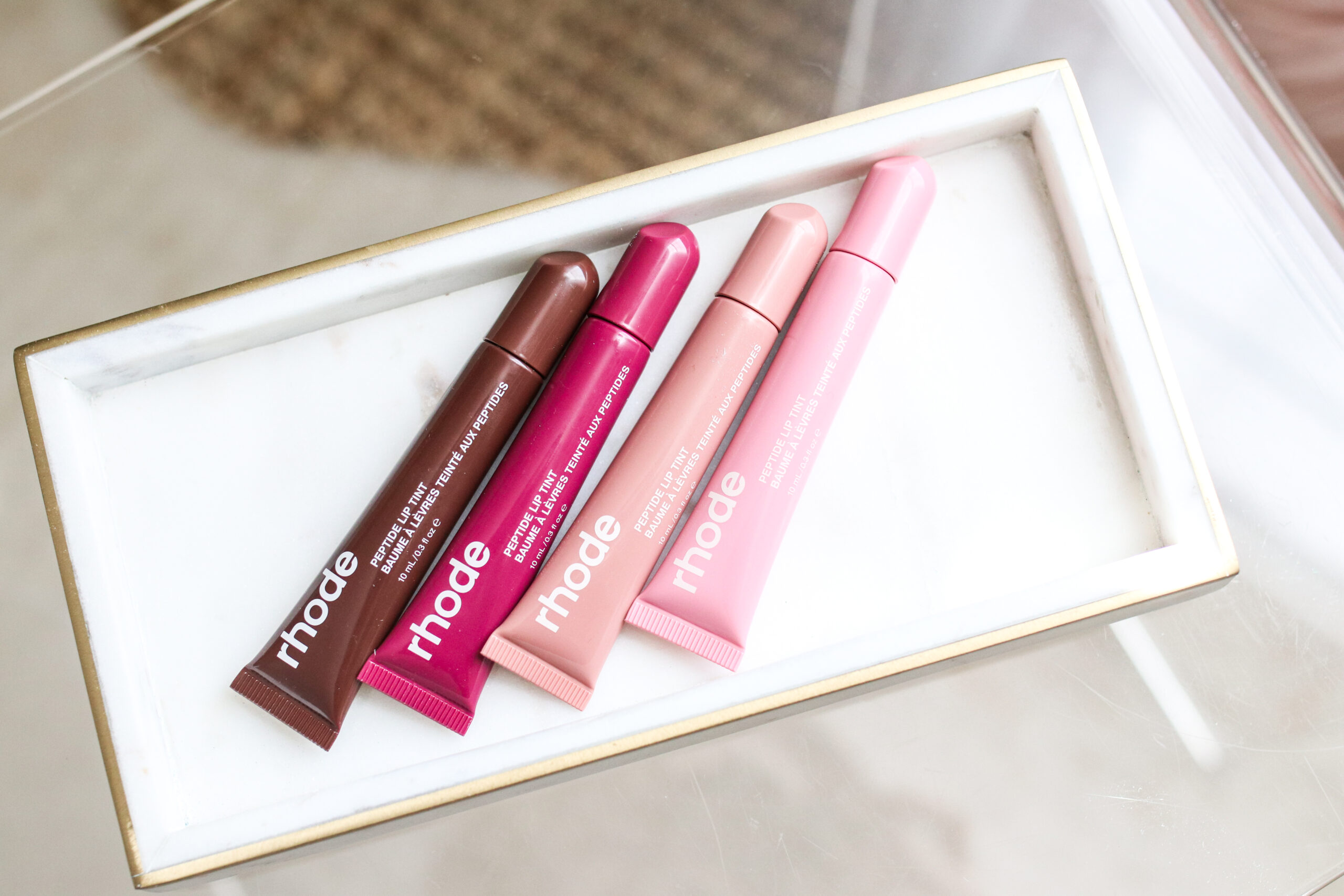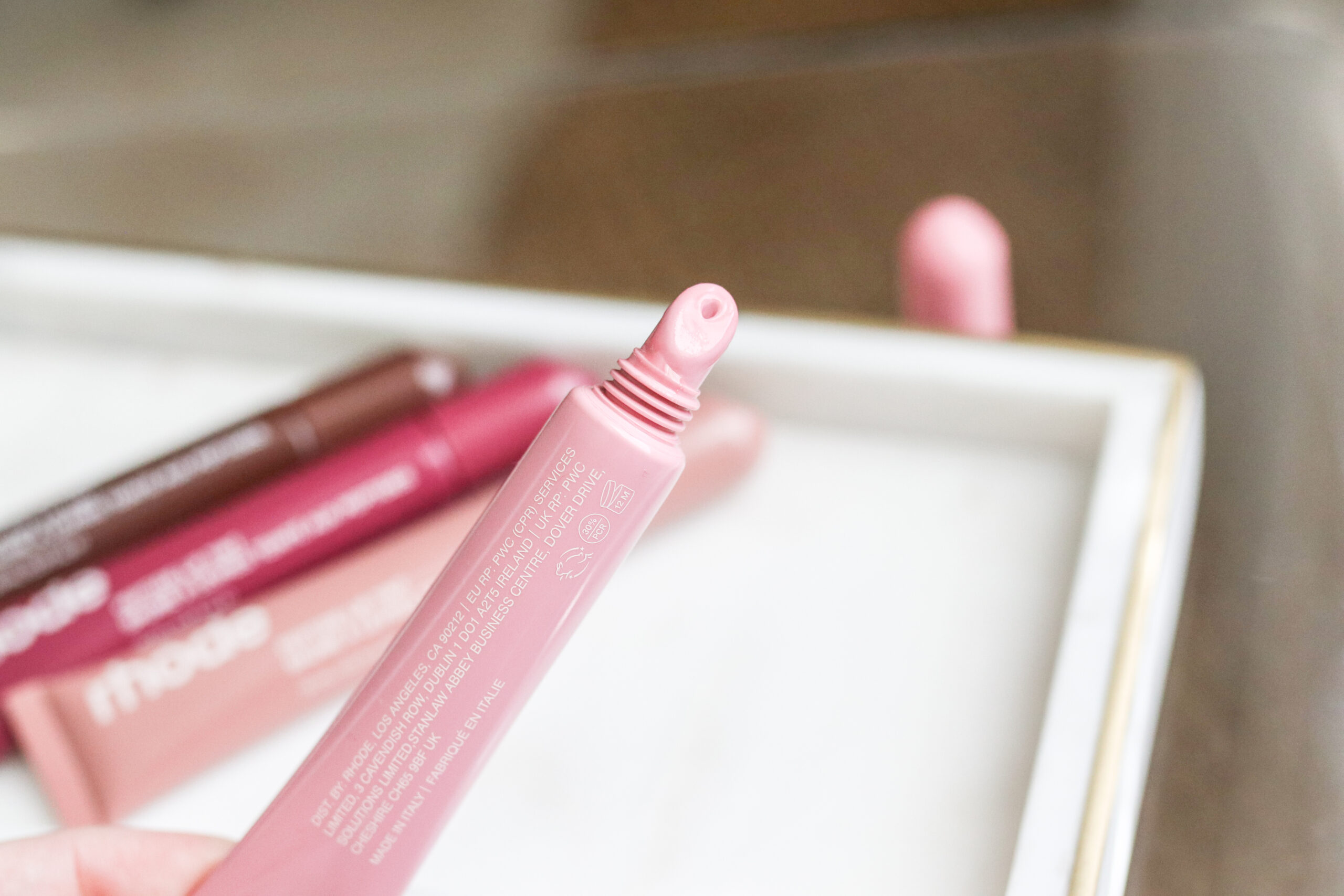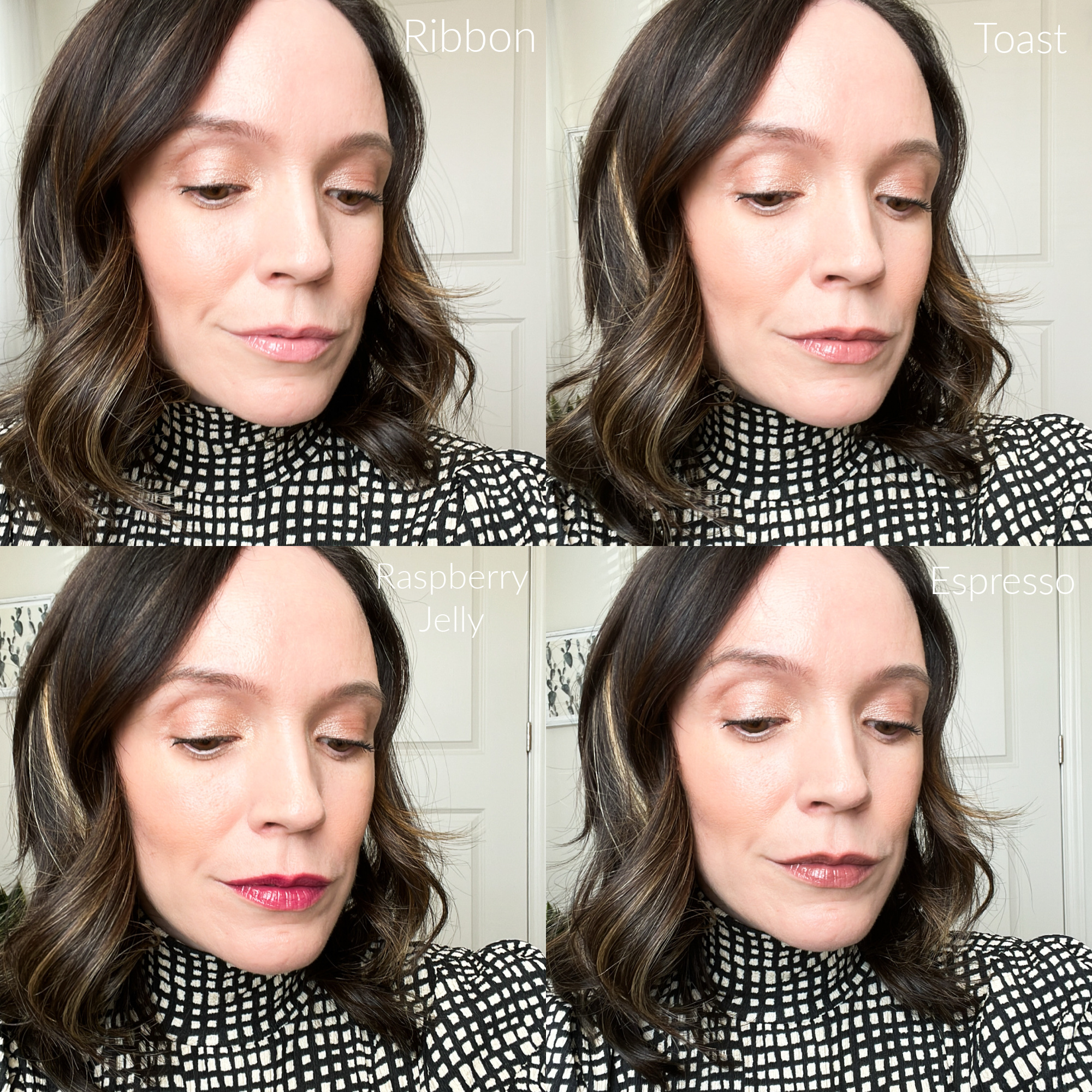 After falling in love with the Peptide Lip Treatment, I had to order the Peptide Lip Tints to see how they compared. It's a sheer but slightly buildable lip color that helps to nourish and hydrate the lips. There are 4 shades in the collection:
My favorite color out of the bunch if definitely Ribbon and it is the most perfect milky nude pink. I love the finish, the color and definitely plan to repurchase. Toast is my second favorite shade and skews a bit more neutral brown on the lips yet still looks beautiful for everyday. Raspberry Jelly and Espresso are a bit darker than what I usually wear but I like that they can be sheered out to just a lip stain on the lips. The formula is nearly identical to the Peptide Lip Treatment and makes the lips look glossy and glass-like. They are so comfortable and easy to wear throughout the day and last longer than I anticipated. Usually I don't have to reapply until around hour 3 or 4 (which I think is pretty decent for a lip balm).
Related: Moisturizing Lipsticks I Love
Rhode Skin Glazing Milk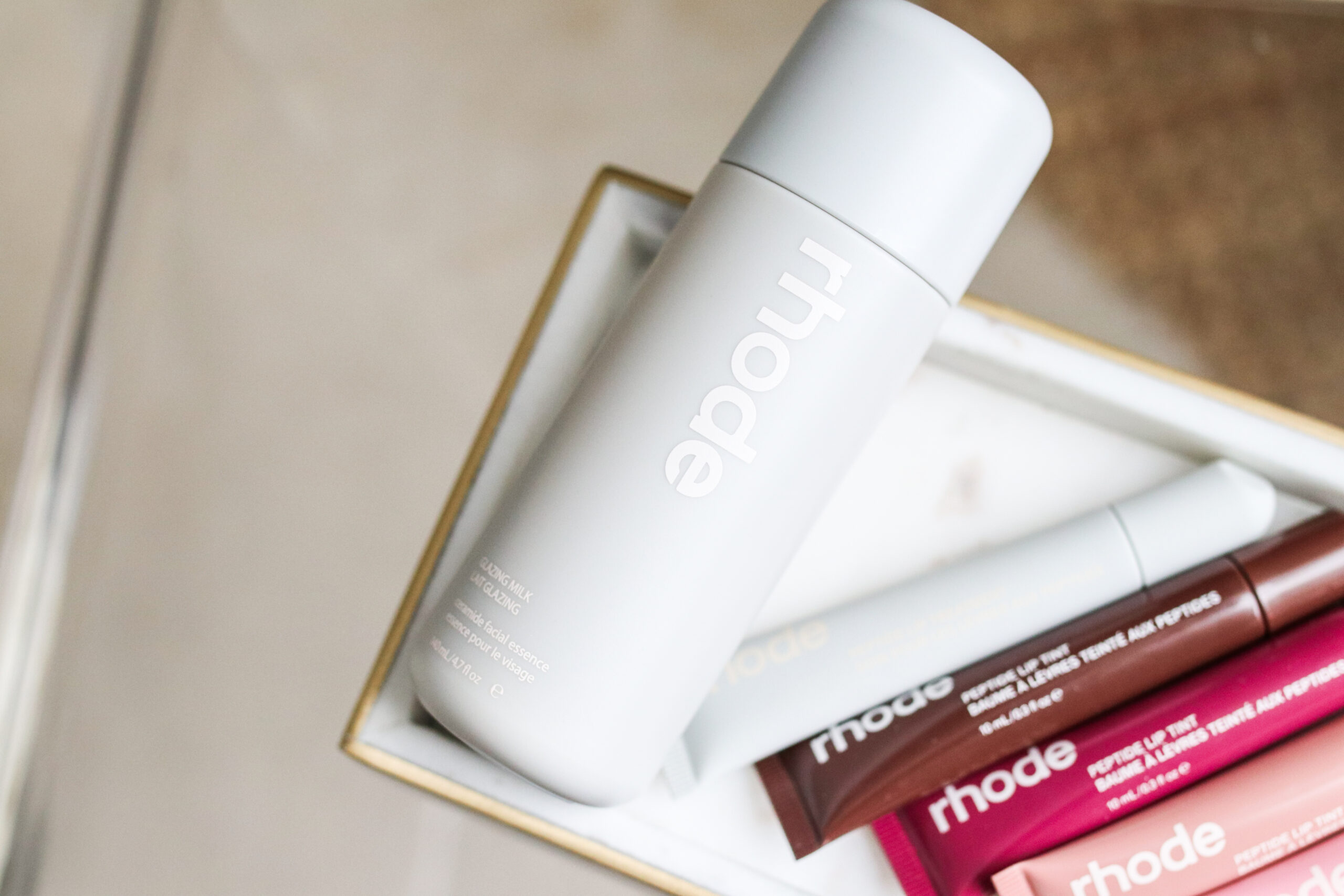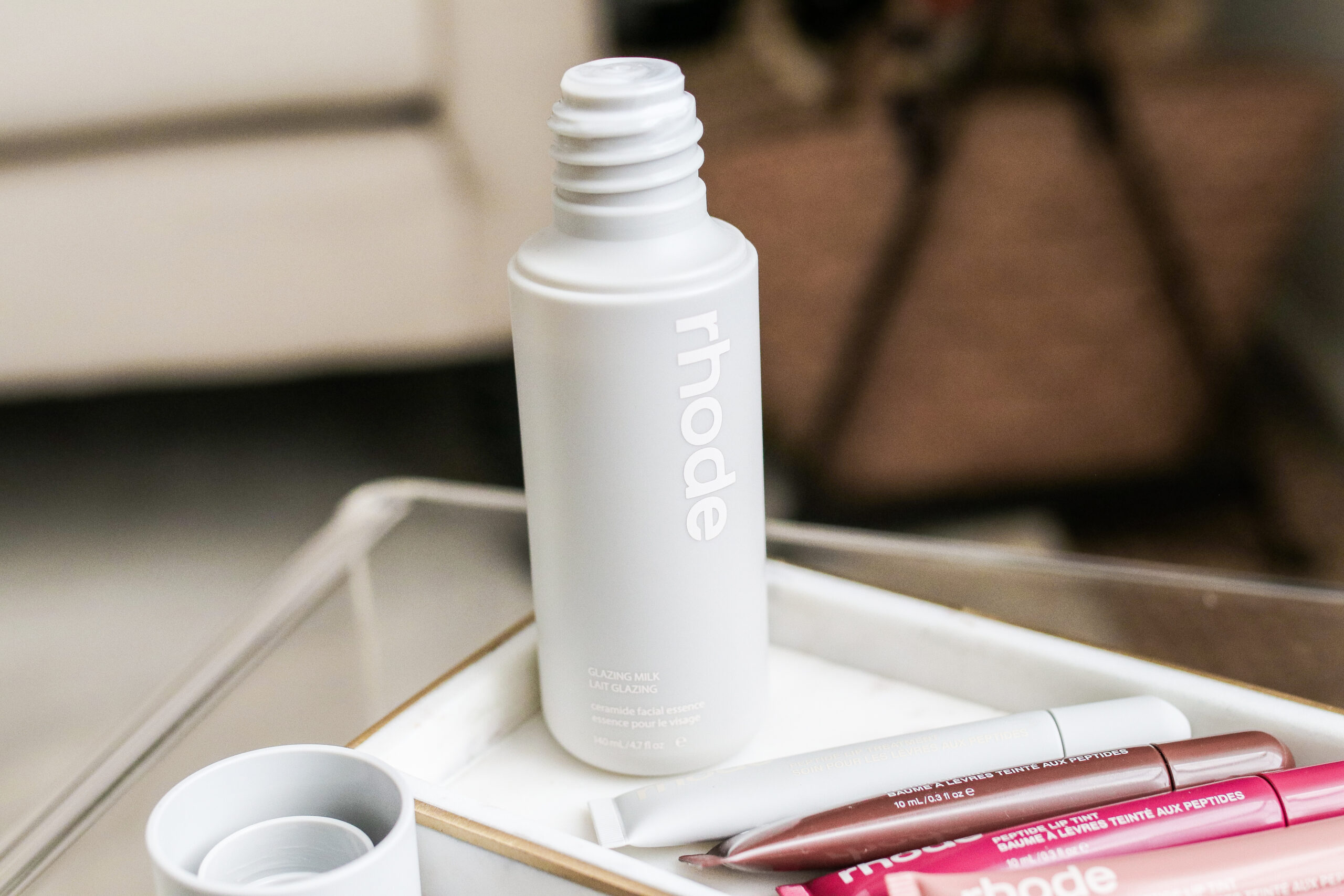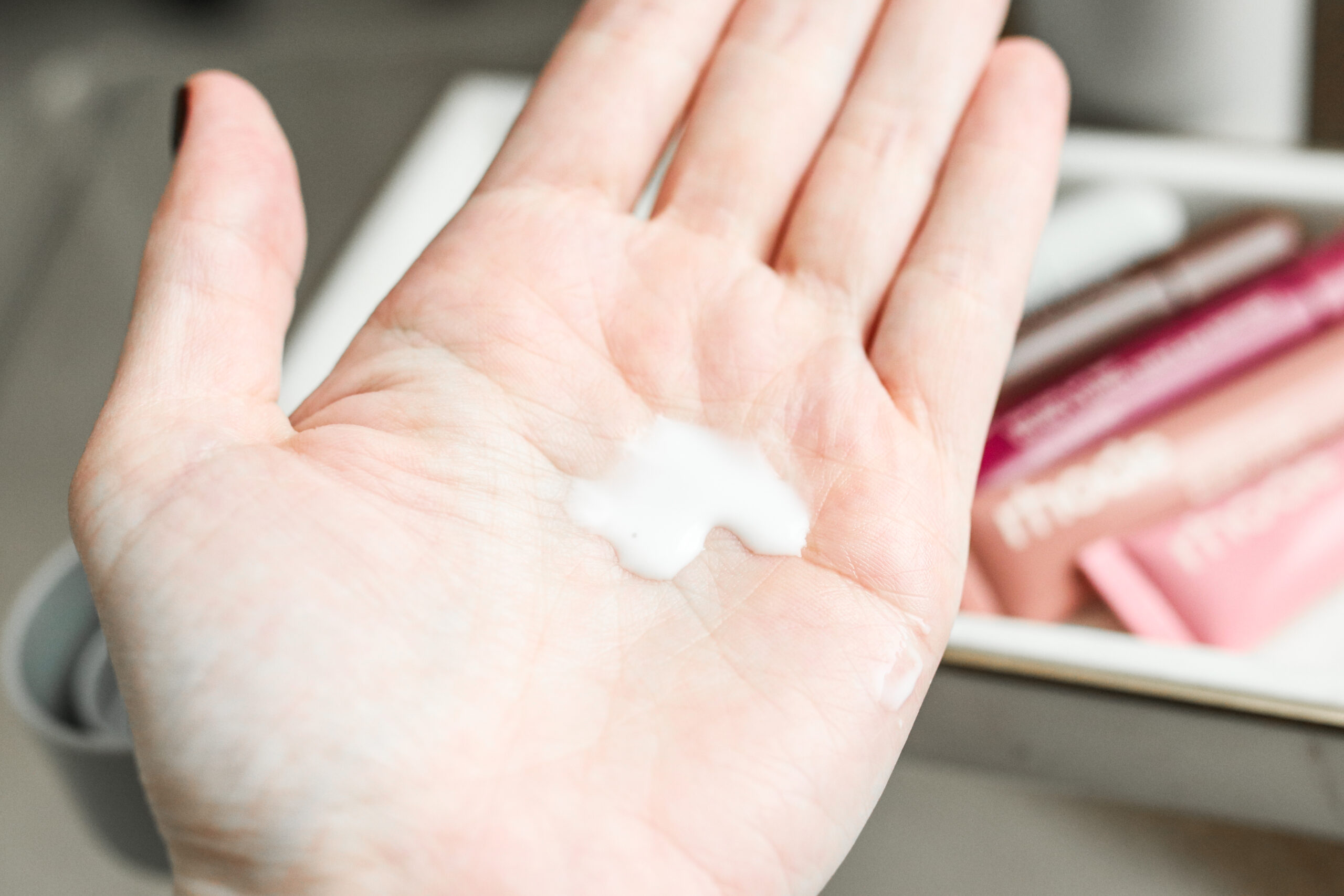 If there is one thing I take seriously when it comes to beauty is my skincare. I love great packaging and am intrigued by hype, but ultimately I need my skincare to WORK. I'm in my mid 40's so I want products that are effective and deliver results that I can see and feel. I truly had no idea what to expect from the Rhode Skin Glazing Milk but I had heard great things about it so I ordered one to test and share my honest review. It's a lightweight milky essence designed to prep the skin for product absorption, boost barrier function and provide instant hydration. And I can say after testing it for over a month, it does all of these things and I absolutely LOVE IT! Ha!
Ingredients
The Glazing Milk contains mix of ceramides, a magnesium + zinc + copper blend and beta-glucan to help soften and moisturize the skin. It also helps to reduce redness over time.
Designed for all skin types
This is a product that would be great for all skin types and any age which is why I love it so much. It's an easy product to fit into any skincare routine.
Price Point
At $29, it's quite affordable though I am going through it quickly because I use it morning and night. I would love if they made a larger size eventually which I would order immediately.
Results
The results are slight but I love how plump, hydrated and glowy it makes my skin look. It provides a great boost of moisture for my skin and it does help any products I apply after absorb better.
How To Use the Rhode Skin Glazing Milk?
I played around with the Glazing Milk for a bit to find out how best to use it and I actually enjoy using it a variety of different ways.
Pour into hands and pat into face
I don't use a cotton pad for this rather I like to pour a quarter sized amount into my hands and then pat it into my skin and neck.
Use after cleansing and toning
Typically I will use it after I have cleansed and toned but before I apply any serums/moisturizers. I have actually been layering it with another essence in my routine but also enjoy it used alone as my only essence.
Apply morning and night
I like to apply the Glazing Milk both morning and night because it gives my skin that added bit of moisture and helps keep my skin calm and less red.
Layer before makeup
Another way I have been using it is applying a thin layer right before I apply my foundation. Because it's so glowy and hydrating, it preps my skin SO NICELY and my makeup applies flawlessly.
Layer in between serums and moisturizers
A third way I have used the Glazing Milk is applying it after my serums but before my moisturizers if I feel my skin needs a bit more moisture. I don't find that it pills so applying it twice in my routine is fine. Usually I only apply it once in my routine, but depending on what my skin needs, I find the Glazing Milk to be so versatile!
I can't decide if I want to try the rest of the Rhode skincare line which is the Peptide Glazing Fluid and Barrier Restore Cream but if I do, I will update this post with my thoughts and review.
Have you tried Rhode skincare? If so, what are your thoughts?