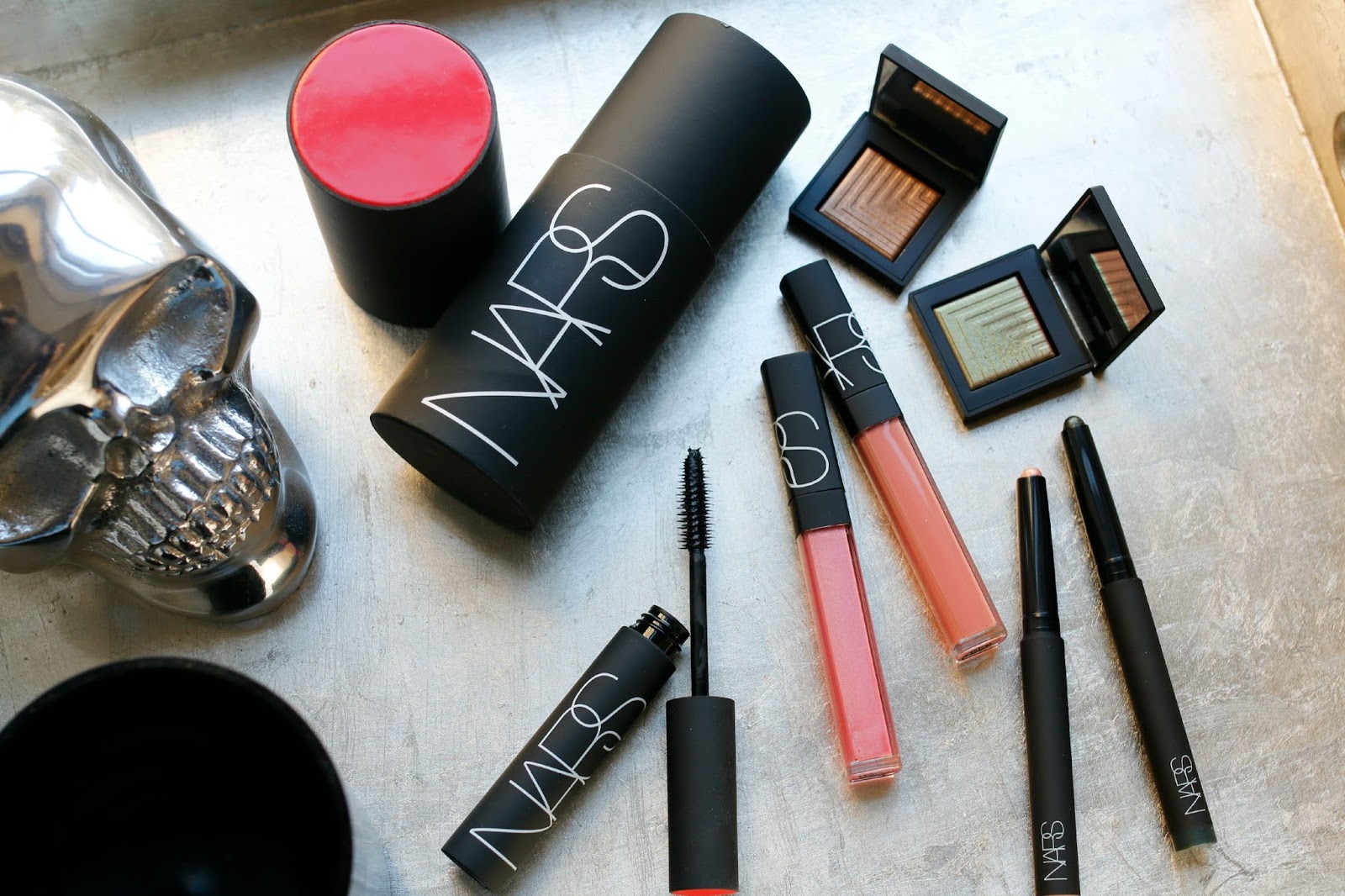 NARS can really be hit or miss for me to be honest. Sometimes I love their new collections, and sometimes I am not excited for them. But this one for Fall seemed right up my alley and I found the colors to be wearable and absolutely stunning! Here are my picks from the collection: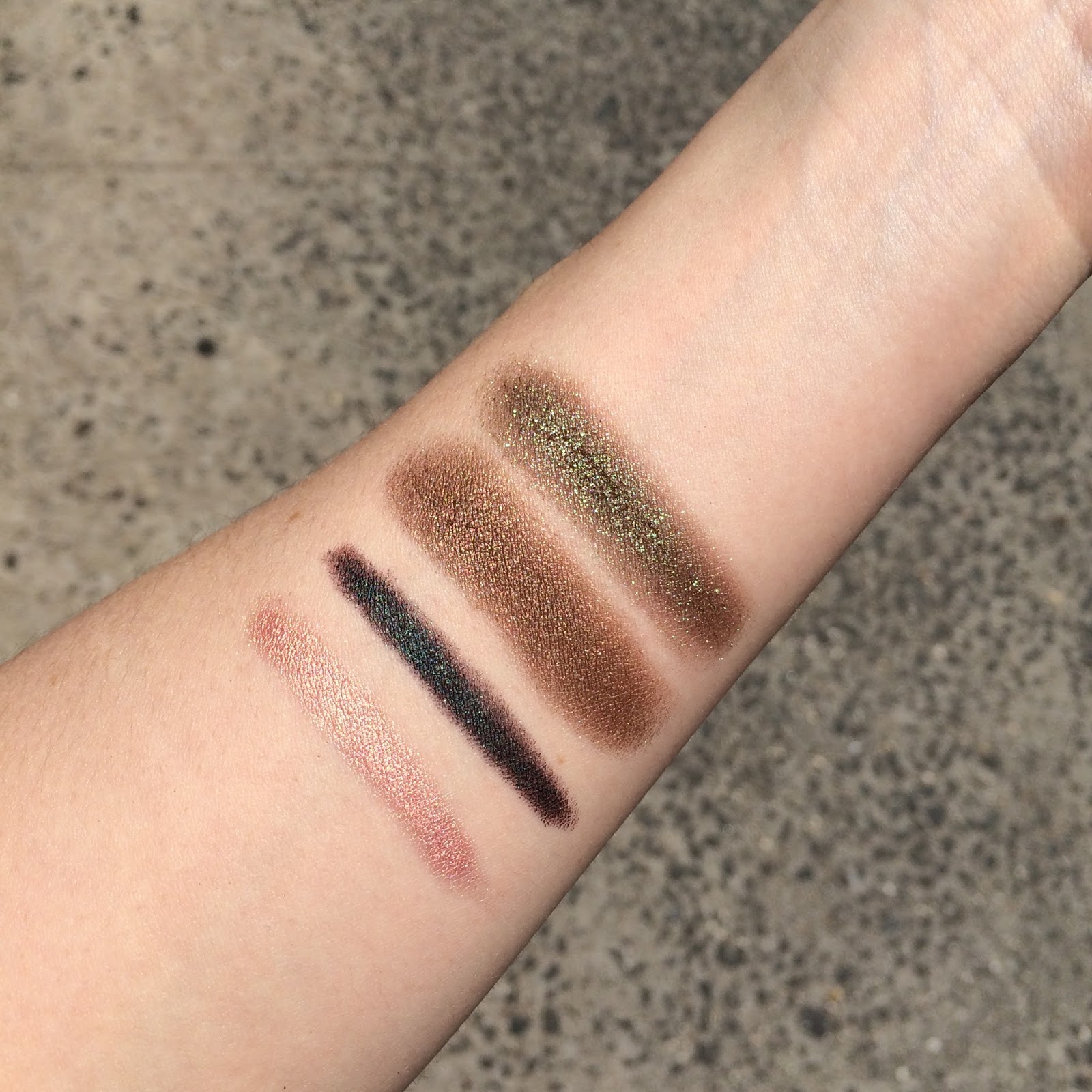 1.
Velvet Shadow Sticks in Goddess and Sukhothai
(swatches are the two on the far left above) – These shadow sticks are creamy, intensely pigmented and last all day. What is there not to love? I find them easy to blend without having to rush for fear that it will set immediately. I like using the pale color, Goddess all over the lid and then the deep green, Sukhothai smudged close to the lash line. All of the colors are wearable and perfect for the fall.
2.  
Dual Intensity Eyeshadows in Pasiphae and Telesto
– I already have the
NARS Dual Intensity Palette
which I enjoy but these two are perfect additions to the collection. The rich brown, Telesto is a neutral lovers dream, while the multi-faceted green/brown Pasiphae is one of the most unique shadow colors I have seen in a long time. I wish more brands would make these duo-chrome type shadows with a brown base because as someone that prefers neutral shades, it's a great way to incorporate a bit of another color into a look without completely committing. I suspect that Pasiphae will be the one in heaviest rotation this fall.

3.
Lip gloss in Baby Doll and Chelsea Girls
 (Baby Doll is far left, Chelsea Girls is the middle pic above) – Is it crazy that I remember these two shades when they were in the pot formulations? Does anyone else remember that? I used to LOVE these two colors but did not like having to stick my finger in a little jar each time I wanted to reapply. I am so excited to see these in a lip gloss formulation with a doe foot applicator. Baby Doll is a bit more shimmery than I prefer but after wearing it around a few days, it is growing on me. Chelsea Girls is absolutely perfect and a suitable color for day or night. It's a makeup bag staple. The formula is a tad sticky so I have to wear these when my hair is up or else any slight wind makes me look like cousin It when stray hairs stick to my lips. Womp.
4.
NARS Audacious Mascara
– The brush for this mascara really got me going when I pulled it out of the box. I showed a close up of it on my Instagram – see that picture
here
. I had high hopes for this one to give me a strong and dramatic lash. But sadly I was left very underwhelmed. The bristles are too far apart for my liking so the result is a more wispy and feathery lash rather than a thick and voluminous one. The key however to building up any bit of volume with this is to let each coat dry a bit before applying the next. The bristles will stick to the product that has dried on the lash, allowing for a denser look. However, it is still not as dense as I would prefer. But for those that have very thick lashes already, this may be a great way to give them some length and volume. For now, I will stick with my mascara faves –
this one
,
this one
and
this one
.
*
pr samples included
What have you picked up from this collection? Any faves?