It's been quite awhile since I've visited Trader Joe's (
here is my last haul
), but there is no better time than fall! They have so many great fall themed items though I tried not to go too overboard and only try a couple new things (it's hard – everything looks so good!). I'll share my regular favorites from this haul below along with the new items I bought.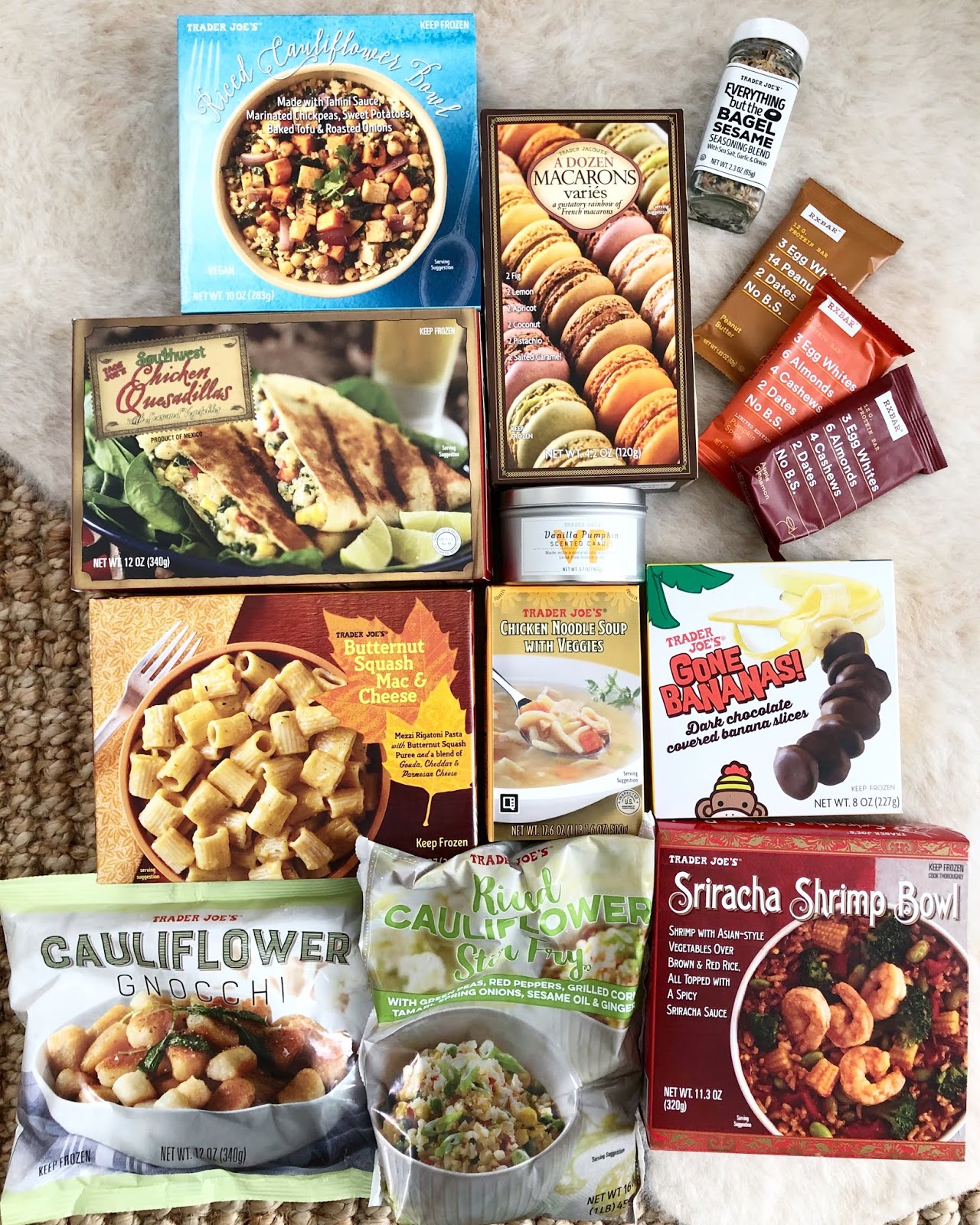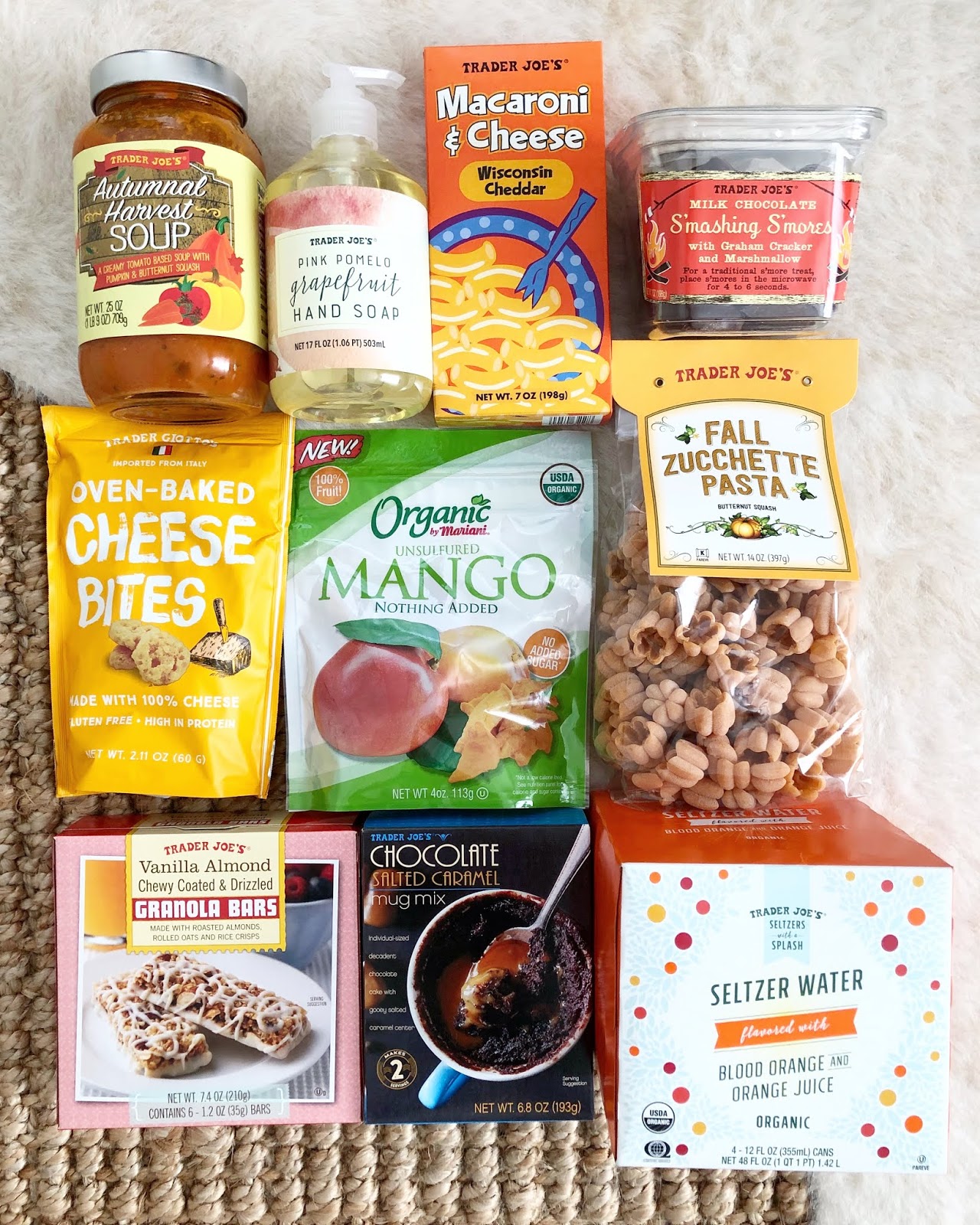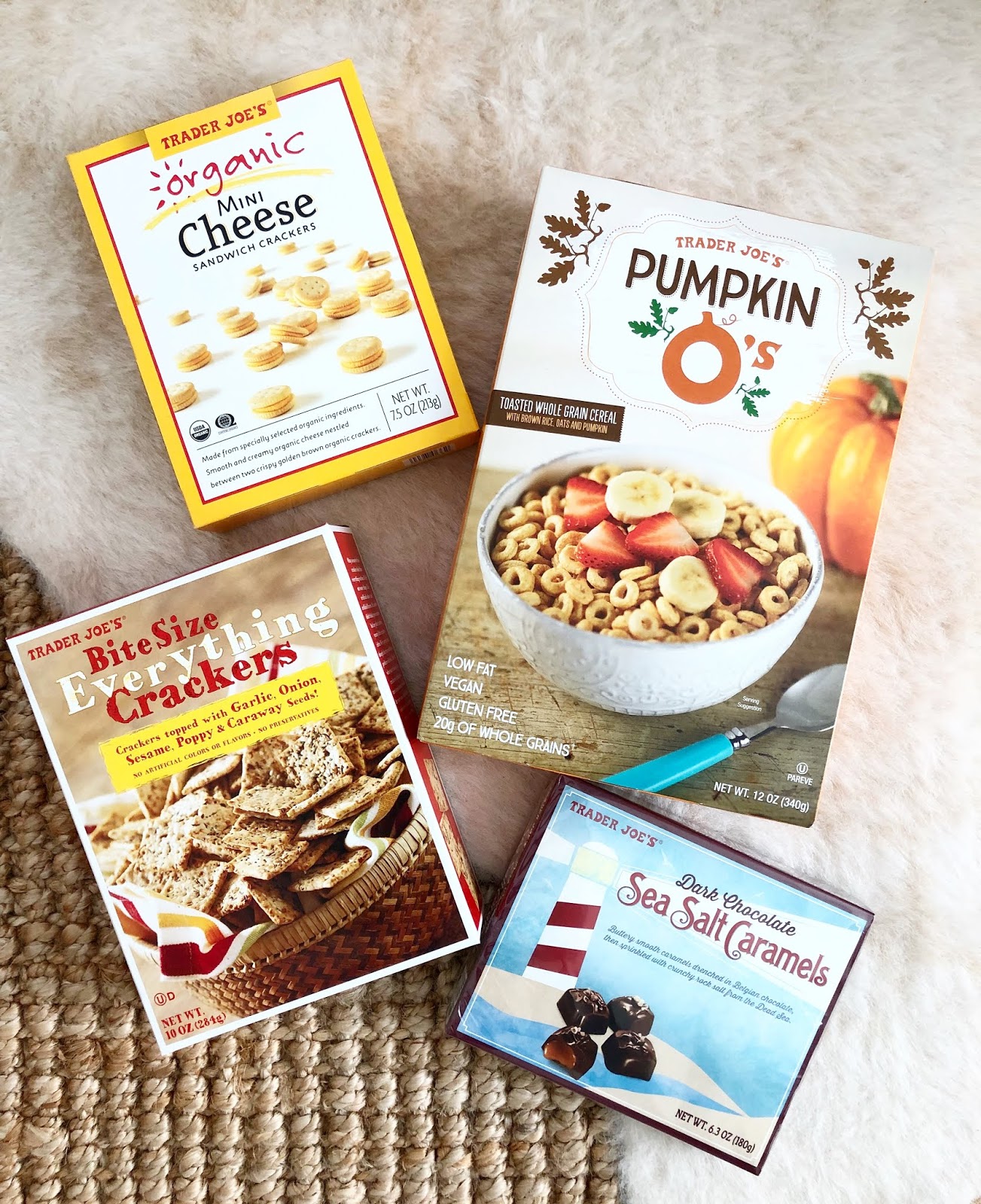 Regular favorites:
Bite Site Everything Crackers – These taste like an everything bagel. Yum!
Dark Chocolate Sea Salt Caramels – Some of the best chocolate I've ever had. Seriously.
Milk Chocolate Smashing Smores – Pop them in the microwave and your life will never be the same.
Macaron variety – Not as good as the real deal you get from a bakery, but good enough to make me repurchase.
Rx bars – I eat these every morning. The Pumpkin Spice was a new flavor I tried, and it was ok but nothing special. I am going to stick with my Sea Salt Chocolate, Peanut Butter and Chocolate Peanut Butter flavors.
Everything But the Bagel Seasoning – I bought 3 jars of this stuff because I put it on everything.
Chicken Noodle Soup – A must have in the cold weather.
Gone Bananas – Frozen chocolate covered bananas. I dare you to eat just one (you can't).
Riced Cauliflower Stir fry – A great alternative to rice stir fry dishes (it's actually chopped cauliflower instead of real rice) and tastes delicious.
The new things I picked up (I have tried a couple and can give my thoughts):
Pumpkin O's – I got these for Miles as a change up from Cheerios. He isn't sure about them yet and they are a bit sugary (but I love them).
Vanilla Pumpkin candle – I could always use another candle and this one smells quite good!
Organic Mini Cheese Sandwich Crackers – Again these are for Miles but I have not stopped eating them. Definitely a repurchase!
Autumnal Harvest Soup – I'm not a big soup person but this felt very fall to me. Fingers crossed it's good.
Pink Pomelo Grapefruit Hand Soap – This smells amazing and I will be buying more next time.
Macaroni & Cheese – Another one for Miles but we haven't made it for him yet. 
Oven-Baked Cheese Bites – Holy cow these are insanely good!
Dried Mango – I have to really keep myself in check when eating these or else I will eat the entire bag.
Fall Zucchette Pasta – The whole fall theme and packaging got me with this one. Will be trying this week.
Granola Bars – These are for Miles but we have not yet given them to him. I'm thinking these will be a hit.
Chocolate Salted Caramel Mug Mix – A chocolate brownie with a caramel center that you can make in a mug. It's a miracle I didn't buy every box on the shelf. Will report back but I'm guessing it's going to be a HECK YES.
Seltzer Water flavored with Blood Orange and Orange Juice – This is a nice change from regular seltzer water and only has 15 calories per can.
Riced Cauliflower Bowl – This was better than I anticipated and had a good amount of flavor.
Chicken Quesadillas – I bought these for Miles and so far he loves them. I took a bite and thought it was really good as well.
Butternut Squash Mac & Cheese – I plan to try this later this week and hoping that Miles will eat some too.
Cauliflower Gnocchi – I have heard great things about these and will have Stan make them this week. Stay tuned!
Sriracha Shrimp Bowl – I really wanted to like this but it was too watery and mushy. So sad.
What are your favorites from Trader Joe's? Let me know in the comments below!