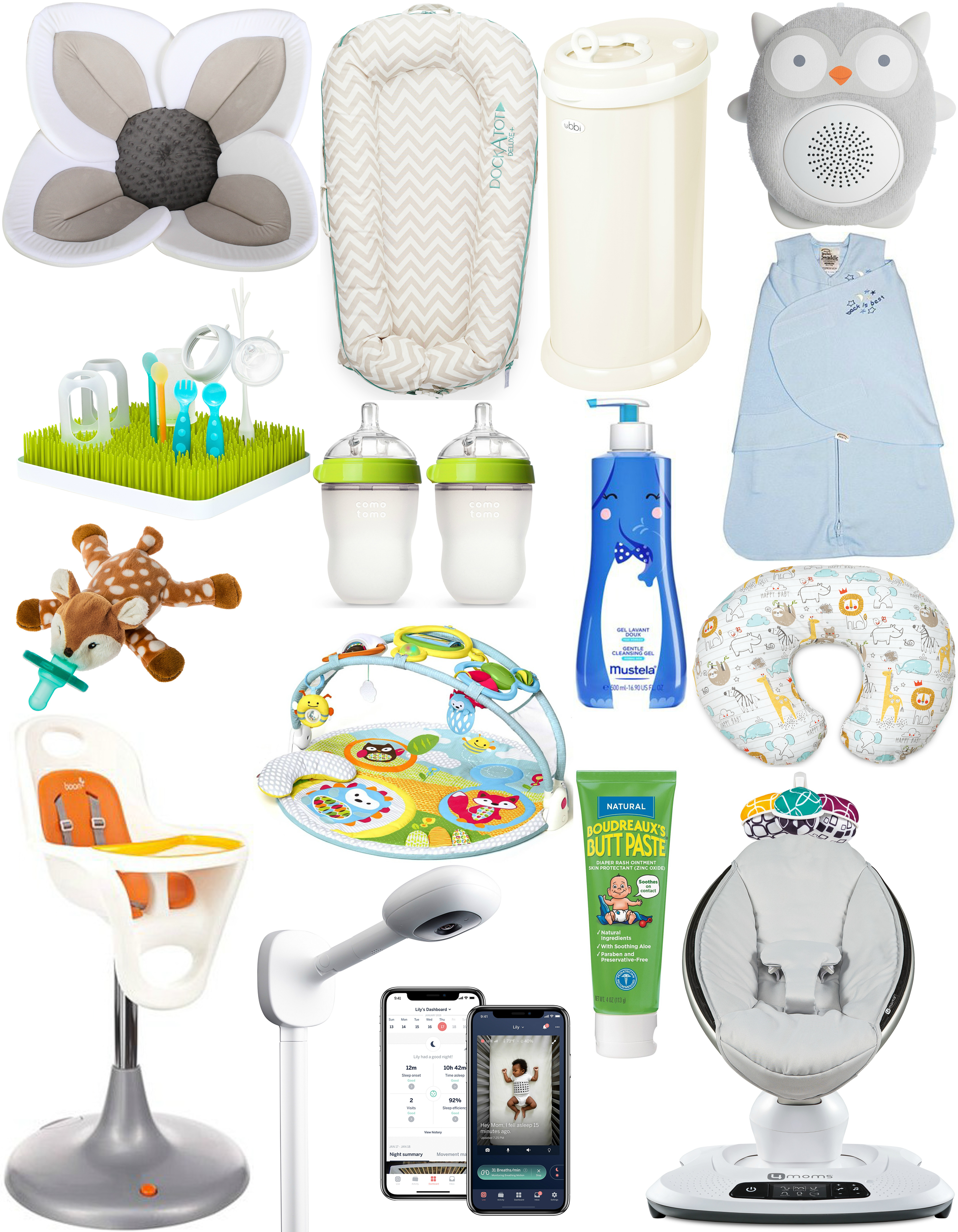 It's been awhile since Miles was a newborn, but there are so many things that I registered for and still use to this day! Setting up my baby registry was so daunting because I had no idea what I would need or use. It was actually blog posts like this or recommendations I would come across that helped me begin to get an idea of the things I wanted to try. I ended up being pretty happy with my registry and used most of the things I put on there. I thought I would share all my most used baby items from when Miles was a newborn and also the few things that I wish I had registered for. Walmart is having their Best of Baby month right now until September 30th and there are tons of deals online and Rollbacks in store, so if you are thinking about getting anything for yourself or as a gift this is a great time to do it! There is a section dedicated just to baby registry or you can shop by category. I also like to look on the best sellers page because I like to know what is popular and selling the most.
1. Blooming Baby Bath Lotus – This pillow made bathing Miles so easy when he was an infant. It's incredibly soft and fits easily into any sink or small bath tub. It made me feel so much better that he was comfortable during bathtime.
2. Dockatot – We LOVED our Dockatot. I swear it was in every single room of the house at some point because it was so great to have him near us wherever we were. I could place him in this while I was in the shower or working in my office. My mom and Stan also loved this when they wanted to put him down somewhere safe if they had to grab something in the room. As soon as we would place him in it, he seemed to immediately calm down and it became one of our most used baby items!
3. Ubbi Diaper Pail – THE BEST DIAPER PAIL! I had to put that in caps because it truly is. I purchased this one first before Miles was born and then tried two others to keep in other rooms of the house. The other two diaper pails did not keep the odor in and we were constantly having to change the bag. I cannot smell anything in the Ubbi when it's closed. It's amazing! I ended up returning the other two diaper pails and just got another one of these!
4. White Noise Machine – We didn't start having Miles sleep with a white noise machine until he was almost six months old but once I did, he slept so much better! I would have been using it from birth if I could do it over and I would have purchased a portable one like this machine so we could bring it with us. This would have been great to have in the stroller or car seat to help block out any background noise when we were out.
5. Countertop Drying Rack – This is currently sitting on our countertop and has been there since the day we brought Miles home from the hospital. It's so great for drying bottles and now that he is older, we use it for drying most of his cups, bowls and utensils.
6. Comotomo Bottles – I wasn't crazy about any of the bottles we used for Miles as a baby and wish I had registered for these from the beginning. So many of my friends loved them and told me how great they were. I particularly like the size and how easy they are for the babies to hold as they get older.
7. Mustela Cleansing Gel – I love many of the Mustela products for bathtime and this particular cleansing gel is great to use from birth all the way up until toddlerhood. It's gentle and has an amazing scent.
8. HALO Sleepsack – Another product that Miles is STILL using to this day! We used a HALO sleepsack when Miles was an infant because it had a swaddle option at the top but also kept him warm because it acted as a blanket. As he got older and didn't need the swaddle any longer, we kept buying bigger sizes of the sleepsack because he slept so well in them. We are actually on the last size of the sleepsack so he will transition out of it next year, but in the meantime it has also helped him not climb out of the crib (which I'm convinced he would do if he didn't have this on).
9. Wubbanub Pacifier – Miles loved these pacifiers and the little stuffed animal on the end helped give it enough weight that it didn't fall off him when he was a baby. Often a regular pacifier would fall out of his mouth when sleeping and then he would begin to cry, but this one would stay put!
10. Activity Gym – An activity gym was a huge hit with Miles and he loved laying on it and looking at all the hanging toys. It encouraged him to roll around, reach for the toys and as he got older he would do tummy time on this. As he began to sit up, he also would love to play with all the different toys.
11. Boppy Pillow – This is the #1 thing I buy for all my pregnant friends. The Boppy was a lifesaver when Miles was an infant. I would use it as a nursing pillow in the beginning and feed him. As he got older, it helped him with tummy time and then it was great to use to help him sit up on his own. We could also place him in the Boppy when we wanted him to be somewhere safe in case we needed to go grab something nearby.
12. Boon High Chair – I loved this high chair and it was such a great pick. It has wheels so it's easy to move around but locks in place when you need it to. The best part about this high chair was how easy it was to clean (these are the wipes I used to clean it). Miles was completely secure while in there which made me feel so comfortable.
13. Nanit Baby Monitor – I don't think this monitor was out yet or maybe it was very new to the market, but I definitely would have registered for this one. It can be mounted to the wall or to a stand on the ground and has so many great features. I love that you can access it from your phone and it monitors the baby's sleep letting you know when they fall asleep and wake up.
14. Diaper Rash Cream – Miles never had diaper rash as a baby but we still wanted to use something at night to protect his skin since he sleeps 12 hours. We began using this when he was a few months old and still use it to this day. It's easy to wipe off in the morning and his skin is never irritated from being in a wet diaper all night.
15. 4moms Baby Swing – Every child is different when it comes to what will keep them soothed or calm if they are fussy, but this swing really worked for us. It has tons of different settings that makes the chair swing in different ways – up, down and side to side. The mobile at the top was always getting his attention and you can play music through it. It also reclines back or sits up depending on what works best for your baby. Miles especially loved this from 3 months – 6 months – it was a lifesaver many days when nothing else seemed to soothe him.
Thanks to Walmart for sponsoring this post!