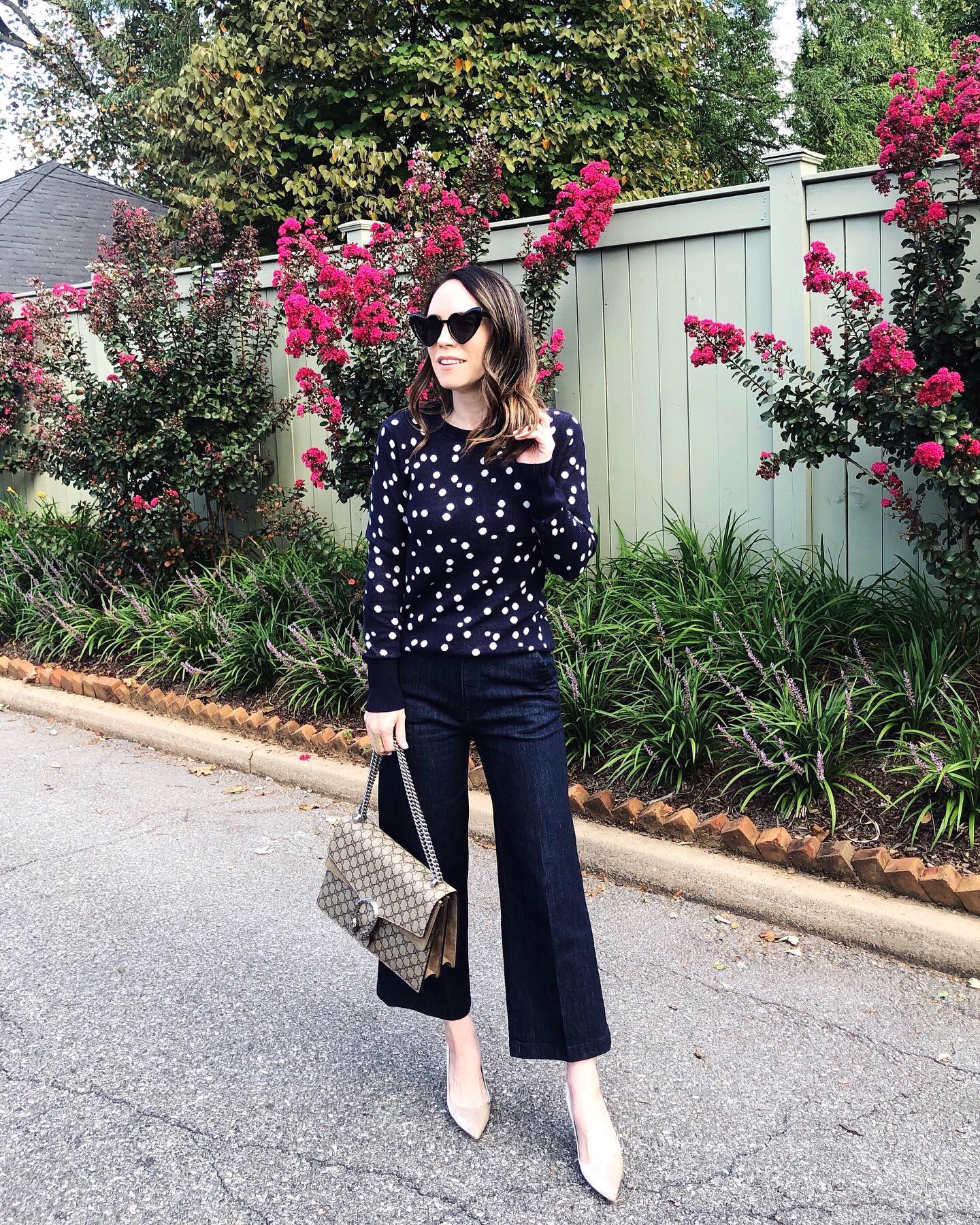 Sweater | Jeans (similar) | Shoes | Bag | Sunglasses
Happy Friday! Hope everyone had a great week. It's really beginning to feel like fall here so I have been trying to slowly check off all my bucket list items. I always have a list every season of things I want to do with Miles and Stan and I'm so excited to beginning doing them!
1. Diptyque just launched their limited edition City candles! They are only available for a very short time (I think less than 5 days!) so I would pick one up quickly if you are a collector.
2. Wrap coats are always a chic option for fall and winter, and this camel one is absolutely gorgeous! I love that it has a hood too.
3. One of my wishlist fall handbags is this Fendi one. I love the neutral tones, gold hardware and the hint of logo on the front.
4. This leopard print cami is a bit more understated than traditional leopard which is a nice way to wear the trend without it overtaking your look.
5. These mules mix both the clear trend and snakeskin – they are currently sitting in my cart!
6. This looks like the most perfect teddy coat for fall/winter. I love the shape of it and the colors are so wearable.
7. NARS just launched a new fragrance and they sent me one to try and it is such a great fall/winter scent. It's very rich and smokey with notes of incense, sandalwood and white frangipani.
8. I just finished watching Unbelievable on Netflix and cannot recommend it enough! It's a very emotional series and heartbreaking because it is based on a true story, but really binge-worthy. Next up on my list to watch is the new season of 12 Reasons Why.
9. It's been awhile since I listened to a podcast (I prefer mysteries and crime podcasts), but I have been listening to Bardstown and am really enjoying it! It's about a few awful murders that took place in a small town in Kentucky that are still unsolved.
10. Bring on the chunky sweaters for fall! This one comes in 5 colors and has the perfect slouchy fit.
11. Tom Ford launched these new moisturizing lip glosses and there are so many good nude colors. I'm trying to decide which ones to try!
12. Holiday collections and sets are slowly beginning to launch and this Bobbi Brown eyeshadow palette is absolutely gorgeous! The colors look so wearable and the packaging is beautiful.
13. How cute are these customized name books?! I want to get them for Stan, myself and Miles. Such a fun way to include the entire family!