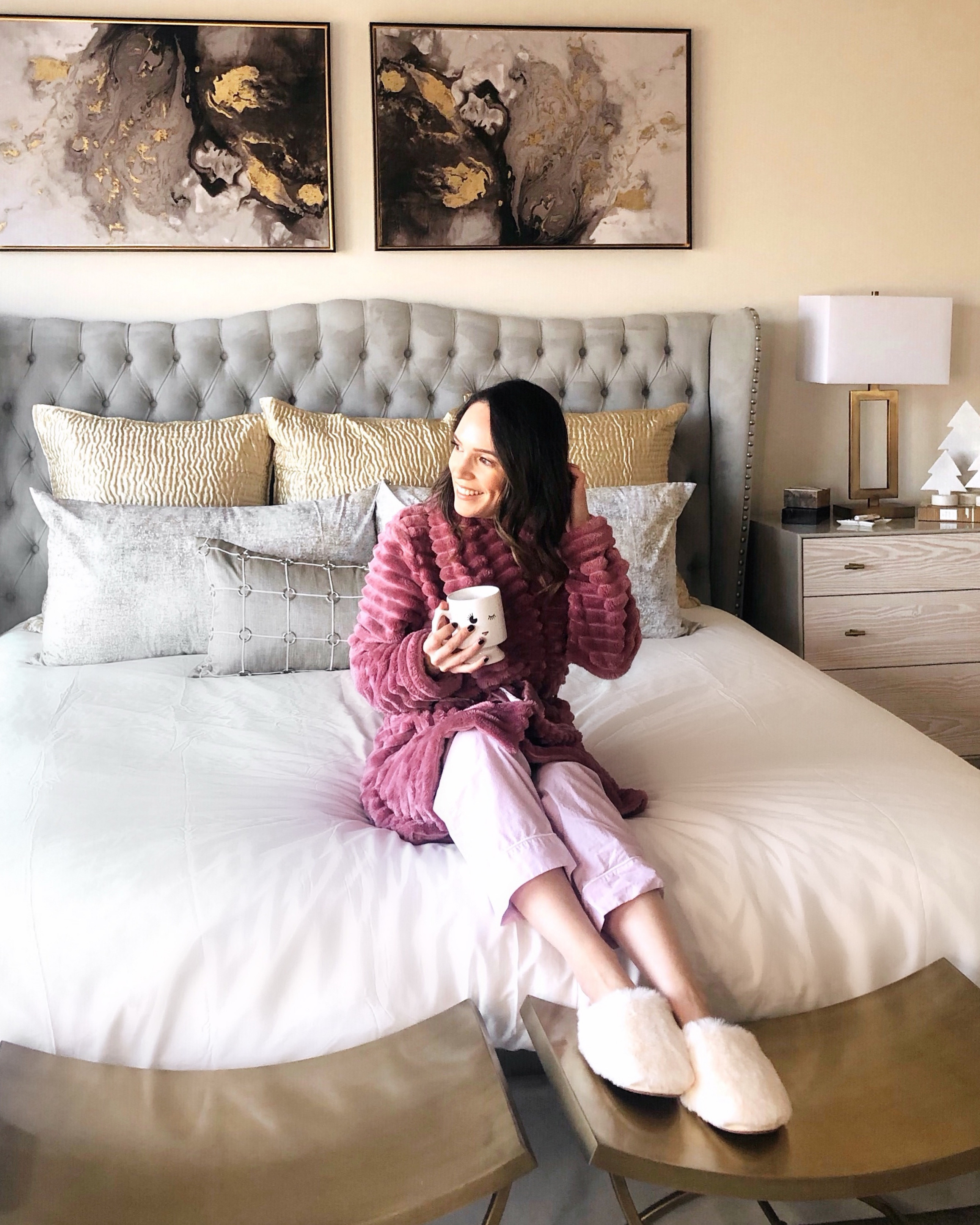 Robe | Pajamas | Slippers | Mug | Nightstands | Lamps | Lumbar pillow | Euro pillow shams | Bedding
This is one of my favorite gift guides that I do every year, and one of the most popular one with all of you as well! I guess we all love to be cozy. LOL
1. I have to start this gift guide with the coziest thing of all – the robe I am wearing in the above picture. It is by far the most luxurious robe I own and is currently on sale!
2. In addition to my new robe, this is the one that I wear when I get out of the shower and is the one I typically give as gifts to people because it is just as comfy and wonderful.
3. You can't be cozy without a mug for coffee/tea/hot chocolate and this one is perfect for the homebody.
4. For a more high tech mug option, this one enables you to set the temperature and keeps your drink at that temp! This is going on my Christmas list.
5. My ice roller is always a great gift to give since it's under $15 and feels amazing. Use it after a long night or when you feel puffy in the morning.
6. I keep my ice roller in a mini skincare refrigerator and I found one that is quite affordable. For those that love their skincare, it's a great gift!
7. I keep slippers on my feet non-stop when I'm at home and I will actually have a blog post coming shortly with tons of options at all price points, but these are super popular and would be the perfect present for someone that needs a sturdy pair of slippers.
8. I am a huge audiobook lover and my AirPods are an absolute necessity. And I saw this leopard case for them and ordered one immediately for a friend – how cute!
9. Matching pajamas always make me feel like I have my life together and these are my two favorite brands of pajamas.
10. You can't be a loungewear lover without loungewear, amiright??!! Here are a few that I'm loving: this star set (that is under $30 but selling fast!), this leopard print set, this set which I have in a few colors and just bought for my mom and this set which has fleece lined sweatpants.
11. I've been burning these candles non-stop and love how well they burn and the scents are amazing. I had a gift card so I also splurged on this one which I love to burn every year.
12. My girlfriend has this neck massager and raves about it. I've had my eye on this back massager for so long because it has so many good reviews.
13. When I'm not wearing slippers, I have these socks on which are the softest things ever!
14. A basket of body products always makes the best gift and these would be great for a night of pampering. I'm obsessed with the chic and minimal packaging.
15. This throw looks as comfortable as it does chic and would be beautiful draped over a couch or in a basket after you are done cozying up under it. These throws are always one of the most popular ones that are given as gifts each year.
You can check out the rest of my holiday gift guides here.