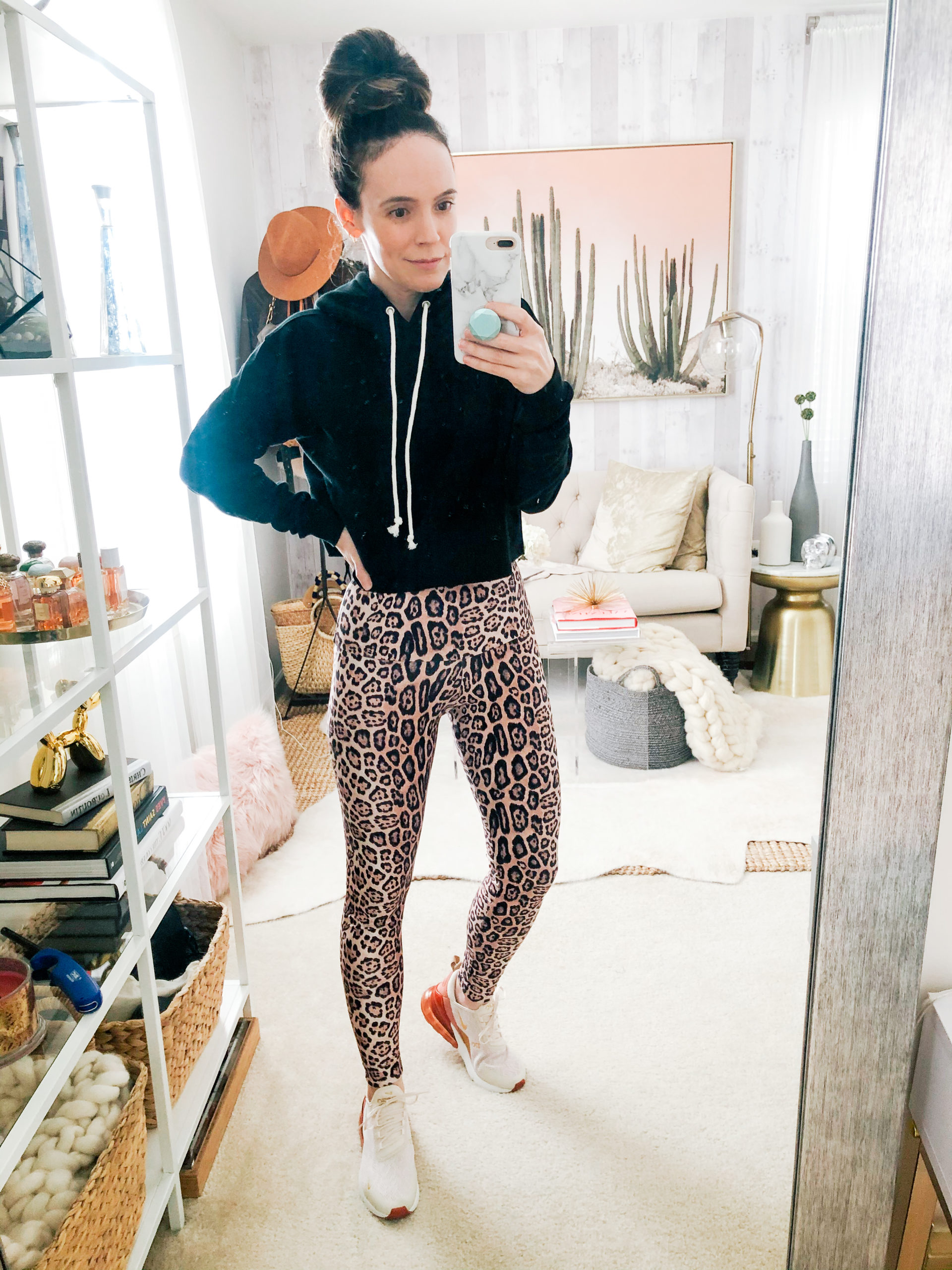 Hoodie – Target | Leggings – Onzie | Sneakers – Nike
I was so excited to put together's this week's Friday Finds because my list was longer than it's ever been. So many good finds and I hope you guys enjoy! 🙂
1. I want to wear all the cozy and comfy clothes in the fall (well all year round actually, but still LOL) and I am eyeing these joggers from Amazon.
2. I feel like I need this door opener on my key chain – it makes it so much easier to push elevator buttons, open doors, etc without having to touch anything!
3. Ok, one last ridiculous Amazon find that might actually be really helpful – this squishy cleaning car gel to help get to all the places that you can't reach.
4. Wow, wow, wow! These knee high boots from H&M look insanely expensive but are only $70. I have a feeling they will sell out quickly so I would move fast.
5. And here are a croc pair for under $60! Amazing!
6. Express is having a really good sale right now. Here are a few of my favorite picks not to miss: these look like the perfect pair of black denim, this balloon sleeve sweater is so feminine, a good pair of non-distressed jeans, a simple tee with a twist and a dressy pair of joggers.
7. You guys know my obsession with big headbands right now and this one is on my wishlist! It is so perfect for fall.
8. I'm really loving the look of these wider ankle boots right now. They would look amazing with super tight skinny jeans and a big chunky knit.
9. I just watched a documentary on Netflix called My Octopus Teacher and it was so good!
10. I've heard so many good things about this non-toxic cookware – especially this pan and really want to try it. Plus the colors are gorgeous!
11. A few fall home decor things that caught my eye: this pumpkin spice hand wash set, this rust colored eucalyptus wreath is stunning, this gorgeous plaid throw blanket and these rattan pumpkins that are so chic.
12. If you want a very elegant and chic loungewear set, these joggers and v-neck sweater are definitely a must have.
13. I don't always love Chanel makeup launches, but this eyeshadow palette caught my eye immediately.
14. And this one from Dior in Nude Dress is gorgeous as well.
15. A chic fall bag for under $40 – yes, please!
16. I really want to try this new hyaluronic acid serum. I love anything that is plumping.