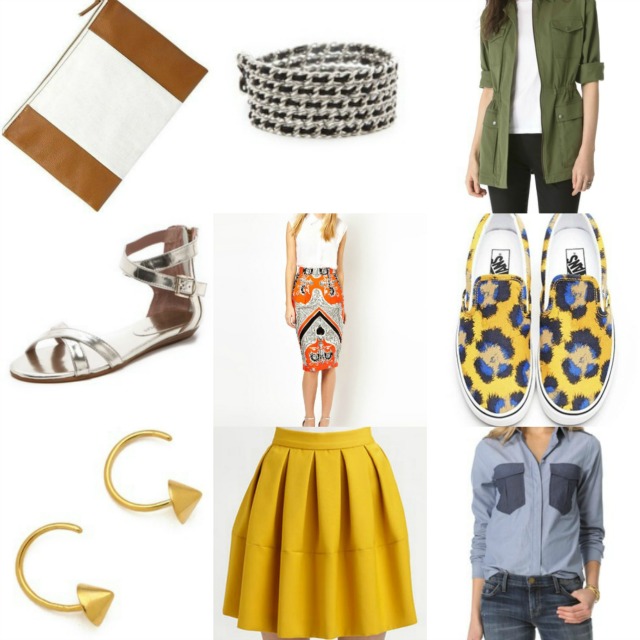 Dear spring,
This is how I want to look when you arrive.  
Sincerely,
Maree
1. 
Gap Two Tone Clutch
– Stripes – check. Neutral colors – check.  Great price – check.  Virtual shopping cart – checkout.  
2. 
Chan Luu Bracelet
– So I'm not one for stacking tons of bracelets on my arm ala the "arm party", but since this is one bracelet – I think I can break my rule.  And it would be great to edge up a pretty spring outfit.
3. 
Theory Jacket
– It has been brought to my attention by my closet that I love army green.  And in a lightweight material, cinched at the waist – this could be THE most perfect one of all.
5. 
Asos printed skirt
– Solid colors step aside for a moment – I think this adorable scarf print could be your best friend.  Paired with a white blouse (naturally, a leopard never really changes its spots) and a statement shoe, spring Maree (it's my new persona) is making her debut in this look.
6. 
Kenzo x Vans sneaker
– Growing up in a beach town, I was quite the Vans girl so these shoes take me back to a happy time.  Albeit a burnt and always peeling time since I wasn't a bronzed beach bunny, but nonetheless full of fun.  
7. 
Tom Binns earrings
– These small hoops are the perfect accessory for a gal like myself who doesn't wear earrings  but feels the need for a little above-the-neck accessorizing.  See also
these bad ass jimmy jams
which are sure to spice up a daily ensemble.
8. 
Whit jupiter pleated skirt
– Nothing but sunny days ahead in this adorable number.  Normally I am the pencil skirt queen, but nice weather makes me want to twirl and a skirt with such construction is needed.  
9. 
Maison Scotch chambray shirt
– Can one ever have too many chambray shirts in their wardrobe? Ab-so-lute-ly not.  And plus, this one has contrasting pockets – so it's DIFFERENT, k?
What are some of your current spring fashion picks that you are looking forward to wearing??  For more spring picks and to see what other things I'm adding to my closet
and
vanity, follow me on
Pinterest
– or as I like to call it – my virtual beauty and fashion shopping list.  
Have you entered my
giveaway
????  Well – WHAT are you waiting for??