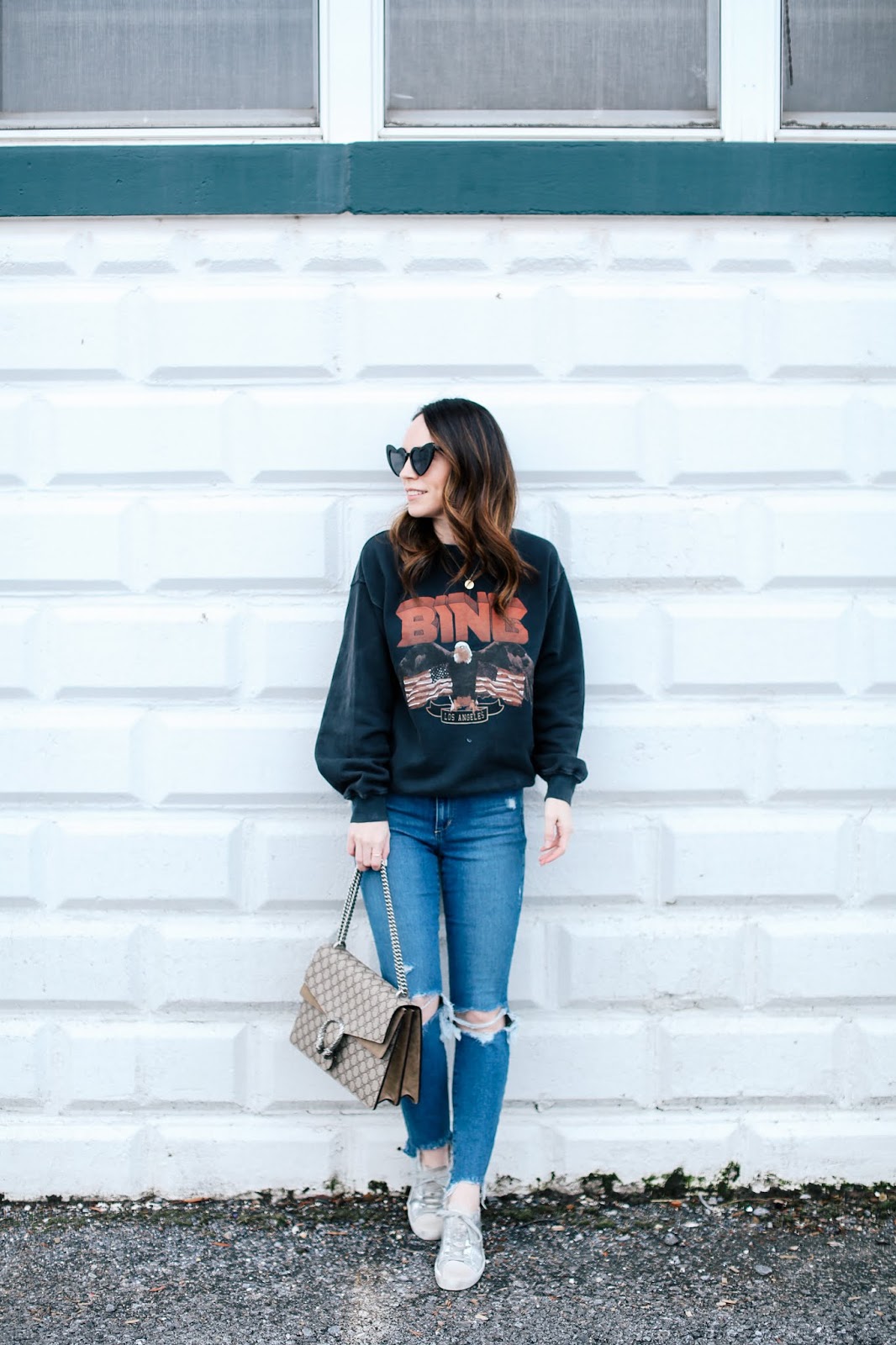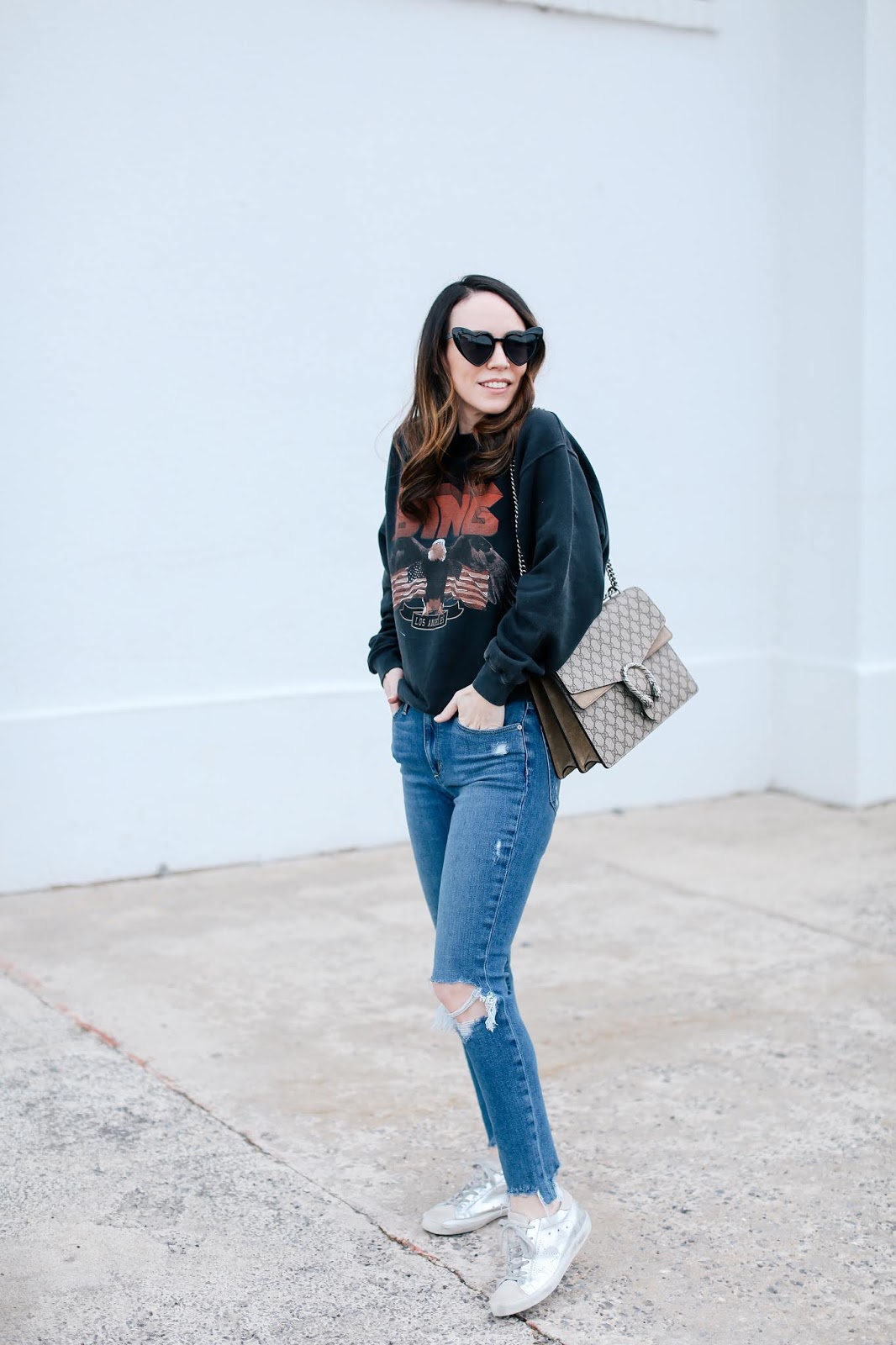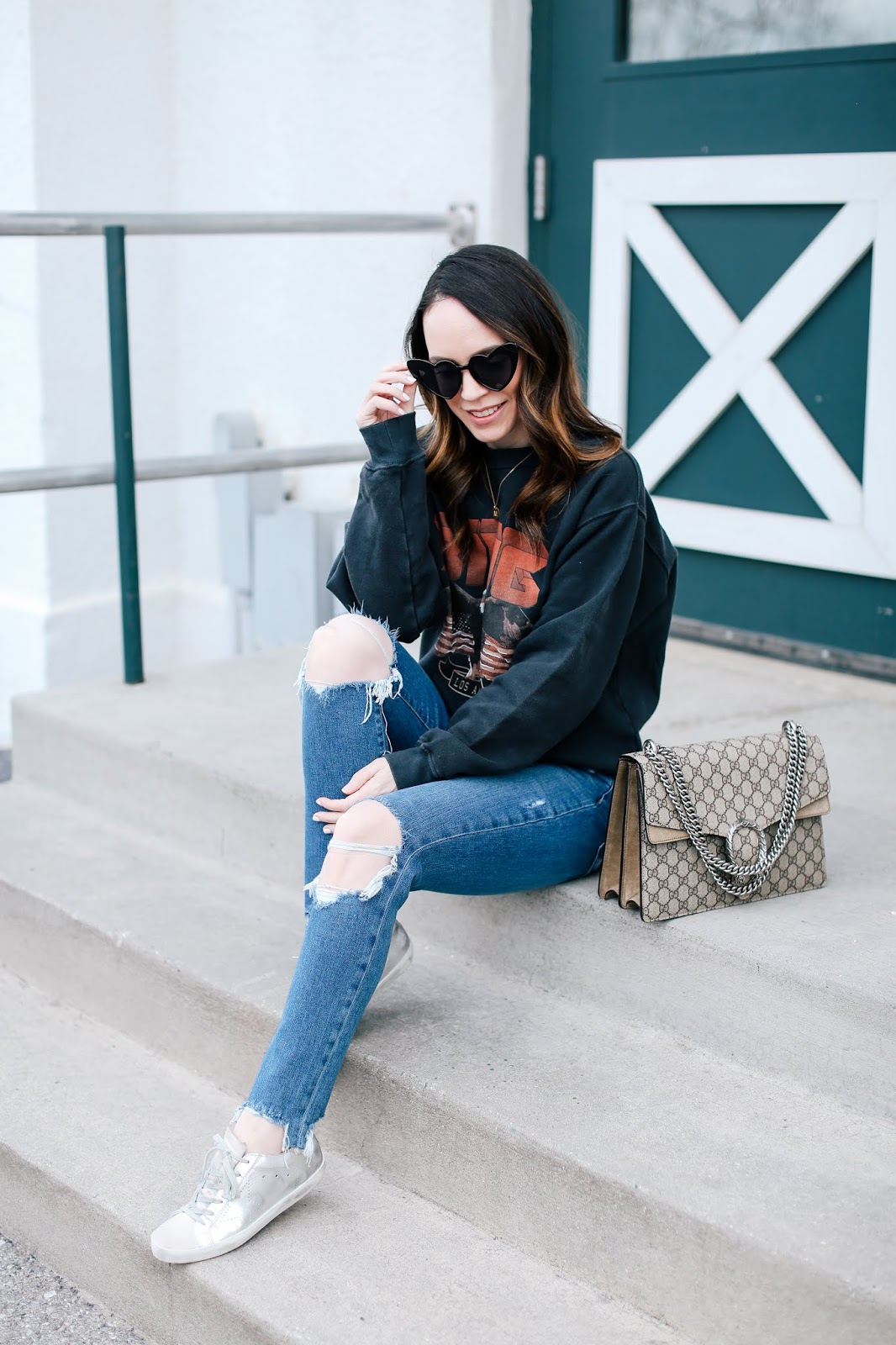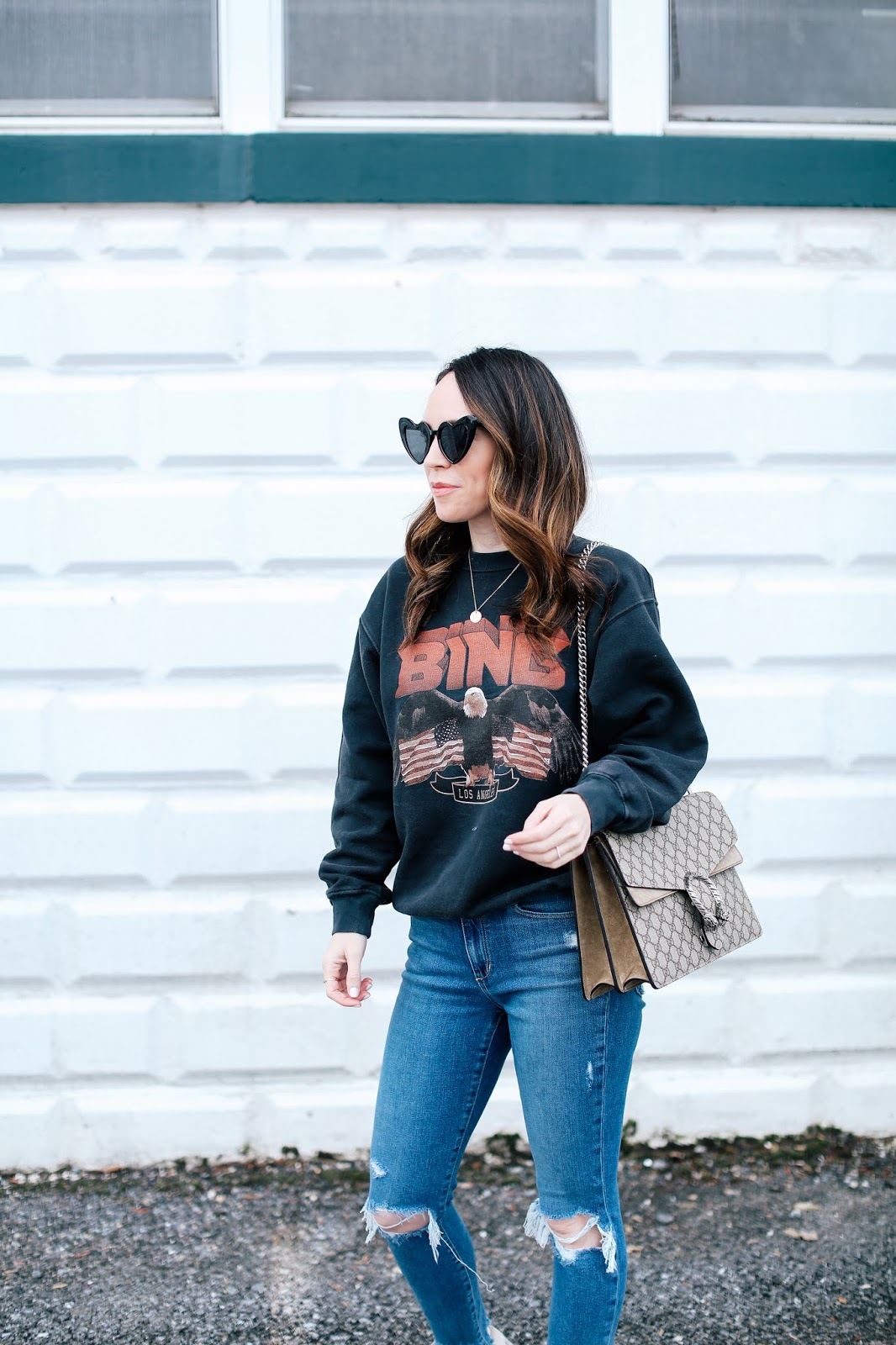 I love getting dressed up but being comfortable and not looking frumpy has been my mission since I began working for myself. It's easy to look pulled together in heels and a fabulous dress, but I am not going to wear that all the time so I constantly look for pieces that can throw on and be relaxed in. For me, a great pair of denim is key (
these
have insane stretch) as is cute sneakers that aren't an athletic style. I personally love a distressed or vintage tee/sweatshirt like
this one from Anine Bing
. The whole look is super relaxed but I don't feel sloppy or messy.
Switching gears away from clothing, I have had so many requests to compile all my favorite podcasts in one post for reference so I thought I would do that today.
1. Serial – Season 1 of Serial is what got me hooked on podcasts. Season 2 was ok, but Season 3 was another great one.
2. In the Dark – I've listened to both season 1 and 2 and love them both. Season 1 is about the mishandling of a 27 year old child abduction case by local law enforcement. Season 2 is centered around a man named Curtis Flowers that has been tried 6 times for the same crime though he maintains his innocence this entire time.
3. Conviction – This was a new discovery but one that I instantly enjoyed. Manny Gomez is a private investigator in NYC that has gained a reputation for helping wrongfully convicted felons get out of jail. However, his methods are a bit brash and it seems that justice for his clients isn't his only motive.
4. Up and Vanished – While I listened to both seasons, I really only enjoyed season 1. It's about the disappearance of Tara Grinstead in a small Georgia town. The case was unsolved and went cold after many years, however the interest surrounding the podcast seemed to stir up interest again. Surprisingly near the end of his reporting, a suspect was identified and arrested for her disappearance.
5. Missing Richard Simmons – This isn't a new podcast but if you haven't listened to it, it is a fascinating one. Richard Simmons seemed to just fall off the map a few years ago and no one seemed to know why. Where he was, why he removed himself from all his businesses and society in general – the whole thing was super strange.
6. S-Town – Though this podcast has been talked about for a few years, I only got around to listening to it recently. A listener writes to the podcast host about coming to his town to do an investigative story on a guy that may have committed murder but his family's wealth and privilege seemed to have covered it up. When the journalist decides to look into the claim, it doesn't seem to go anywhere but he stumbles upon a much deeper and more complex story from the listener himself.
7. The Dropout – This is my newest obsession and I have been recommending it to everyone I know! It's about Elizabeth Holmes and her company Theranos and the massive fraud that she managed to hide for nearly a decade.
8. Dr. Death – As someone that has had two spine surgeries, this podcast hit close to home! It's the true story of a neurosurgeon in Texas that knowingly injured, paralyzed and even killed some of his patients who came to him for relief of back pain.
9. Over My Dead Body – This is a brand new podcast I just began listening to but definitely wanted to include in this round-up. So far there are only 3 episodes available but they focus on the murder of a man in Florida who was going through a nasty divorce. His murder happened in broad daylight and signs may be pointing to the ex-wife's family as the suspects.
10. Root of Evil – This is the podcast about the Black Dahlia murder – and is told from the actual family members of the accused murderer. There is only one episode out right now but it hooked me right away!
What are your favorite podcasts?!