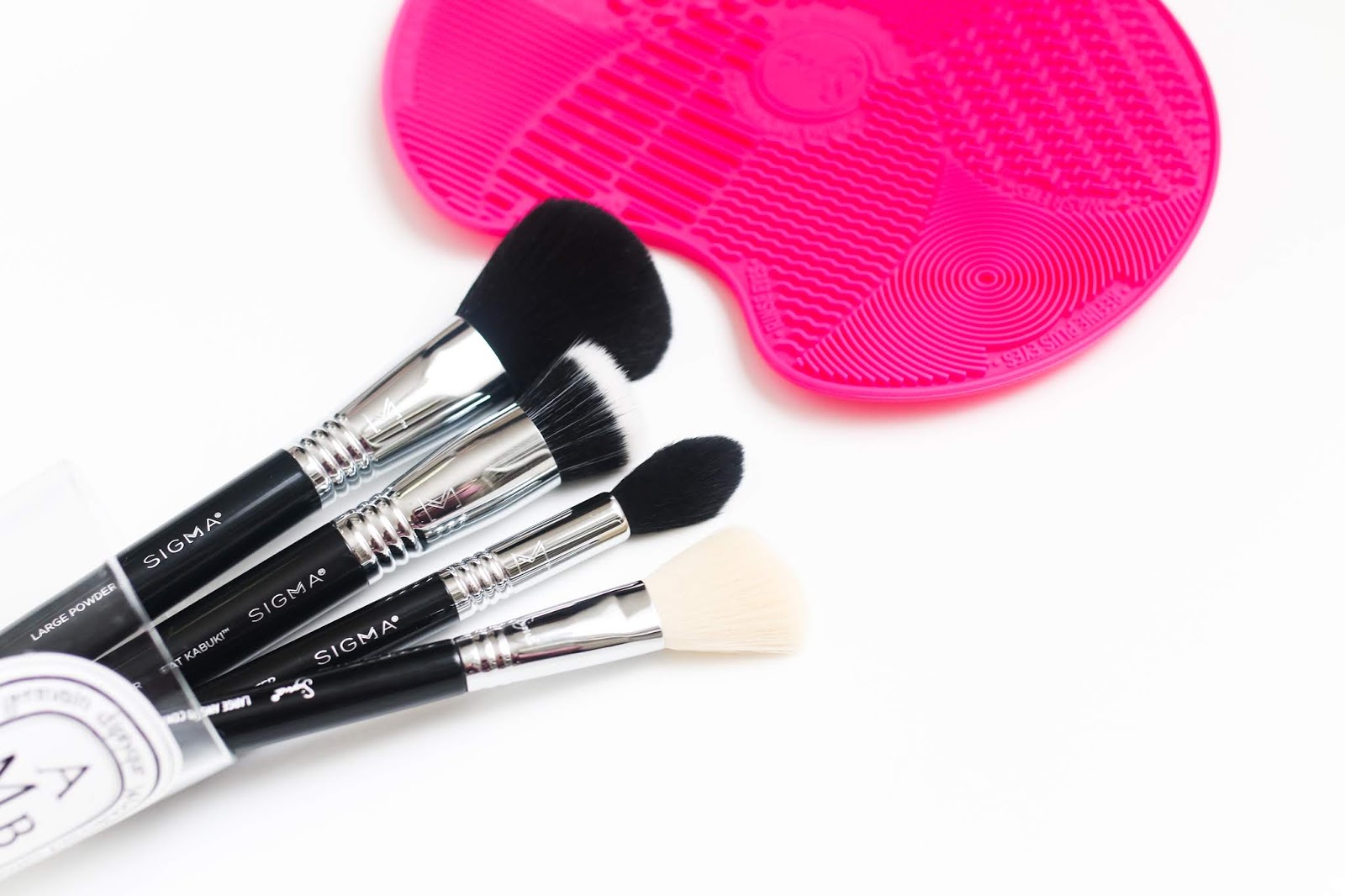 I use makeup brushes every single day and cannot do my makeup without them. I was never someone that would use my fingers to apply product and even though it took me awhile to learn how to use brushes properly, they make ALL the difference. I've never tried any
Sigma brushes
but have heard nothing but great things so I was finally able to test a handful that they sent over. These four were my favorite and I felt they were worthy of their own review. In addition to the brushes, the Sigma team sent me their best selling
brush cleansing mat
and I now use it non-stop to wash my brushes! 
The pad
makes it so much easier because I simply lay it down in the sink and gently massage the damp bristles and soap against the raised surface and it gets my brushes so incredibly clean. I don't know why I never used this little contraption before! It's a must have if you use makeup brushes regularly. And here are the four brushes that I have added to my daily makeup application:
1.
Large powder brush
 – I don't use loose powder every day but I have ended up using this large powder brush for bronzer, loose powder, pressed powder and as a tool to blend my cheek color. Most powder brushes can be too large and fluffy and feel like they are suffocating my face when I use them. This one is slightly more narrow and allows for a more precise application.
2.
F80 Kabuki Brush
– This brush is mostly used to apply cream or liquid foundation but I am still on the Beautyblender bandwagon. However, I have loved using this to blend any cream blushes or highlighters that I wear and surprisingly have found it very handy for buffing in my under eye concealer.
3.
F35 Tapered Highlighter Brush
– Even though it says highlighter brush, I love using this as a contour brush (I use the contour shade from
this palette
– it's perfection!). It fits perfectly in the hollows of my cheekbones and picks up just the right amount of product. I also use it to apply highlighter as intended and love it, but the precision with which it applies my contour shade made it an instant hit for me.
4.
F40 Large Angled Contour Brush
– I know it seems silly that I apply my contour with a highlighter brush and then use the contour brush to apply blush, but that is how I like to do things. Even though brushes may be designed for certain uses, I always end up using them in various different ways. This particular brush has been one I've been reaching for when I am applying bright blush and want a delicate dusting. It also works brilliantly for applying bronzer which I prefer to have a light hand with.
With this being my first experience trying Sigma brushes, I have been so impressed and think they are worth the investment (though their price points are so affordable!).