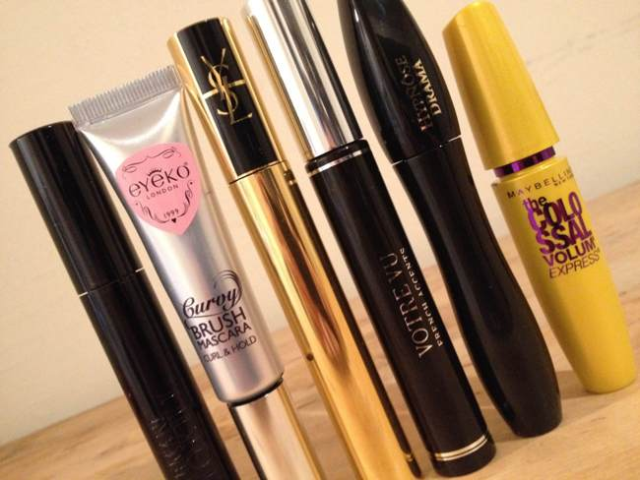 No, your eyes are not deceiving you – I currently have 6 mascaras in my makeup rotation.  Why have one when you can have six?  Or seven? Or ten?  Technically, it is research for my blog, as I selflessly must sacrifice my face, lashes, skin and body for any sartorial and beauty questions that my readers may have.  So if you sit on that and let it marinate – you could deduce that I need to do this for the greater good of mankind.  It's actually quite surprising I have not been canonized yet – all in due time my friends, all in due time.  A Little Bit etc – the patron saint of blogging, kinda has a nice ring to it, ya know?  Now, where was I? Lashes – yes!  I tend to prefer quite thick, full and dramatic lashes, so I am always drawn to a denser formula with a brush that resembles an angry porcupine.  Given the opportunity to try subtle, more natural looking formulas recently, I have quickly come to appreciate the need for a mascara wardrobe – since not every day can be a stiletto, little black dress, glam fest.  (still pouting over that fact)  Variety is the spice of life – why shouldn't this apply to mascaras?  It should, and it does for me – case in point:
1.
Giorgio Armani Eyes to Kill
– this has to be my favorite mascara currently – as the brush is incredibly porcupiney (yes, I just made it a word), and the formula dances between thick without being too thick and wet without being too wet.  It's the goldilocks of my mascaras. Just right.
2.
Eyeko London Curvy Brush Mascara
– I reviewed this on
ThisThatBeauty
some time ago, and fell in love with the delicate nature of this product.  Used as a base or on its own, it does a tremendous job of lengthening, separating and curling.  The Brits obviously know their mascara. 
3.
YSL Mascara Singulier
– once again a shocker for the eyes – intense volume, jet black and great at grabbing even the tiniest of lashes and coating them with mascara – how nice to include everyone.   A mascara that cares.
4.
Votre Vu Eiffel Power Mascara
– the pun in the name gets me every time *giggling*.  A volumizing style brush, but a slightly lighter formula.  The result is often full, separated lashes without any added drama.  I appreciate a look with dialed down drama.  And I appreciate alliteration.
5.
Lancome Hypnose Drama
– it must be said that this was my first Lancome mascara ever purchased, (hanging head in shame) but it certainly won't be my last.  Great brush, great formula, great look – big, bold and dramatic.  Cue Angelina Jolie's right leg. Boom.
You know where there are also tons of cool makeup pics – my INSTAGRAM! Get on that and follow me – I'm @alittlebitetc, duh. There have been rumors that the most adorable black pug is also featured on my feed – but you would have to check it out for yourself.  I'm not one to gossip.