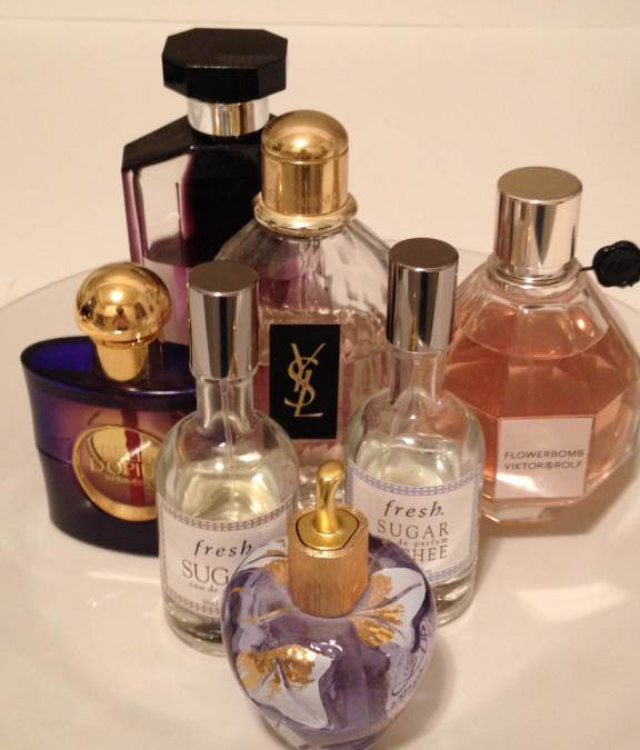 Well as evidenced in my
prior week post
, we all know what I am wearing on my face, now let's talk about what I'm wearing on my skin – or for rather rudimentary folks – what do I smell like if you sat next to me on a crowded train?  I don't typically shop for fragrance, but simply find a few that I appreciate and purchase, wear, repeat.  Many find interest in the notes of a fragrance, seeking ones that contain certain ingredients that their discerning palette and nose can appreciate.  I am much more cave-woman like in my fragrance purchases.  Me see fragrance.  Me smell fragrance. Me wear fragrance. Me like or not like fragrance.  And that my friends is the science behind my mensa-level beauty brain.  However, my true agenda behind this post is actually to acquire new fragrance recommendations from my readers, but for now I will divulge my scents du jour.  Let's explore (starting from the back left and moving forward)
1.
Stella McCartney
– I have been wearing this scent for many years – its floral, light and extremely easy to wear.  Almost undetectable once on – I will never be invading your personal space with this scent.
2.
YSL Parisienne
– While I am not a fan of the classic YSL Paris fragrance, this updated and dare I say – hipper – version is better all around.
3.
Viktor & Rolf Flowerbomb
– I move through this slowly, as it
can
invade your personal space if I wear too much.  I appreciate the innovative scent that seems to stand out in a fragrance world of same-ness.
4.
YSL Belle D'Opium
– Again, not a fan of the classic YSL Opium, but this is my only spicy fragrance that I simply adore for winter.
5.
Fresh Sugar EDP
– Like a burst of citrus and sugar on your skin – perfect for spring and summer – I could wear this everyday is I had to. But I don't have to because the US is a beauty democracy and I will do what I want…..with my fragrances.
7.
Lolita Lempicka
– This falls into the category of love/hate fragrances.  I believe it has notes of licorise, which always sparks a good jelly bean debate.  Noone is 
ever
on the fence about this fragrance – I happen to love it, you may hate it.  To-may-toe. To-mah-toe.
So there you have it, a waft of me.  Now let's talk about you – what are you wearing and what should I be adding to my collection?  Tweet me (@alittlebitetc) or comment below so I can smell like you perhaps, barring the fact that it passes my rigorous testing standards.
?