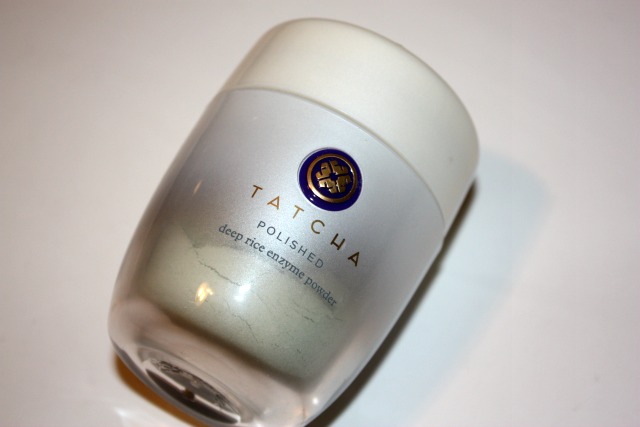 Let's talk skincare that is a-changin' my life.  Yup.  Mind blowing and doing a happy jig every time I use it.  It's rare that I come across a product that stops me in my tracks after just one use – but that is exactly what happen when I was recently gifted the
Tatcha Deep Rice Enzyme Powder
.  I think my exact sentiments after using may have been "Whoa. This stuff is amazing", but let's assume I was much more eloquent during my revelation, rambling on about how simply delightful an experience it was to use such an innovative and efficacious product.  What struck me initially about the product was the texture of the actual powder – so finely milled and smooth, I wasn't sure how something so delicate was going to give me a good exfoliation.  Well – as you have always heard since grade school – "Don't judge a book by its cover!" or in this case "Don't judge an exfoliant by the size of its granules!" Here is a shot of the actual powder when it comes out: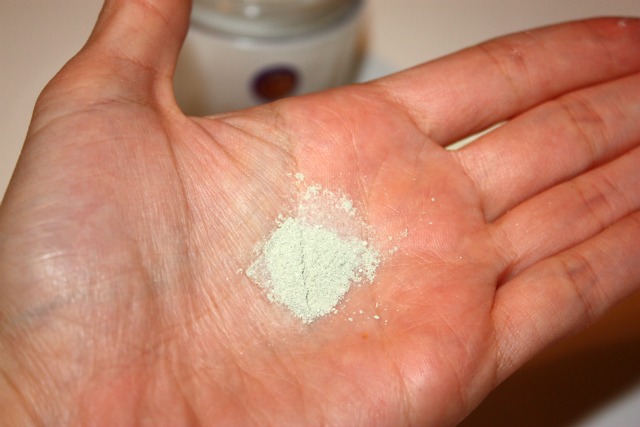 As you can see, the texture is so fine that it seems like it would just blow away with one heavy breath (or one beauty induced squeal of delight), but that is exactly the point.  The powder is designed to be a non-abrasive exfoliant that helps to reveal skin's natural glow.  I used the Deep version, which is formulated with an ingredient called Dokudami to help clarify active and acne prone skin.  But the real magic did not happen until I wet the product and applied it to my face.  Shockingly, the product is designed to be used with very wet hands and a very wet face and will turn into a thick paste that has more of a creamy consistency than powdery/grainy, as evidenced below: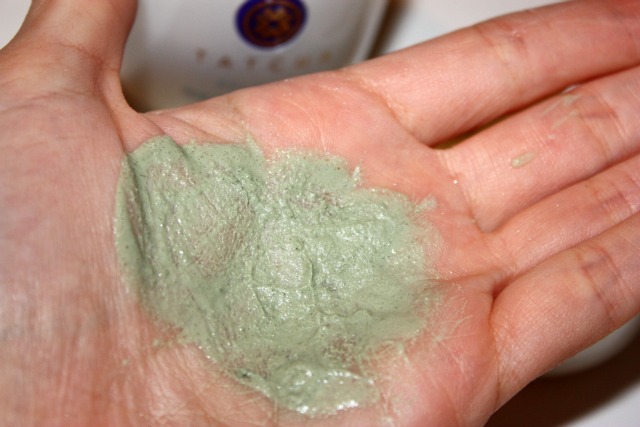 The magic of this product is exactly what makes it so unique – it's delicate nature that provides insanely effective results.  Since the product turns into a paste-like texture when wet, the genius is it can actually be used as a 2-in-1 cleanser if so inclined, though I prefer to use as an exfoliator after cleansing.  What ensued following my first use was absolutely smooth, glowing and almost texture-free skin.  Now please do not misinterpret my love affair of this one product to be a seemingly forgotten mention of the rest of the line, because let me tell you, everything is exceptional.  My star product was the Deep Rice Enzyme Powder, but another product that stood out to me was the
Camellia Cleansing Oil
, which was one of the best cleansing oils I have ever used.  The
Deep Brightening Serum
designed to hydrate and brighten has also won me over as a must have, can't be without, where has this been my whole life product that I am sure will never leave my skincare regimen.  
Now that I have officially gotten your skin all hyped up for what may be a religious cleansing experience, the question is how can you get your perfectly polished paws on them?!! The entire line is sold exclusively at
Barneys
, click
here
to purchase or on the Tatcha website.  I am dying to know if you try the products and what your thoughts are?  Tweet me @alittlebitetc or leave me a comment below.
And if you really have the shopping bug, check out my updated my Shop My Favorites tab at the top of the blog – it now features all my favorite stores and retailers that take all my hard earned money!!! SO GREEDY OF THEM, but so good for you.