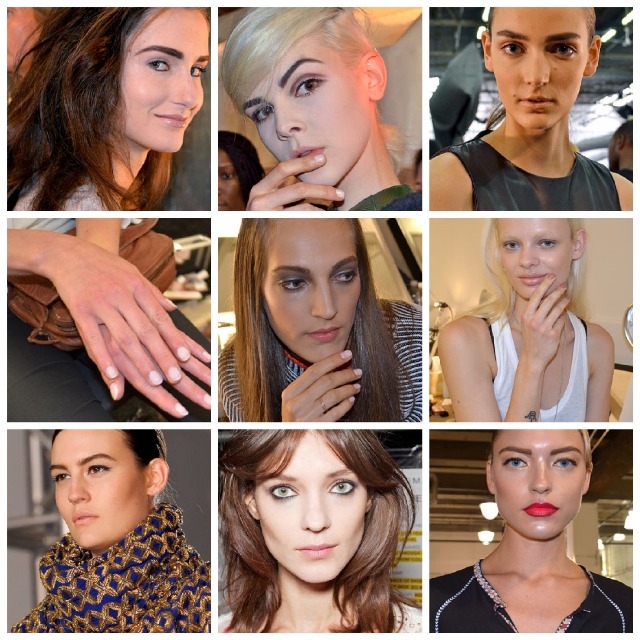 I don't claim to be an expert on trends – I leave that up to the hoards of fashion editors, directors, assistants, assistants to the assistants, coffee bringers, interns, etc.  However sometimes I like to see what I can deduce from looks shown on the runway and interpret it to my own normal, walk the dog/pick up groceries/do laundry life.  So I have collected 9 different images of the beauty from numerous Spring 2013 New York fashion shows, which just debuted this week – and I will try to pull out slivers or inklings of themes or trends that I could possibly translate to my daily grind.  Knowing that walking down the street or into work in any of the above looks would be absolutely ludicrous, but once the concept is watered down – I feel I can adapt the ideas to my daily makeup gig.  Ok – let's dissect the looks:
1. Brows for days – those first 3 shots are absolutely undeniably about eyebrows.  The rest of the  makeup is kept minimal while the brows take center stage.  So perhaps the days of overtweezing, excessive waxing and weed whacking to practically nothing will soon fall by the wayside (keep your fingers crossed), and woman will allow their brows to grow in a little more.  Obviously the color choice for the brows in these shots is purely theatrical, but the concept is there.  Full is better.  Wimpy is not. 
2. Pick a lane (makeup-lly speaking) – with brows being so prominent on the face, all other makeup is toned down.  As I stated previously, these looks are theatrical in nature, but the takeaway is to feature or highlight one aspect of your face and keep the rest along for the ride.  Whether it be brows, eyes, cheeks, or lips – there can only be one star and the rest of the cast can simply support. 
3. Naked nails – there is no denying those color choices in the middle row of pictures.  Nude nails will be having a moment come Spring.  Hell, maybe even skipping your mani one week due to budgetary constrictions could even be considered a ploy to be "on trend" with nail color.  It's all about the pitch, right?
4. Black lined eyes – ok, this one gets a – DUH. Black eye liner will never not be in style, but what I appreciate about the representation above (bottom left 2 pics) is it was the star of the look, allowing all other makeup to just support.  These looks actually seem to be directly translatable to real life – without any editing needed.  That black winged liner seems effortless and so appropriate for office/work/play.  And a kohl, rimmed eye – smudged just slightly to create some softness is the smoky eye that could possibly make it's presence known in the daylight.  Just keep the rest simple, stupid. (ok, you're not stupid, but it went with the phrase – writer liberties, remember?)
5. Red lips – This last pic from the Jason Wu show is simply because I thought the makeup was truly flawless, hearkening back to old Hollywood glamour with strong brows, a bold rep lip and thick black liner.  Trend or no trend – I just dig this look.  So there.