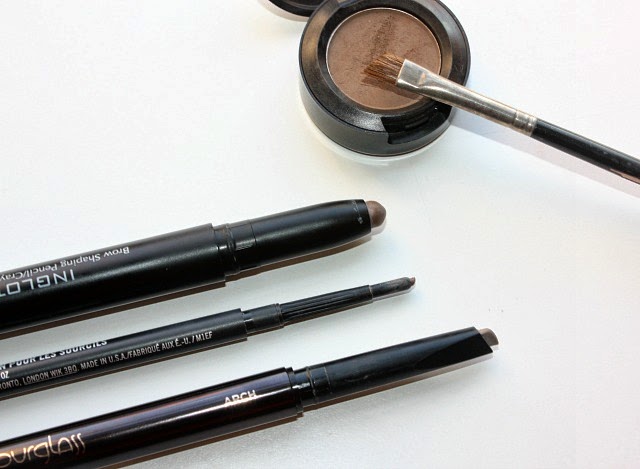 If eyes are the windows to the soul, then the brows are most certainly the fabulous curtains and drapes.  In my college years, my brows were shaped into unfortunate upside down smiley faces, and it wasn't until my senior year that I discovered I needed a slight angle.  Once I found the right shape for my face, it was then a matter of finding the right products to help me define my brows while still making them look natural.  Though my hair is dark brown, I use brow colors that are significantly lighter and with a slight gray undertone.  Anything too red or too dark will often deepen with my oily skin, thus standing out in the wrong way  – hello clown brows!  Here is a look at the four different products I use regularly to keep my brows looking perfect: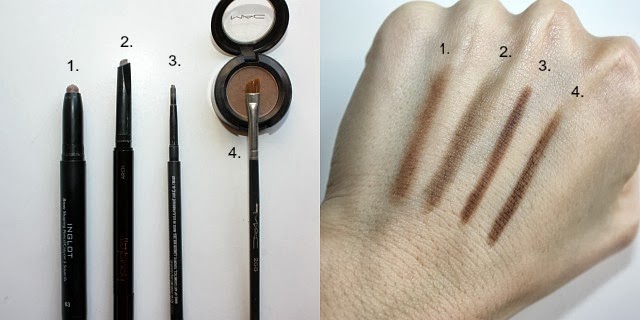 3.
MAC Brow pencil in Lingering
– Though the color is a tad deeper than the previous two, I find this works best when I am going out at night for a stronger, more defined brow.
4.
MAC Eyeshadow in Charcoal Brown
– Powder is still the most natural looking medium I use, and I have been using this particular eyeshadow shade for almost 8 years.  It's that good.
Shop brow products: