A monthly favorites with
this
many bold lip choices?  It's shocking, truly.  But I can't help myself.  I have found so many great bright shades that I am reaching for them almost every day.  Of course I balanced this out with two neutral eye shadows, to make sure you guys still knew it was me.  And a few nail products and one skincare product also made the cut.  Here's the rundown: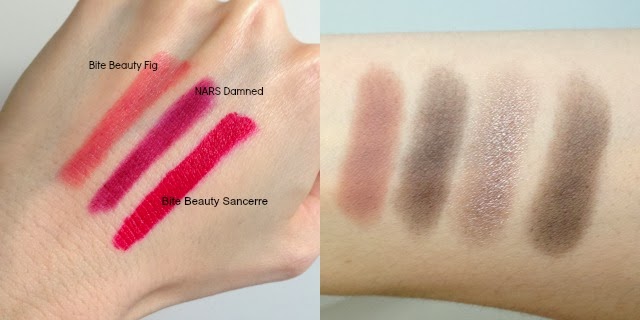 1.
Neal's Yard Remedies Organic Eye Makeup Remover
(c/o) – Rarely do I use eye makeup remover, since my preferred method of cleansing each night is with a cleansing oil, but after giving this one a go, I was happy to welcome it back into my regimen.  More than anything, I found this remover to be so soothing and I would actually soak a cotton pad in the solution and hold them on my eyes for approximately 15-30 seconds.  Not only did it remove the makeup, but it refreshed and nourished the eye area.  
2.
Bite Beauty Lipstick in Fig
(swatch above)- How many Bite Beauty lip products can one girl acquire?  I'm on a personal mission to find out. 
Pepper
was a previous favorite (see post
here
), and now Fig – a subtle pink shade that wears beautifully and makes my lips actually feel
better
after using it.  
3.
NARS Velvet Matte Pencil in Damned
(swatch above) – The name sounds a bit daunting but this deep berry shade is the epitome of an easy to wear vampy lip.  I know, that almost sounds like an oxymoron, but trust me – whether worn as a stain or more opaque, it is a must for fall/winter.
4.
Bite Beauty Cashmere Lip Cream in Sancerre
(swatch above) –
Another
Bite lip product?????  I wasn't kidding about this brand – I am collecting them all.  A matte, full coverage lip that delivers bold color not for the faint of heart.  I blot with a tissue after, but the color is intense and lasts all. day. long.  Just try to remove it.  Seriously.  Try.
5.
Guerlain Ecrin 4 Couleurs Eyeshadows in Les Fumes
(swatch above) – I find myself becoming more and more drawn to Guerlain, and with each product I try, my love for the brand is solidified more.  I have heard people rave about these eye palettes before, and now I know why – look at those swatches!  Butter soft, richly pigmented and so easy to blend – I am a bit mad at myself I didn't discover them sooner.  Now that I know better, I will do better (AKA buy more). 
6.
NARS Eye shadow in Edie
– Alright, I got this color just a few months ago, and I swear I am going to hit pan any day.  I use it THAT much.  It is the perfect base shade – and frankly, while it may not be as exciting of a color as some, it is soooo necessary. Not too shimmery, not too matte – it's just right. 
7.
Julep Polymer Top Coat
– I'm
that
girl that goes to the nail salon with her own polishes – yes I am.  But ever since discovering this top coat, my manicures have never lasted longer.  The finish is much like a gel polish, and dries faster than anything I have ever seen.  And chipping? What chipping?  I have to reallllly, try to chip my manicure when wearing this top coat.  I already have a back up for when I finish.  To be without would be a tragedy.
8.
Butter London Wallis
– I can't lie, I have A LOT of nail polish.  But in my defense, I do a weekly blog feature so……so there.  With all that polish, I tend to forget about shades that I have used and loved, and recently I stumbled across this Butter London shade again and was reminded of why I bought it in the first place.  So unique, so different – it is truly one of my favorite nail color of all time.  A little bit grungy, a little bit glam –
here is a swatch
to convince you.  See???  Amazing.
Shop October beauty favorites: