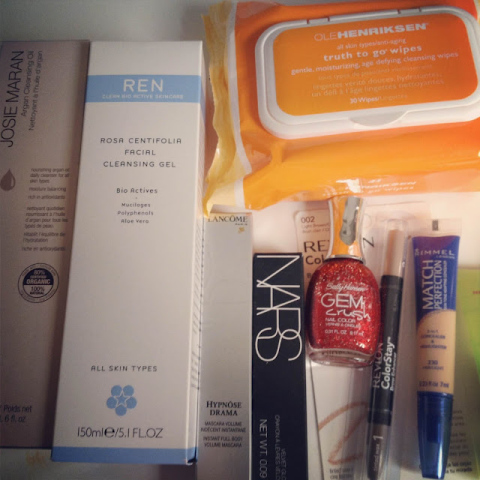 Making lists Checking things off on a list is one of the great joys of life.  Feeling a sense of accomplishment for completing a task that was important enough to write down – giving yourself the proverbial "gold star" for stellar organization and follow through.  Now imagine if that list was comprised of all beauty items? Swoon.  I regularly keep a running list of items recommended to me, read about or mentioned in a magazine that I must try.  And this past weekend, in the spirit of Olympic goal achievement, I crossed off a bunch of beauty bits that I have been stalking for weeks.  Weather was no deterrent as it was raining buckets on Saturday, I was on a mission.  To. Cross. Things. Off.  And here is what I bought and perhaps some insight as to why (like reason is necessary):
1.
Josie Maran Argan Cleansing Oil
– How many times do I need to profess my love for cleansing oils before I am given a lifetime supply?  What does a girl have to do to be with oil for life?  I have talked about the awesomeness that is cleansing oil before, so I was simply expanding my horizons by trying a new one.
2.
REN Rosa Centifolia Facial Cleansing Gel
– I needed a new morning face wash and the people have been a'talkin bout REN.  Free of all those long words that you
learned
read about in chemistry, it plays on the more natural team so I thought I would ease into the line with a cleanser.  Stay tuned.
3. OLE Henrickson Truth To Go Wipes – As a precursor to my full makeup unspackling, I like to use a makeup wipe to start the cleansing process.  These were mentioned in a magazine article about what is in each editor's bag when they vacation.  The magazine name escapes me but obviously the product did not. 
4.
Lancome Hypnose Drama
– embarrassing. humiliating. unacceptable.  I have never tried any of the revered and often dubbed "holy-grail" Lancome mascaras.
Any of them
. Feel free to judge me. 
5.
NARS Velvet Gloss Pencil in Happy Days
– I don't like lipgloss. There I said it.  It obviously appeals to my female-beauty addict-lover of sparkly things side, but truth be told – my hair gets stuck in it. ALWAYS.  Maybe I just have extra fly-away hair (a whole other list is forming), or don't know how to hold my head correctly, but I just don't understand how anyone with hair longer than your ears, wears gloss.  That being said, I am really drawn to products that mimic the reflective nature of a gloss but carry less tackiness.  And I love stick lip products — so I bought a glossy like pencil. Duh.
7.
Revlon Color Stay Brow Enhancer
– Again from a recommendation, this time a beauty blogger (
Opinion Nothing
– read her blog -it's awesome) – I'm such a push-over. It's a tinted waxy stick that claims to color in your brow, while holding them in place.  Double duty. I like it.
8.
Rimmel Match Perfection Concealer
– I needed a new concealer because I knew Monday was coming and I would be facing disgruntled under-eye bags.  This product was actually not on my list (rogue shopper), but I enjoy concealers with a brush and all good things are spoken of Rimmel.  So I bought it.  I have no self-control, the rain made me do it.
Stay tuned to hear if any of these rock my world.  And while you are tuned, check out my new videos on
Viddy
and follow along.  You can watch me record quick snippets of my life and then listen to my voice.  I don't have an accent, it's OK.  But what's not OK, is all the blank spots now on my "lists" that will need to be filled with more recommendations.  Tweet me (@alittlebitetc) or comment below with products that I must try.