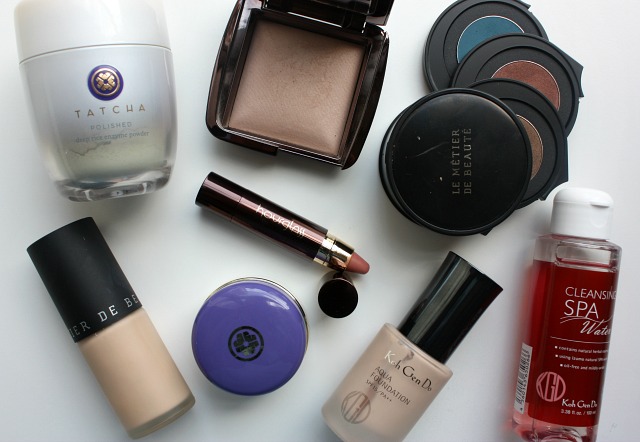 I have said this time and time again – one of my favorite aspects of blogging is having a reason and subsequently a platform to experiment with products and brands that I may not have otherwise tried or been exposed to.  Even as avid a beauty lover as I am, I used to get myself stuck in a beauty rut and didn't explore brands that were unfamiliar to me.  Blogging has forced me to take more of a (for lack of a better term) guinea pig approach to trying new things, so that hopefully I can share my findings with others, and take away the guess work for them.  The selflessness just abounds on this blog if you didn't know ….it's a wonder I haven't received a Nobel peace prize yet.  But goodwill acts aside, there have been 4 brands that stood out to me over the past year and that good news must be shared with all of you.  You. Are. Welcome.
1.
Koh Gen Do
– It began with the
Cleansing Spa Water
, a cult classic, and the love affair has blossomed from there.  After trying a few other skincare items (
Gommage spa gel
and
Macro Vintage Essence Mask
just to name a few) and being blown away, I ventured over to the makeup side and never looked back.  Their
Aqua foundation
was the immediate stand out with a finish and wearability like no other – I always say that if I had known about this foundation when I got married, I would have worn it for my wedding.  It deserves that high of an honor.  In the winter I reach for their
Maifanshi Moisture Foundation
to keep my skin looking hydrated and protected, and recently discovered their
Triple Lighting Powder Foundation
and rarely go a day without it.
2. 
Le Metier de Beaute
– Another makeup brand, another holy grail foundation.  I was introduced to this brand a few months ago after admiring them from afar for years.  I have watched them grow and expand their product line, to the accolades and praise of beauty insiders and experts.  My first love from the line was the
Classic Flawless-Finish Foundation in shade 2
– a product that felt like it was made for me – both in color and in texture.  Perfect skin all day is inevitable when wearing this makeup.  Coming in at a close second were the
eye palettes
with colors so rich, pigmented, butter soft and effortlessly easy to blend that I understand why they are such a hit. Experimenting with their skincare has yielded just as astounding a result, with their
Ultra Hydration Eye Mask Duo
redefining decadent and products like their
Replenishing Daily Solution
give new meaning to the words luxury skincare.
3.
Tatcha
– If you have been reading my blog for a while now, it should come as no surprise that I included this skincare brand.  Inspired by the beauty secrets of the ancient Japanese geisha, these products are some of the best investments you could ever make.  Their
Deep Rice Enzyme Powder
(my favorite product and one that I will never live without again) is one of the best out there and allows for a daily exfoliation that will leave your skin neither irritated or stripped, but rather soft, smooth and glowing.  Also included in the range is an
eye cream
worthy of the splurge,
a cleansing oil
that is superior to all others and a range of
creams and serums
that will leave your skin looking the best it ever has.
4.
Hourglass Cosmetics
– Now it may seem odd that I included this brand, since it has gained so much momentum over the past few years, but I still feel like it deserves more attention and needs to be in the hands of everyone!  Their
Opaque Rouge Liquid Lipstick
was my gateway product, and it only snowballed from there.  Between the
Ambient Lighting Powders
which are some of the most unique and alluring products on the market, to the luxurious
Lip Treatment Oil
that has made my lips softer than ever, to my recent discovery of the
Nude Lip Stylos
that give great color and coverage – there is not one product that this brand doesn't knock out of the park.
Have you entered my MAC lipstick giveaway??!!! Click
here
to enter! 
Shop all my favorites from each brand below: