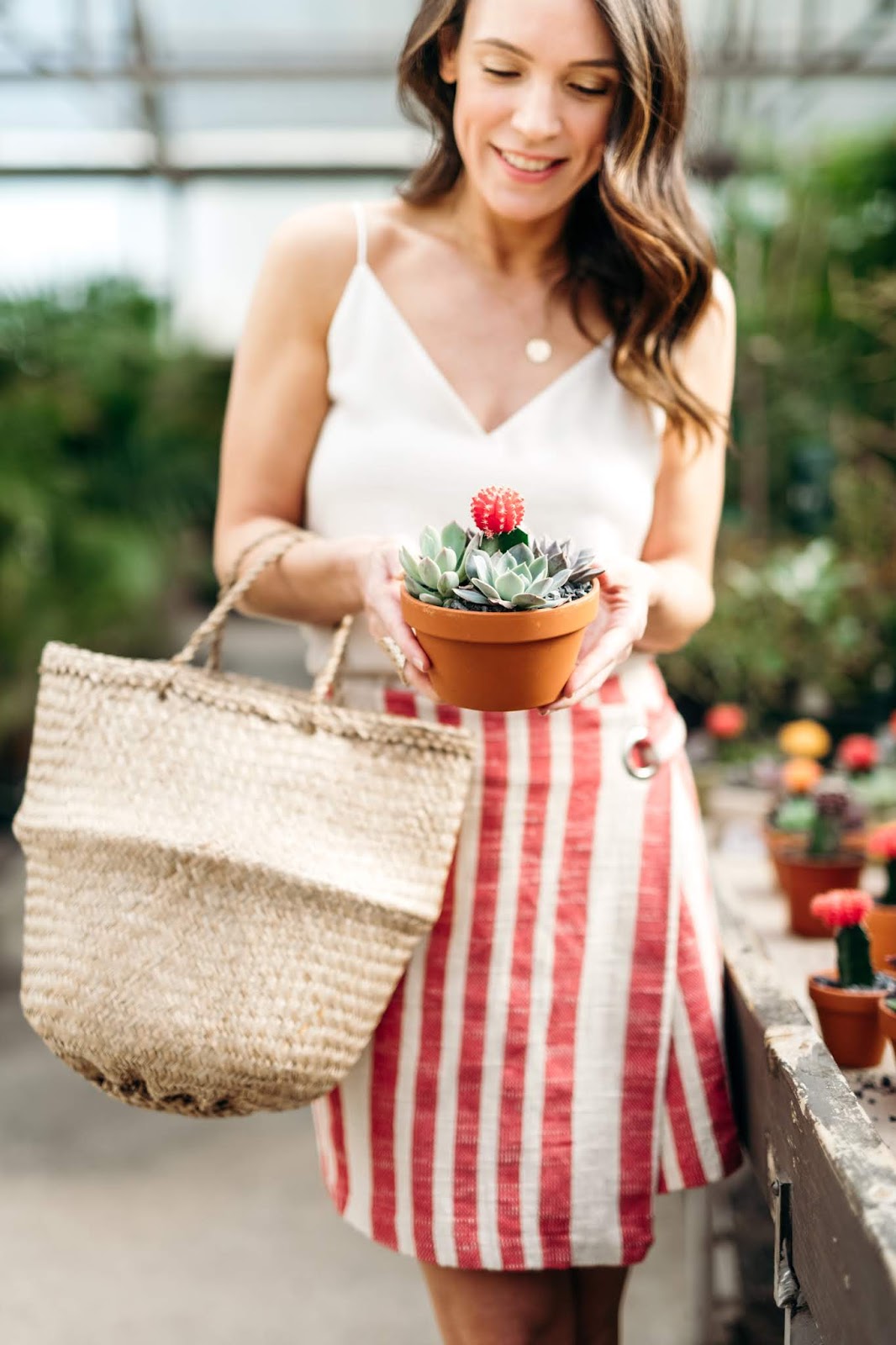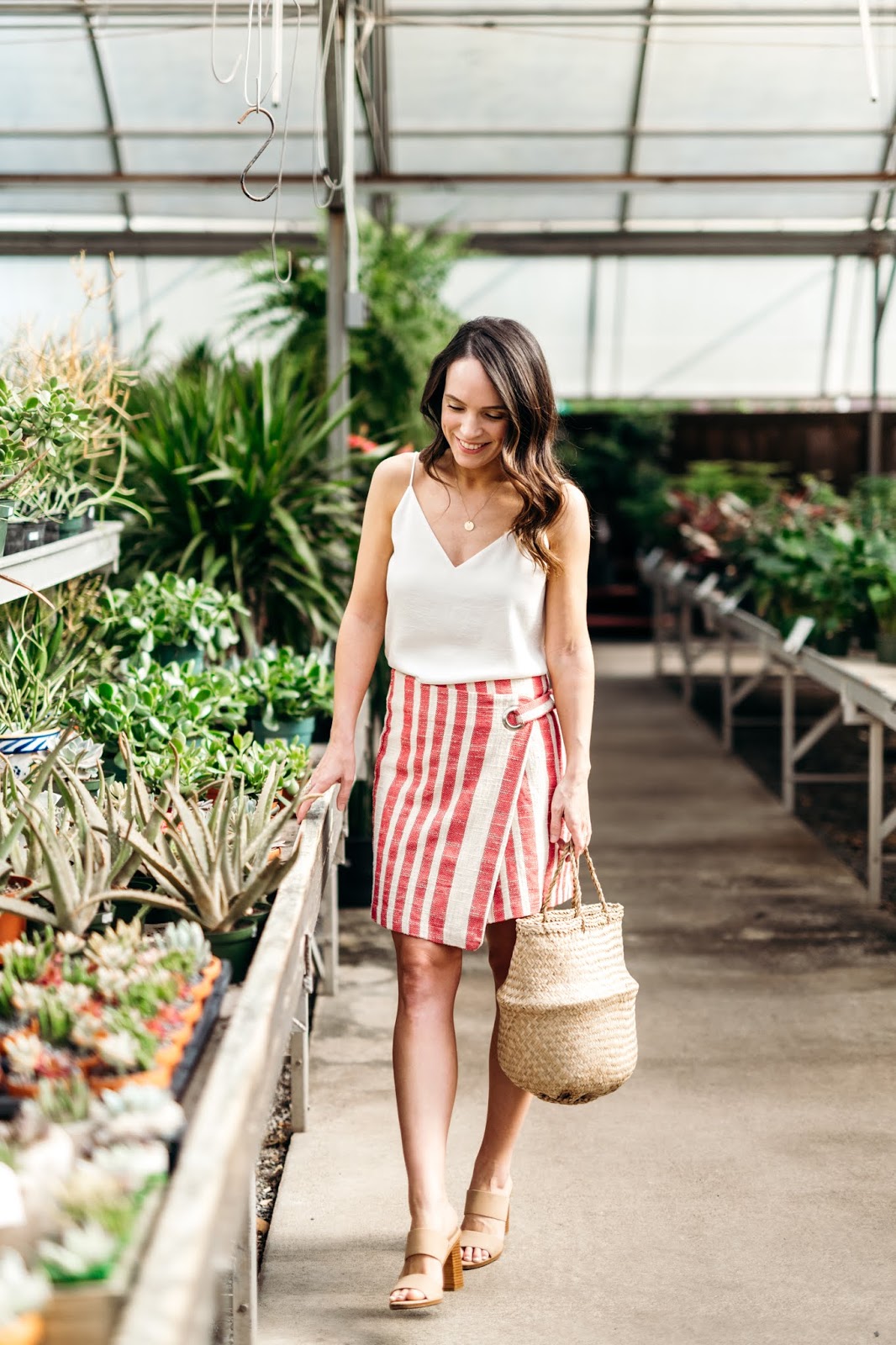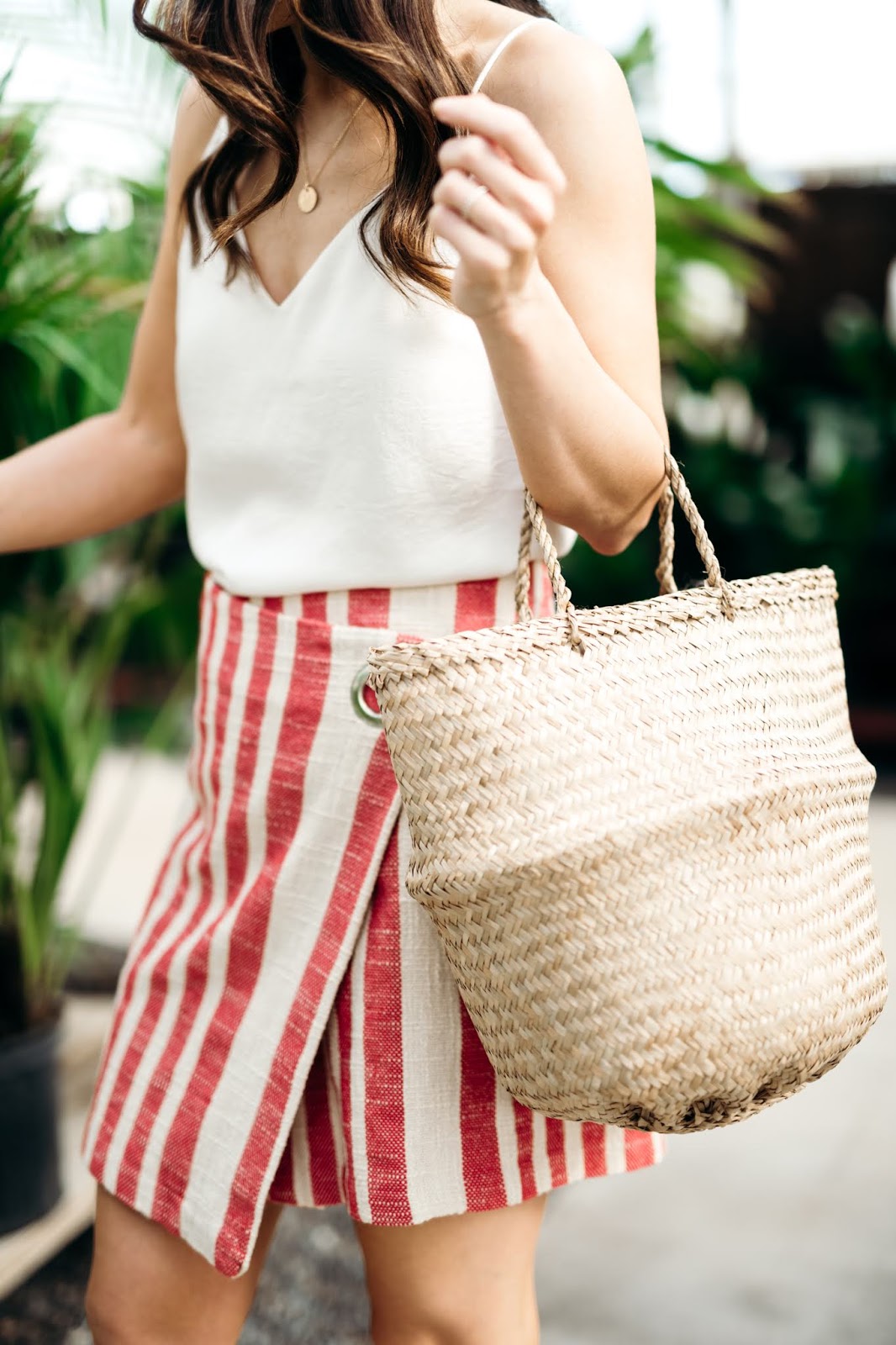 Camisole
– Express (wearing an XS, this is the shade Soft Ivory) |
Skirt
– Free People (runs large, wearing an XS,
on sale here
but limited sizes, also available
here
) | Bag – Reformation (similar
here
) | Sandals – Joie (old but similar
here
 and lower heel option
here
) |
Necklace
– Nashelle
Bring me to a plant farm or nursery and I go straight for the cactus, succulent and palm tree section. It's my favorite! Stan is trying to fix up our backyard so he asked me to head here last week to pick up some vegetables to plant (just packets of seeds, I figured I could handle that LOL).
My photographer
and I shot here before and the lighting is so beautiful so I asked her to meet me here to take some photos. I have had
this skirt
in my cart for weeks and knew it would be a perfect fit. I've come to know exactly what styles of clothing look best on me before even buying them, and this wrap skirt was one of them. I liked it because while I can make it a bit dressier with heels and a nice camisole like I'm wearing in this picture, I have also worn it with a t-shirt and slides for a more casual look. It's a nice alternative to a traditional denim skirt which can be hard to dress up – this one still has that comfortable and easy to wear vibe but can be suitable for more occasions.
This post is going to be a 2 for 1 because I am adding in all the books I've recently finished and my review on each! I listen to audiobooks rather than reading so I get through a ton more now which I love. Some people have asked me when exactly I listen to them because they find it hard to focus on an audiobook while doing other things. For me the main times I listen to them are when I'm driving, putting on my makeup and walking in the evenings. This round of books were not all hits, but there were a few good ones in the mix. If you have any suggestions of great books that I should read, please leave me a comment!
1.
The Dark Lake
– This book was a bit too predictable for me to truly enjoy it. Gemma Woodstock is a local detective that must uncover why an old classmate that she went to high school with was found murdered.  It has the makings of a good thriller, but I figured out who the killer was halfway through so as the book progressed it lost all excitement for me.
2.
Copy Cat
– This is a good beach read though as with the last book, it was too predictable. Sarah Havenant receives a message from a friend on Facebook mentioning that there is another profile with her name and information on it. When Sarah goes to look, she sees an entire Facebook profile with private pictures of her family and home, many of which were taken just that very day. From this point on, someone begins terrorizing her and her family and her life begins to fall apart. I quickly figured out the culprit (not because I am a genius, but because it's a bit too obvious), and sadly the ending is too over the top for my liking. It was almost as if she wrote this hoping it would be turned into a movie.
3.
Baby Doll
– This was a very different kind of read because it tells the story of Lilly Riser, a young woman that escapes from her captor after being imprisoned for years. The book is different in that it begins with her escape, rather than leading up to it. The story is about how her life goes on and the challenges she faces after the nightmare ends. The man responsible is arrested within the first few chapters, which could make for a boring remainder of the story but surprisingly I found this book quite good. I loved reading how Lilly rebuilds her life, faces her captor and ultimately finds peace again after dealing with all the trauma she experienced.
4.
And When She Was Good
– This was my favorite book of the bunch! Heloise lives a relatively normal suburban life from the outside. She pays taxes, goes to her son's sports events and tries to remain as inconspicuous as possible. However, little does everyone know about the double life that she lives. I won't give it away since what she does for a living is the entire premise of the book. But this one was definitely a hit with me!
5.
The Glass Castle
– This book was made into a movie and though I didn't see it, I understand how it would translate well into a film. The book is a memoir about the author's unconventional childhood, growing up with parents that rarely had jobs, moved them around constantly and were more like the kids rather than the adults. I didn't enjoy the book at the beginning, but as the story developed I really got into it. It's truly remarkable how all of her siblings managed to escape the devastating poverty and neglect they experienced as children, and push through that adversity to become very successful adults.
6.
The Passenger
– It took me a bit to get into this book, but as it went on I really liked the story. Tanya Dubois is on the run after leaving her husband's body dead in their home. She didn't kill him rather he actually fell down the stairs and hit his head, but she was too worried that when the police came her real identity would be discovered. She is on the run for most of the book, taking on different aliases, living in different places and constantly trying to escape her past. What kept me interested is I wanted to know what was she truly running from. Once it was revealed, I was shocked and so mad! The ending is a bit cheesy but don't let that deter you from the rest of this story – it's a good one.
Shop more cute summer skirts here:
!function(d,s,id){var e, p = /^http:/.test(d.location) ? 'http' : 'https';if(!d.getElementById(id)) {e = d.createElement(s);e.id = id;e.src = p + '://' + 'widgets.rewardstyle.com' + '/js/shopthepost.js';d.body.appendChild(e);}if(typeof window.__stp === 'object') if(d.readyState === 'complete') {window.__stp.init();}}(document, 'script', 'shopthepost-script');

JavaScript is currently disabled in this browser. Reactivate it to view this content.