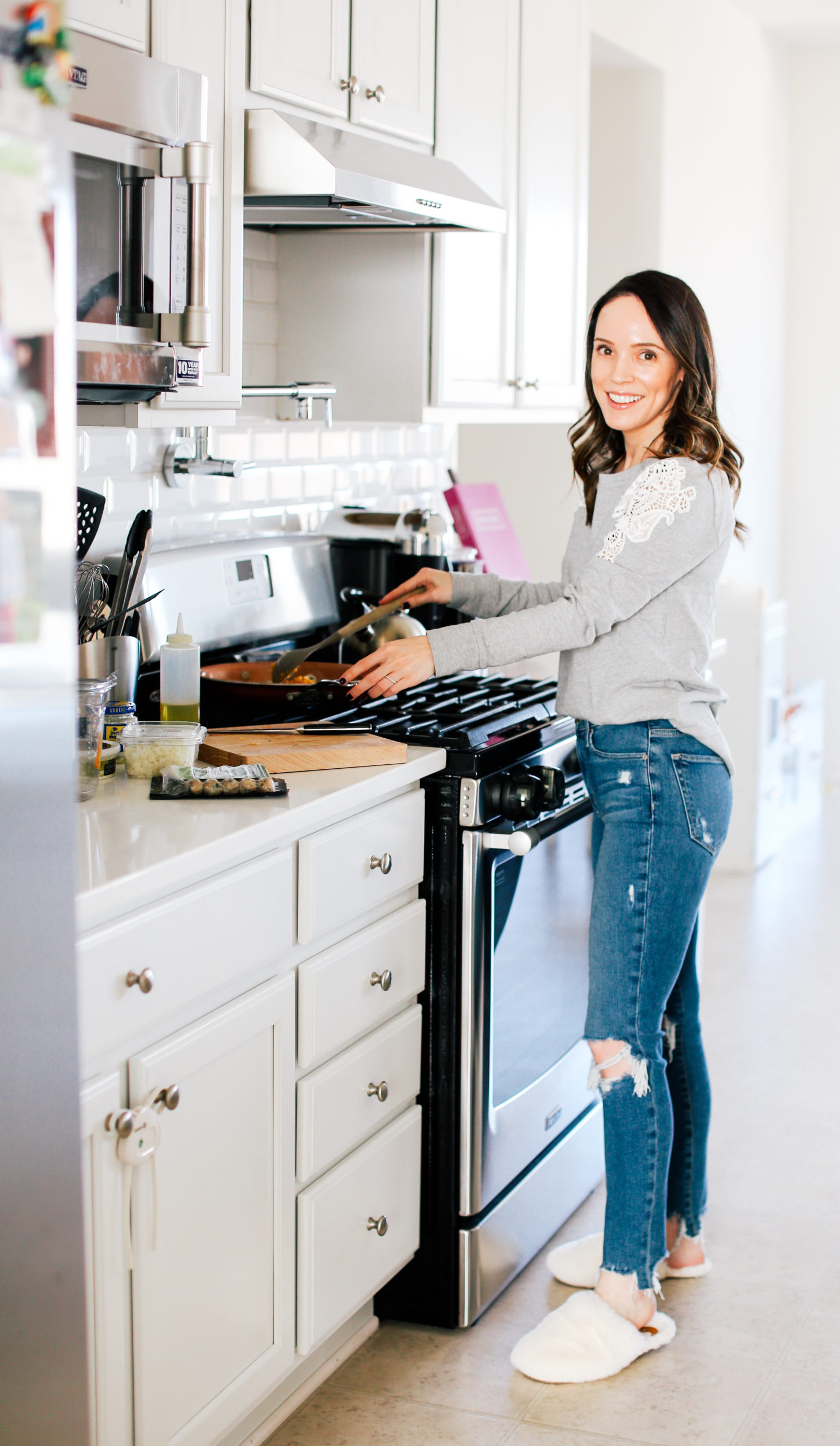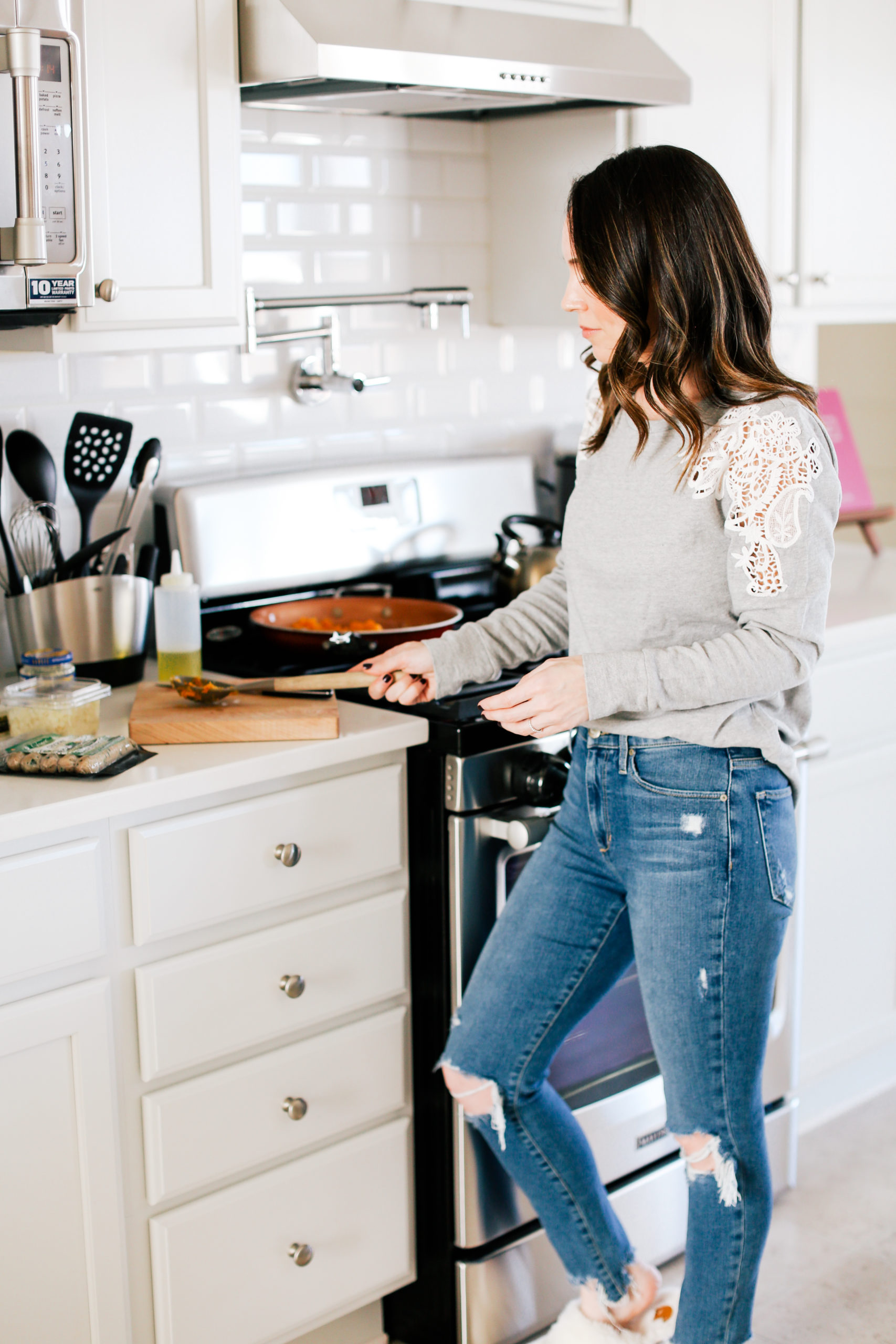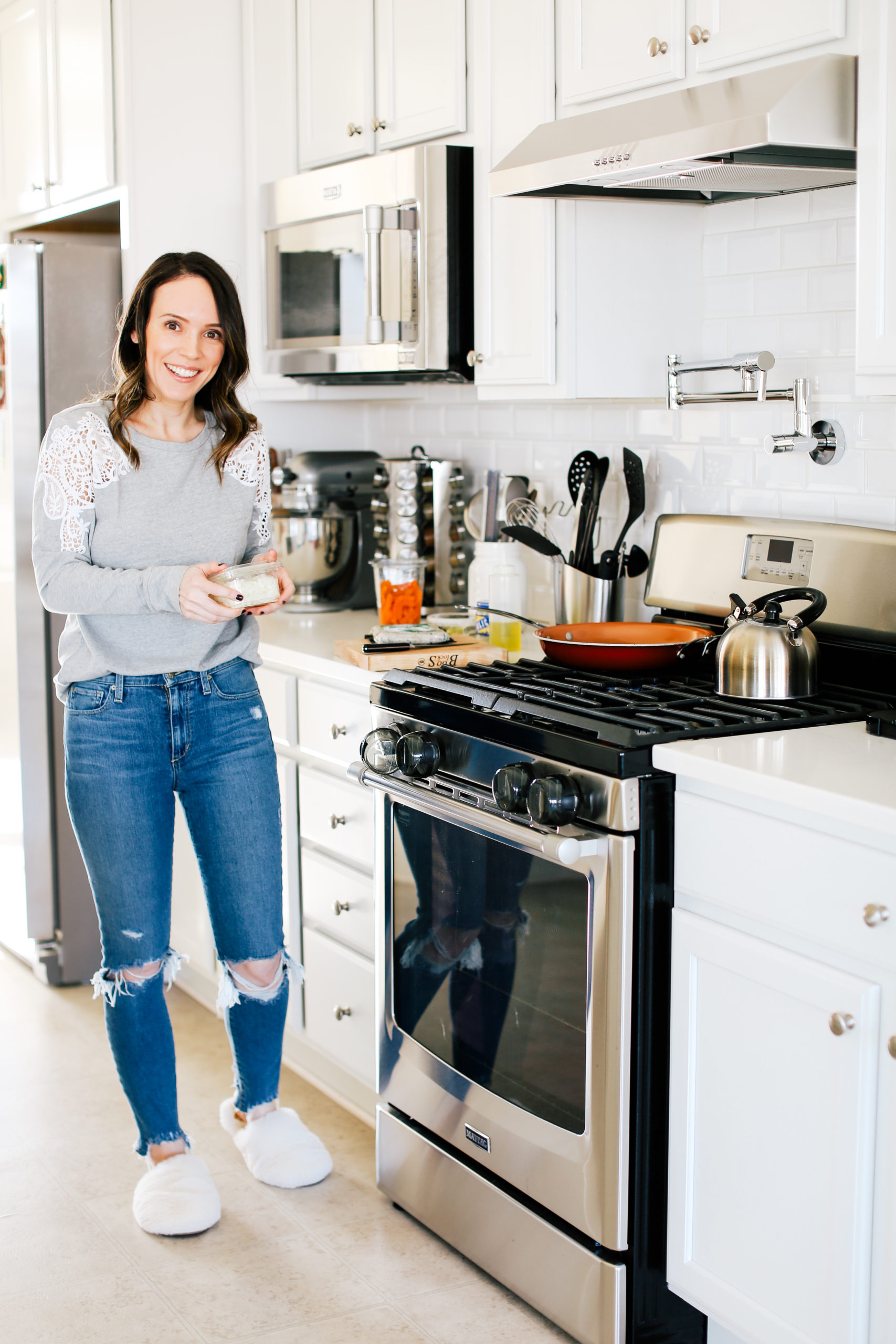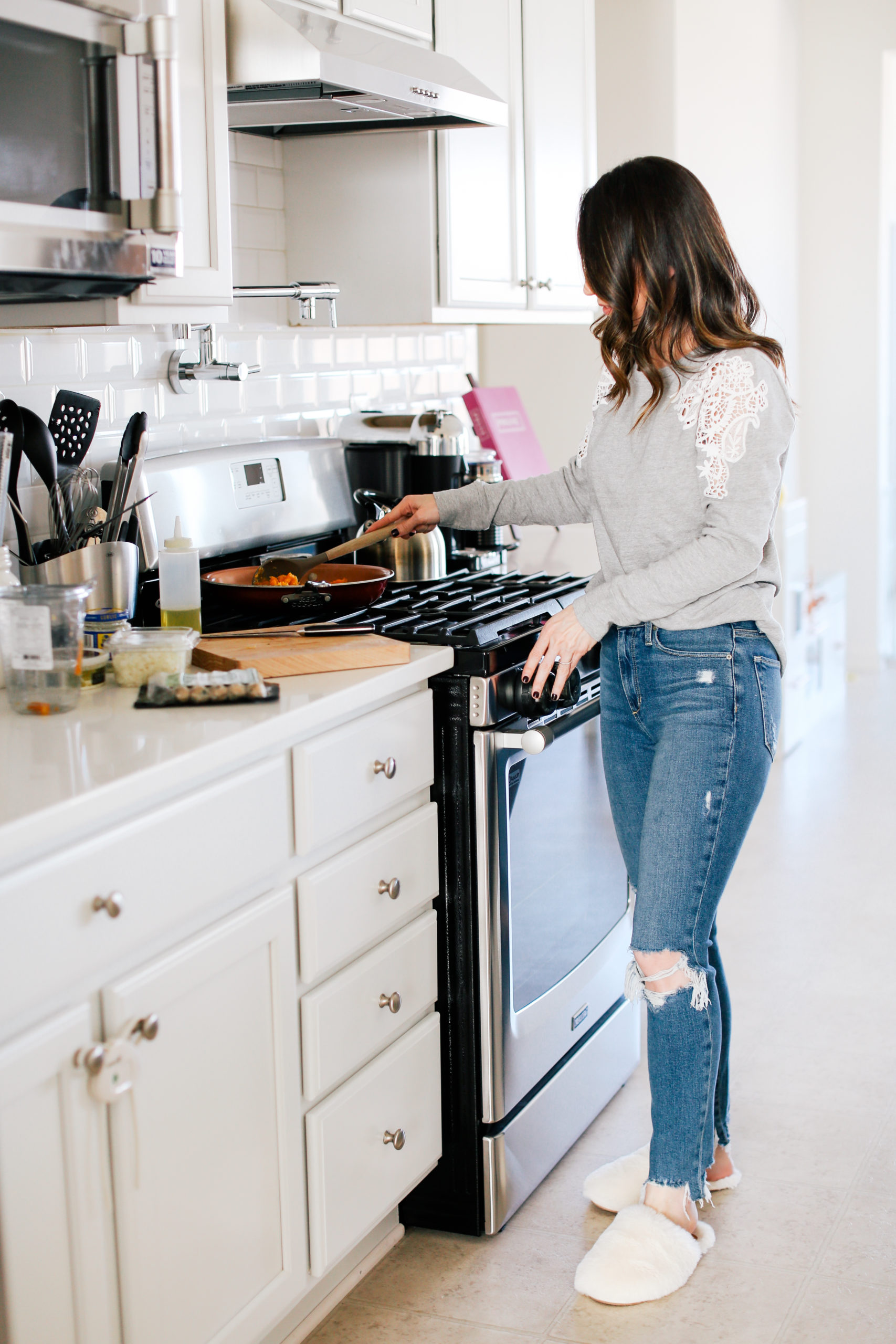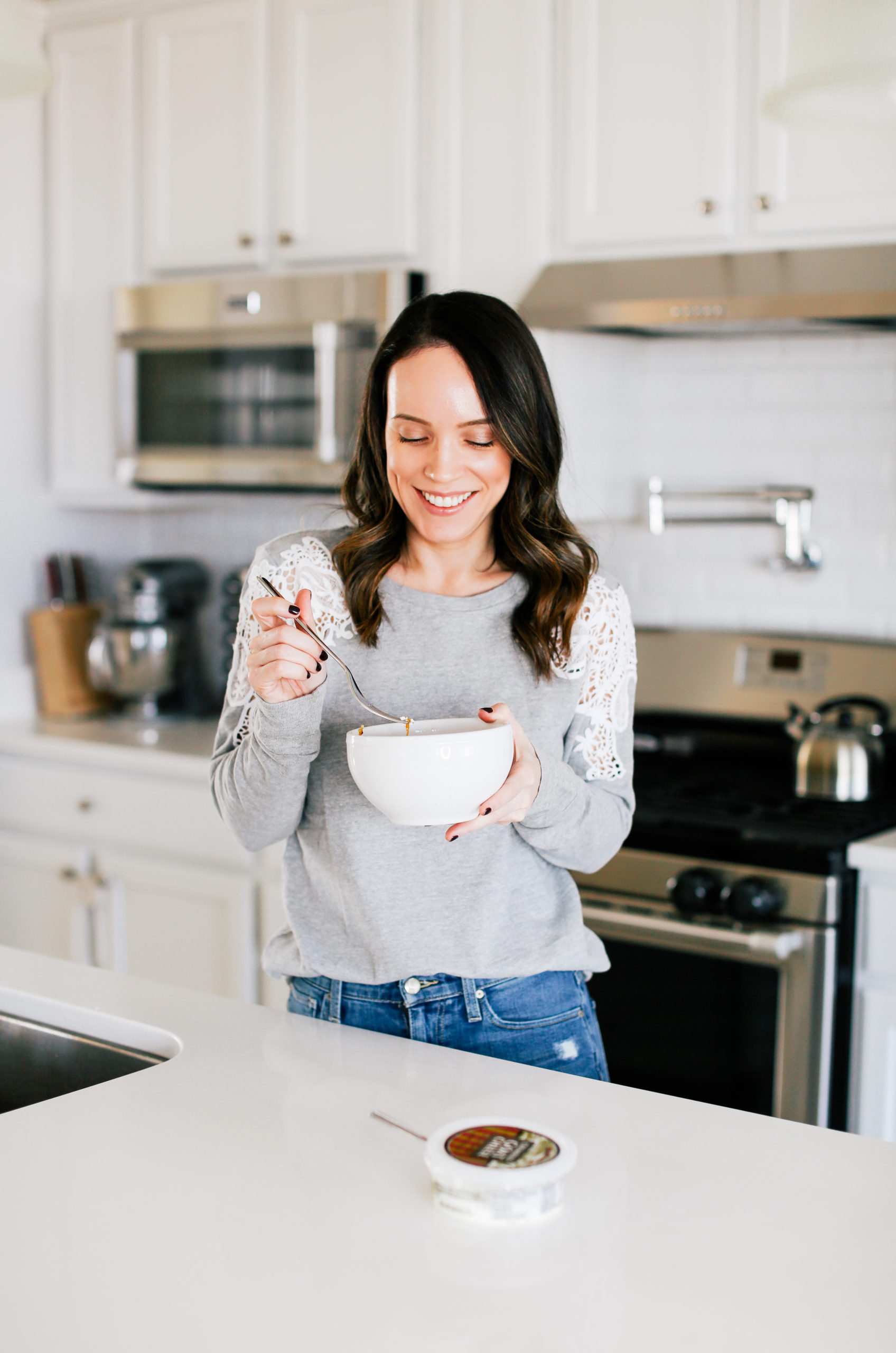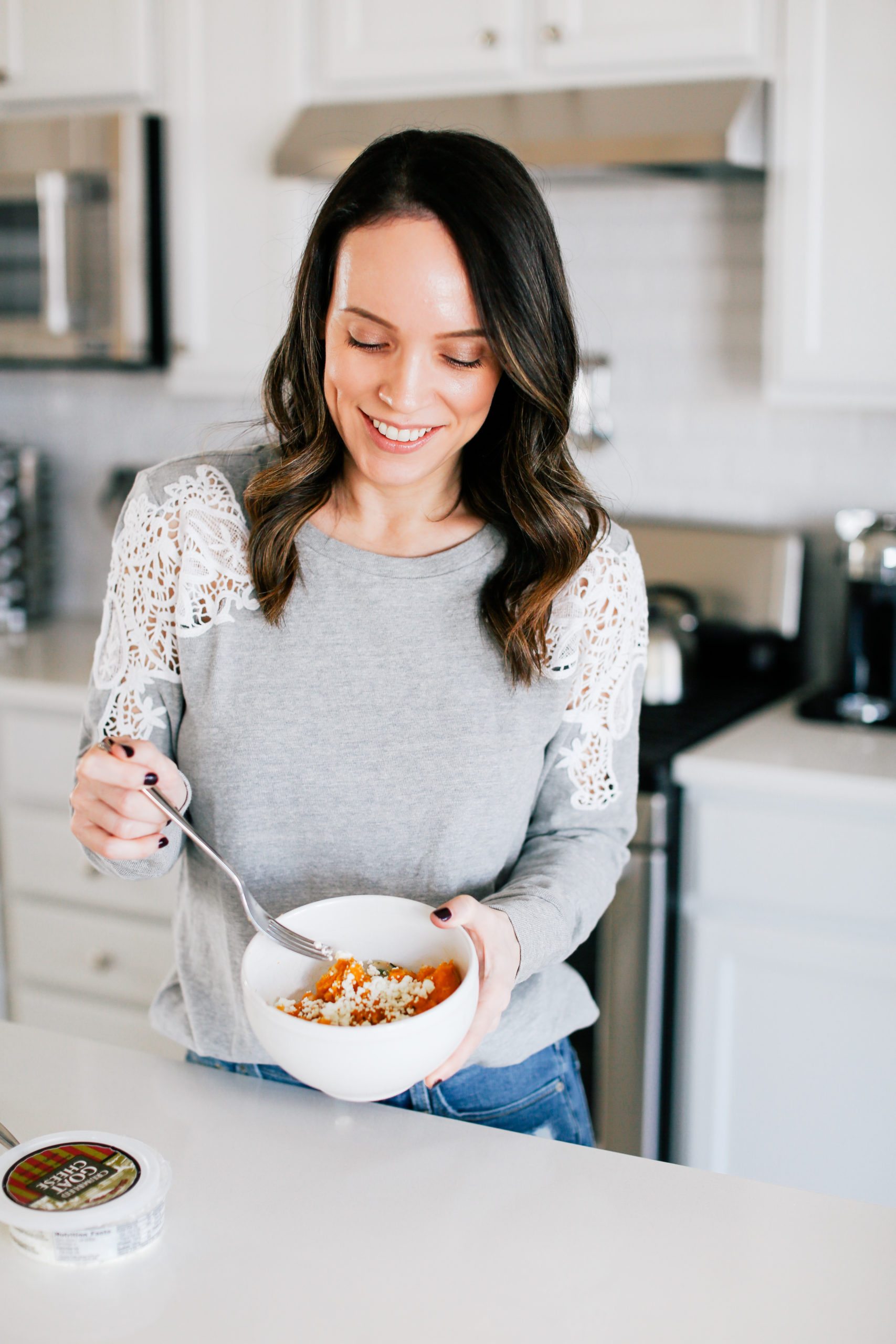 Sweatshirt | Jeans (similar) | Slippers (similar)
I should start off this post by saying I am not someone that can cook nor enjoys cooking, mainly because I find it all very intimidating and overwhelming. However, I really wanted to make myself easy healthy meals so I started trying a few things last fall to dip my toes into the "cooking" arena. I still don't consider any of these meals true recipes or myself a cook, rather I'm just heating a few things up in a pan but I now have a rotating selection of meals that I can make in under 15 minutes and are healthy and very easy.
Butternut Squash "Noodles" (this one is the one I am cooking in the above photos) – I find it easier to buy them precut from the store so that is what I recommend. I buy either the crinkle cut strips or the actual noodle strips.
Butternut Squash "noodles"
Chicken Sausage
Garlic
Onion
Parmesan Cheese
Goat Cheese
Sometimes I add sage but it's not necessary
I saute onion and garlic in olive oil and then add in the butternut squash and chicken sausage. I cook it on low for about 10 minutes, and then sprinkle in a bit of parmesan cheese(I like it to melt and make it a bit cheesy). Then after I plate it, I add a few crumbles of goat cheese on top.
Zucchini "Noodles" – I have a spiralizer and will sometimes make my own zucchini spirals but often I buy them at the store already precut.
Zucchini Noodles
Turkey meatballs (I like the ones from Trader Joe's)
Garlic
Onion
Parmesan Cheese
Tomato sauce
Much like the butternut squash noodles, I do almost the exact same thing with the zucchini noodles. I saute onion and garlic in olive oil, add in the zucchini noodles and cook on low for about 10 minutes. I add in chopped turkey meatballs and tomato sauce to quickly coat the noodles and meatballs. I sprinkle in a bit of parmesan cheese and that's it! I normally like to add a bit of shredded cheese (I like the Almond shredded cheese from Trader Joe's) once I have plated it so it melts on top.
Cauliflower Fried Rice
Trader Joe's Cauliflower Fried Rice
One egg
Turkey meatballs
Liquid Aminos
Garlic
Onion
This is the simplest meal of all to make and Miles is also a huge fan of this dish! I saute the garlic and onion in olive oil, and then add in the bag of Cauliflower Fried Rice and turkey meatballs. I like to use Liquid Aminos instead of soy sauce so I just sprinkle that all over and cook on low for 5-10 minutes. I break one egg in the middle of the pan and scramble in and then fold into the fried rice.
Sautedd brussel sprouts
Brussel sprouts (chopped or whole, though chopped cooks faster)
Garlic
Onion
Turkey meatballs or chicken sausage (I've also used ground turkey too)
Not much to this meal but it's simple, healthy and very tasty. I saute all of the ingredients in a sauce pan on low for about 10 minutes. I personally like to sprinkle a bit of parmesan cheese at the very end but it's not necessary.
Cauliflower pizza
Cauliflower crust (I personally like the one from Trader Joes)
Tomato sauce
Fresh basil
Mozzarella
This meal takes a bit longer to prepare because you need to cook the crust for about 40 minutes before adding the toppings, but I love this meal when I am craving pizza. I keep it simple when adding the toppings but you can add whatever you like.
Cauliflower gnocchi
Cauliflower gnocchi (I get this from Trader Joe's)
Tomato sauce
Onion
Garlic
Spinach
Turkey meatballs
Parmesan cheese
Yes, I clearly love all things cauliflower. LOL There are a few different ways to cook the gnocchi but I just throw it into the sauce pan with garlic and onion on low for about 7-10 minutes. Then I add tomato sauce, spinach and turkey meatballs. I don't mind that the gnocchi gets mushy, but if you do you may want to try them in an air fryer or in the oven. I add a sprinkle of parmesan cheese and mix it in so the entire dish gets a bit cheesy. I also add a bit more shredded cheese (I like the Trader Joe's almond cheese) on top after it's plated.
That's it! Those are all the dishes I've been making lately and really enjoying. There is no real recipe as I said so feel free to add or change whatever you want to make it more to your liking. I get in a rut when it comes to food and often need new ideas of things to try so hopefully these can be new suggestions for some of you. I'm sure many of you already know and love these dishes so feel free to leave me some of your own healthy/quick meals that you like making so I can try them out!