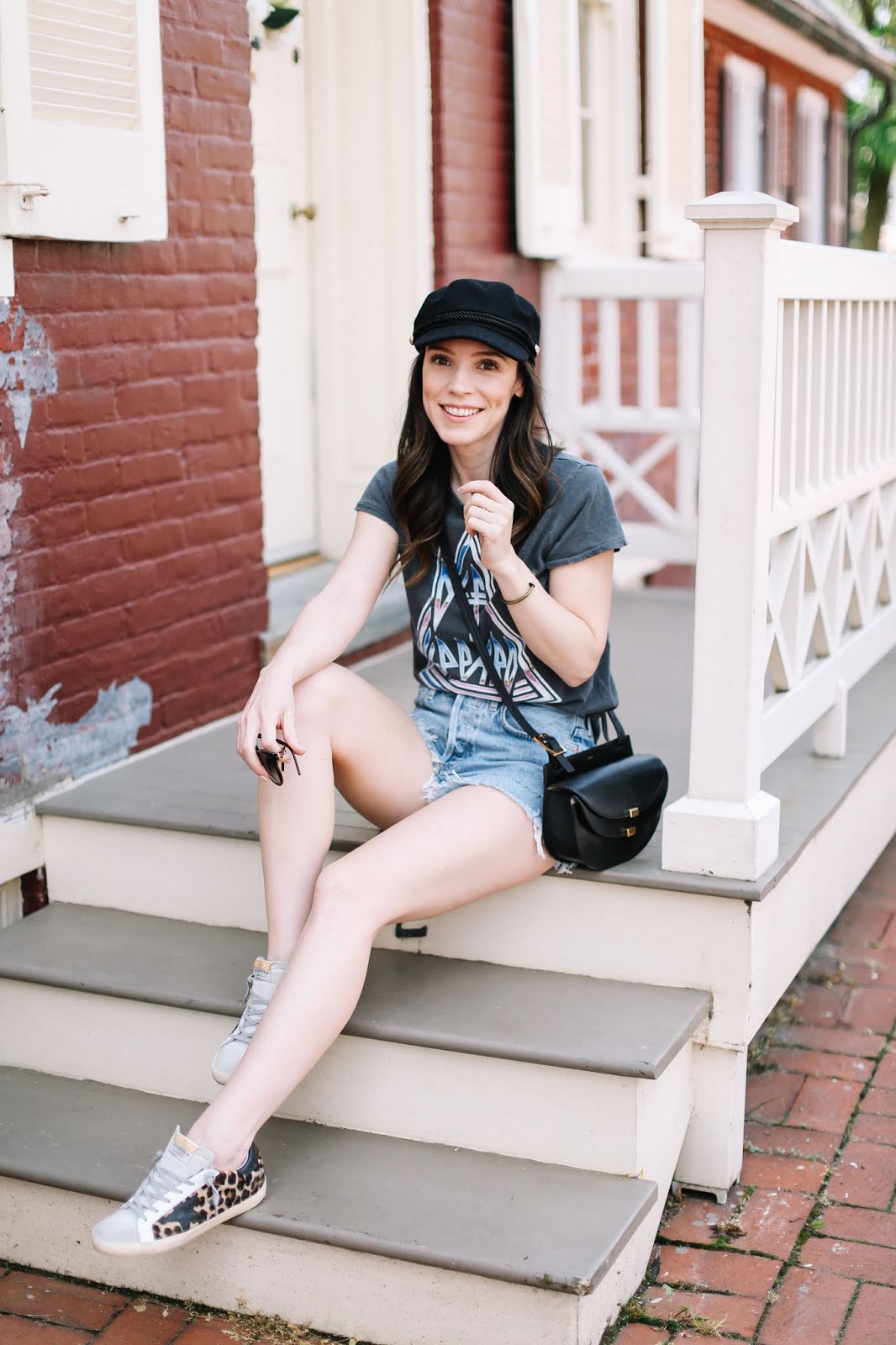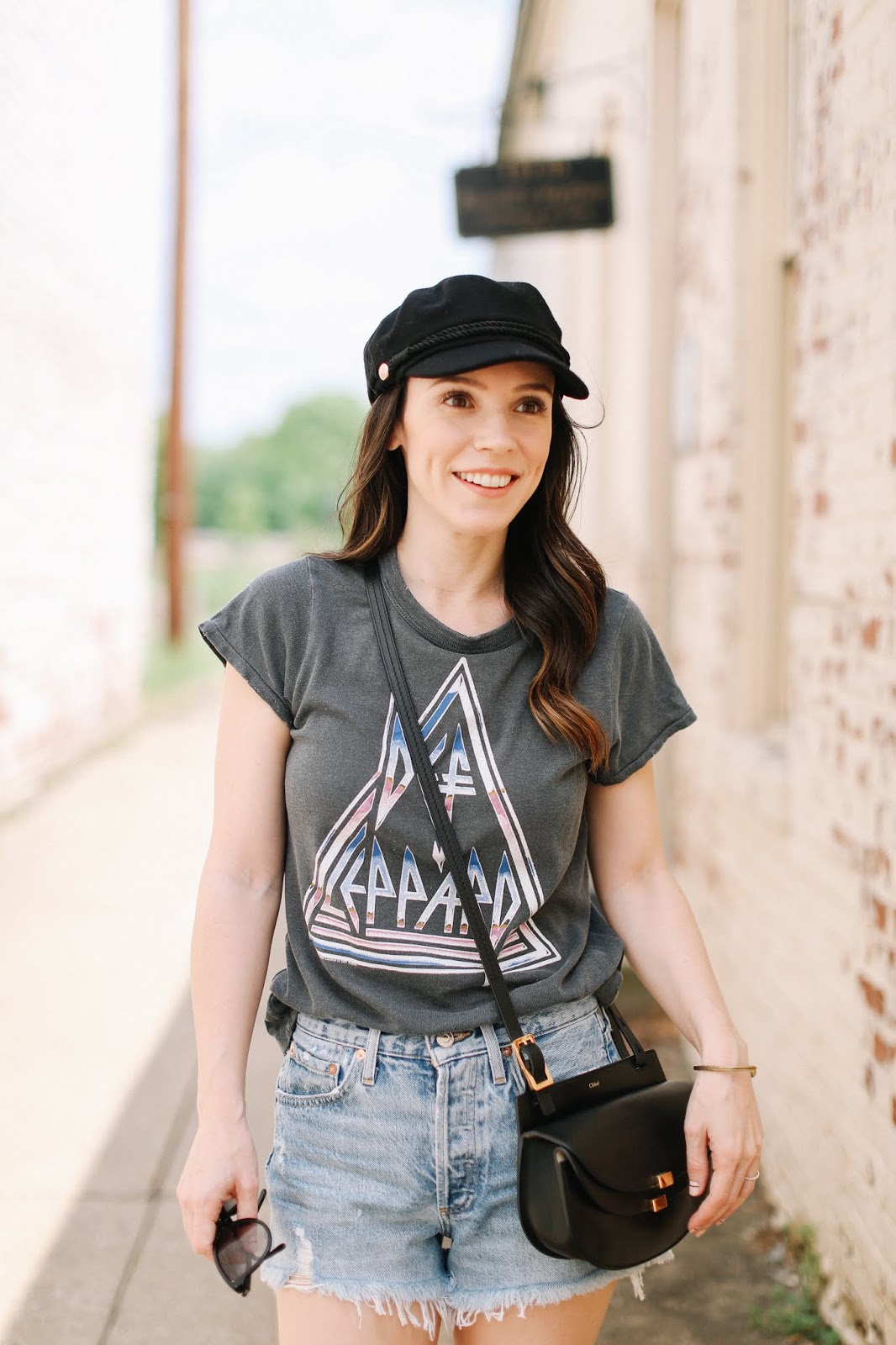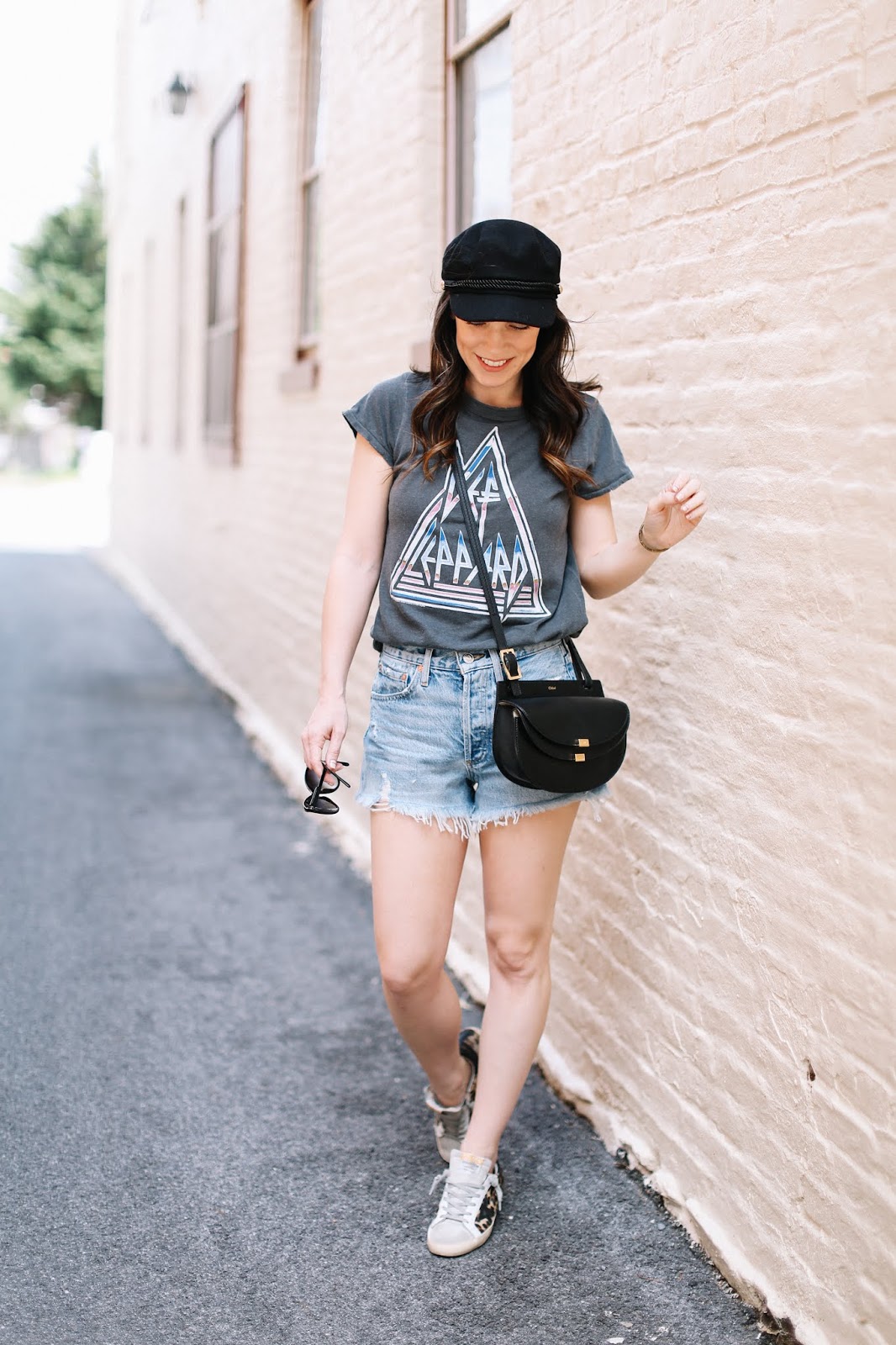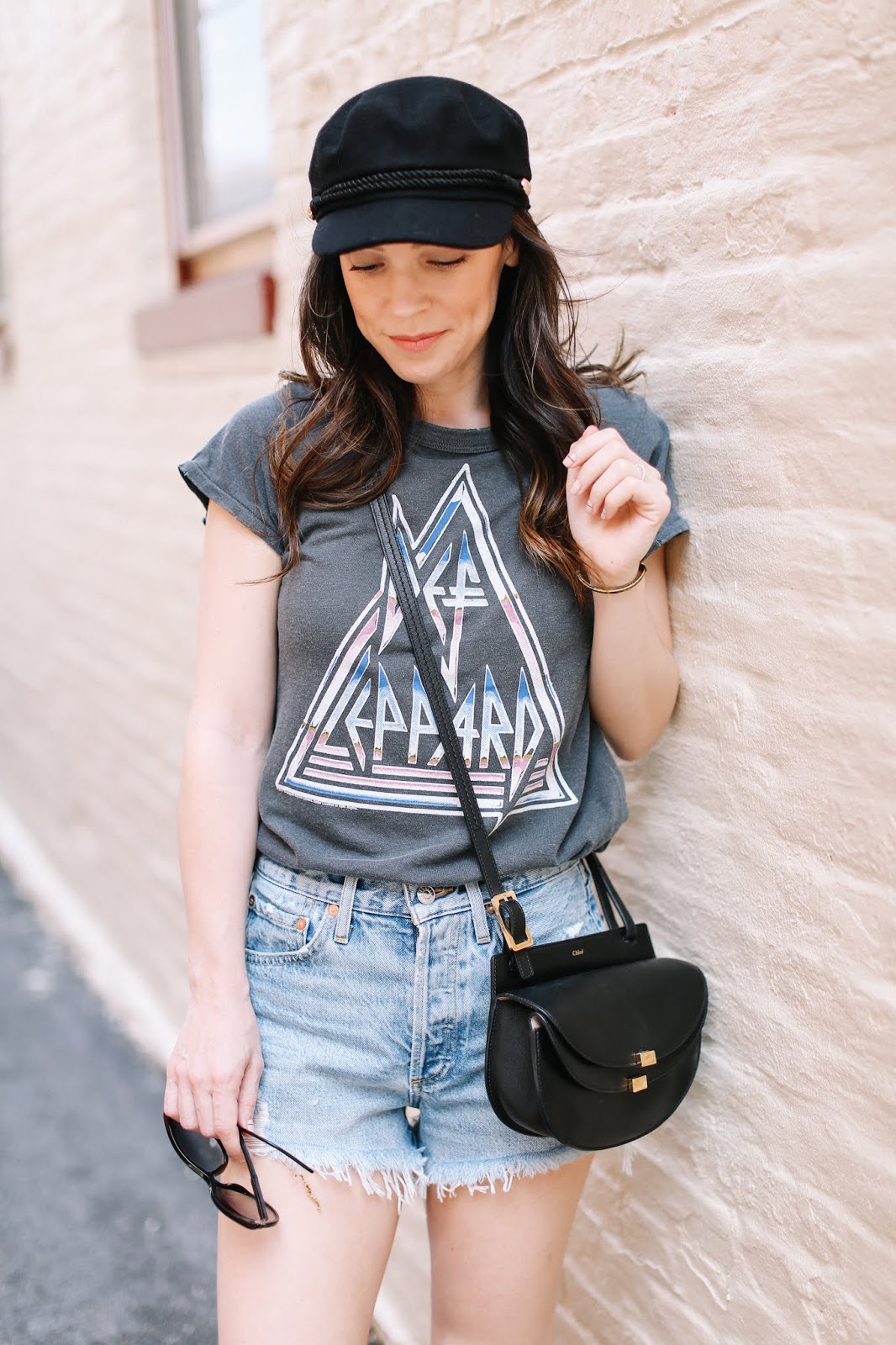 Tee
– Junk Food |
Shorts
– AGolde |
Sneakers
– Golden Goose | Bag – Chloe (similar
here
) |
Hat
– Hat Attack |
Bracelet
– Giles & Brother | Sunglasses – Stella McCartney (similar
here
)
I didn't have any band tees when these bands were actually popular, but I'm here for them now! Frankly I would have balked at wearing a ratty t-shirt in high school instead opting for a cute number from the Gap which is where I had a part-time job. But here we are, many years later and I am loving the band tee trend. Especially with distressed denim (either cut-offs or jeans like I
wore here
), though I can see one worn with an edgy pencil skirt and pumps to a creative type office job. Some of my girlfriends back in NYC worked in the fashion, pr or tech start-up industry and would wear such fun mixes of things such as a band tee and pencil skirt (which is where I got the idea). I always loved how there are truly no rules to fashion. I love seeing women (and men) wearing what they like, what inspires them or what makes them ultimately feel comfortable and their best. I actually had to wear a uniform at some of my old jobs years ago but would not let that deter me from still making my personal style shine through. I would spend extra time on my hair and makeup, carry a fun bag and wear shoes that make me feel fancy. And after awhile, I didn't mind the uniform that much because I made it my own by adding a touch of my style. Ok, I really veered off course from the band tee idea. Ha! So typical of me – always going off on a tangent. 
But before I end this slightly rambly post, I need to mention that are tons of great sales happening this weekend for Memorial Day! Well, let me clarify – there are certain sales that are worth shopping, and others that could be skipped. LOL I went through many of regularly shopped retailers, found the ones that seemed to have the best selection and markdowns and rounded them all up in the widgets below. Each widget has a bunch of options so be sure to scroll through so you don't miss anything. And probably one of the biggest sales is the
Nordstrom Half-Yearly sale
which I covered in
this post
and will be continuing to update as I find more pieces or things go out of stock.
And for those that want to live that band tee life with me, I have a few more cute tees to check out below. 
Shop more band tees:
!function(d,s,id){var e, p = /^http:/.test(d.location) ? 'http' : 'https';if(!d.getElementById(id)) {e = d.createElement(s);e.id = id;e.src = p + '://' + 'widgets.rewardstyle.com' + '/js/shopthepost.js';d.body.appendChild(e);}if(typeof window.__stp === 'object') if(d.readyState === 'complete') {window.__stp.init();}}(document, 'script', 'shopthepost-script');

JavaScript is currently disabled in this browser. Reactivate it to view this content.
Shop my picks from Anthropologie's sale:
!function(d,s,id){var e, p = /^http:/.test(d.location) ? 'http' : 'https';if(!d.getElementById(id)) {e = d.createElement(s);e.id = id;e.src = p + '://' + 'widgets.rewardstyle.com' + '/js/shopthepost.js';d.body.appendChild(e);}if(typeof window.__stp === 'object') if(d.readyState === 'complete') {window.__stp.init();}}(document, 'script', 'shopthepost-script');
JavaScript is currently disabled in this browser. Reactivate it to view this content.
Shop my picks from Anthropologie's home sale:
!function(d,s,id){var e, p = /^http:/.test(d.location) ? 'http' : 'https';if(!d.getElementById(id)) {e = d.createElement(s);e.id = id;e.src = p + '://' + 'widgets.rewardstyle.com' + '/js/shopthepost.js';d.body.appendChild(e);}if(typeof window.__stp === 'object') if(d.readyState === 'complete') {window.__stp.init();}}(document, 'script', 'shopthepost-script');
JavaScript is currently disabled in this browser. Reactivate it to view this content.
Shop my picks from J.Crew's sale, use code GETAWAY for 40% select merchandise:
!function(d,s,id){var e, p = /^http:/.test(d.location) ? 'http' : 'https';if(!d.getElementById(id)) {e = d.createElement(s);e.id = id;e.src = p + '://' + 'widgets.rewardstyle.com' + '/js/shopthepost.js';d.body.appendChild(e);}if(typeof window.__stp === 'object') if(d.readyState === 'complete') {window.__stp.init();}}(document, 'script', 'shopthepost-script');
JavaScript is currently disabled in this browser. Reactivate it to view this content.
Shop my picks from Loft's sale, use code LONGWKND for 40% off:
!function(d,s,id){var e, p = /^http:/.test(d.location) ? 'http' : 'https';if(!d.getElementById(id)) {e = d.createElement(s);e.id = id;e.src = p + '://' + 'widgets.rewardstyle.com' + '/js/shopthepost.js';d.body.appendChild(e);}if(typeof window.__stp === 'object') if(d.readyState === 'complete') {window.__stp.init();}}(document, 'script', 'shopthepost-script');
JavaScript is currently disabled in this browser. Reactivate it to view this content.
Shop my picks from Express' sale:
!function(d,s,id){var e, p = /^http:/.test(d.location) ? 'http' : 'https';if(!d.getElementById(id)) {e = d.createElement(s);e.id = id;e.src = p + '://' + 'widgets.rewardstyle.com' + '/js/shopthepost.js';d.body.appendChild(e);}if(typeof window.__stp === 'object') if(d.readyState === 'complete') {window.__stp.init();}}(document, 'script', 'shopthepost-script');
JavaScript is currently disabled in this browser. Reactivate it to view this content.
Shop my picks from Ann Taylor's sale, use code SOREADY for 40% off:
!function(d,s,id){var e, p = /^http:/.test(d.location) ? 'http' : 'https';if(!d.getElementById(id)) {e = d.createElement(s);e.id = id;e.src = p + '://' + 'widgets.rewardstyle.com' + '/js/shopthepost.js';d.body.appendChild(e);}if(typeof window.__stp === 'object') if(d.readyState === 'complete') {window.__stp.init();}}(document, 'script', 'shopthepost-script');
JavaScript is currently disabled in this browser. Reactivate it to view this content.
Shop my picks from Net-a-Porter's sale:
!function(d,s,id){var e, p = /^http:/.test(d.location) ? 'http' : 'https';if(!d.getElementById(id)) {e = d.createElement(s);e.id = id;e.src = p + '://' + 'widgets.rewardstyle.com' + '/js/shopthepost.js';d.body.appendChild(e);}if(typeof window.__stp === 'object') if(d.readyState === 'complete') {window.__stp.init();}}(document, 'script', 'shopthepost-script');
JavaScript is currently disabled in this browser. Reactivate it to view this content.
Shop my picks from Urban Outfitter's sale:
!function(d,s,id){var e, p = /^http:/.test(d.location) ? 'http' : 'https';if(!d.getElementById(id)) {e = d.createElement(s);e.id = id;e.src = p + '://' + 'widgets.rewardstyle.com' + '/js/shopthepost.js';d.body.appendChild(e);}if(typeof window.__stp === 'object') if(d.readyState === 'complete') {window.__stp.init();}}(document, 'script', 'shopthepost-script');
JavaScript is currently disabled in this browser. Reactivate it to view this content.