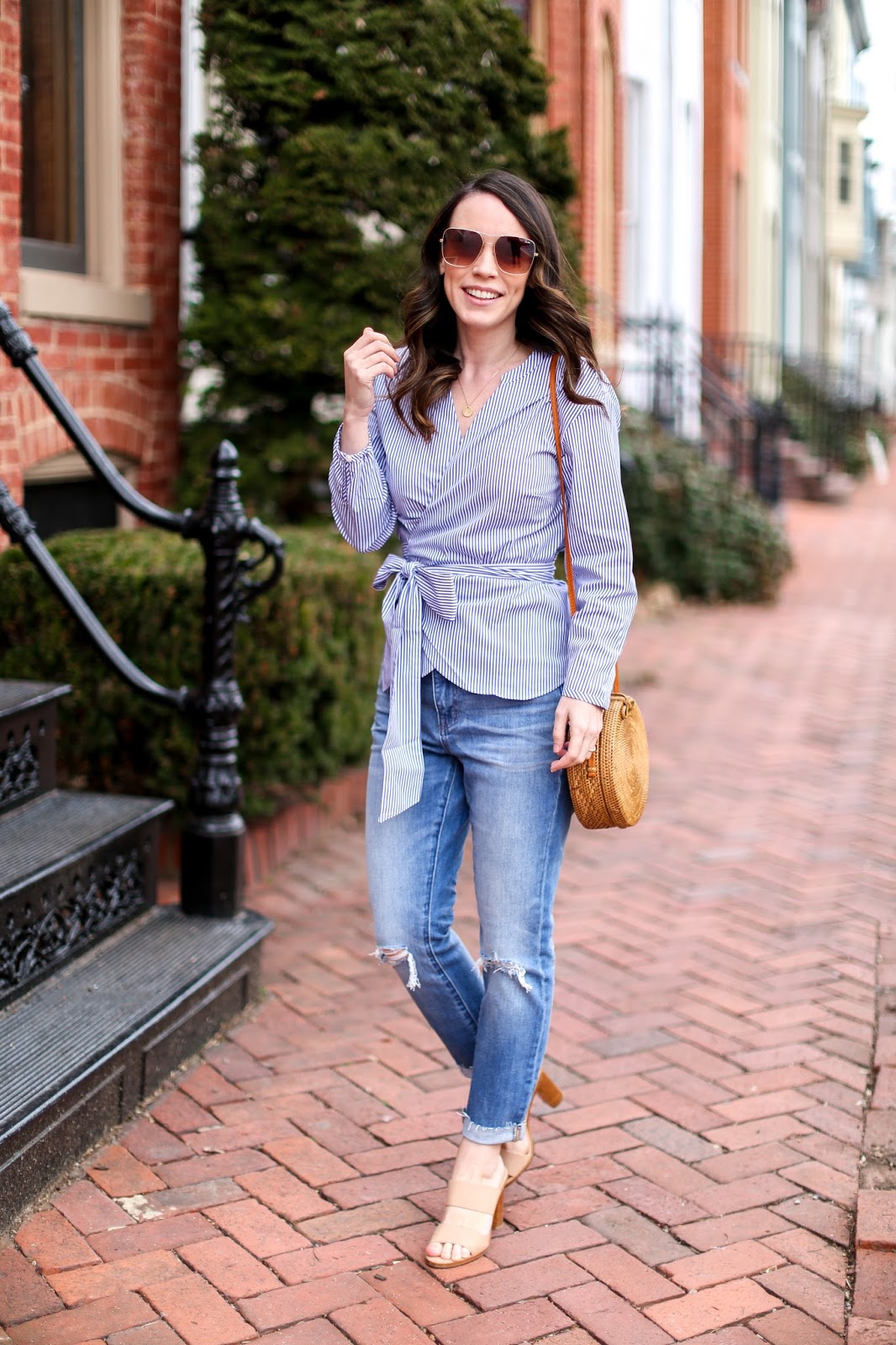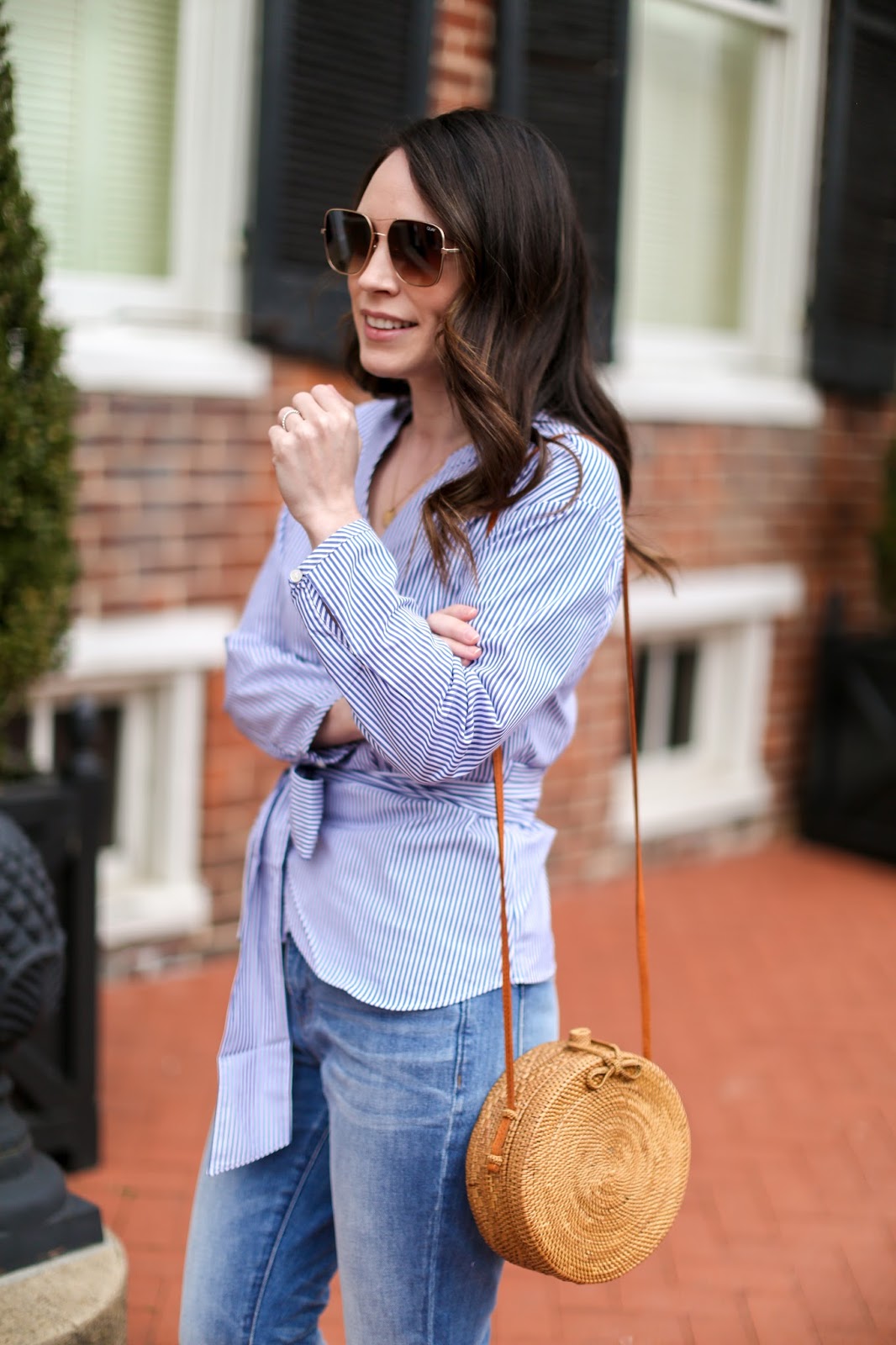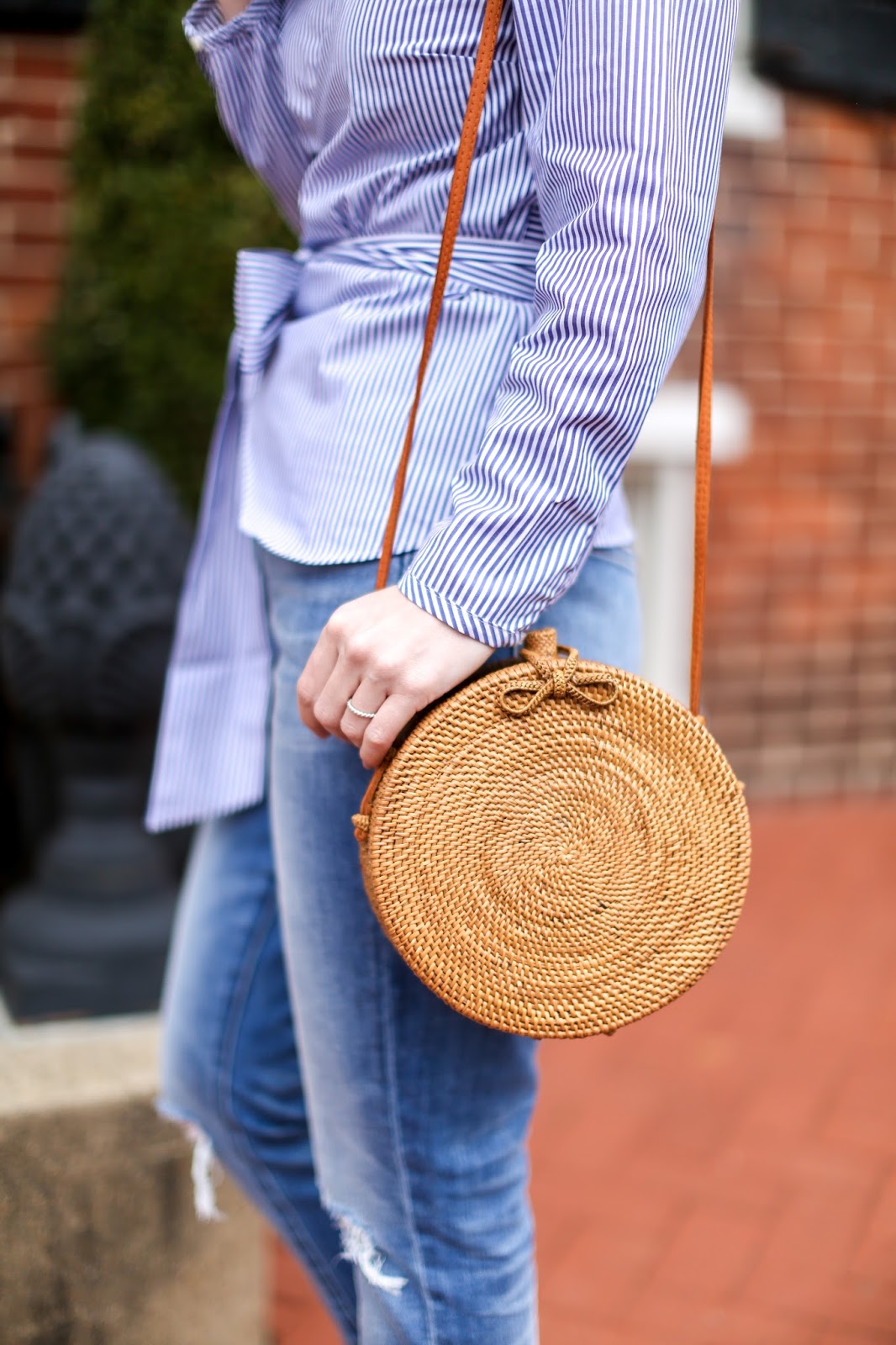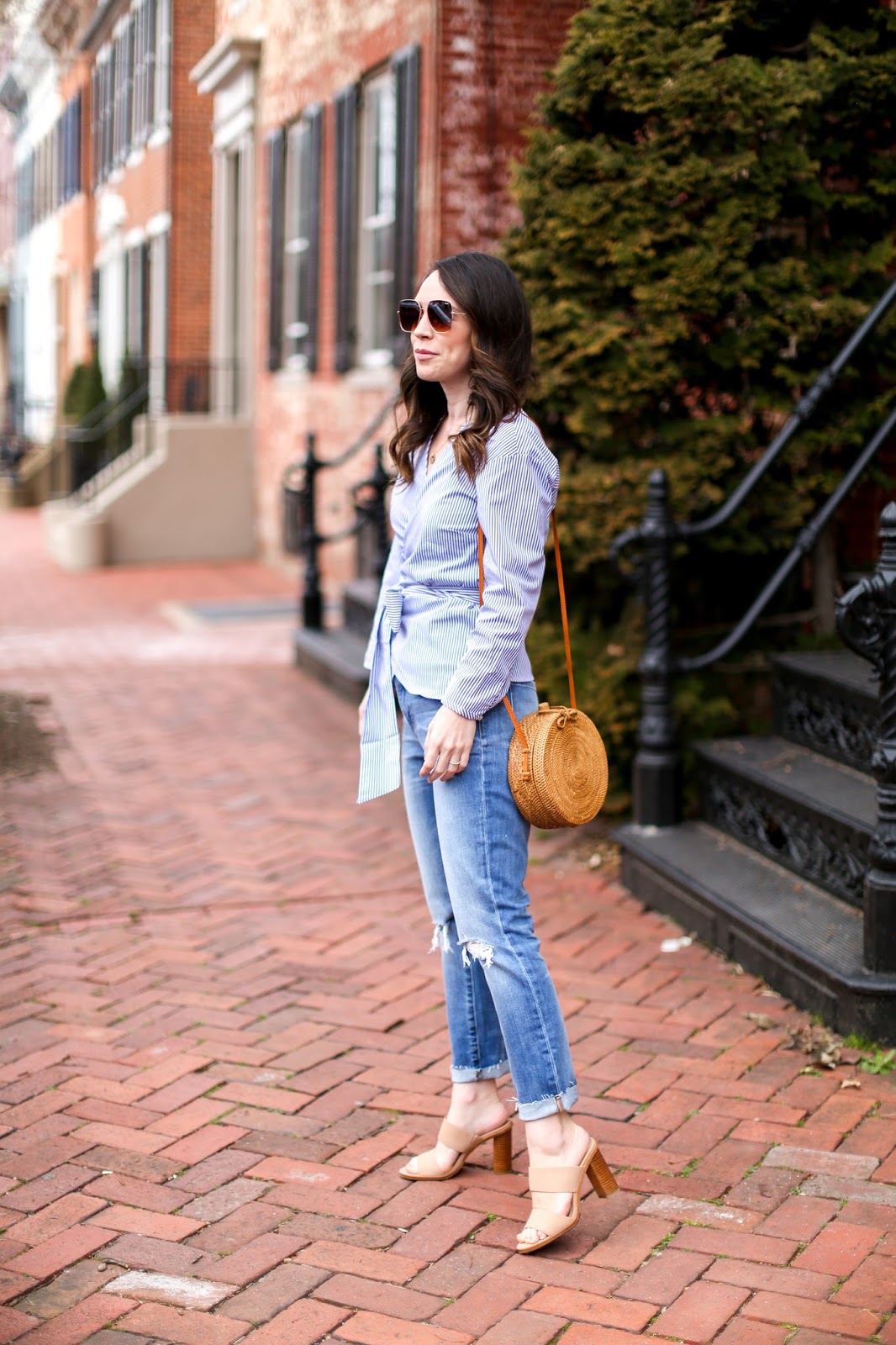 These pictures couldn't be farther from the current weather situation here – there is snow everywhere! I wore this on a day when things were beginning to feel like spring and then BAM! Snow.  But the good news is we are getting closer and closer every day to open toed shoes and no coats. I picked up this striped top from J.Crew recently and always feel that they go through cycles. Sometimes I browse their selections and everything is awful and other times I love so many pieces. Sadly their sales are soooo frequent now so I will often hold off on buying something and wait a few more days or another week until there is a sitewide sale. It's a vicious cycle that so many retailers create but one that benefits all of us – yay!
I also figured I give you a quick update on life around here lately. Things are moving fast now that Miles has arrived and the days seem to all blend together sometimes!
1. My biggest struggle has been finding a routine that feels workable. Balancing working full-time on my blog/youtube channel, running errands, spending time with Miles, spending time with Stan, fitting in workouts, etc is definitely a challenge. We are so grateful to have my mom living with us so she is so instrumental in helping us balance it all. It's a team effort in our house and everyone pitches in which is how we always wanted it and why we decided to live together. But there are definitely some days where I feel like everything is running smoothly and others when I feel so scattered and can barely remember my own name.  
2. I have lost most of my pregnancy weight (I am guessing since I don't own a scale, but go based on how my clothing fits), but those last few pounds are the hardest. I have a few of my favorite jeans and dresses that don't quite fit so I'm hoping as my hormones begin to balance out more it will all finally come off. Though people tell you it takes time to lose all the weight and not worry about it, it can still be frustrating to not feel completely like yourself. 
3. I'm most excited for the next few months to begin enrolling Miles in fun classes and activities to help him socialize more and experience new things. There is a infant swimming class at the Y that I am looking into and also some classes at The Little Gym that would be age appropriate. He loves being out and about especially in loud, noisy places so I think he will really enjoy doing these activities.
4. So many people ask about Elmo (my black pug) after seeing him in my Insta-stories, and for those that have been following me for years know he is such a huge part of my life. He is now 9.5 so he moves much slower and has hip issues that are challenging, but is still his happy and loving self that he has always been. He loves being around Miles and often will just stand near him when he is playing or lay down in his room when I am getting Miles ready for bed. I'm anxious for Miles to interact with him more as he gets older but we know we have to monitor it because Elmo is much more fragile and delicate now. Either way, I am just so happy that they got to meet and develop any relationship regardless of how long it may last. Elmo has been one of the best things to ever happen to me and it was my dream for him to eventually be a part of my child's life. So it brings me such joy every day to see them together.
5. Miles' nursery is finally complete and we are taking pictures of it next week to share on the blog. I've tackled one room at a time in this house because I like the feeling of completing an entire space before moving on to another one. I think I will move on to my master bedroom next and finalize the rest of it since I only purchased a bed and side tables for the most part. Once that is done, I will finally move on to the downstairs portion of the home. 
6. Annnnd a quick mention about my hair and skin now that I am almost 5 months postpartum. I have noticed major hair shedding so I know I am moving into that whole fun stage. *insert sarcasm* To be honest, I have had hormonal imbalances in the past and the first place it manifests for me is in my hair and I begin to lose a ton. Since I have experienced that and know that it will eventually grow back, I am not alarmed at any postpartum shedding but it still is frustrating since my hair becomes harder to style and manage. As far as my skin goes, who the heck knows what is happening! Some days it's oily, some days it's dry – it changes all the time. I am trying my best to help things stabilize from a nutritional standpoint with different supplements and an overall balanced diet, but for the most part I am trying to be patient and wait it out. Again, not the easiest because after the stress of pregnancy and giving birth, you just want to feel your best and fluctuations in appearance (weight, hair, skin, etc) can be quite frustrating. Patience has never been my strong suit! LOL
I will also be sharing an update on all the things I am loving for Miles + his schedule since things change with him almost daily! Stay tuned for that coming in the next 2-3 weeks. 🙂
Shop more of my favorites from J.Crew:
!function(d,s,id){var e, p = /^http:/.test(d.location) ? 'http' : 'https';if(!d.getElementById(id)) {e = d.createElement(s);e.id = id;e.src = p + '://' + 'widgets.rewardstyle.com' + '/js/shopthepost.js';d.body.appendChild(e);}if(typeof window.__stp === 'object') if(d.readyState === 'complete') {window.__stp.init();}}(document, 'script', 'shopthepost-script');
JavaScript is currently disabled in this browser. Reactivate it to view this content.
!function(d,s,id){var e, p = /^http:/.test(d.location) ? 'http' : 'https';if(!d.getElementById(id)) {e = d.createElement(s);e.id = id;e.src = p + '://' + 'widgets.rewardstyle.com' + '/js/shopthepost.js';d.body.appendChild(e);}if(typeof window.__stp === 'object') if(d.readyState === 'complete') {window.__stp.init();}}(document, 'script', 'shopthepost-script');
JavaScript is currently disabled in this browser. Reactivate it to view this content.
!function(d,s,id){var e, p = /^http:/.test(d.location) ? 'http' : 'https';if(!d.getElementById(id)) {e = d.createElement(s);e.id = id;e.src = p + '://' + 'widgets.rewardstyle.com' + '/js/shopthepost.js';d.body.appendChild(e);}if(typeof window.__stp === 'object') if(d.readyState === 'complete') {window.__stp.init();}}(document, 'script', 'shopthepost-script');
JavaScript is currently disabled in this browser. Reactivate it to view this content.
!function(d,s,id){var e, p = /^http:/.test(d.location) ? 'http' : 'https';if(!d.getElementById(id)) {e = d.createElement(s);e.id = id;e.src = p + '://' + 'widgets.rewardstyle.com' + '/js/shopthepost.js';d.body.appendChild(e);}if(typeof window.__stp === 'object') if(d.readyState === 'complete') {window.__stp.init();}}(document, 'script', 'shopthepost-script');
JavaScript is currently disabled in this browser. Reactivate it to view this content.