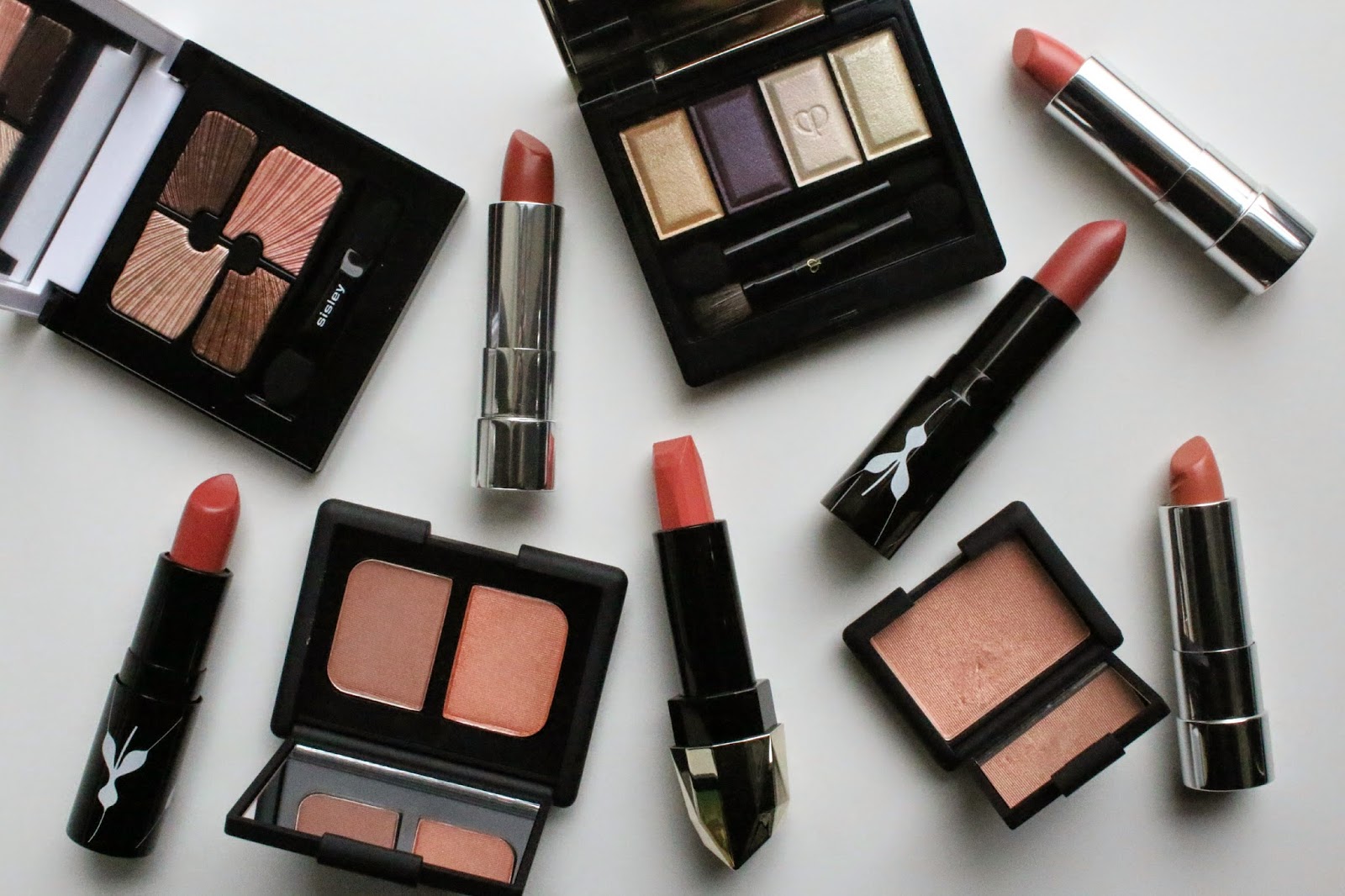 I wish I could say that the weather is moving towards spring, but sadly it's not. That being said, the makeup collections are and the neutral tones are out in full force. Here is a look at some great options to wear this spring. Or right now – is there ever a bad time to wear neutrals? I think not. 
1.
Sisley Phyto 4 Ombres in Dream
– It took me a few minutes to even begin using this quad when I first took it out of the box. It is quite a stunner. The shape, the texture, the colors – it's all screams decadence and luxury. As you can see from the below swatches, the texture is incredibly pigmented, smooth and applies very evenly. I didn't even have to build those up, just one swipe was able to show the color adequately. There is a strong frost to this formula, so I prefer to pair it with my matte shades for a bit of dimension. But for those who are thinking about trying this out, it gets two thumbs up from me.
2.
Cle de Peau Beaute eyeshadow quad in 309
– I've already professed my love for
Cle de Peau Beaute
quads before (read post
here
), so it should come as no surprise that I loved this one as well. The three beige shades seem quite pale but to be honest, they show up really well as lid colors for me. They give me a gorgeous glistening wash of color on the lids that I love to pair with bold or dark lips. The purple shade is a bit of a wild card, but surprisingly I love to wear it as a liner just by wetting an angle brush and dotting it along the lash line.
3.
NARS Nude Scene duo eye shadow in St Paul de Vence
– There were many strong opinions on
NARS' spring collection
, mainly because it was so devoid of bold or bright color. I, for one, happened to love it. The duo is a bit on the bronzy side with an orange undertone, so I like to use both colors more in the crease than on the lid. The pigment is the same as most other
NARS duo eye shadows
and would be a welcome addition to anyone's collection and will look good on almost any skin tone.
4.
NARS Nude Scene solo eye shadow in Valhalla
– This shade was a bit more of a surprise to me because of how sheer it swatched. I really had to dig into the shadow to get it to show up on my arm, so this is definitely a color I will need to wear with a primer or cream eye shadow underneath. The color, however, is a beautiful rose gold that looks great worn alone but even better when applied right in the center of the lid for a bit of brightness with a smokey eye look.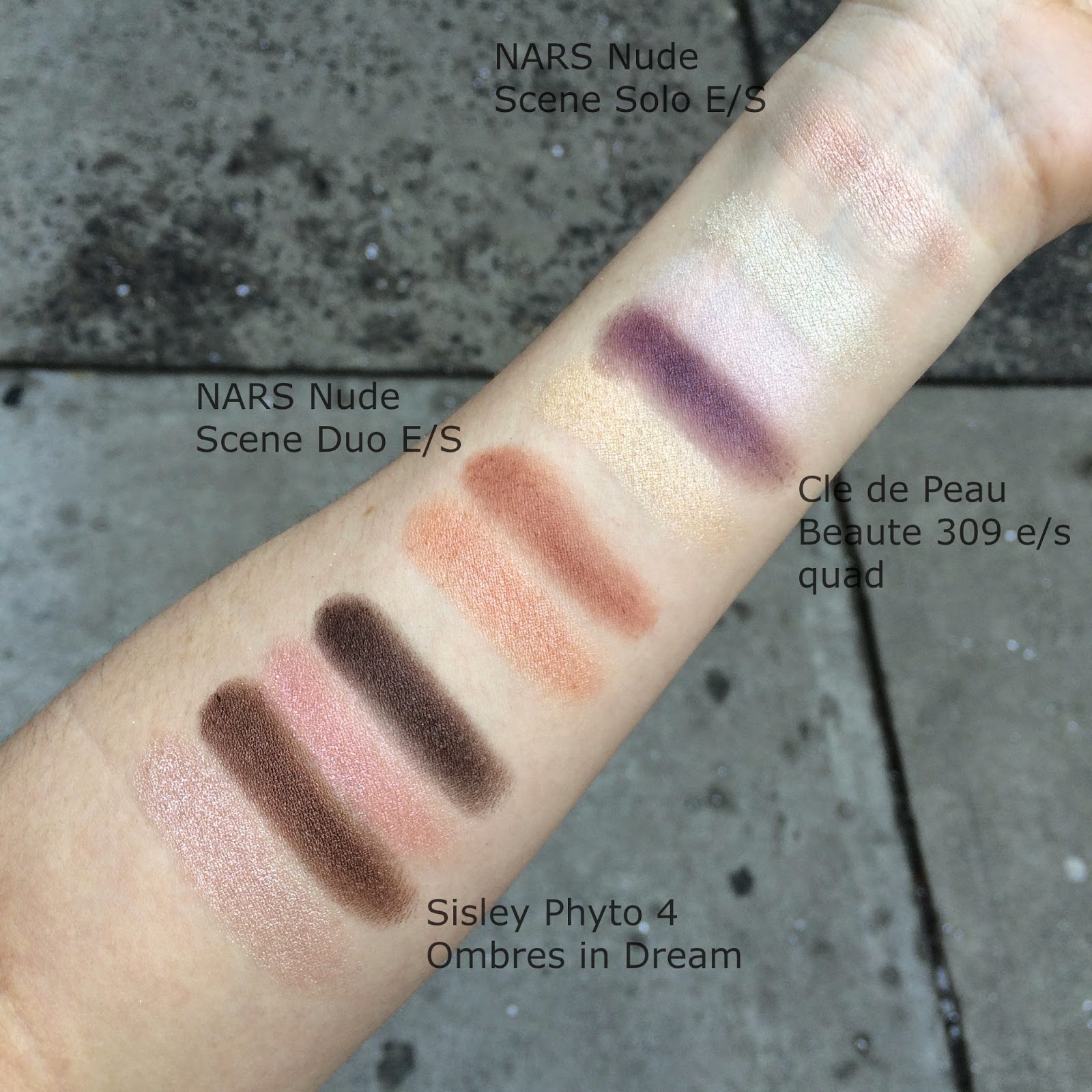 5.
Cle de Peau Beaute Extra Rich Lipstick Silk in 211
– This is my first
CDP lipstick
and I can say that it won't certainly won't be my last. The feeling is so incredibly creamy and soft, but the true unique aspect of it was the shape of the lipstick. It's a square shape that surprisingly fits well on the lips making it easy to apply. And of course I can't forget to talk about the color – it's the most beautiful nude shade with just a hint of peach. 
6.
Bareminerals Lipsticks Marvelous Moxie Lipsticks in Express Yourself, Dream Big and Fall in Love
– While the Cle de Peau Beaute and Rouge Bunny Rouge lipsticks gave good coverage, these lipsticks from Bareminerals were complete full coverage. They give a strong opaque finish and I find are worn best when my lips are hydrated and exfoliated. The texture is a bit dry so I prefer to wear them underneath a lip gloss or lip oil, but the formula is very long wearing and the colors are the perfect complement to a bronzy neutral eye (which of course is my favorite kind of eye look to wear).
7.
Rouge Bunny Rouge Color Burst Lipsticks in Watch Out! Eve and Whim of Mine
– I think the surprise winner of this entire post had to be these Rouge Bunny Rouge lipsticks. I didn't quite think anything of them when I first looked at them, and frankly felt they were just another nude lipstick. Until I put them on. I love when I try a product and it gives you that immediate "wow" moment. The texture of these are feel a gel-cream, and they glide on effortlessly. There is a slight sheen to them but the kind that helps make your lips look smoother and more hydrated, rather than glittery. I can already see these making the rounds in my makeup bag this spring.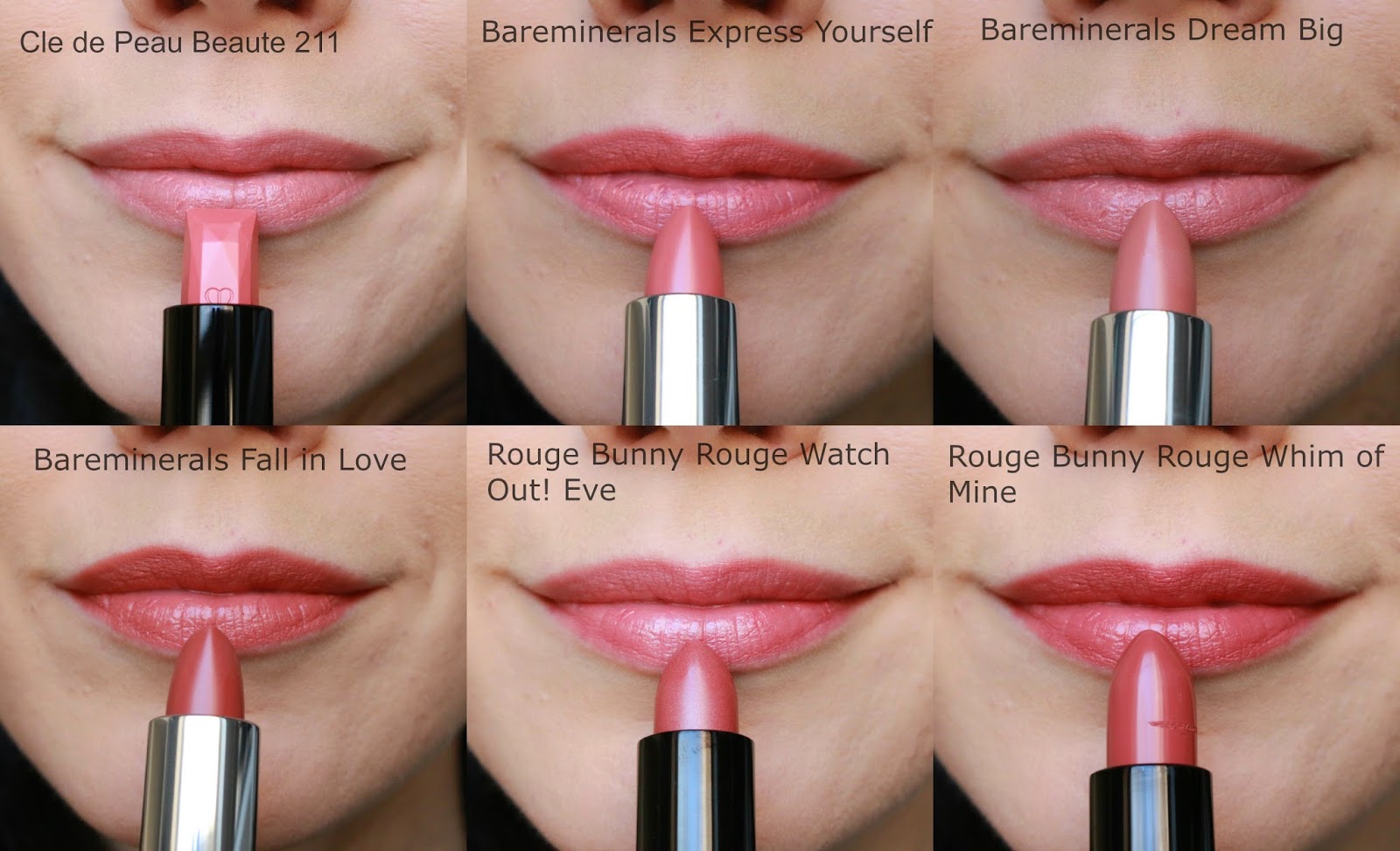 As a neutral lover, the spring collections are right up my alley and ones that I feel I will get a ton of use out of.
What are some of  your favorite spring makeup collections? Leave me a comment below!