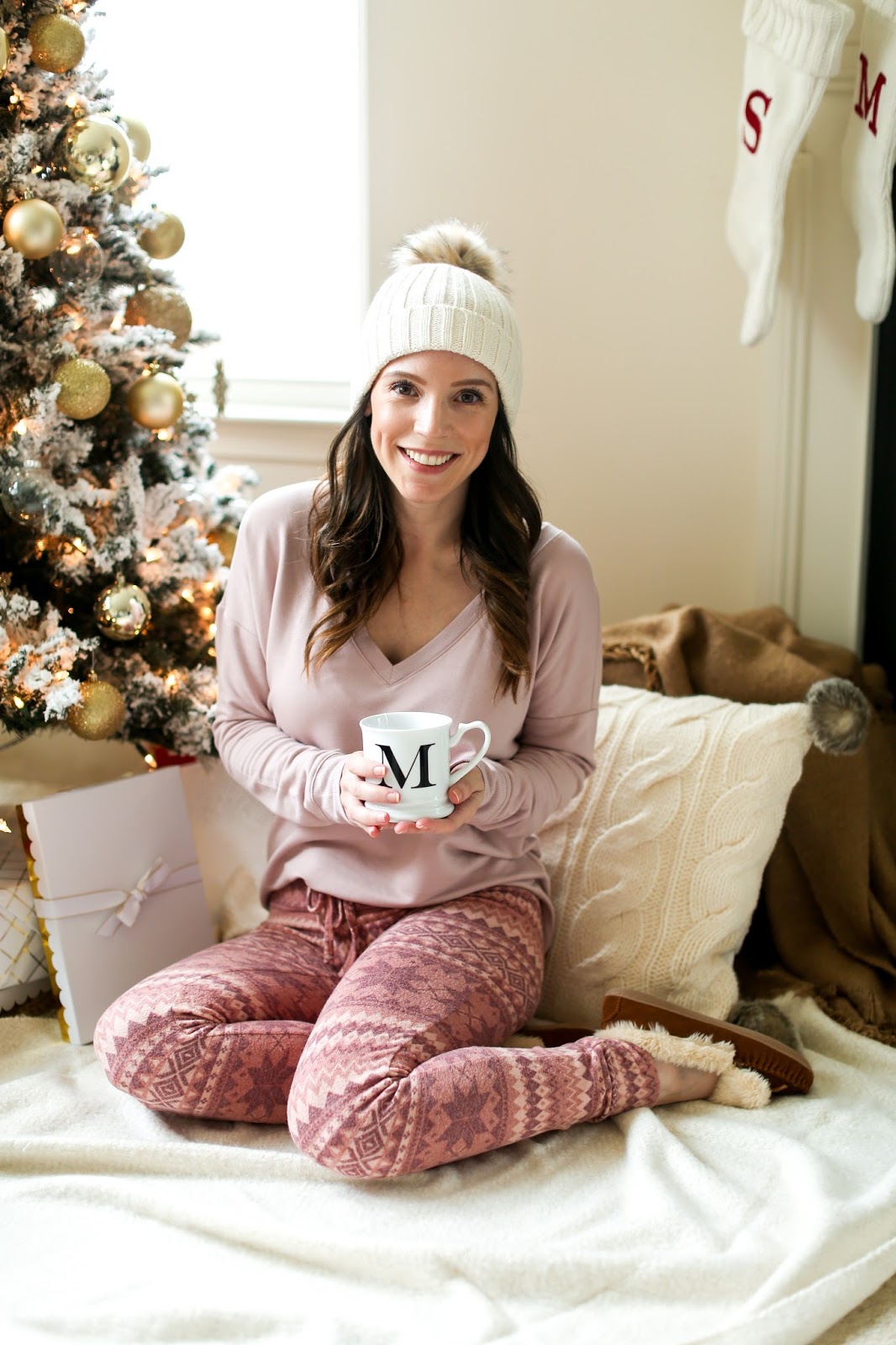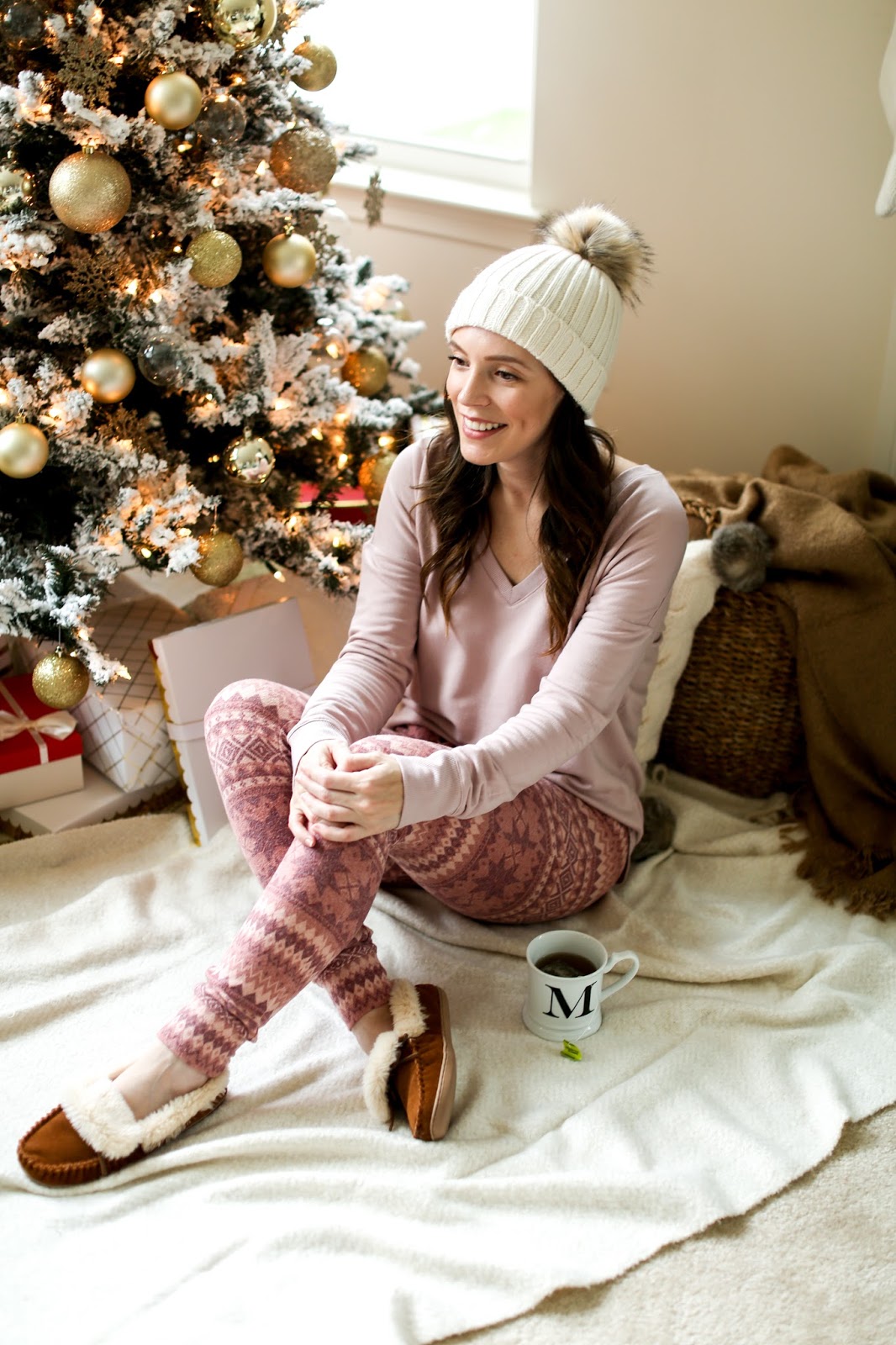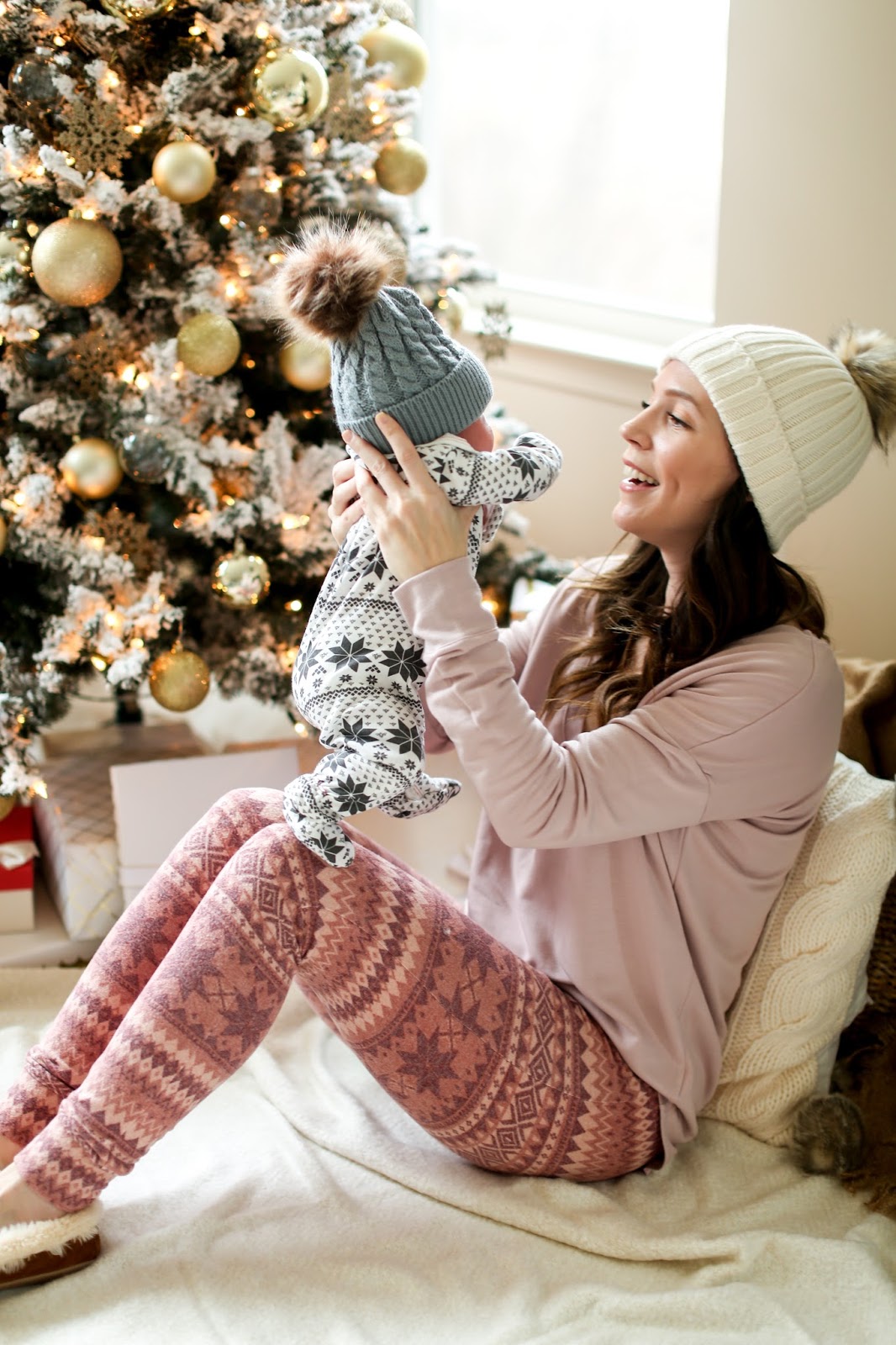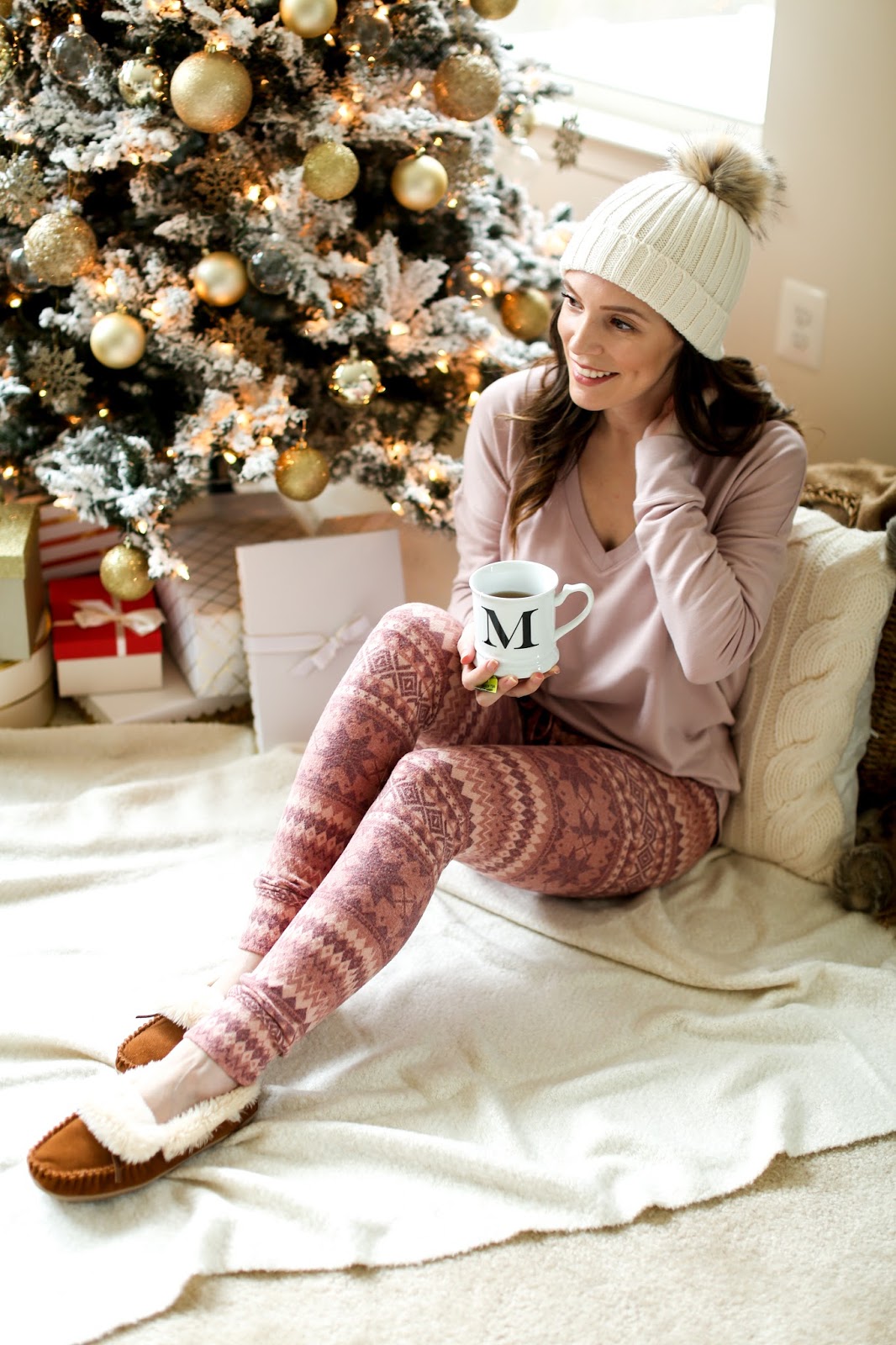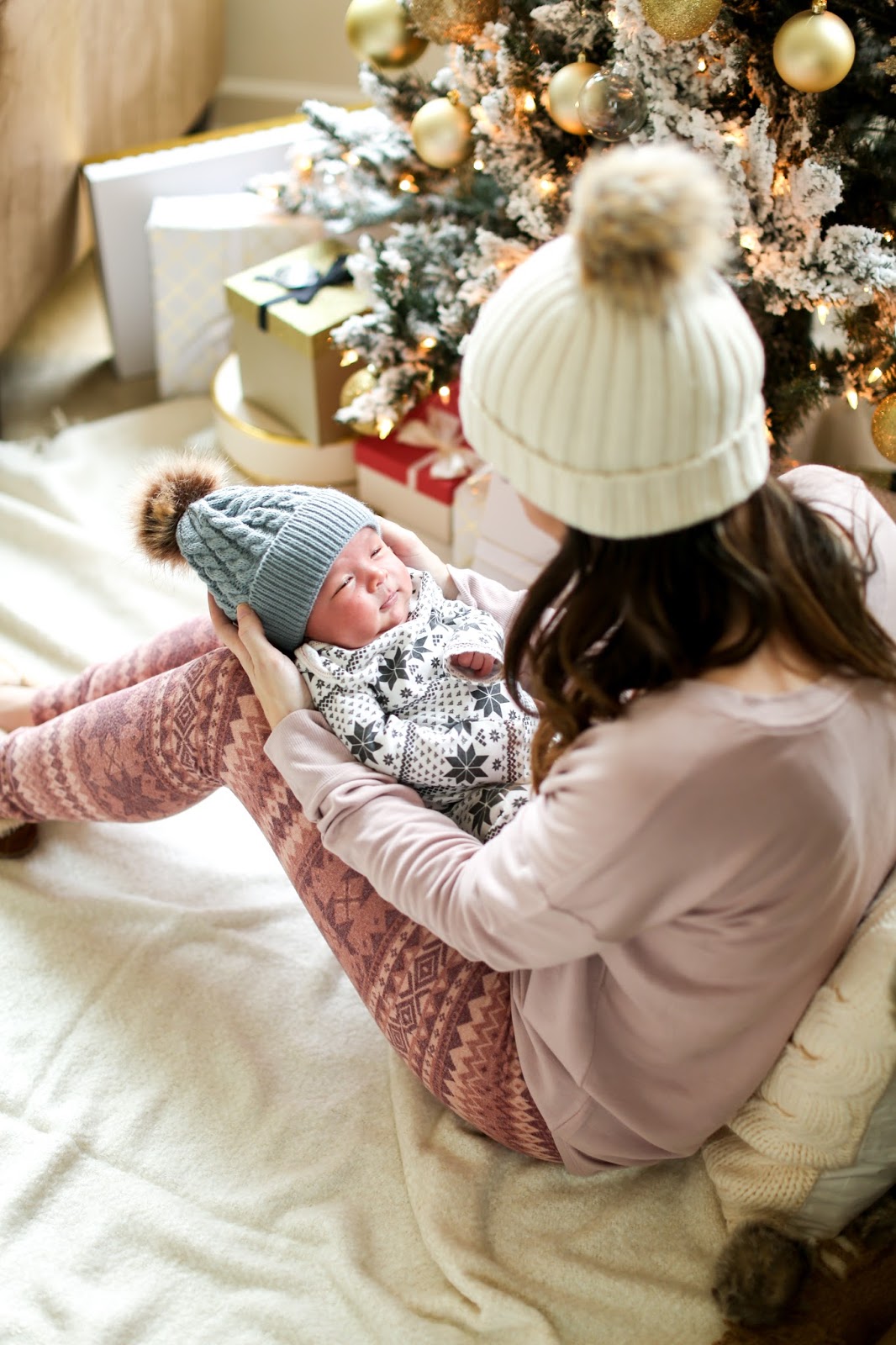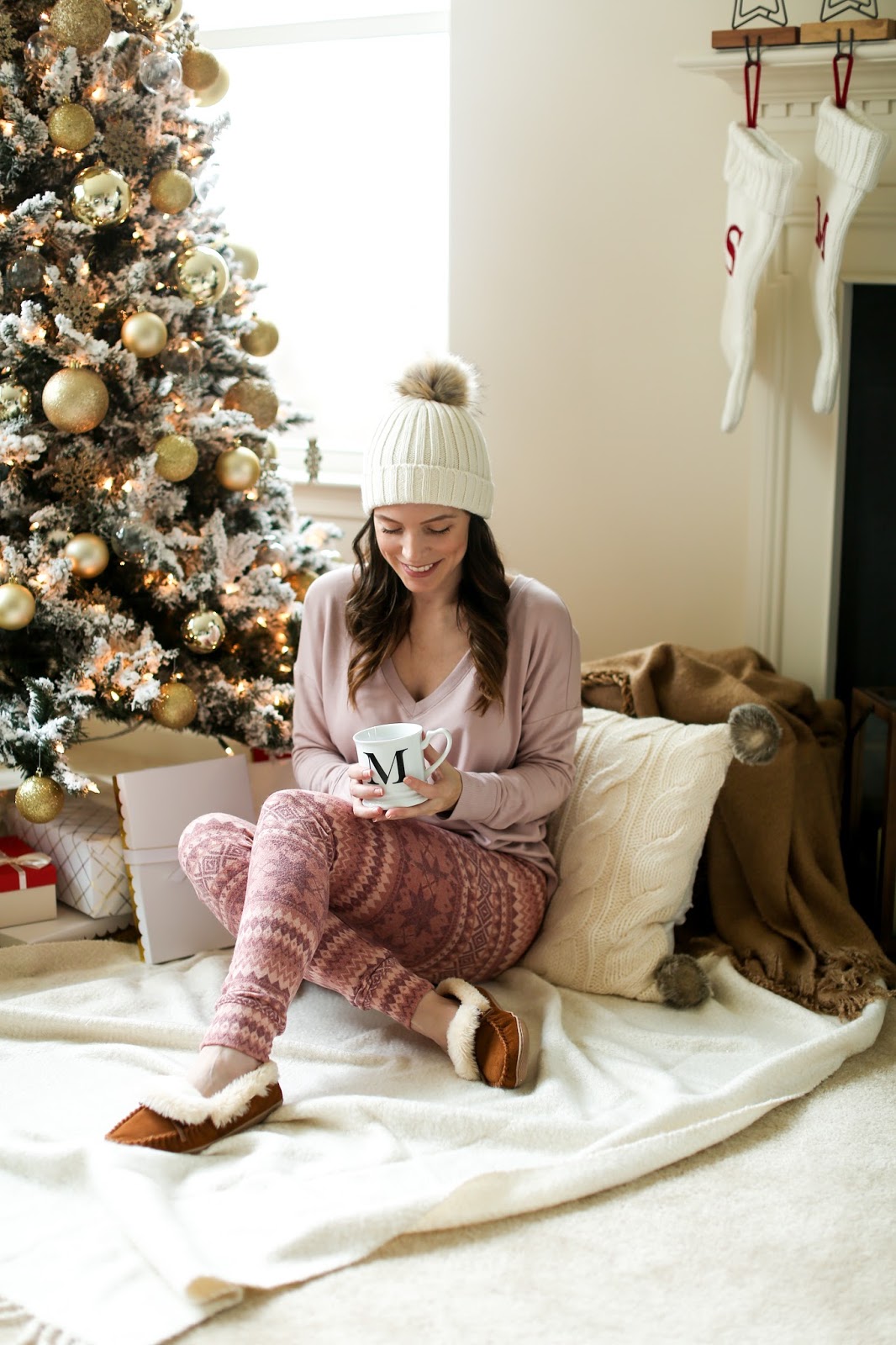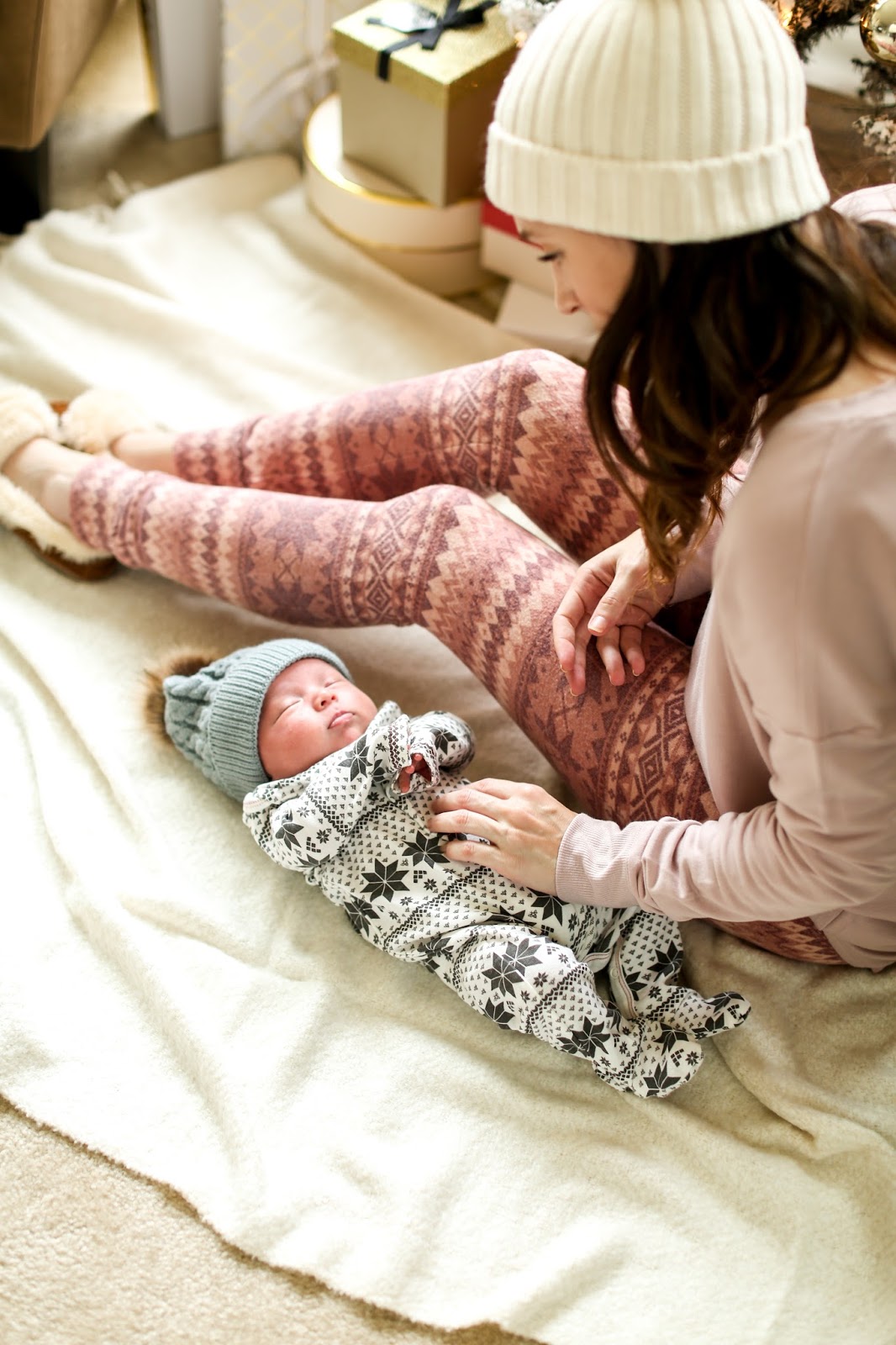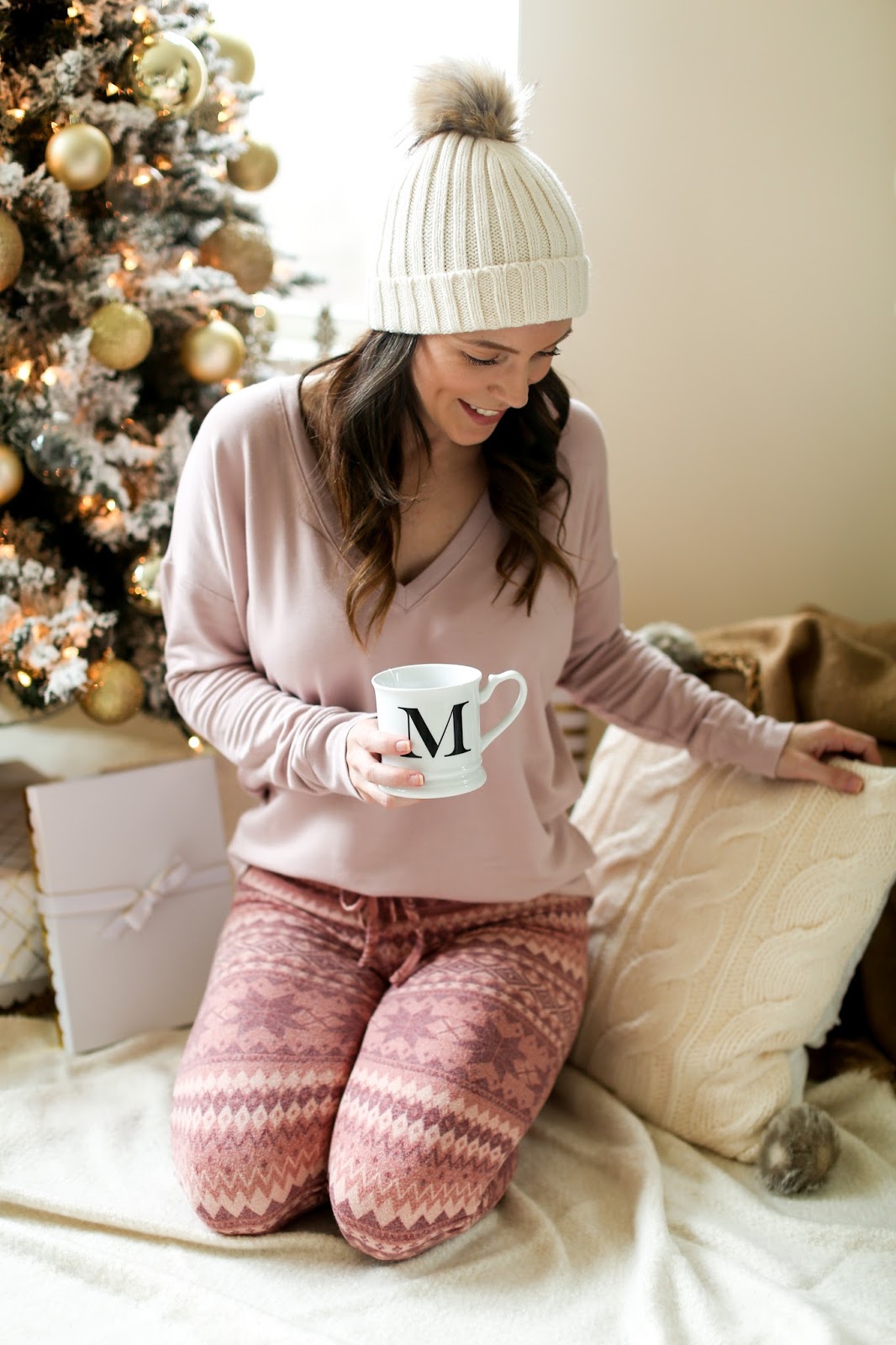 I always love being comfortable at home, but years ago that meant oversized sweats that never matched and frankly looked awful. I finally decided last year to throw them out in an effort to revamp my pajama and loungewear collection. I LOVE being put together and well dressed when I leave the house, so I wasn't sure why I didn't extend that to what I wear at home. Once I began buying matching pjs or cute loungewear pieces, I actually felt so much better. In fact one of my readers left me a funny comment on one of my instagrams saying that when she is wearing matching pjs, she feels she has her life together. LOL And that is exactly it! My love of nice pajamas has now extended to cozy loungewear pieces as well and now I feel like one big Hallmark movie ad sometimes. Ha! And oddly enough whenever I post loungewear or activewear pieces on my blog/Instagram, they are some of my most popular posts and many of you have told me you picked up tons of my recommendations to spruce up your own loungewear attire. So I thought I would share a new set I picked up on sale in the pictures above, as well as round up a TON of great recommendations for gift ideas for the cozy loungewear lovers in your life and maybe a few things for yourself *wink*.
And since there is no better time of the year than the holidays to take cozy to the extreme, we took these pics in front of our Christmas tree. And yes I even tried to have Miles match with me. I'm already trying to think of what our family holiday traditions will be with him, since I had so many great ones with my parents when I was younger. They weren't anything exceptionally different than what many families did, but I still adored them and have the best memories. Some of my favorites were:
Decorating the tree while playing this specific Christmas music that my mom would save for during that time. To be honest, I have no idea what it was (I should ask her) but there was this one song that represented Santa flying through the sky and it would play faster and faster until the crescendo of him "landing on the house". It was absolute joy for me and I still remember listening to that song and the excitement I felt.
I had this bell that I cut out of construction paper and then we would cut out red and green strips of paper to make a paper chain that I would connect to the bell. I would rip off a link each day leading up to Christmas and I couldn't wait to run into the kitchen each morning and rip it off! LOL
We also had an advent calendar (mine simply had chocolate but I would love a nice Diptyque one at my current age HA!), and in addition to ripping off a ring each morning, I would open a door. Again, pure excitement every. single. day.
There are so many pre-made gingerbread kits out these days, but when I was a kid my mom would make her own gingerbread for the house that we would put together. She even had a pattern cut out of cardboard that she kept and reused each year. My attention span would only last a short amount of time with decorating it, so my mom always had to finish it alone but I still adored that activity.
We would attend mass on Christmas Eve and then come back to the house and my parents would let me open a gift that evening. That was always a big hit with me! LOL
Driving around and seeing all the Christmas lights was a must have and one that was always a favorite.
I can't wait to begin our own traditions with Miles even if they are ones that everyone enjoys as well – it will feel special simply because we can do it all together. However I would love some recommendations of any fun traditions you do with your families since there are really creative ones I have heard about over the years that may be fun to try. Leave me a comment below or send me an email!
Shop all the widgets below for gift ideas for the loungewear lovers in your life (including yourself!).
Shop cozy slippers:
!function(d,s,id){var e, p = /^http:/.test(d.location) ? 'http' : 'https';if(!d.getElementById(id)) {e = d.createElement(s);e.id = id;e.src = p + '://' + 'widgets.rewardstyle.com' + '/js/shopthepost.js';d.body.appendChild(e);}if(typeof window.__stp === 'object') if(d.readyState === 'complete') {window.__stp.init();}}(document, 'script', 'shopthepost-script');

JavaScript is currently disabled in this browser. Reactivate it to view this content.
Shop cute pajama options for the winter:
!function(d,s,id){var e, p = /^http:/.test(d.location) ? 'http' : 'https';if(!d.getElementById(id)) {e = d.createElement(s);e.id = id;e.src = p + '://' + 'widgets.rewardstyle.com' + '/js/shopthepost.js';d.body.appendChild(e);}if(typeof window.__stp === 'object') if(d.readyState === 'complete') {window.__stp.init();}}(document, 'script', 'shopthepost-script');

JavaScript is currently disabled in this browser. Reactivate it to view this content.
Shop robes:
!function(d,s,id){var e, p = /^http:/.test(d.location) ? 'http' : 'https';if(!d.getElementById(id)) {e = d.createElement(s);e.id = id;e.src = p + '://' + 'widgets.rewardstyle.com' + '/js/shopthepost.js';d.body.appendChild(e);}if(typeof window.__stp === 'object') if(d.readyState === 'complete') {window.__stp.init();}}(document, 'script', 'shopthepost-script');

JavaScript is currently disabled in this browser. Reactivate it to view this content.
Shop chic loungewear options:
!function(d,s,id){var e, p = /^http:/.test(d.location) ? 'http' : 'https';if(!d.getElementById(id)) {e = d.createElement(s);e.id = id;e.src = p + '://' + 'widgets.rewardstyle.com' + '/js/shopthepost.js';d.body.appendChild(e);}if(typeof window.__stp === 'object') if(d.readyState === 'complete') {window.__stp.init();}}(document, 'script', 'shopthepost-script');

JavaScript is currently disabled in this browser. Reactivate it to view this content.
Shop more loungewear pieces I am loving:
!function(d,s,id){var e, p = /^http:/.test(d.location) ? 'http' : 'https';if(!d.getElementById(id)) {e = d.createElement(s);e.id = id;e.src = p + '://' + 'widgets.rewardstyle.com' + '/js/shopthepost.js';d.body.appendChild(e);}if(typeof window.__stp === 'object') if(d.readyState === 'complete') {window.__stp.init();}}(document, 'script', 'shopthepost-script');

JavaScript is currently disabled in this browser. Reactivate it to view this content.
Shop cute accessories and home decor pieces:
!function(d,s,id){var e, p = /^http:/.test(d.location) ? 'http' : 'https';if(!d.getElementById(id)) {e = d.createElement(s);e.id = id;e.src = p + '://' + 'widgets.rewardstyle.com' + '/js/shopthepost.js';d.body.appendChild(e);}if(typeof window.__stp === 'object') if(d.readyState === 'complete') {window.__stp.init();}}(document, 'script', 'shopthepost-script');

JavaScript is currently disabled in this browser. Reactivate it to view this content.