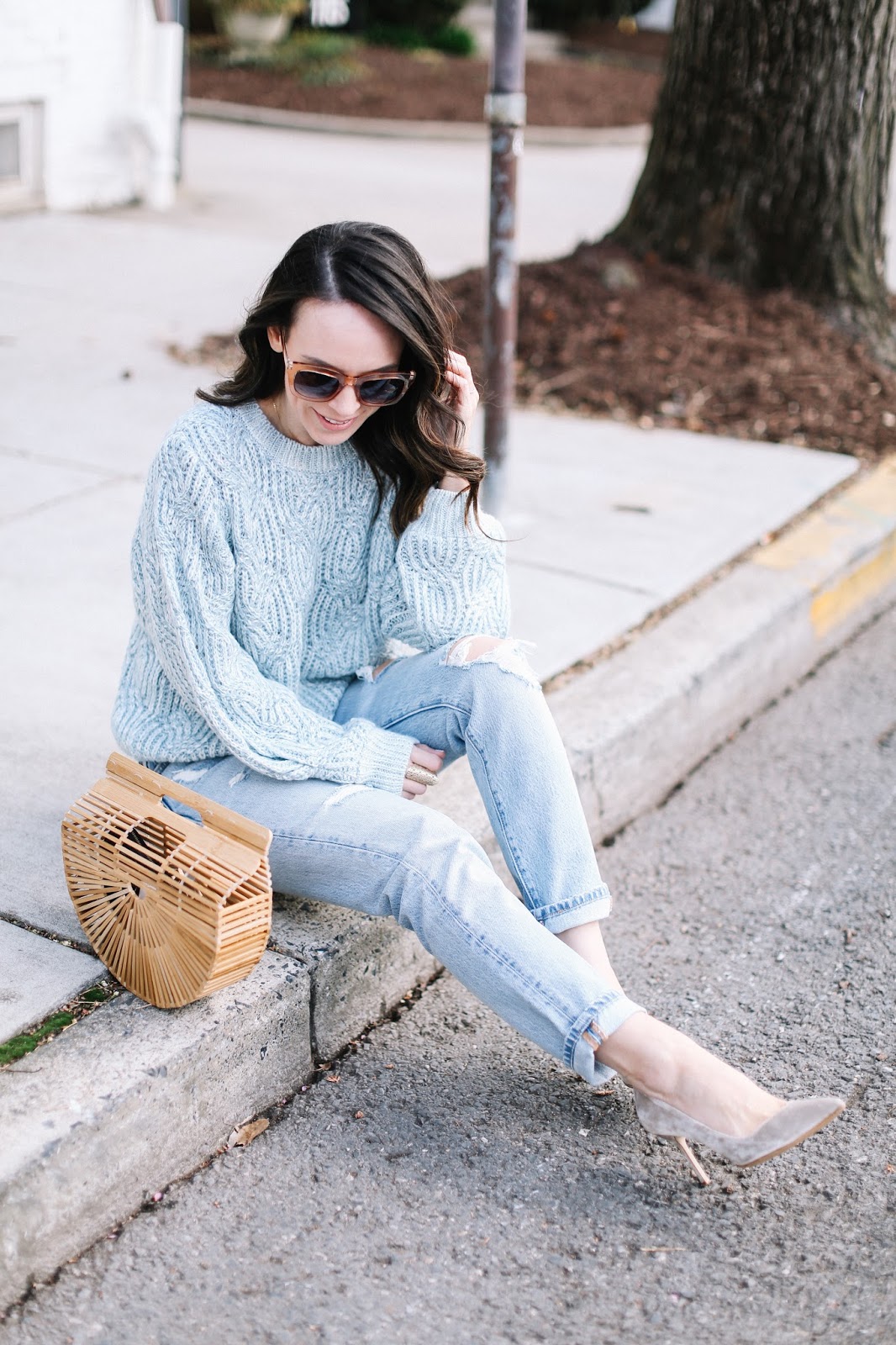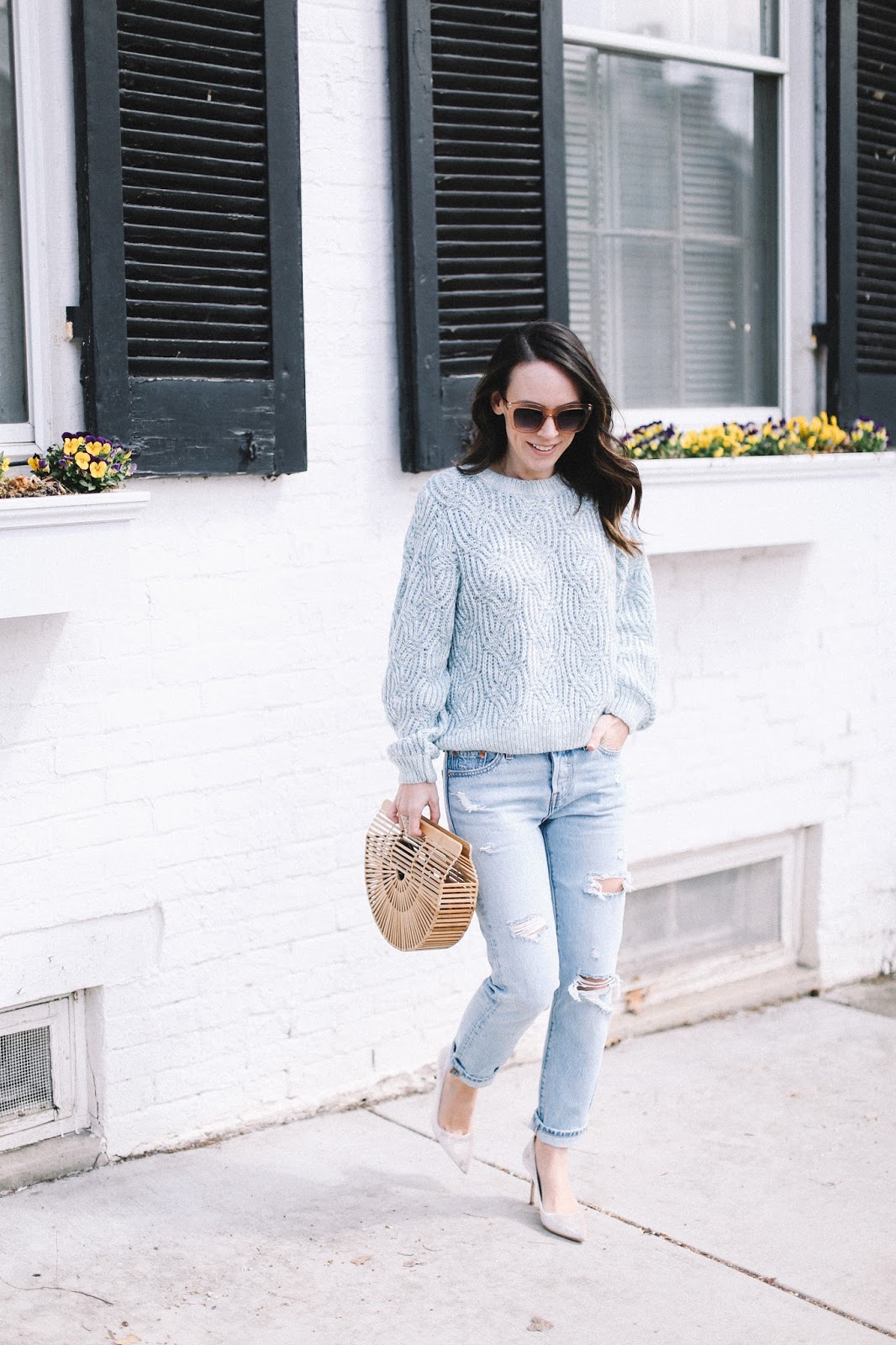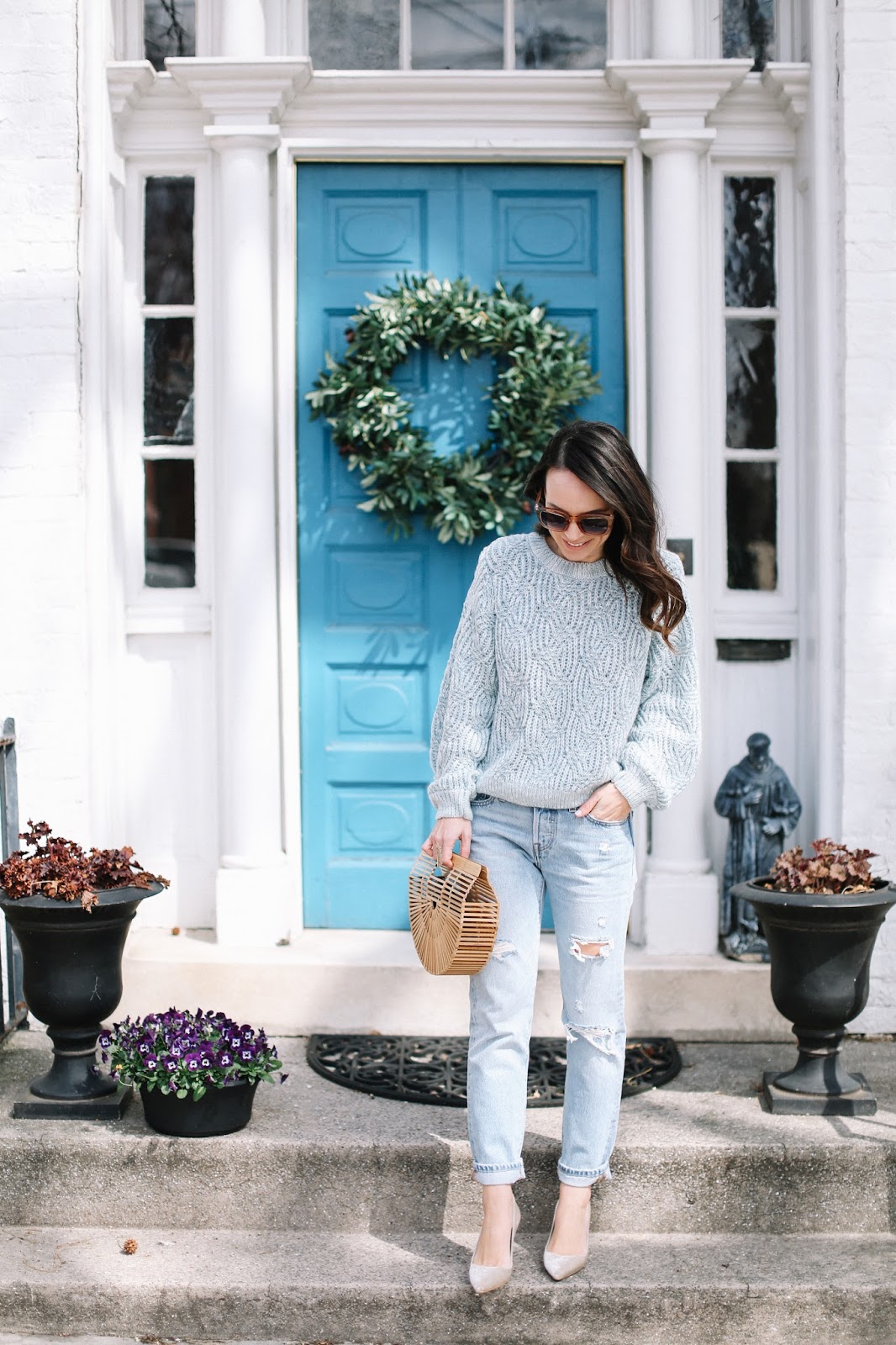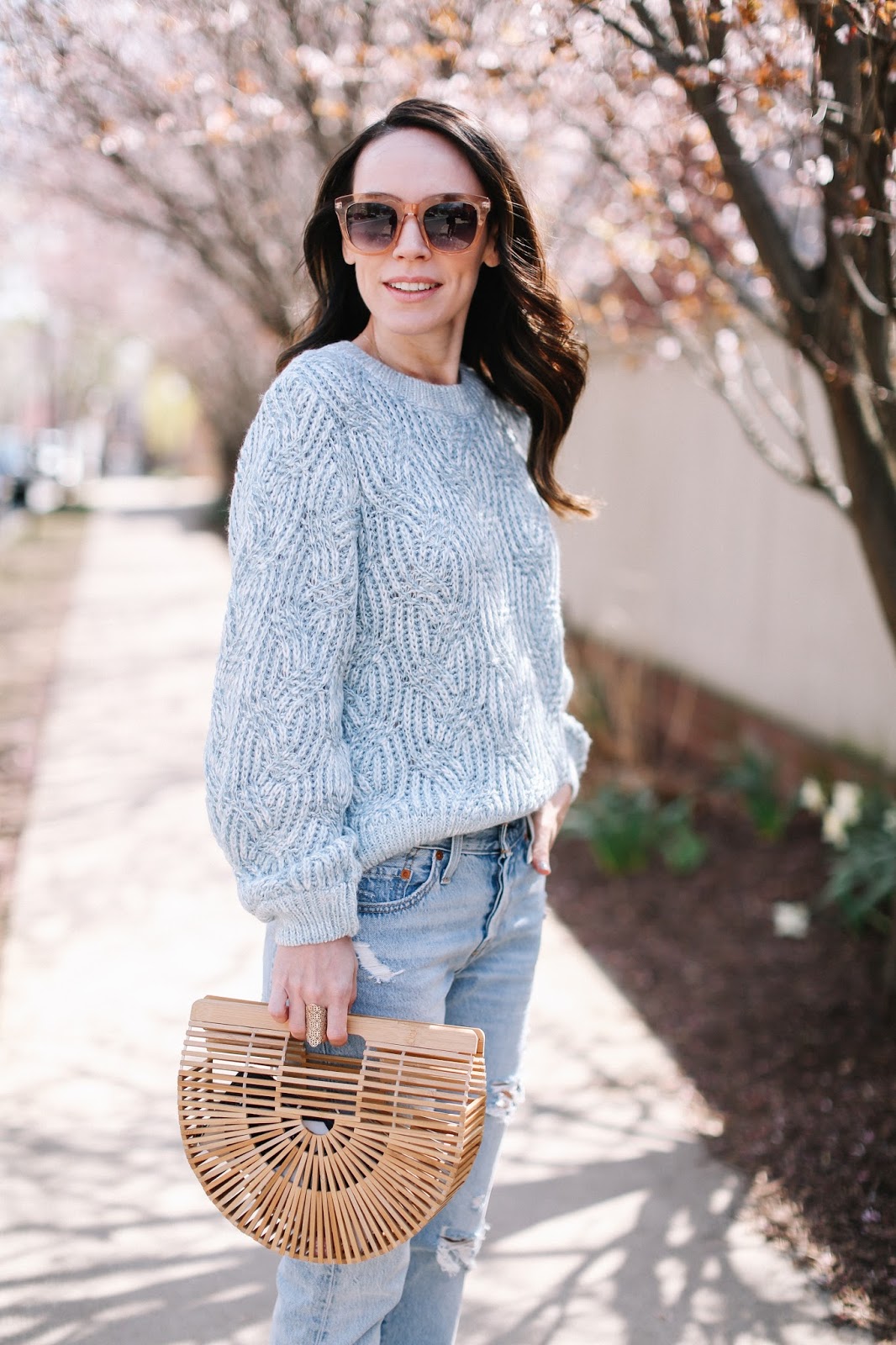 The background may look a bit like spring, but it still is sweater weather. But not super chunky, heavy cozy sweater weather, rather a lightweight open weave style like this is perfect. I for one love sweaters with shorts so this would be a piece that I can still wear for the next month or so and even wear into summer nights when something a bit heavier is needed. 
And I finally found a pair of
mom jeans I loved
, but am still deciding if I want to cut the hem making it a raw finish. The color was a nice change from what I have in my closet while the fit was slim which made them look more flattering. 
Now on to the best part of the post (if you love to read like myself that is), my book reviews! There were 3 that I LOVED, 1 worth an honorable mention and 1 that was mediocre. But I thought I would include all of them in today's review. You can find all my previous book reviews linked
here
.
1.
The Great Alone
– After the brilliant masterpiece that was
The Nightingale
(read my review
here
), I knew I would love another one of Kristin Hannah's novels. And this did not disappoint. Leni and her parents move to Alaska for a fresh start, but instead it becomes one of the toughest decisions of their lives. Leni's father is a military vet with severe PTSD and wants to be as far away from society as possible. Alaska at first seems like a good idea, with the promise of living off the land and being part of a tight community, but the harsh weather and limited daylight makes it harder than they anticipated. Things begin to unravel quickly and this move to Alaska becomes a fight for survival. I cried, laughed, screamed and yelled during this book – it brought out so much emotion in me and I loved every page of it!
2.
The Light We Lost
– Another heart-wrenching story that is an emotional roller coaster to get through. Lucy and Gabe meet in college and seem destined to be together forever. Until Gabe is given the opportunity to take a job overseas and decisions must be made about the relationship. This story chronicles their unbreakable bond that lasts decades even though they may not always be together. The ending is a complete tear jerker and I was sobbing hysterically. I wished this could have gone on for another 50 chapters – I never wanted the book to end.
3.
Beneath A Scarlet Sky
– 3 books in a row that all had such emotional stories that left me completely empty at the end of each one. I had cried, laughed, yelled and screamed through all 3 of these books, and this one was another winner for me. This is a unique story because though it is fiction, it is based on the true story of a young Italian man named Pino Lella that lead an extraordinary life during WWII. It's classified as a fiction novel because all of the characters in Pino's stories are no longer living and there is little information that can verify his stories. Whether real or fiction, the story is captivating and I was on the edge of my seat for the entire novel.
4.
The Wife Between Us
– After being on a 3 book high with all these fantastic reads under my belt, this book was a complete let down. It's not awful, but after reading such sensational novels prior, this book just couldn't live up to those. It's a story of a woman that is upset over her ex-husband getting remarried. She seems obsessed with stopping the wedding and for much of the book it's unclear why. The story finally begins to get good about halfway in and then takes some interesting twists and turns. Nothing earth shattering but it's an enjoyable read.
5.
My Husband's Wife
– This took foreverrrrr to get going and I kept having to go back and relisten to chapters because the storyline was not keeping my attention. And then about a third of the way in, there was a moment in the book that I did not see coming and from that point on I was enthralled! Lily and Ed marry after a whirlwind courtship of 6 months though there are cracks in their marriage from the beginning. Lily takes on a high profile murder case soon after they arrive back from their honeymoon and it changes her life forever. In addition to their story that unfolds as the book progresses, there is also a parallel story beginning with their next door neighbors, a young Italian girl and her mother. Though the two stories seem separate at the beginning, they  soon become entangled. It was like reading two separate novels at once and then both stories finally begin to melt together and what ensues is a story that held my attention to the very last page. Stick with this one because it is worth it in the end!
Shop more levi's jeans here:
!function(d,s,id){var e, p = /^http:/.test(d.location) ? 'http' : 'https';if(!d.getElementById(id)) {e = d.createElement(s);e.id = id;e.src = p + '://' + 'widgets.rewardstyle.com' + '/js/shopthepost.js';d.body.appendChild(e);}if(typeof window.__stp === 'object') if(d.readyState === 'complete') {window.__stp.init();}}(document, 'script', 'shopthepost-script');

JavaScript is currently disabled in this browser. Reactivate it to view this content.