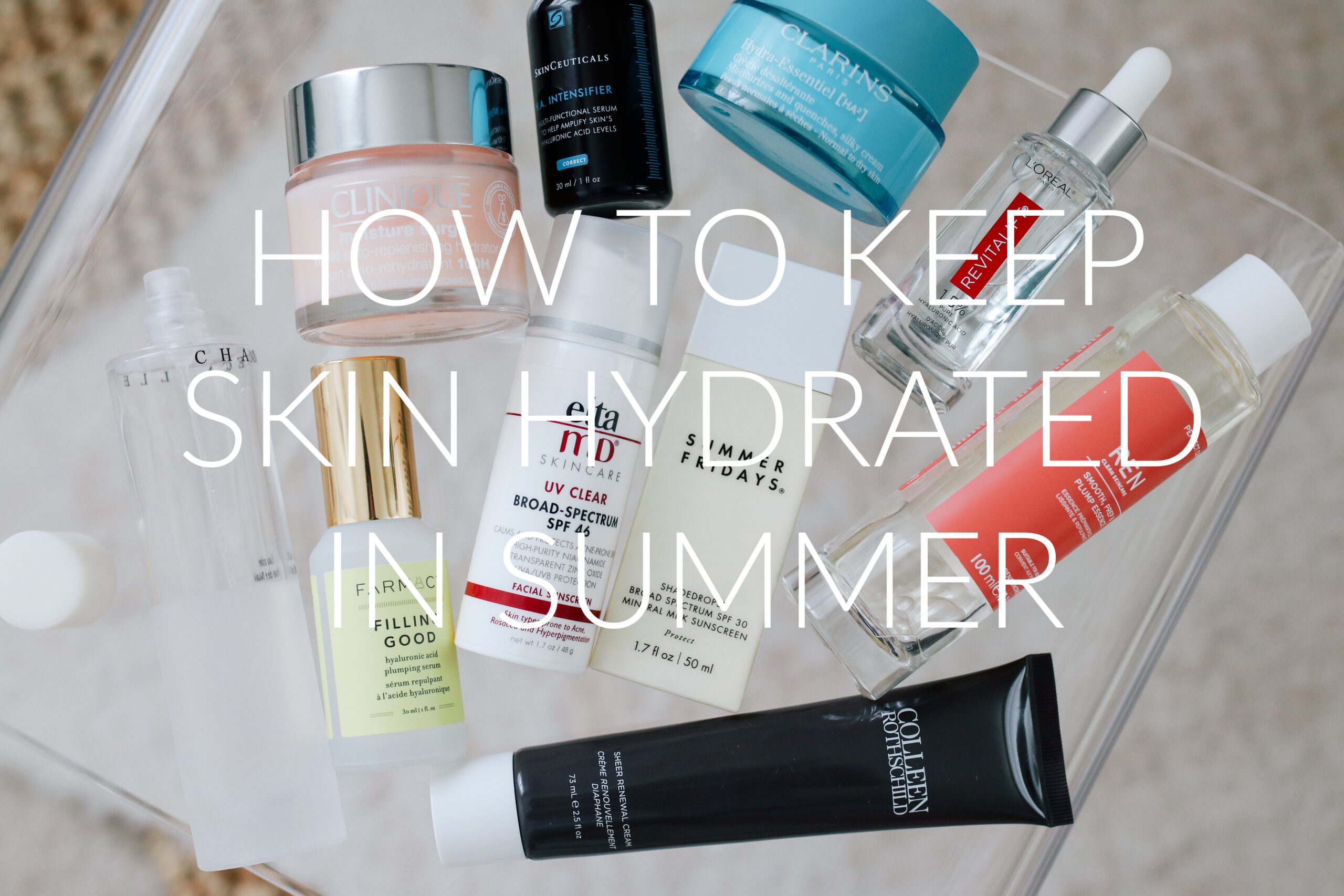 In the winter my skin gets uncomfortably dry, but in the summer dehydration is my main concern. Keeping my skin well hydrated is crucial for me during the warm weather because if not, my skin can get scaly, irritated and dull. The summer sun can especially be harsh on the skin. Rising temperatures, brutal humidity, pollution and sun exposure can all wreak havoc on the skin and I have to make a definite effort to keep my skin protected and moisturized. When my skin is well-hydrated, it's easy to keep any and all skin issues at bay so I thought I would share a few effective strategies and products to keep your skin hydrated all summer long.
How to Keep Skin Hydrated in Summer
Drinking enough water
I know this goes without saying but I will honestly forget to drink enough water and immediately feel the effects on my skin by the end of the day. So I swear by these electrolyte packs that I add to my water each day which taste delicious and make me want to drink water all day long. I also finally caved and bought a Stanley tumbler which holds 40oz and not having to constantly fill it up all day long is so helpful. Drinking just two of those a day hydrates me fully and my skin definitely feels and looks better.
Wearing a hat when you are out in the sun
Not only will wearing a hat provide immense sun protection to the face and upper chest, you will feel MUCH cooler when out in the sun. I have tested this multiple times and when I have a hat on my entire body temperature feels lower and I don't overheat as quickly. Our body temperature is so connected to the head (i.e. wearing a warm hat in the winter can make you instantly feel warmer), so keeping it in the shade of a hat will make your entire body feel cooler and more comfortable. And that added layer of protection will keep the skin shielded thus allowing it to lose less water and which will help it not feel as dehydrated.
Wearing breathable clothing
This may seem like a no-brainer in the summer, but wearing breathable clothing that covers your skin can really help you feel cooler and ultimately protect the skin. A tank top may be what you feel like wearing because it is so hot but adding a gauzy cotton long sleeve blouse over it to cover your arms and upper chest  would be the better option. Long loose fitting linen pants would be a better option than shorts because it shields your skin from the direct rays of the sun.
It would seem like wearing loose fitting long sleeves and pants in the sun would make you feel hotter, but it can actually have the opposite effect. When there is a layer of protection from the sun, your skin isn't feeling the direct heat which can keep you cooler. And of course, your skin will lose less hydration and water when it's not in direct sunlight. Choosing fabrics that are light in color and are made from such materials as cotton or linen will ultimately be the best option for your summer wardrobe.
Take showers with lukewarm or cool water
Personally this one is a huge struggle for me because I LOVE a hot shower but I have to force myself to keep the water closer to lukewarm because it is better for my skin. Very hot water can dry out the skin and further dehydrate it so always try to shower or bathe with lukewarm water and in some cases cool water if you can. I will often turn the water to cold in the last 1-2 minutes of my shower and while it takes some getting used to, my skin is much less dry and it really helps me wake up!
15 Best Skin Hydration Products

Cleansers
Cleansing balms and cleansing milks are the best at really hydrating and moisturizing the skin. Try to double cleanse every night to ensure you really remove all the makeup/sunscreen/sweat from the skin which will also contribute keeping the skin healthy and balanced. Here are a few of my must have cleansers for helping hydrate the skin in summer:
I've been going strong with this cleansing balm for nearly 10 years. It's incredibly rich and full of tons of nourishing and hydrating oils that will remove all the necessary makeup/dirt/grime from your face but still leave it hydrated, supple and smooth. I will never be without this!
Another staple in my skincare routine for 10 years. Formulated with moringa oil and loofah seed, this cleansing balm will give a thorough deep cleanse without stripping the skin.
A great affordable milky cleanser that really helps hydrate and nourish the skin. I would recommend using this as a second cleanse or morning cleanse.
Face Mists/Toners/Essences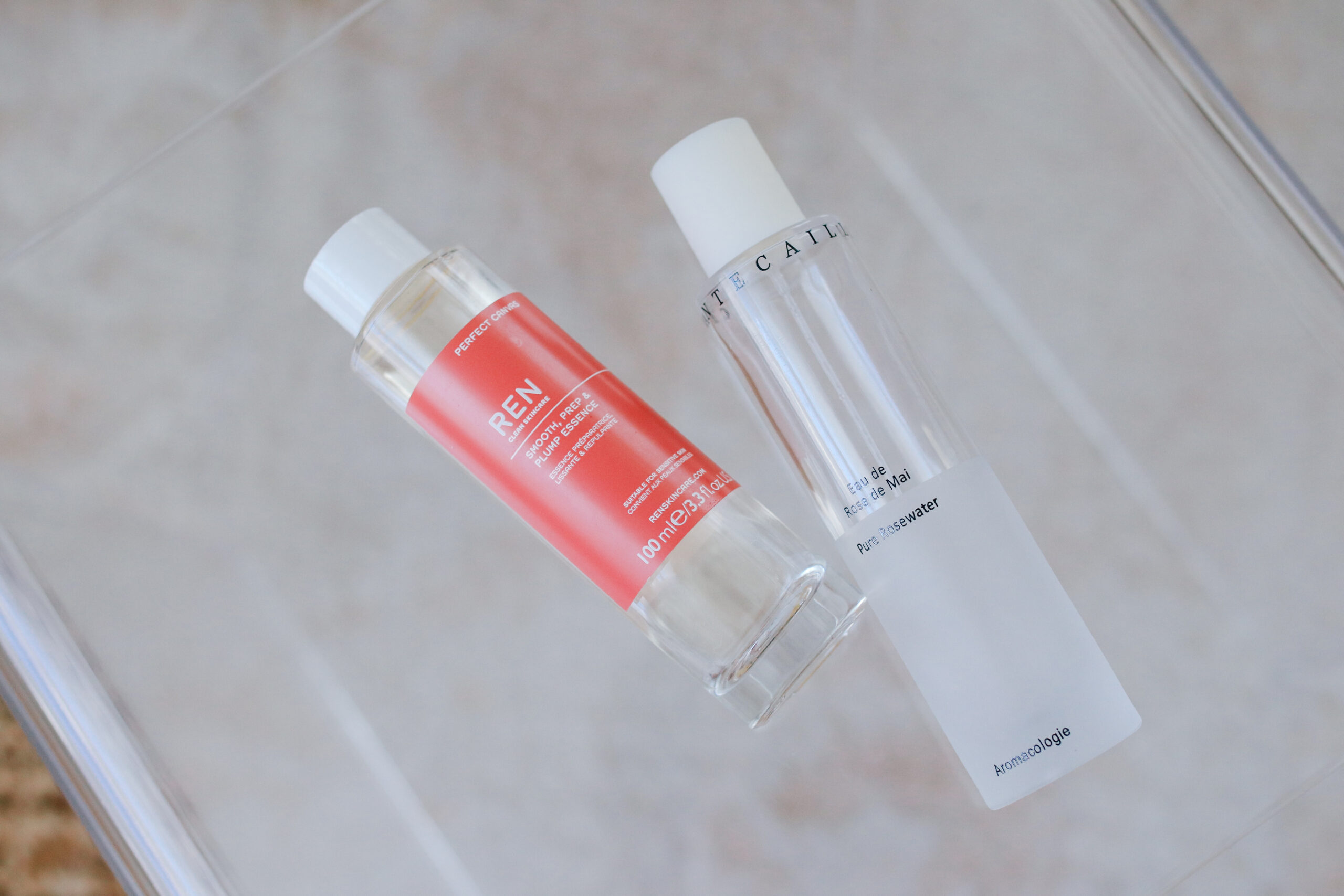 The toner/essence/face mist step can feel unnecessary to some, but I find that these products can really help keep the skin hydrated in the summer.
This was a new discovery this year and I have used it every single morning and night since I received it! It contains hyaluronic acid and niacinamide which help hydrate and plump. I use it after I cleanse and tone but before I apply my serums. The reason I apply it before serums and moisturizers is that it helps the other skincare products I apply after work even better!
The entire Moisture Surge line is a must have in the summer but the spray is perfect to bring with you and hydrate on the go. It can be used during your skincare routine but also will not mess up your makeup if you spritz your face midday. Keep it in your purse or on your desk at work to ensure you can get that burst of moisture throughout the day.
A bit of a splurge but this rosewater spray really delivers on hydration! It instantly energizes and rejuvenates the skin while the rose extract helps calm and soothe.
Serums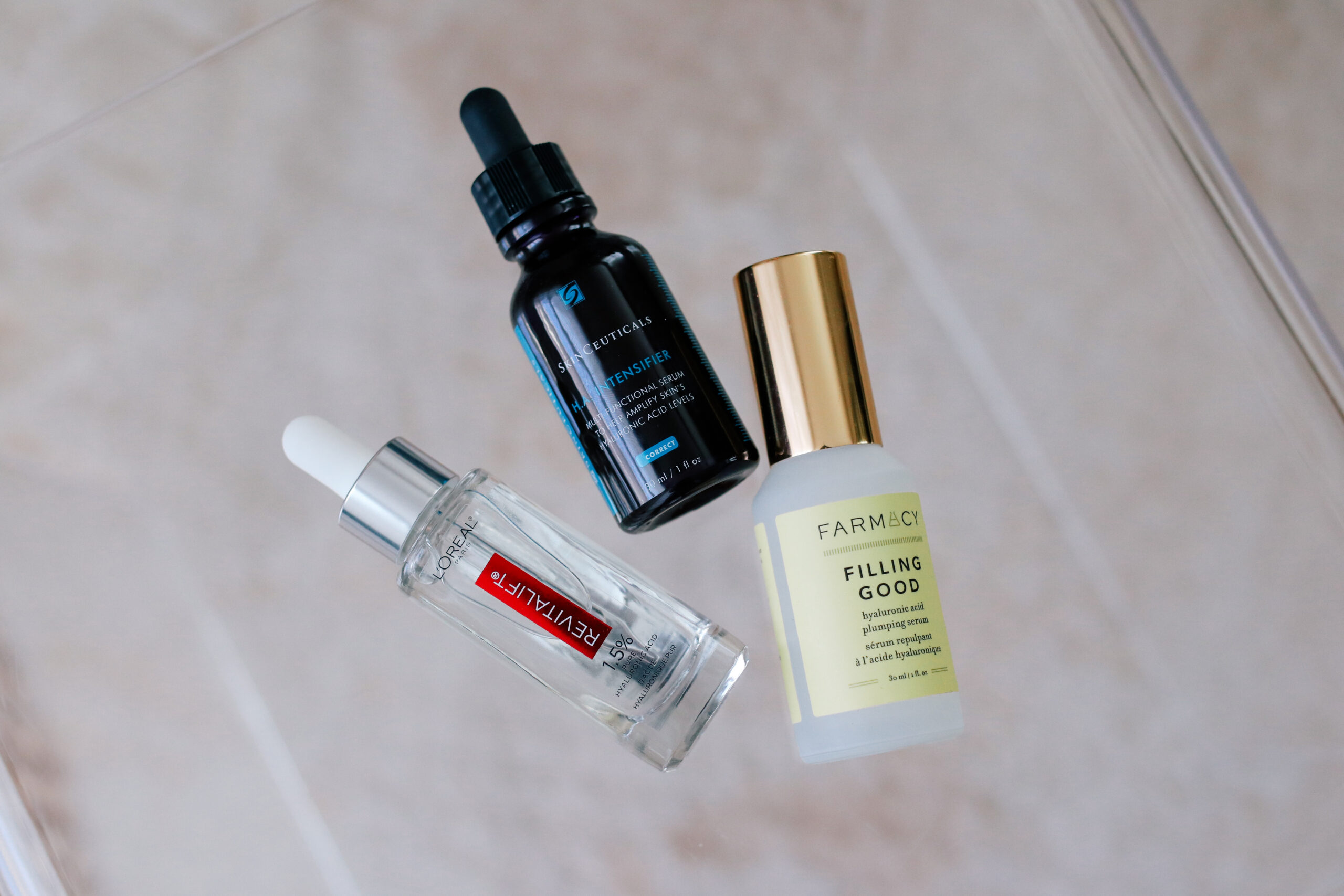 Hyaluronic acid is the one ingredient that you want to have in your summer skincare routine to help the skin stay hydrated and retain moisture! Here are three of my favorite hyaluronic acid serums at all price points:
A great mid range price point hyaluronic acid serum that plumps the skin and targets fine lines and wrinkles.
A splurge price point but one that I have been using and loving for years. It contains a high concentration of pure hyaluronic acid as well as licorice root and purple rice to support the skin's hyaluronic acid levels. It will help hydrate on a surface level immediately but will also continue to help the skin maintain that moisture all day long.
A drugstore find but one that rivals the more expensive versions quite well! The texture of this is really nice and initially makes the skin look plump and dewy. In addition to hyaluronic acid, this serum contains vitamin c which is also essential in helping protect the skin from environmental aggressors (such as the sun).
Moisturizers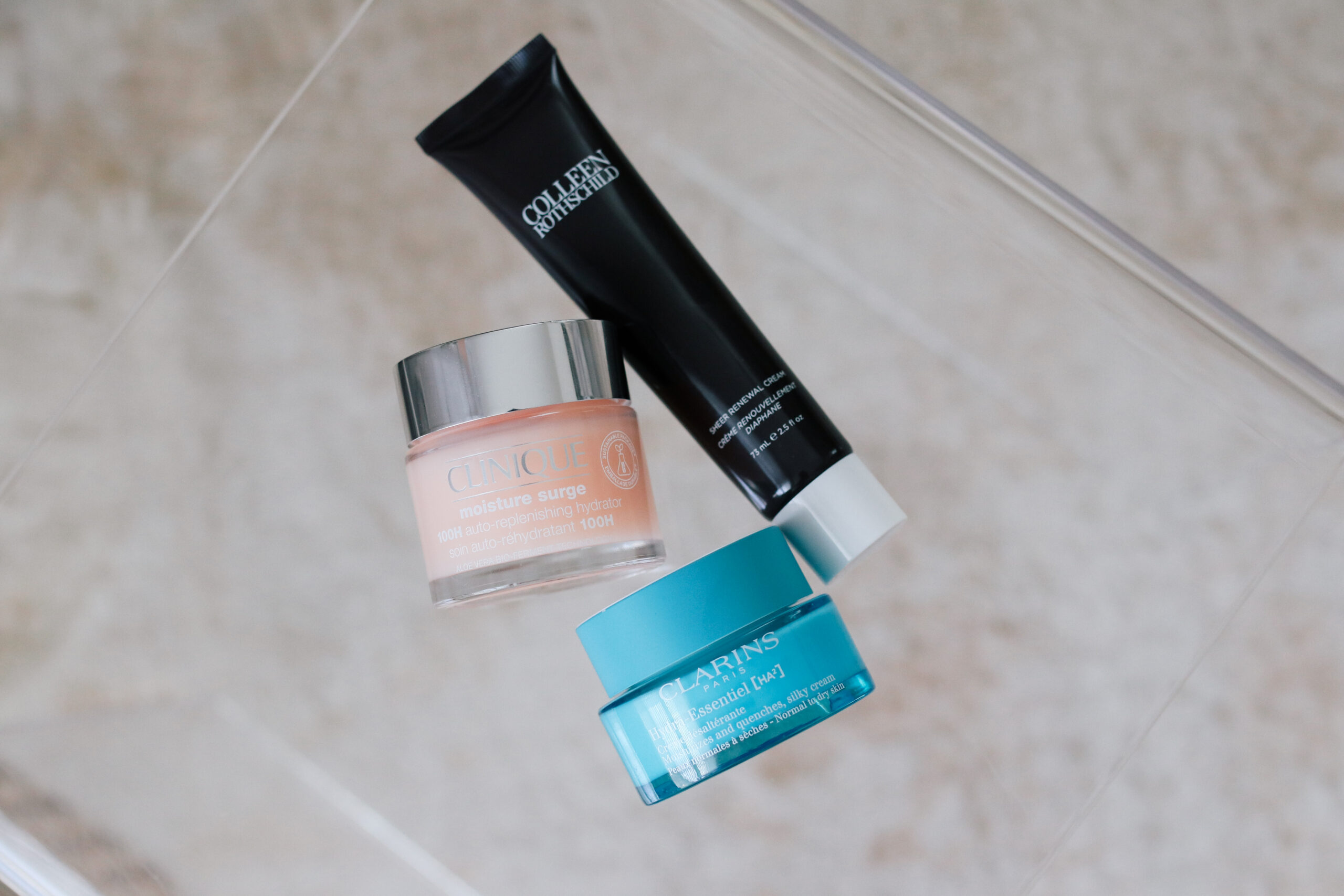 It's good to switch up your moisturizers in the summer and opt for more gel creams. They feel great on the skin and many help to target dehydration.
There are times that I want to jump into a jar of this and swim in it. LOL The watery gel texture is sublime and immediately delivers hydration to the skin providing relief if your skin feels dry or tight. And since the texture is so lightweight, it doesn't feel too heavy on the skin especially in the intense heat.
I've been using this cream as my daytime moisturizer on and off for nearly 8 years! It's oil-free so I love to use it in the summer, but it's still manages to keep my skin hydrated all day long. It has a gorgeous soft matte finish so it wears beautifully under makeup and primes the skin nicely.
I reach for this in the evening after being out in the sun because it provides intense hyaluronic acid in a nice rich cream texture. Even though it is thick, the formula melts into the skin as soon as you apply it and there is no tacky residue left. My skin feels plump, bouncy and nourished.
Face Masks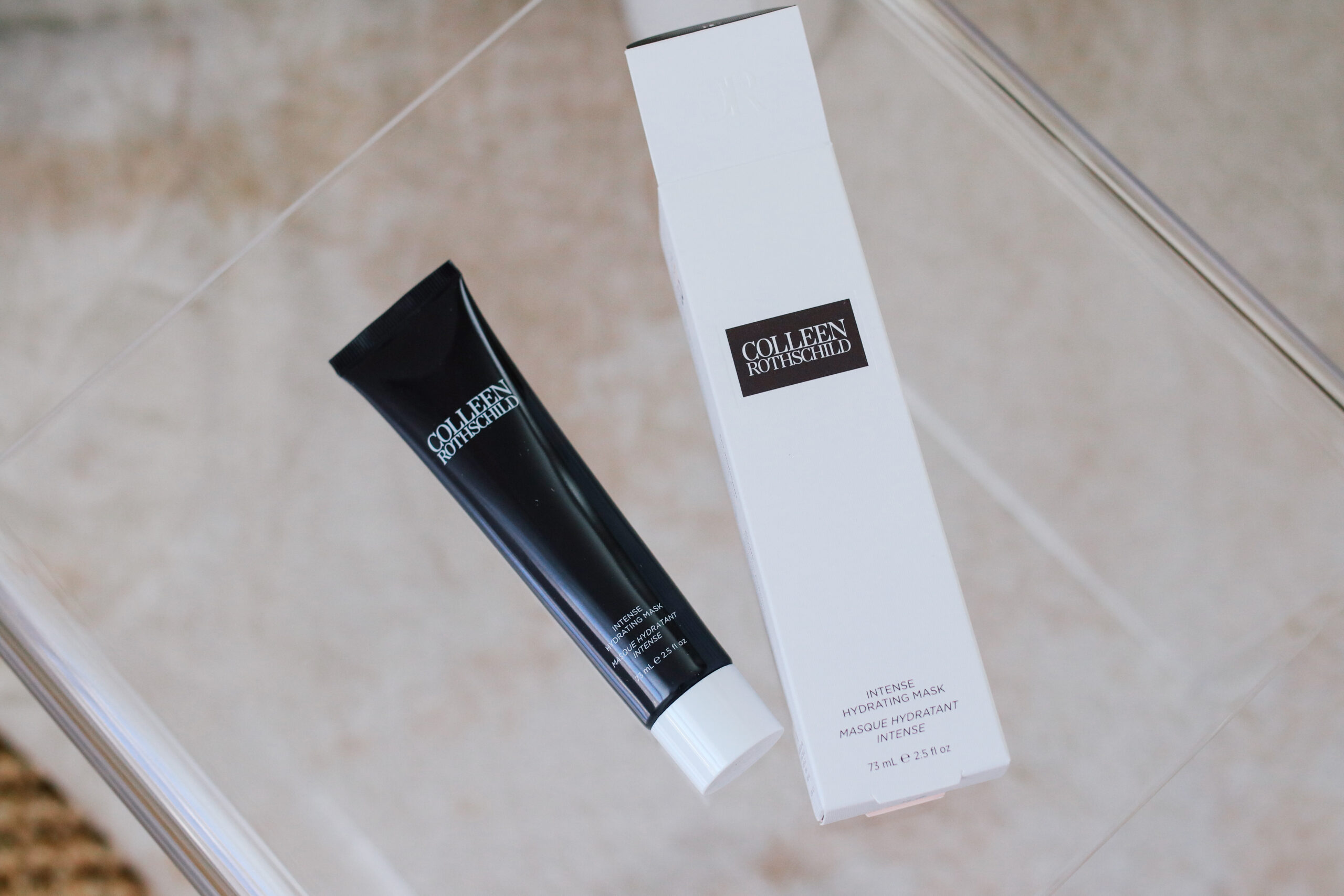 There is only one recommendation in this category and for good reason. It is truly my all time favorite hydrating mask.
My long time followers know that I am never without this holy grail hydrating face mask. To be honest, it's nothing overly fancy or scientifically advanced but it hydrates my skin like no other. I apply a thick layer, leave on for 20 minutes and remove with a damp cloth. My face feels like I just had a facial and looks so healthy and radiant. Especially in the summer, I use this at least twice a week and my skin stays so balanced.
Sunscreen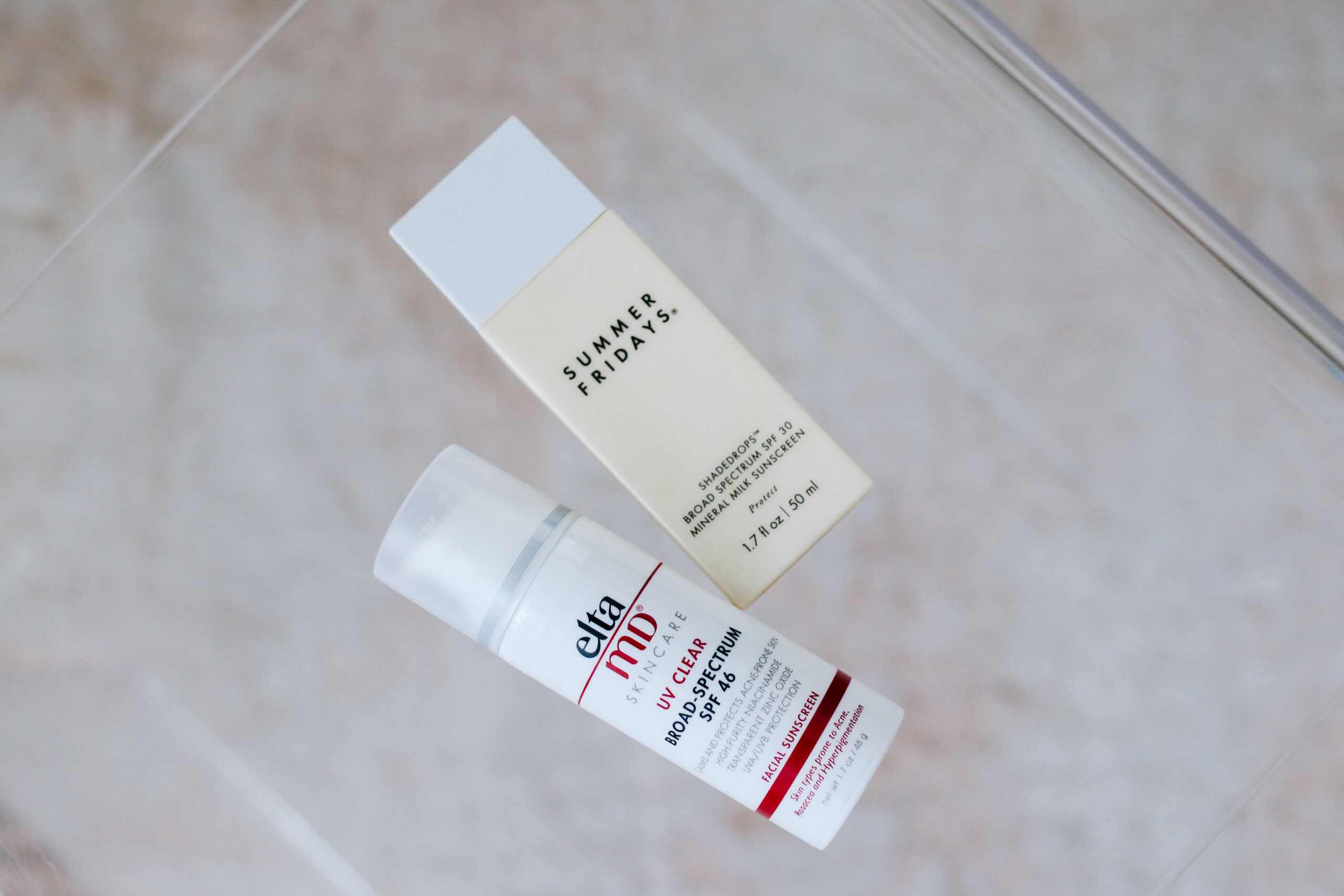 Never is it more important to wear sunscreen than in the summer. Ensuring the skin is adequately protected is one of the key ways to help keep the skin hydrated in the summer.
Often the hesitation with using sunscreen is the texture and feel of it even though we know it is so necessary. This sunscreen feels like just like a serum when you apply it. It initially has a dewy/fresh finish on the skin but settles down to a more natural finish. I have repurchased this multiple times since it launched because it's one of the best sunscreen formulas I have ever tried.
There is a reason this is a cult classic and constant best seller. When I plan to be out in the sun all day and need a ton of protection, I will always reach for this SPF. It's lightweight, oil-free and designed to protect acne-prone and sensitive skin. My skin type is more normal to dry and I still find it to be super moisturizing and amazing worn alone or under makeup.