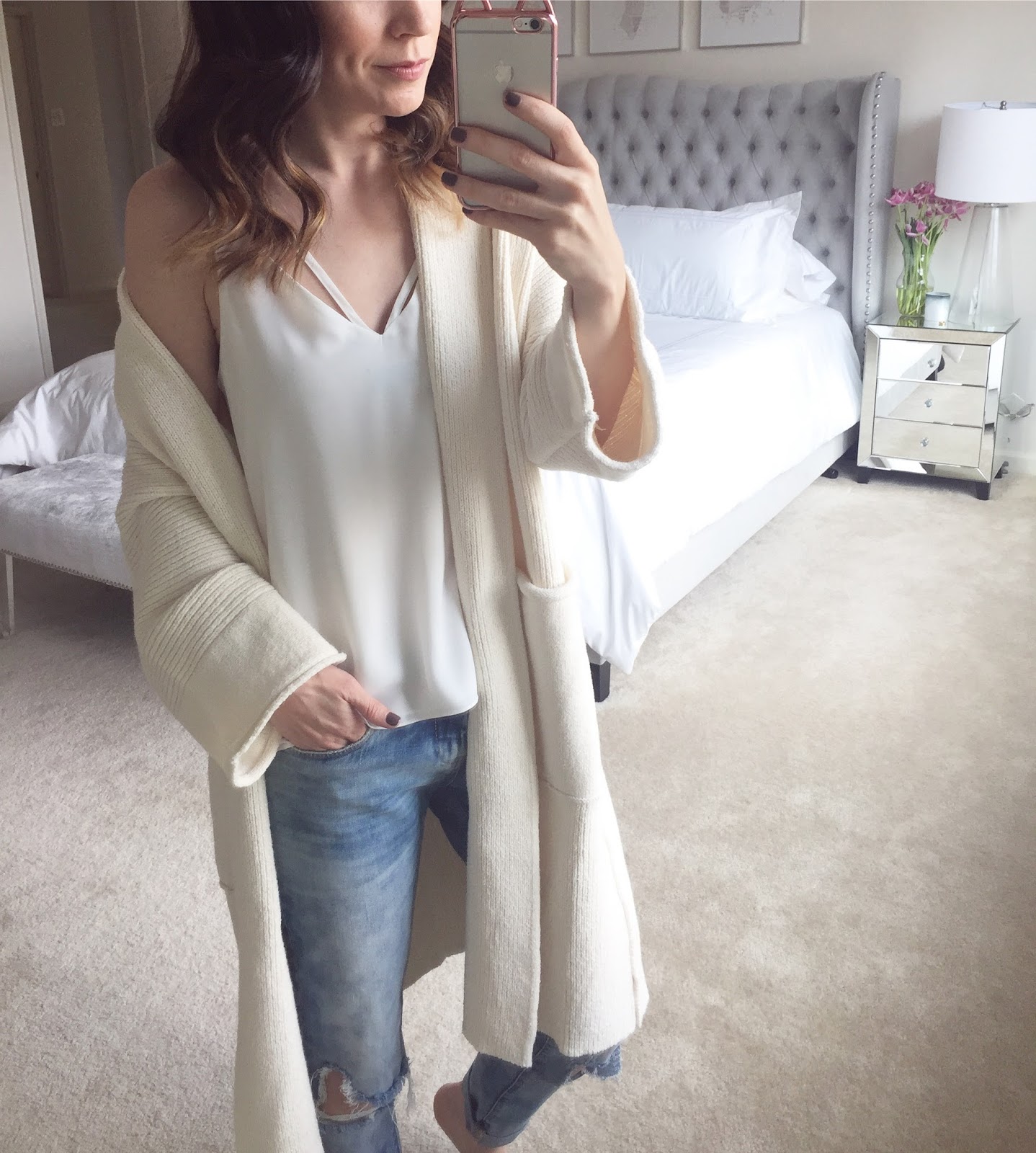 Happy Friday! I'm pretty sure I wore this above outfit almost every day at home this week because it was so comfortable to throw on and sit at my desk. Here are links to the
cardigan
,
tank
and
jeans
for this look. We are now officially in winter limbo it feels like while we wait out the cold weather in anticipation of spring! And in honor of my excitement that winter will soon be behind me, most of the finds this week are spring related.
2. I talked about
this stick
in my recent
What's New video
and while it really did a great job of blurring my pores (it instantly made them look minimized), it's not something I see myself using. I tried it under my foundation and I didn't notice enough of a difference to make it a permanent part of my daily makeup look.
5. Tops with a criss-crossed neckline are everywhere right now.
This one
is under $30,
this one
is a great top for Spring,
this one
is a great everyday staple and
this one
is another option under $30.
6. Now that I am working out regularly again, I have become focused on finding cute workout wear. I am already in love with
these leggings
which I recently wore on
Instagram
, but found some other cute styles out now as well.
These moto leggings
have the most amazing palm print, the reviews seem really positive on
this sports bra
(which is only $15!) and
these Nikes
are next on my list to buy (narrowing down a color is the hard part lol).
7. A friend of mine has
this journal
and recommended it to me. It's a more structured way of utilizing a gratitude journal. I've tried a regular notebook, but I like that there are different sections per day to write down intentions, affirmations, etc.
8. Valentine's Day is right around the corner and if you need some fun ideas for cute gift items, I saw some adorable ones on the novelty section of Nordstrom. These gummy candies are some of the best I've ever had, this jewelry box is adorable and I love the writing on this vase. I rounded up a few other items that caught my eye in the widget below.
!function(doc,s,id){ var e, p, cb; if(!doc.getElementById(id)) { e = doc.createElement(s); e.id = id; cb = new Date().getTime().toString(); p = '//shopsensewidget.shopstyle.com/widget-script.js?cb=1486072464587?cb=' + cb; e.src = p; doc.body.appendChild(e); } if(typeof window.ss_shopsense === 'object'){ if(doc.readyState === 'complete'){ window.ss_shopsense.init(); } } }(document, 'script', 'shopsensewidget-script');