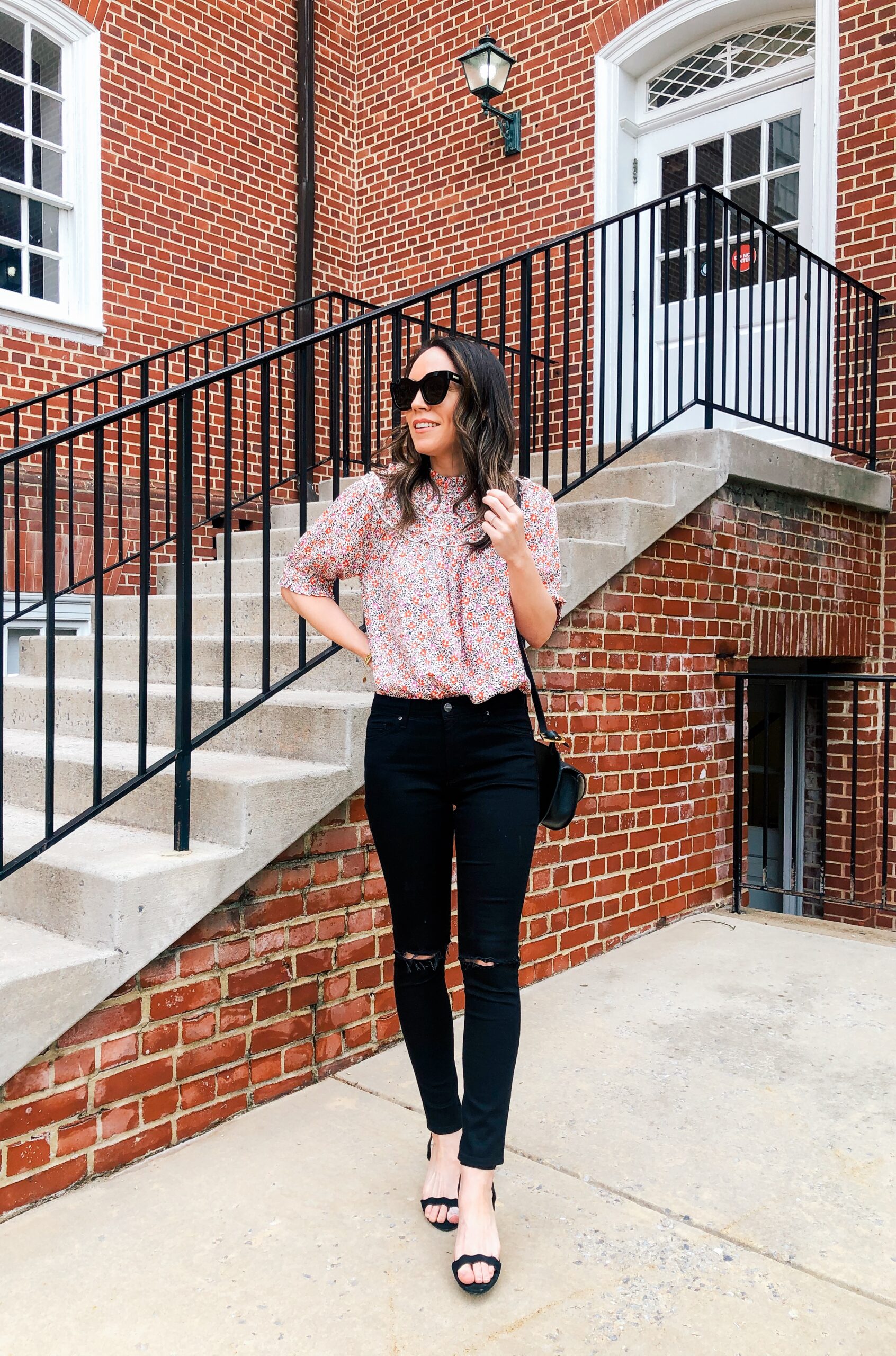 Shirt | Jeans | Sandals (similar) | Bag (similar) | Sunglasses
1. I think at this point I have an entire cabinet full of water bottles but I love to change it up because I will do whatever it takes to drink more water. LOL This one is super cute and comes in a ton of colors.
2. H&M always has so many cute home decor items and this marble serving tray and marble salt and pepper shakers are both so chic but super affordable!
3. I love a good oversized sweatshirt and these city sweatshirts look so comfy – the Paris one is my favorite.
4. Vases are always a good way to fill up empty space on bookshelves or consoles, here are three I'm loving: these look great as a duo, these are candle holders but still would work well and these vases are so unique looking.
5. Love this bodysuit to wear dressed up with some jeans and heels for a night out.
6. I still wear sweaters in the spring and summer because air conditioning LOL, and this one would be a perfect one to pair with denim shorts or even wear over a swimsuit in the evenings.
7. A great tote bag to use all spring and summer and it's under $65!
8. One of my readers recommended this Black-owned beauty site as an amazing shopping destination for tons of Black-owned beauty brands.
9. H&M has a bunch of great pieces on sale right now like this braided tote and chunky chain necklace.
10. Miles is obsessed with crayons right now so I ordered these cute ones from Etsy!
11. If you are planning a warm weather getaway, these pants are the most fabulous vacation pants I have ever seen! Frankly anything from this entire brand is vacation wardrobe goals!
12. I love testing new foundations and this skin tint is next on my list to try.
13. The most simple but chic little white dress for summer.
14. If you love to layer your bracelets, there are a TON of cute styles on this Amazon shop.
15. I'm obsessed with unique, chic earring styles and just ordered this pair! (You can use my code: ALITTLEBITETC for 10% + free shipping on her entire site)